After calling Tim "Baked Alaska" Gionet's actions of storming the U.S. Capitol on Jan. 6 "based" on his program Monday night, white nationalist Nicholas Fuentes is now urging President Donald Trump to issue Gionet a presidential pardon.
The FBI arrested Gionet on Saturday for partaking in the Capitol riot. Gionet has streamed himself in the Capitol.
"President Trump, I demand a complete and total pardon of Baked Alaska for his alleged crimes at the US Capitol building," Fuentes tweeted Tuesday morning.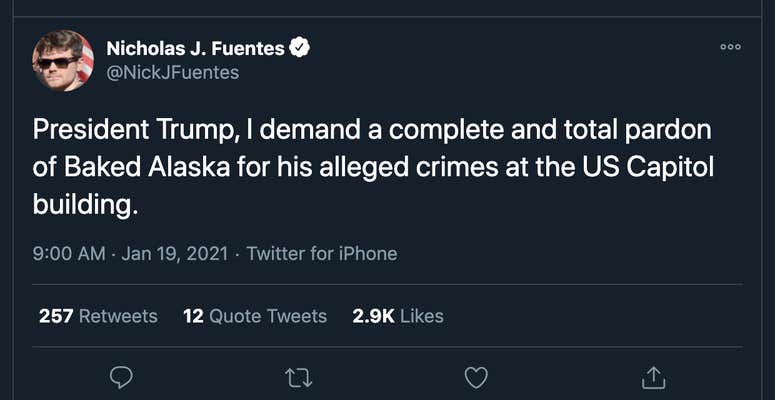 Fuentes on Monday night defended the actions of Gionet, who Fuentes says is a "longtime friend" of his.
"Sorry, you're a gay r*tard," Fuentes said in response to a "super chatter" who was critical of Gionet storming the Capitol.
Responding to criticism of how Gionet tore down a "barrier" at the Capitol, Fuentes said, "How is that not based?"
The term "based" and "very based" are phases the alt-right use as a way of offering each others' ideas praise.
Fuentes added that Gionet was fighting for fellow groypers' freedom by storming the Capitol building and breaking the law.
"He is literally giving up his freedom for yours!" Fuentes said.
That said, while Fuentes is advocating on Gionet's behalf, he could possibly be in a bit of trouble with the law himself. He told supporters of his to destroy evidence that linked them to the Capitol riots on Friday night.
"They probably have it all, but as a precaution, yeah, probably destroy your phone, your SIM card, all that information," Fuentes told his audience.
---
This week's top technology stories