People can now track their Bitcoin holdings using the free personal finance app Mint. The move signals yet another step towards popular cryptocurrency's integration with broader consumer economy.
Mint, which is put out by the software company Intuit, added the ability to monitor Bitcoin through a partnership with the digital Bitcoin wallet service Coinbase. With over 14 million users, Mint is one of the most widely used personal finance apps in the world, letting people easily track their bank account balances, investments, loans, and debt all on their smartphones.
"By adding Bitcoin visibility, Mint becomes the only personal finance and money management tool enabling users to view those transactions," Mint product manager Vince Maniago said in a statement. "This added feature better serves consumers' changing financial needs and provides users with a more complete financial picture."
Mint isn't the first smartphone app to allow users to easily keep track of their bitcoins; apps like BitcoinViewer have long offered similar functionality. However, with this integration, Mint is likely the only one to allow for holders of Bitcoin to see those assets in the context of their entire personal financial system.
The partnership is a coup for Coinbase, which recently a high-profile $25 million cash infusion from venture capital firm Andreessen Horowitz. The company, which provides online wallets to keep track of its users' bitcoins and services to facilitate merchants accepting Bitcoin, has over 870,000 individual users and over 60,000 business ones.
Mint has classified Bitcoin holdings as investments rather than currency, a move that may irk some boosters who view cryptocurrencies ideally as units of exchange (like U.S. dollars or Chinese yuan) rather than an investment (like stocks or gold). Also, the price of bitcoins held are denominated in dollars rather than Bitcoin.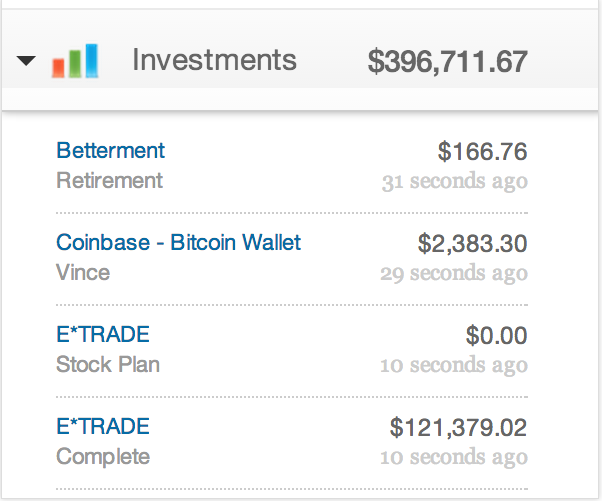 "I bought some Bitcoin as an investment and realized it wasn't easy to track my Bitcoin balance alongside all my other investments," Maniago explained in an interview with VentureBeat. "Bitcoin value can fluctuate so much, which is precisely why Mint is treating it like an investment."
Mint's view of Bitcoin as an investment is one shared by many regulators around the world. Earlier this month, the Bank of Finland issued an order that Bitcoin should be treated as a commodity.
As the price of Bitcoin has nearly quadrupled over the last six months, a growing number of people have been looking to Bitcoin as a vehicle for investment. The price has certainly been volatile, regularly swinging by over over $100 in the span of a single day; however, many investors have looked to it as a way to hedge against risk in the stock and bond markets.
While major Wall Street firms have yet to jump on the Bitcoin bandwagon, many financial professionals most certainly have. In an interview with the Daily Dot last year, David Kintisky, the general manager of the Bitcoin Investment Trust, noted that some of his biggest clients are financial professionals making investments in Bitcoin with their own money that their employers aren't quite ready for yet.
Photo by Zach Copley/Flickr