Kim Dotcom is taking Mega public and he needs a chief financial officer to do it.
The larger-than-life founder of the online file-locker service took to Twitter to announce that his company was in the market to hire a qualified CFO that would help the company with an upcoming public offering. The tweet also contained links for potential candidates to apply online.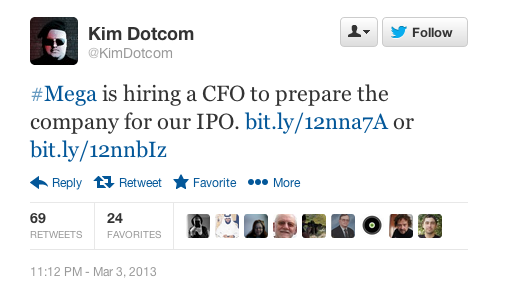 According to one of the job listings, Mega's IPO will occur sometime in the next 18 months.
The site, which recently announced that it was going to start accept cryptocurrency Bitcoin as payment, will likely file its IPO in New Zealand or Australia.
So what exactly is the Dotcom looking for in a CFO?
For starters, that person must "possess the ability to think outside the square when appropriate," "always have a positive 'can do' attitude" and must have previous experience "working with visionary entrepreneurs."
Interested parties must also be citizens of New Zealand or have a valid worker's permit.
Applicants have until March 17 to submit their resumes.
In addition to looking for a CFO, Dotcom is also looking for talented coders. The Mega founder plugged the "coding is a super power" public service announcement video and instructed his followers to email him once they got very good at it. Note: www.kim.com is down.
Photo via Sam Churchill/Flickr