Controversy has descended upon Kansas State University as faculty, student-athletes, and community members have made it clear that white nationalist Groyper leader and Kansas State student Jaden McNeil's racist Twitter post regarding George Floyd's death shouldn't be tolerated.
Many fellow students have called on Kansas State University officials to expel McNeil, who just completed his sophomore year at the university.
The tweet that began the outcry from students was sent Thursday night.
"Congratulations to George Floyd on being drug free for an entire month!" McNeil wrote.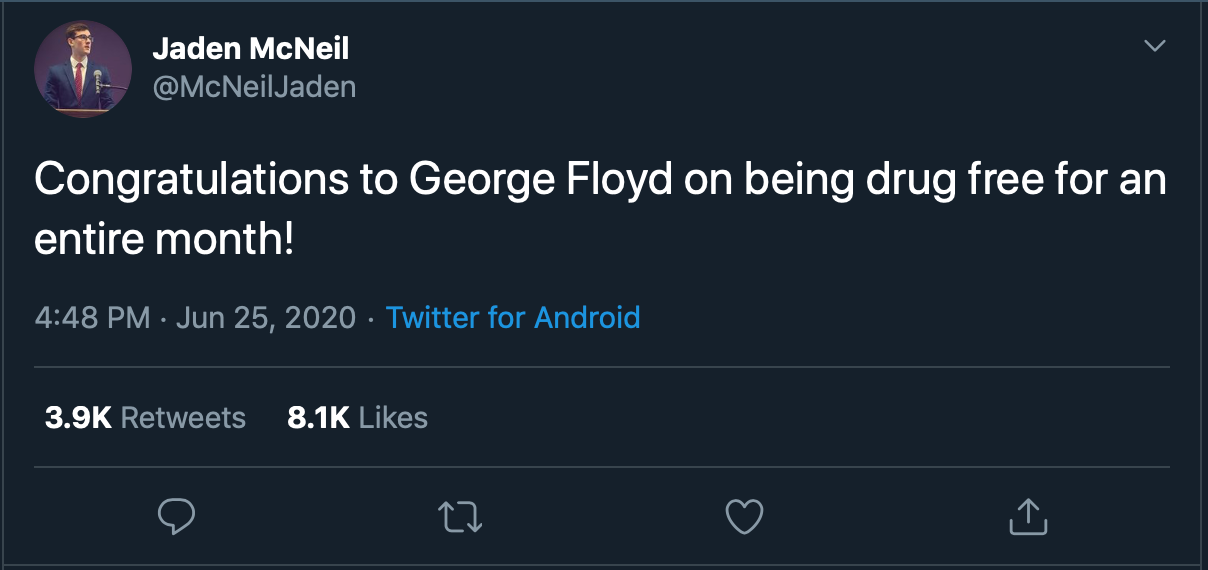 Following the derogatory remarks from McNeil about Floyd, who was killed by police in May, members of the Kansas State University football team began to speak out against McNeil.
One player wrote, "I refuse to play for a program that tolerates ignorance such as this."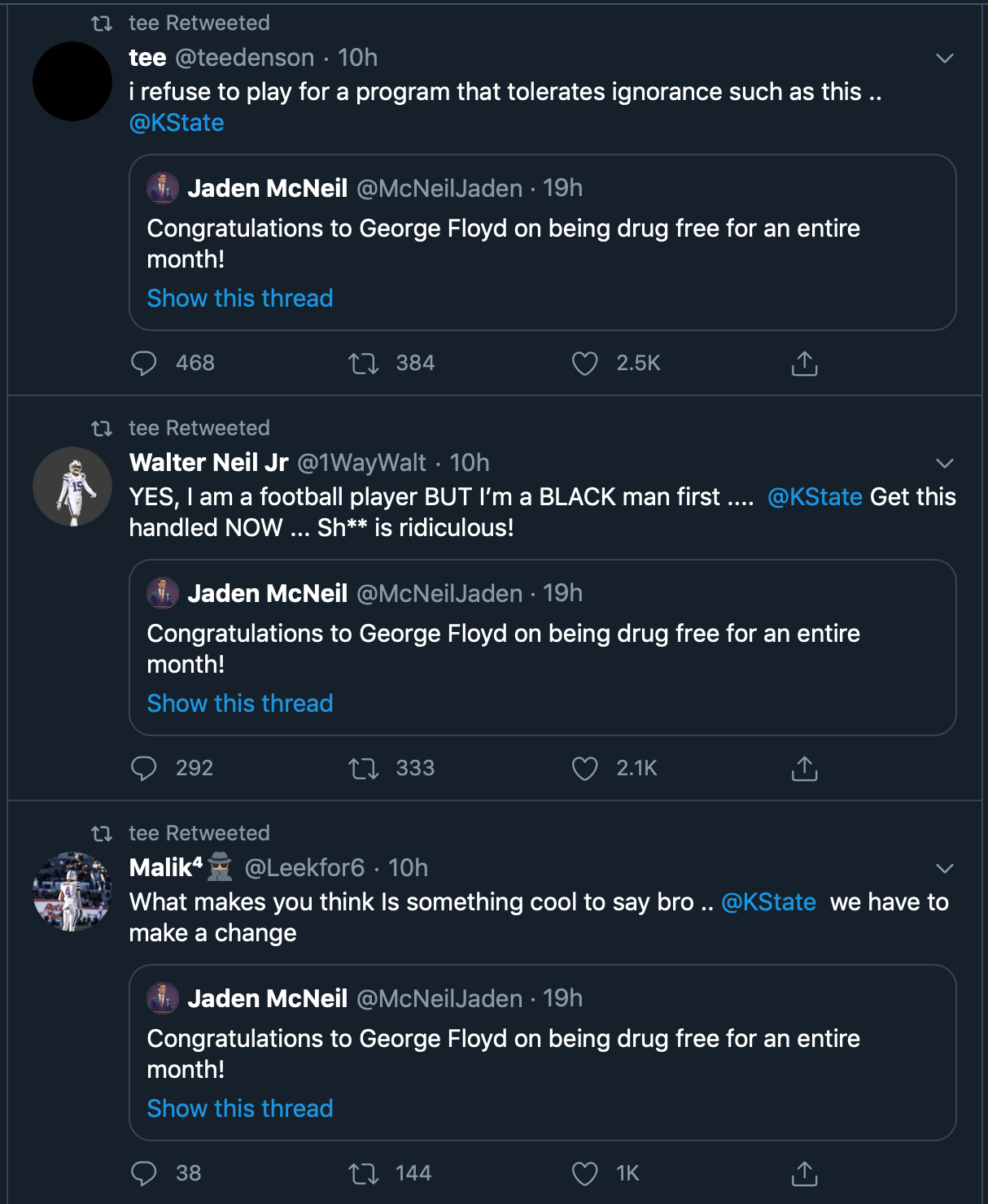 In a statement sent to the Daily Dot, Kansas State University President Richard Myers strongly condemned McNeil but didn't mention if he would be expelled from the university.
"The insensitive comments posted by one K-State student hurts our entire community. These divisive statements do not represent for the values of our university. We condemn racism and bigotry in all its forms. We are launching an immediate review of the university's options," Myers stated. "Black Lives Matter at Kansas State University and we will continue to fight for social justice."
Asked by the Daily Dot about the enrollment status of McNeil, a university spokesperson hesitated in answering but stated officials are reviewing all paths and "options available" regarding his future enrollment.
The Daily Dot attempted to reach McNeil for comment, but have been blocked on both Instagram and Twitter.
The Kansas State Athletic Department also didn't reply to a request from the Daily Dot, but the director of the department at the university did release a statement condemning McNeil on Twitter.
Athletic Director Gene Taylor wrote, "Recent tweets from a K-State student downplaying the Black Lives Matter effort and the tragic and senseless death of George Floyd are disgusting and totally inappropriate and not reflective of who we are as a University or our Athletic Department."

Numerous other Kansas State University officials have also spoken out and condemned McNeil on Twitter.
Dean of Students ​Thomas Lane tweeted Friday that: "K-State condemns the post in the strongest of terms. It does not reflect who we are as confirmed by the outrage expressed by so many campus community members."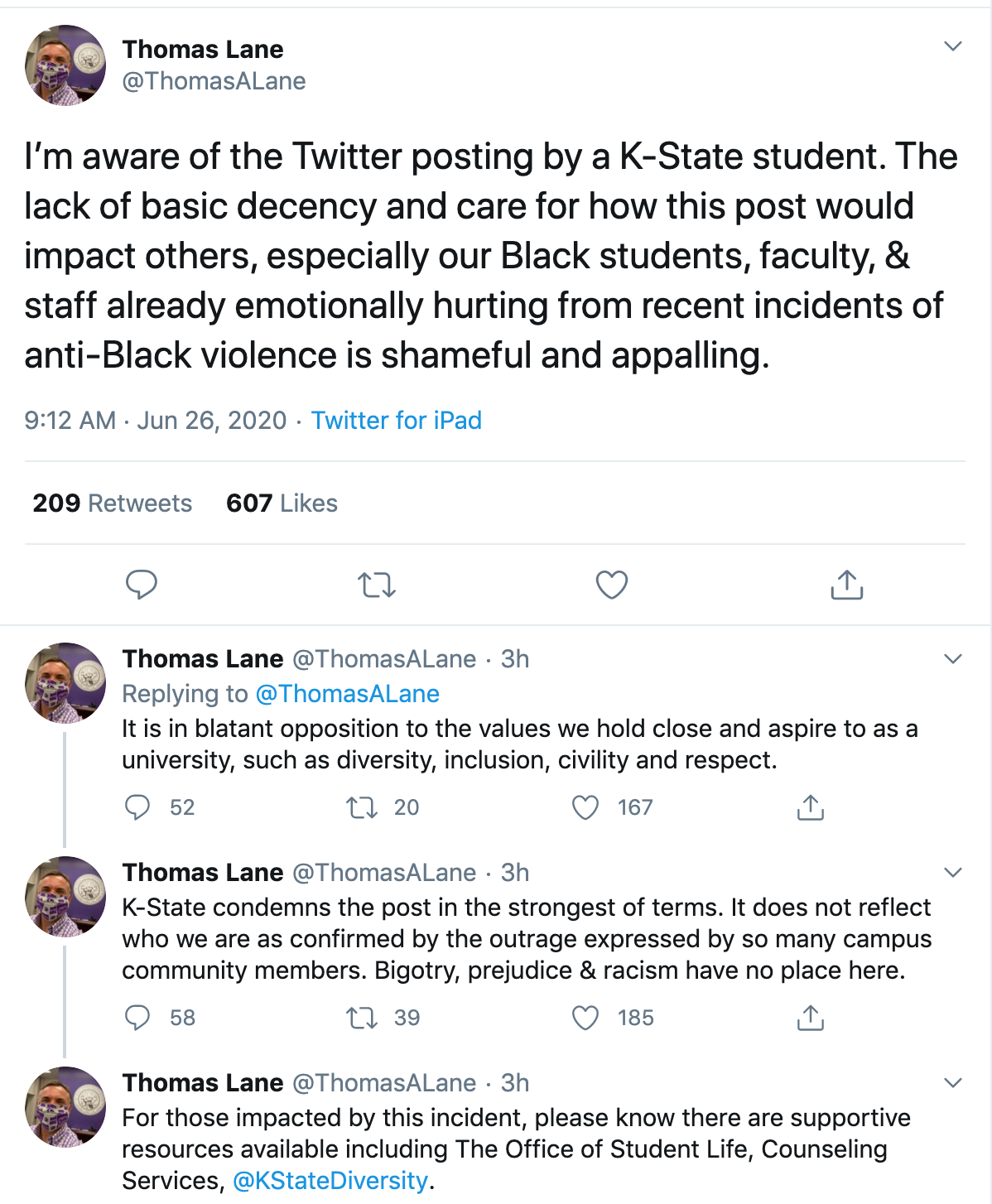 His message earned strong support from fellow Groyper leader and white nationalist Nicholas Fuentes, who encouraged his own followers to dig up dirt on McNeil's critics.
"If anybody is interested in helping, go to Jaden's tweet, go to retweets with replies, and dig through everybody threatening him or saying something nasty— do a twitter advanced search on their @ for racial slurs, anti-gay slurs, hot button political issues, stuff like that," Fuentes wrote Thursday night on Telegram. "If anybody finds anything good, send it to me."
Both McNeil and Fuentes were most recently caught at a Black Lives Matter protest in Arizona trolling demonstrators with cardboard signs that stated "I can't read."
As for McNeil's status at the university, that remains unknown, but what is apparent is that Kansas State is attempting to distance itself from the aspiring white nationalist leader.
In a statement to the Daily Dot regarding McNeil's on-campus student organization America First Students, a Kansas State spokesperson stated the university would not recognize the student group for the upcoming school year.
This post has been updated.
READ MORE: