Led by white nationalist Nicholas Fuentes, young "groypers" have taken to trolling Black Lives Matter demonstrations, mocking protesters with homemade signs and comments.
One sign went as far as making fun of how George Floyd was killed.
A group of demonstrators, which the Daily Dot spoke to on the condition of anonymity, had just finished taking part in a Black Lives Matter rally in Queen Creek, Arizona, following the nationwide outcry over the killing of George Floyd.
All of a sudden, while speaking among themselves on a grassy hill, white nationalist Nicholas Fuentes, far-right student organizer Jaden McNeil, and Unite the Right attendee Matthew Colligan approached the group of young people, seeking a photo-op with two people of color from the group.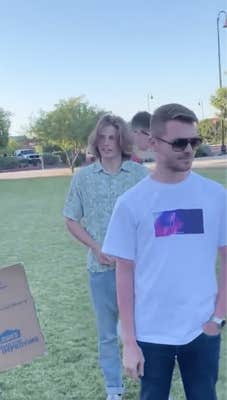 Fuentes and his crew were carrying a sign that said, "I can't read," while "smirk[ing]" at the people of color after asking for a photo, according to sources the Daily Dot spoke with at the scene.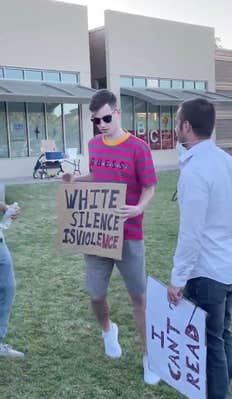 At this point, the situation began to intensify between the two groups, with one demonstrator who the Daily Dot spoke to taking out her camera and recording parts of the unfolding situation.
Then one demonstrator attempted to take the crude sign away, which mocked the death of Floyd.
With words flying and tensions flaring, a male demonstrator removed Colligan's glasses (who was wearing a white shirt and jeans) from him and placed them on the ground.
With his glasses snatched, the white nationalist provocateur announced he would be calling the police, saying that he was "physically assaulted."
Following the call to police, Fuentes continued stoking anger among the Black Lives Matter demonstrators stating that when the police arrive, they will "kneel on that guy's kneck for taking my friends glasses."
According to multiple sources, local police arrived on the scene to take down statements from both parties.
The groups were separated following the police's directives.
After the incident, numerous demonstrators who shared their encounters with Fuentes and Colligan were harassed online, forcing them to delete their Twitter pages.
McNeil and Fuentes posted pictures to Instagram following their trip to Arizona, which Fuentes claimed on an episode of his nightly podcast was equal parts business and vacation.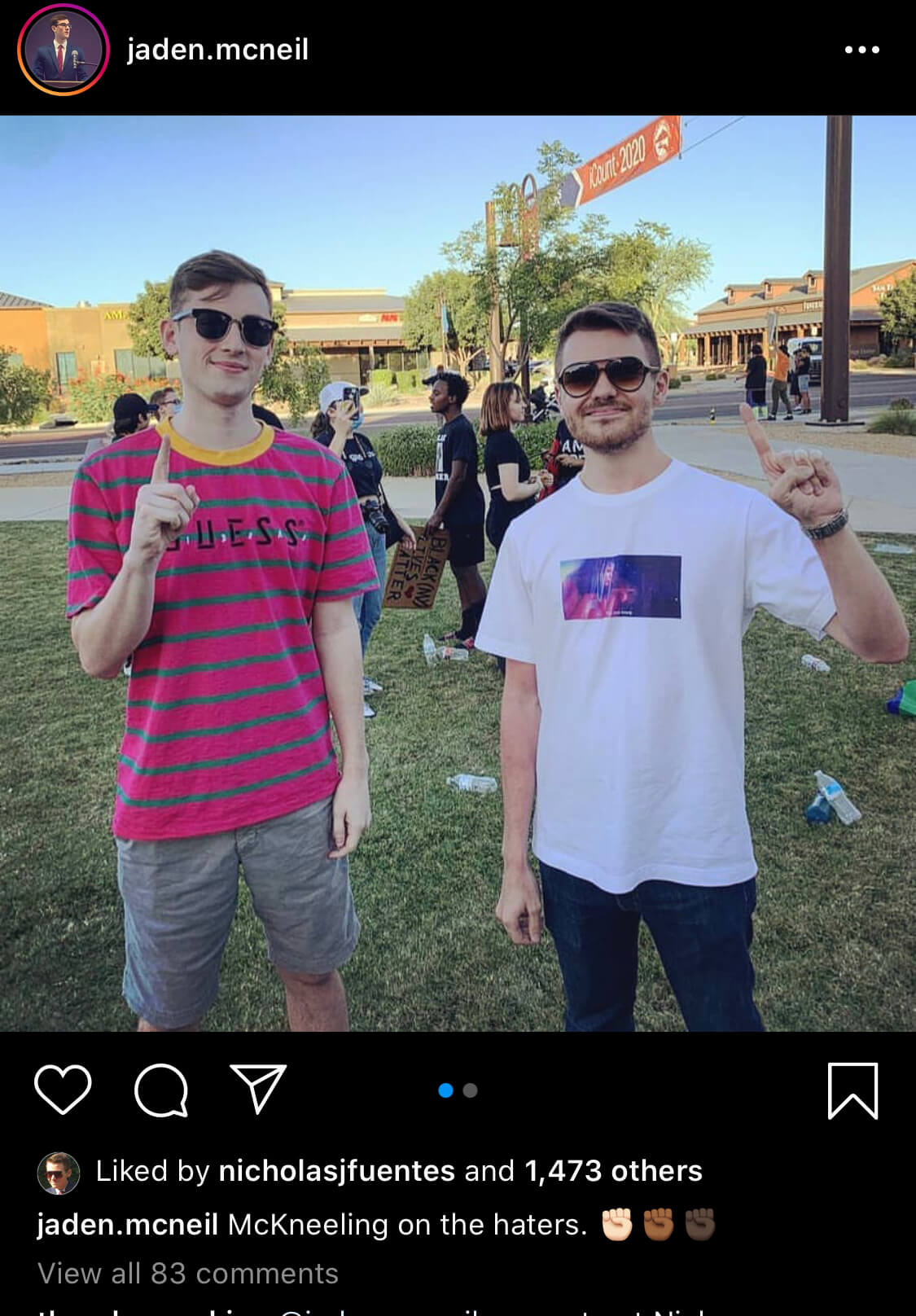 Fuentes, McNeil, and Colligan, along with other groypers, ignored multiple requests for comment.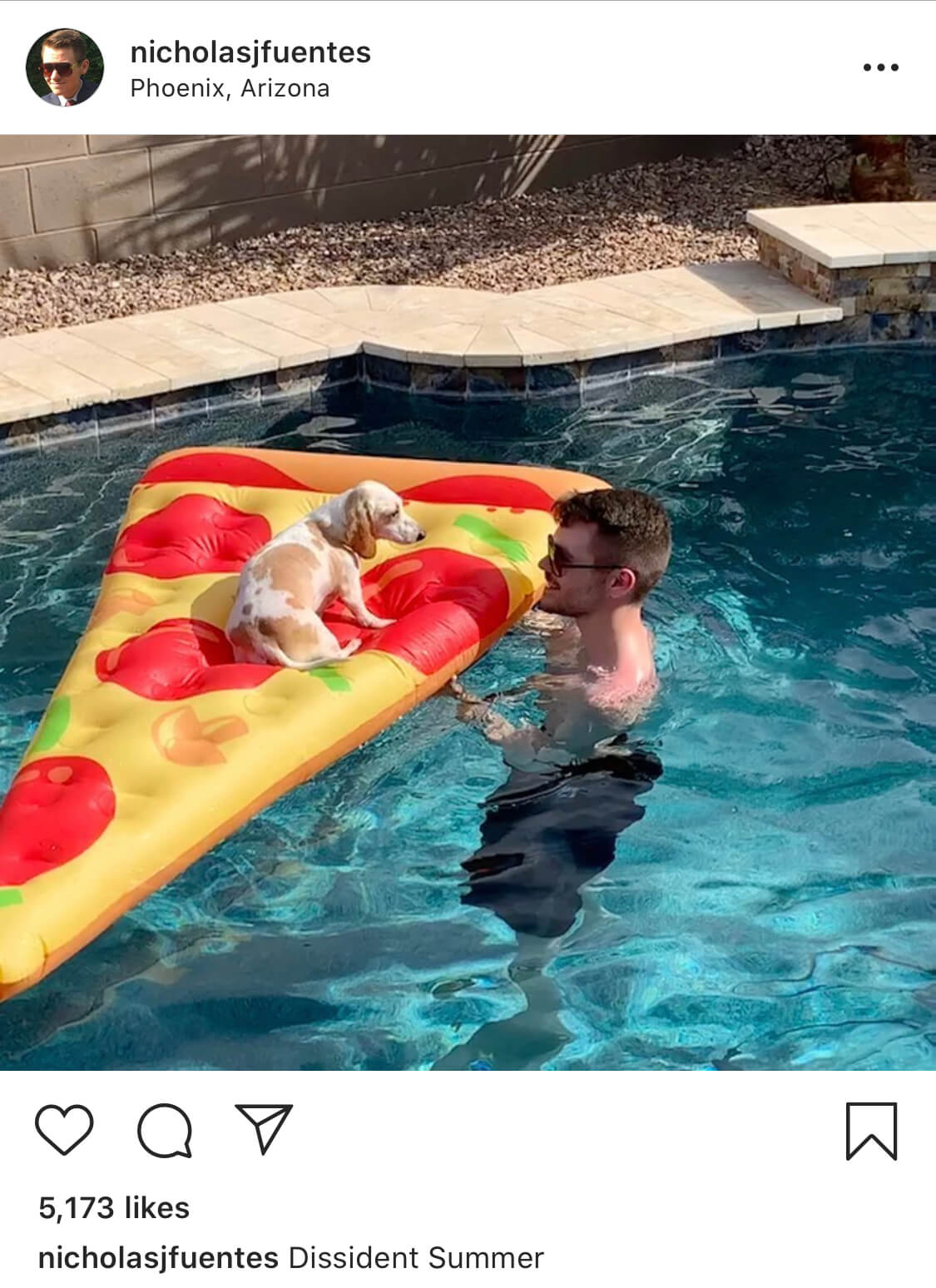 One of the demonstrators who was present while the incident was unfolding told the Daily Dot that Fuentes and others pushing hate are "why BLM gatherings are so important" while adding she didn't expect to run into blatant hatred.
McNeil, who is a far-right student activist, currently attends Kansas State University, where a petition has been circling which calls on the university to boot his student group, "America First Students," from campus.
A Kansas State communications spokesperson told the Daily Dot that "America First Students is not currently registered as a student organization for the 2020-2021 school year."
This post has been updated.
READ MORE: