Google's Backup and Sync feature is now available, and it might save you a lot of time and frustration.
The feature allows users to store and sync everything on their computer to Google Drive and Google Photos without having to move files around. The app can back-up photos, videos, and documents from your computer or external devices, like USBs and SD cards, straight to the cloud. It's a simple way to make sure your synced files are still around if something happens to your device.
The biggest benefit of Google Backup and Sync is that users no longer have to compile all their files from different sources into one location. You can simply select which folders on your computer you would like to backup, and Google will take care of the rest. The files you select will be sent to the cloud and become available on Google Drive and Photos on all your synced devices, including computers, smartphones, and tablets.
How to use Google Backup and Sync
To back up your files onto Google Photos and Google Drive, head to this webpage and download Backup and Sync. The first step after opening the app will be to sign into your Google account. Once you're signed in, select whether you would like to download all files or just photos and videos.
From there, you will be taken to the device screen ("laptop" in this case), where the app will display your file folders. You can select or unselect the main folders at the top and choose individual folders by pressing "choose folder."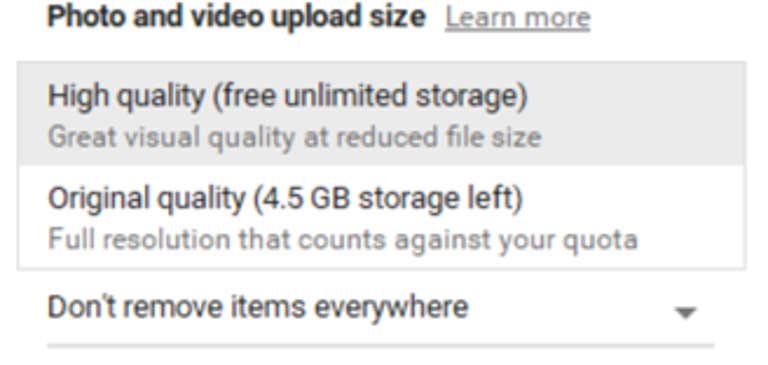 Once you've chosen the folders you want to backup, you'll need to select the image quality of your photos and videos: original size or "high quality" compressed files. Note, original size files will go toward your data limit, while unlimited "high quality" files can be synced for free. Select "OK" once you are ready to sync files to Google Drive and Photos. After it's done syncing (you can see its progress by pressing the cloud icon), Google will open up Photos or Drive and show you the newly synced files. You'll notice all synced files have a green check mark on them when viewed in File Explorer or Finder.

To return to Google Backup and Sync, right click the cloud icon, press on the three vertical dots, and select "preferences." Here, you will see the same upload interface as before, except you can now choose to remove items or decide if you want all newly uploaded photos to be synced to Google Photos. You can also select "USB devices and SD Cards" at the bottom of the screen to upload items from external devices. The "Google Drive" tab on the left side of the app lets you sync your My Drive files to your device.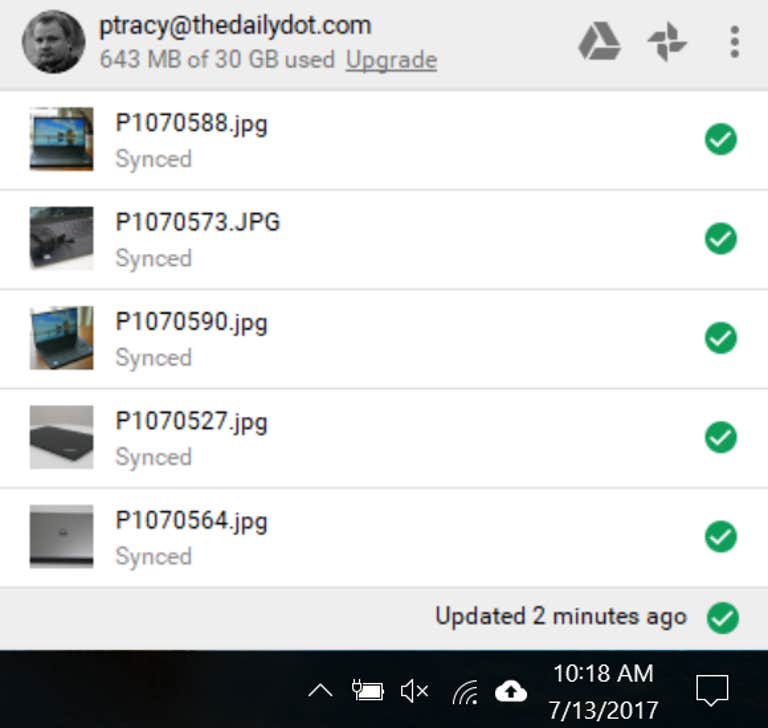 All changes made to files in the Google Drive folder will automatically sync everywhere on your computer. That means if you have a Word document uploaded to Drive, you can find and open it in your Drive folder, make changes to it, and open the newly edited version on any device. The same goes for photos and videos, so if you delete or edit an image, that action will be reflected across all of your synced devices.

READ MORE:
There are a few things that could trip you up along the way. First, Google Backup and Sync did not show up on my Windows 10 taskbar when it was open. I could only access it by minimizing all other tasks. If you pin it to your taskbar and try to open it like a normal program, you will see a dialogue box saying Backup and Sync is already open. The only way to open the app after your initial setup is by finding the cloud icon in your shortcuts, right-clicking it, hitting the three vertical dots, and selecting "Preferences." If you have trouble installing Backup and Sync, there's a good chance you already have it downloaded on your computer.
Google Backup and Sync is available on both PC and Mac, and it replaces Google's Photo and Drive uploaders. Google offers 15GB of cloud storage free before you have to start paying a monthly fee. Remember, if you want to prevent files from going toward your quota, you can always upload in lower quality, or what Google considers "high quality."