One of the most-derided aspects of Flappy Bird, the unexpected hit mobile game that spawned countless imitations after its sudden shut-down this month, was how simple it was. After all, critics mused, how easy could it be to design a game where all you do is tap the screen to avoid flying into pipes?
But that simplicity may be to your advantage if you're trying to learn the basics of coding. Code.org, the non-profit website that works to teach basic code to students of all ages, is using the design mechanics of Flappy Bird to teach you how to create your own java-based game with just a few easy steps.
Code.org's new Flappy programming game involves assembling pieces of code, presented to the reader as simplistic building blocks that make the game run.
Don't think it's that easy? Just watch.

the student coder works their way through the game, they assemble different levels of commands used to build their Flappy Bird clone.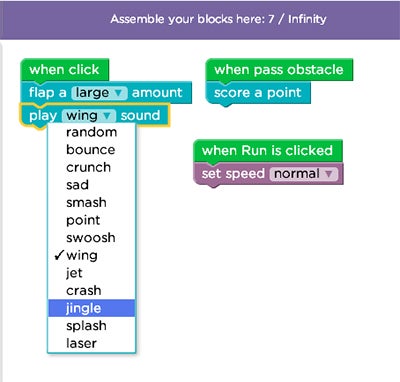 The clone doesn't actually reveal the code it uses to users, but it did something more effective, namely, allowed me to design a zen version of Flappy Bird wherein my flappy playable character didn't die.
Sign me up for more coding like that any time.
Screengrab via YouTube