Facebook updated its iOS news reader app Paper last week, giving it more features in common with the primary Facebook app. Birthday and event alerts now crop up on Paper, and users can comment on photos and make group updates. The app also gained new article covers for nine publications. The article covers confirm that the Paper team still has aesthetic flair, but the most interesting thing about this update is how focused it is on filling in features that users suggested that are available in the main Facebook app. The features themselves are nothing new, but the decision to weave them in shows that Paper's team recognizes the app's potential as an alternative to the primary mobile Facebook iOS app.
Facebook introduced Paper as a complement to its main app, a way to explore the network for users who mainly want to use it as a news feed. But Paper looked like a sleek mobile replacement for Facebook from the day it debuted, and by adding extra features that make it easier to stay in contact with friends, Facebook is making it a more robust alternative to the main app.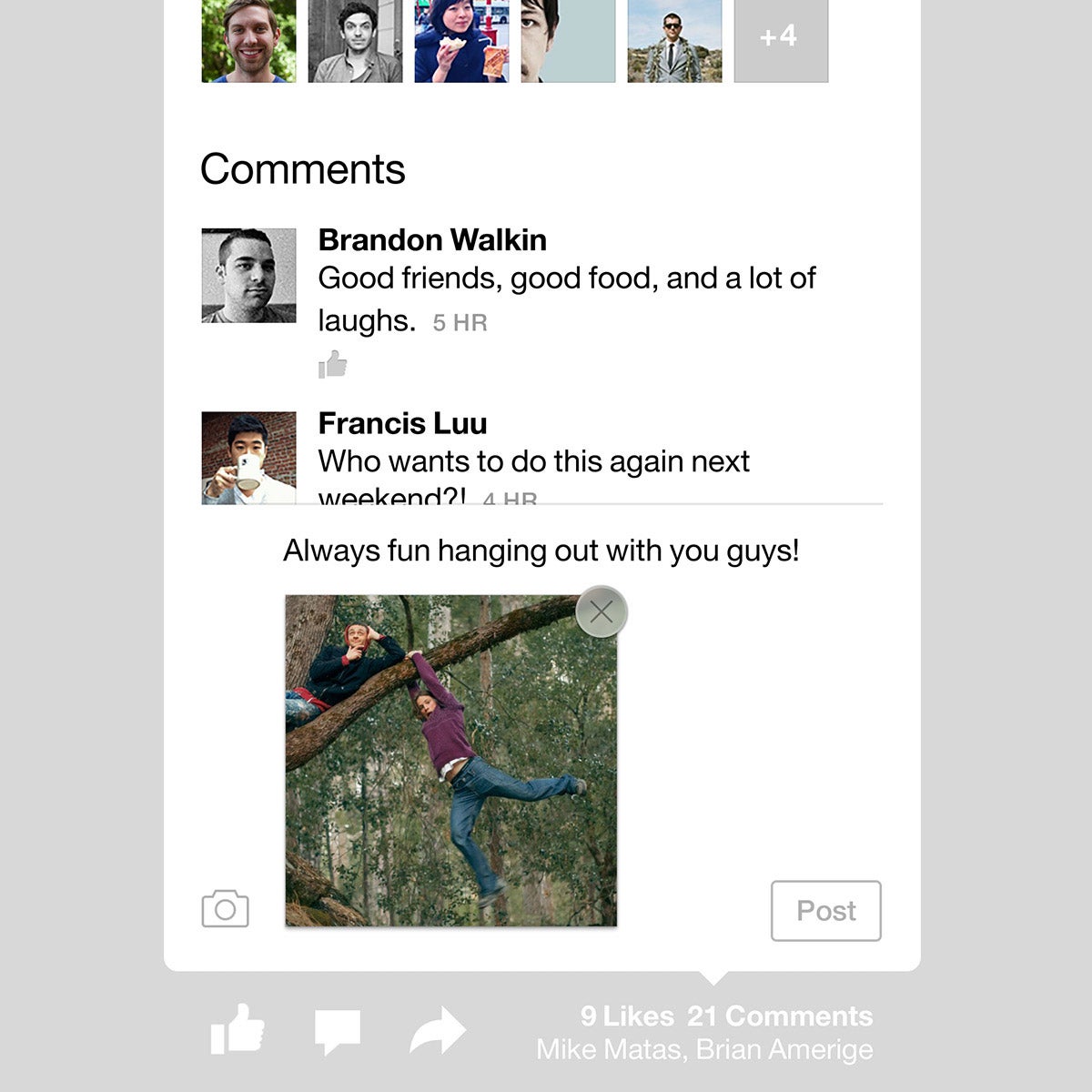 The new functions are not replicas of the features from the main app. Instead of appearing in the News Feed, for instance, birthdays and event reminders appear in a notification screen on Paper.
In a blog post announcing the new features, Facebook wrote that users are exploring an average of 80 stories a day with Paper, but neglected to provide a user count. As TechCrunch pointed out, this reticence to share how many people use Paper is likely linked to the app's continued decline in downloads; although it's been widely praised for its design and functionality, it definitely isn't a mainstream success.
Paper offers a superior way to explore Facebook for people with iPhones, but it has no urgency because there's too much overlap. It's not a hit because its functionality isn't distinct enough from the primary Facebook app, which is enormously popular. There's just no impetus to download it for users satisfied with the primary app.
Mark Zuckerberg has not been shy about Facebook's strategy to establish an empire of standalone mobile apps. In addition to building Paper and Messenger, Facebook has purchased and nurtured successful standalone apps like Instagram and WhatsApp, and it is expected to create and acquire more standalones in the future. Facebook's primary service has lost cachet with younger users, and it feels bloated, especially on mobile, so this "divide and conquer" plan is savvy, but muddled. In the same month, Facebook pushed mobile chat users onto Messenger by cutting the service from its primary mobile app, but then it introduced a "Nearby friends" feature into its main app and did not include the location-finding feature in the Paper update. It wants to take the car apart for parts and keep driving it at the same time.
Facebook's primary app is one of the most popular apps in the world. It now makes more revenue off mobile than desktop. So killing the primary Facebook app would be an enormously risky move, and it is highly unlikely. But Paper, as pretty and functional as it is, will never be a hit as long as the primary Facebook app is around.
H/T TechCrunch | Image via Fernando Alfonso III