Donna Brazile, the former interim head of the Democratic National Committee (DNC), flatly denied claims by conservative blogger Matt Couch that she was at the same hospital where former DNC Staffer Seth Rich died.
Couch made several claims on Sunday and Monday that Brazile and Washington D.C. Mayor Muriel Browser were at the hospital Rich was taken to the morning he was killed on July 10, 2016.
Those claims quickly got picked up by leading far-right personalities.
https://twitter.com/mflynnJR/status/1031516899434217473
https://twitter.com/LauraLoomer/status/1031397611885027328
Rich's murder has become the subject of conspiracy theories since then, including that he was killed by the DNC after leaking emails from the group to WikiLeaks. It is widely accepted the emails were given to WikiLeaks by Russian operatives.
Couch said he had "credible" information from sources and added that he had information that was "verifiable" and he has "a way to prove it. Couch has a history of making claims about the Rich murder that don't hold up.
In an email to the Daily Dot on Monday Brazile said she in Washington state with CNN commentator Ana Navarro on the day of Rich's murder, and called Couch's claims an attempt to profit off the staffer's murder.
"This is painful not just to the memory of a great young public servant, but Seth's parents and his colleagues and friends… There is simply no truth to the claims in the article," she wrote, adding in another email: "The claim is false, misleading and worse—profiting [off] an innocent death."
A tweet from Navarro from July 11, 2016, shows the CNN commentator and Brazile eating in Seattle, Washington. Another tweet from the Association of College & University Housing Officers on July 11, 2016, also imply Navarro and Brazile would be speaking with them. The agenda for the conference also has Brazile on the schedule of July 11.
There are no tweets from Brazile proving she was in Washington state the day before, when Rich was killed and she's accused of being at the hospital. On Twitter, several users pointed to tweets Brazille made that day that show her geotag is in the Washington, D.C. area.
With the political rhetoric as heated as it is right now, we need to remember to love and look out for each other. The alternative is awful.

— Donna Brazile (@donnabrazile) July 10, 2016
Equality and justice for all https://t.co/ideFuw1eQI

— Donna Brazile (@donnabrazile) July 10, 2016
Brazile also said a picture the conservative blogger used on his website of her and Bowser was taken in 2014 when the now-mayor was a candidate for office. The picture used in Couch's article was tweeted by Brazile in July 2014.
Couch did not immediately respond to a requesting comment on Twitter from the Daily Dot.
Mayor Bowser's office also denied the report.
Brazile's lawyers issue cease and desist
Elizabeth Marvin, Brazile's attorney, has also sent a letter—obtained by the Daily Dot—to Couch and America First Media Group claiming he published "false and defamatory content" about the former DNC head with an "obviously malicious intent."
"You published these false and defamatory statements in an attempt to further conspiracy theories and persuade your readers to believe that Ms. Brazile intervened in and/or influenced the investigation into Seth Rich's murder," Marvin writes in the letter.
The letter asks Couch to cease and desist within 48 hours or Brazile will pursue "all available legal remedies."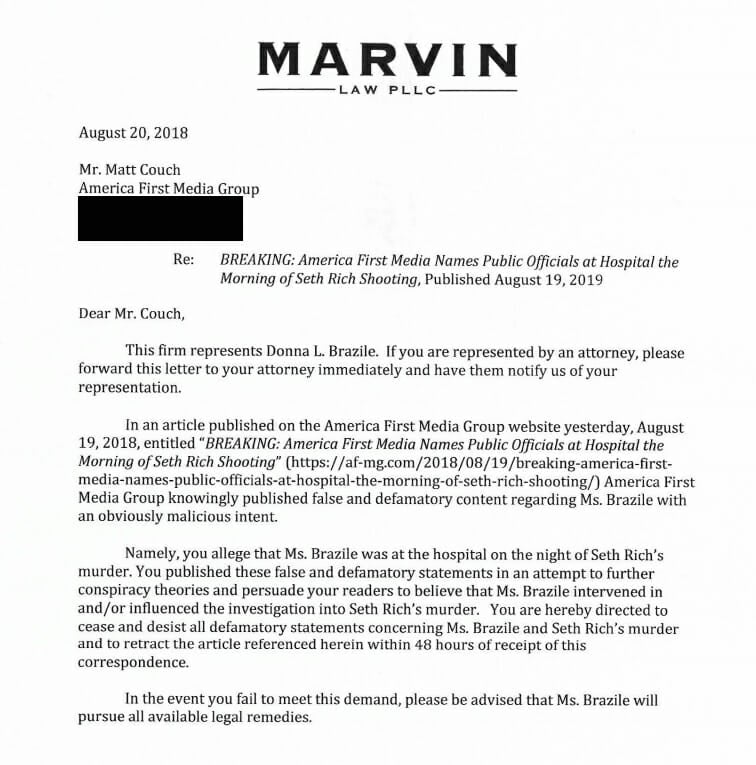 In a response to a tweet from Couch, Brazile said he published "a bogus claim."
You should be ashamed of yourself. In addition to your deceitful lies about Mr Seth Rich, you have once again published a bogus claim. It's time you focus on protecting our democracy and publish falsehoods.

— Donna Brazile (@donnabrazile) August 20, 2018
Rich's murder has been the subject of numerous conspiracy theories. The former DNC staffer was shot while he was walking home from a bar in Washington D.C. The murder remains unsolved and authorities have said they believe it was a robbery gone wrong.
Some people believe that Rich's murder was nefarious and the result of him giving emails to WikiLeaks, with Fox News host Sean Hannity eventually breathlessly covering it.
The Rich family wrote an op-ed in the Washington Post last year where they said they have seen "no evidence" that the murder "had any connection to his job at the Democratic National Committee or his life in politics," adding: "anyone who claims to have such evidence is either concealing it from us or lying."
They added:
"Those who have suggested that Seth's role as a data analyst at the DNC gave him access to a wide trove of emails are simply incorrect. Seth's job was to develop analytical models to encourage voters to turn out to vote. He didn't have access to DNC emails, Democratic Congressional Campaign Committee emails, John Podesta's emails or Hillary Clinton's emails. That simply wasn't his job."
READ MORE:
This post has been updated.