The Internet is a wild digital thicket with wonderful content; there are so many worthy stories online that it's impossible to read them all. But it's also littered with articles and websites made by marketing expertsde who use words like 'guru' and 'ninja' far too loosely. If you want to hurl your laptop into a cauldron of lava every time your web browsing leads you into a vapid pocket of jargon-filled marketing fluff, you're not alone. But don't worry.
A new Google Chrome extension promises to banish unnecessary marketing jargon from the Internet. The Dejargonizer, a project from Knock Twice, highlights offending words in yellow and provides context to jargon for non-marketing types.  If users see an offending word that isn't called out, they can highlight it and add a definition so the team can look it over and add it to the buzzword list.
To test it, I googled the most marketing-jargon-y phrase I could think of, "growth hacker," and landed on a page that the Dejargonizer immediately called out in yellow highlights.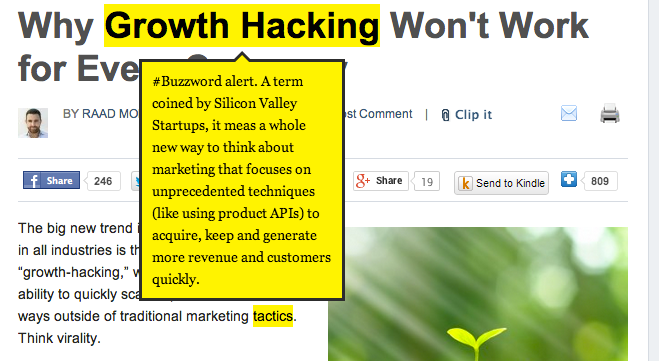 Turning the Dejargonizer on makes it clear just how much marketer-speak has infested certain websites. While we're proud to say the Daily Dot was largely free of the dreaded yellow words, Knock Twice's own homepage wasn't so lucky.
The app is actually most helpful if you're going to read a lot of marketing-related content but you're not clear on what the words mean. If you want to hide jargon, there are other browser extensions that will block certain words from cropping up, like Word Filter. 
Photo via Flickr/John Lui (CC BY 2.0)