A new tool makes it easier than ever to protect your conversations on Facebook.
Cryptocat, an open-source encrypted chat program that Glenn Greenwald used to communicate with Edward Snowden while in Hong Kong, has finally come to Facebook. If you want to easily keep your chats private—on Facebook and everywhere else you chat—check Cryptocat out here.
The three-year-old tool is designed to make safe and secure communications as easy as possible. It's available as a browser extension for Chrome, Safari, and Opera (Firefox and Mac desktop are coming soon) and as an iPhone app (Android is on the way), so almost anyone can download Cryptocat and quickly get chatting.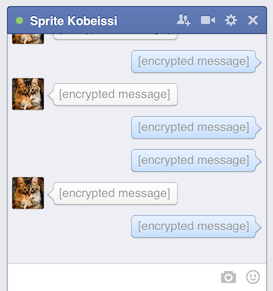 Using Cryptocat, your chats will be off-the-record encrypted and won't be viewable by either Facebook or Cryptocat's network.
Although powerful encryption tools have been around in various forms for decades, one of the the biggest challenges privacy advocates face today is to make powerful encryption tools easy enough so that anyone on Facebook, almost regardless of tech literacy, can chat knowing that no one is eavesdropping—not marketers, advertisers, hackers, or nosy cops.

A 2013 survey of users who quit Facebook found that half left because they believed the site was invading their privacy. An easy-to-use browser extension could be just what they're looking for.
Cryptocat is far from a magic bullet. Facebook might not know exactly what message is being sent, but it can see metadata—like who is speaking to one another over encrypted channels and when. 
That's no small amount of information. But compared to the usual batch of private data that Facebook networks might have access to, Cryptocat offers a huge privacy upgrade.
Photo via Carlos Luz/Flickr (CC BY 2.0) | H/T AllFacebook