Are you prone to drunk-texting your friends and loved ones after tying on a few? Do you send old paramours poignant lyrics from Joni Mitchell songs, followed by texts accusing them of ruining your life, complete with fire and eggplant emojis?
Then you should probably download Ansa, a Snapchat-esque messaging app that not only automatically deletes messages and photos after you send them, but also lets you delete embarrassing texts from another person's device before they get a chance to see them. It's like a legal, 21st century version of sneaking into someone's house and changing their machine after you leave an embarrassing voicemail.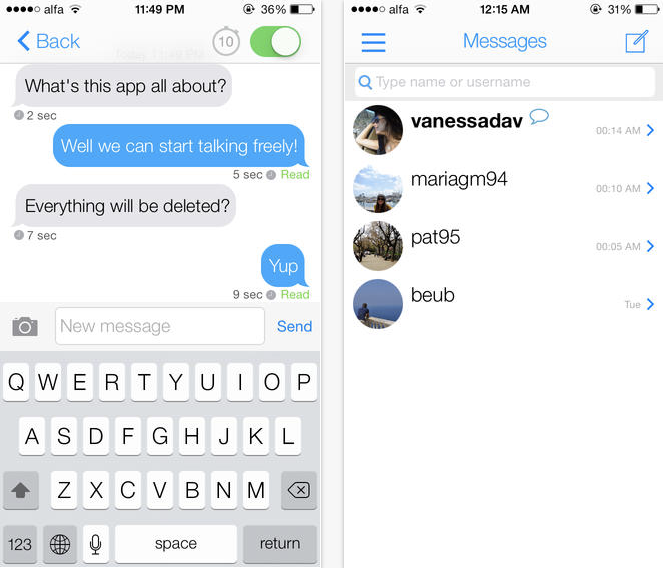 Created by Natalie Bryla, a 23-year-old from San Francisco, Ansa allows you to communicate with your friends in "off-the-record" mode, so your photos, messages, and videos disappear immediately after you send them. (You can use a custom "self-destruct timer" to set the amount of time they'll exist in cyberspace before they disappear.)
But the most unique aspect of Ansa is its "synchronized deletion" feature, which lets you remotely delete a message you've already sent it to someone else's phone. Unfortunately, this feature only works if both you and the person you're messaging with are on Ansa, so if you send a drunken marriage proposal to the guy you met at a bar the night before via iMessage, you're out of luck.
Available on iOS and Android, Ansa is marketing itself as the perfect solution to drunk texting for college students, much like Sobrr, a similar ephemeral messaging app that deletes your messages after you read them and automatically removes your new contacts 24 hours after you put them into your phone. In a sense, both Sorbr and Ansa are spearheading a new trend: Social networking tools for drunk people.
Apps like Ansa or Sobrr, which essentially let you push an "undo" button to erase any record of your most embarrassing inebriated moments, are a compelling idea in theory. But of course, there's no "off-the-record" mode or "undo" button IRL, so the next time you drink too many shooters at a frat party and pee your pants in front of that girl from your chem class, there won't be an app to bail you out. At least not yet…
H/T Daily Mail | Photo by Shay/Flickr (CC BY 2.0)