Back in the last century, in that most iconic of years, 1984, Stewart Brand famously said, "Information wants to be free." That slogan has been a rallying cry for Internet activists and hackers ever since. It's an ethos closely associated with WikiLeaks.
Or was.
Wednesday night WikiLeaks released 13,734 emails relating to Mitt Romney and the GOP, using all the might of its 1.6 million Twitter followers and 2.1 million Facebook friends to promote the publication. This is the first in a series of releases of an estimated 200,000 emails relating to both political parties coming before November 6. These timely and high-profile files are part of the Stratfor hack, also known as the GI (Global Intelligence) files, and they are the reason that Jeremy Hammond and much of the rest of the core of LulzSec are currently in custody (FBI informant Sabu excepted). LulzSec is alleged to have supplied the files to WikiLeaks, which had been forced to close its leak-gathering arm because of a financial blockade by Paypal, Mastercard, and Visa.
But before users could read the individual files, they had to pass something that looked an awful lot like a — gasp — paywall. What was it? Let's backtrack a little.
Last week WikiLeaks debuted a daring new initiative, Vote WikiLeaks/Donate2012, encouraging individual voters to view their dollars as speech and put them towards the candidate they truly supported: WikiLeaks. The video features snippets from Obama's speeches interspersed with pointed remarks from Julian Assange.
In the spirit of tweaking their enemies, they prominently featured options to donate via VISA and Mastercard, both of whom cut off WikiLeaks' payments in 2010, precipitating a financial crisis from which WikiLeaks has yet to recover. Recent court victories have restored the credit card pathways, and the leak site is maximizing its possible exposure with this promotion.
Returning to the events of 12 hours ago: When users clicked from the index page to any specific Romney/GOP email, they were met with the bunting-clad fundraising video, the donate button, and a semi-transparent red overlay which made WikiLeaks' pale blue font utterly illegible. And no X to close the pop-over. Faced with a money-soliciting video with no clear way to get around it, the usually supportive readers went wild.
"What the hell, did @Wikileaks just commit suicide? Seems so," tweeted Anonymous' own leak site, Par:AnoIA. That was mild compared to the 285,000-Follower account AnonymousIRC, who has in the past mixed it up on Twitter with WikiLeaks. They unleashed the ALL CAPS with, "WE DO NOT MAKE MONEY WITH LEAKS. WE DESPISE ANYONE WHO DOES. over and out." The 641,000-Follower YourAnonNews was, typically, more phlegmatic but no less definite, tweeting, "This, dear friends will lose you all allies you still had. @Wikileaks, please die in a fire, kthxbai."
Some advised calm, keeping their eyes on shared goals. "That #Awkward moment when u see brother turn against brother. Well played #BigBrother well played! #Anonymous," said Anonymous tweeter Mezcal1323.
There was disbelief, speculation that it was some kind of glitch. "I highly doubt that's a paywall. It would be stupid, ineffective, and the epitome of hypocrisy," tweeted Senator Anarchy. Anon Sikko replied, "im thinking its a coding error or something."
It wasn't.
Within an hour, the word went around Twitter that disabling JavaScript in your browser would get you around it, although that information was nowhere on the Web page. Other users reported that clicking to donate, then backing out before concluding the transaction, worked. Still others found that simply waiting (anywhere from ten minutes to an hour) exempted them from the importuning video. Others, that watching the video got you past it. And the Cryto Coding Collective released its own browser add-on specifically for the leaks.
Evidently, not good enough.
"I don't give a shit about work arounds. We don't risk prison to leak stuff for money," said the very politically active PLF2012. And Emmi Einstein tweeted, "Even if this is a fuck up, @wikileaks should own up to it instead of denying any sort of "paywall" even if it was unintentional."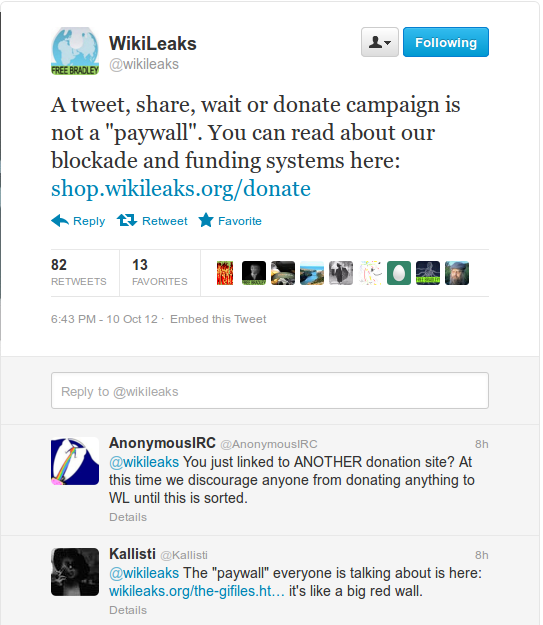 Eventually, WikiLeaks did, some hours after the firestorm began, tweeting, "A tweet, share, wait or donate campaign is not a "paywall". You can read about our blockade and funding systems here: http://shop.wikileaks.org/donate."
Yes, another donation link, and no acknowledgement that instructions about tweeting, sharing, or waiting were conspicuously lacking from the site. Never has a User Interface failure been so central to geopolitics.
"The end of an era. We unfollowed @Wikileaks and withdraw our support. It was an awesome idea, ruined by Egos. Good Bye. #Anonymous," said AnonymousIRC, in a multipart Dear John letter. "We fail to see the difference between Wikileaks and any other fundraising scheme."
That is what you call an expensive mistake. And all for lack of a simple X. The alphabet, at least, is still free.
Photos via Wikileaks/Twitter/GIFiles