After seeing Silk Road net $1 billion during its nearly three-year reign, you may have been impressed. But when the next big Deep Web black market, Sheep Marketplace, stole nearly $100 million in a few short months from customers, you might have been jealous.
Now it's easier than ever to set up your own Deep Web black market. A task that once required a wealth of time and knowledge can now be accomplished in less than one minute. Bringing in the millions of dollars in business and warding off the cops, however, is still very much up to you.
Deepify is a new Deep Web startup that allows users to create a Silk Road–style market easily and anonymously with about two clicks. The hidden service, which is located at deepifyvyixbgkts.onion, is incredibly easy to use. But that doesn't automatically make it a good idea—at least not yet.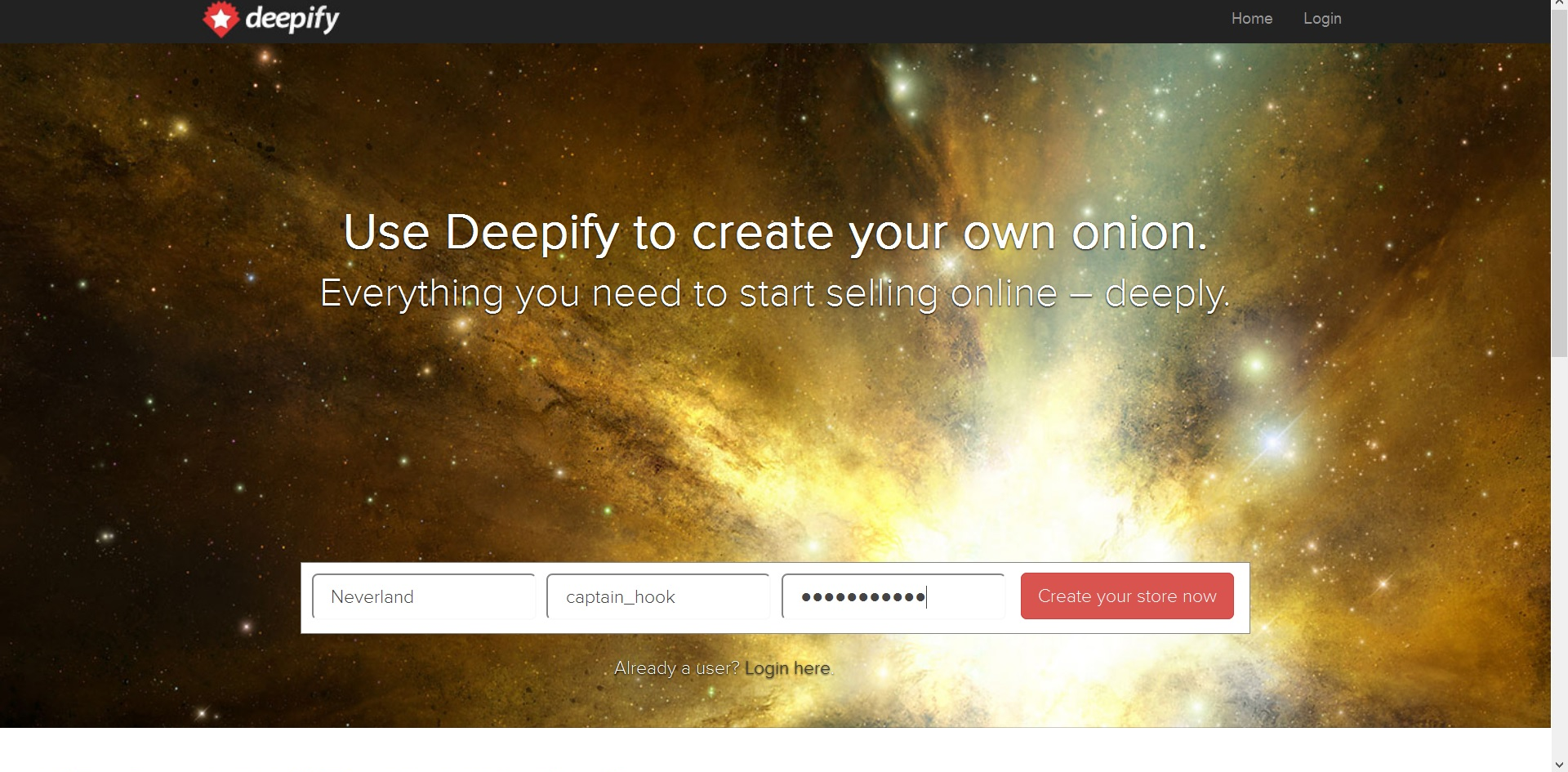 To test out Deepify, I built my own personal Deep Web market named Neverland. The criminal alter ego that will lead my loyal customers to a free market revolution is named Captain_Hook. All I need after that is a password for privacy, a Bitcoin address for money, and PGP key for encryption. As quick as that, I'm almost at the finish line.
A few seconds later, I'm adding the products I'll sell in my store.
The process is exceedingly simple. My cuddly, smuggly teddy bear costs $300. The Deepify team takes 3 percent of every transaction, which will net them $9 for my bear.
With that, I'm set up. Almost instantly, I have my own .onion address (ogw5ov2nonmb2dg2.onion) to advertise and a dashboard to manage almost everything on the site including products, prices, shipping, and order management.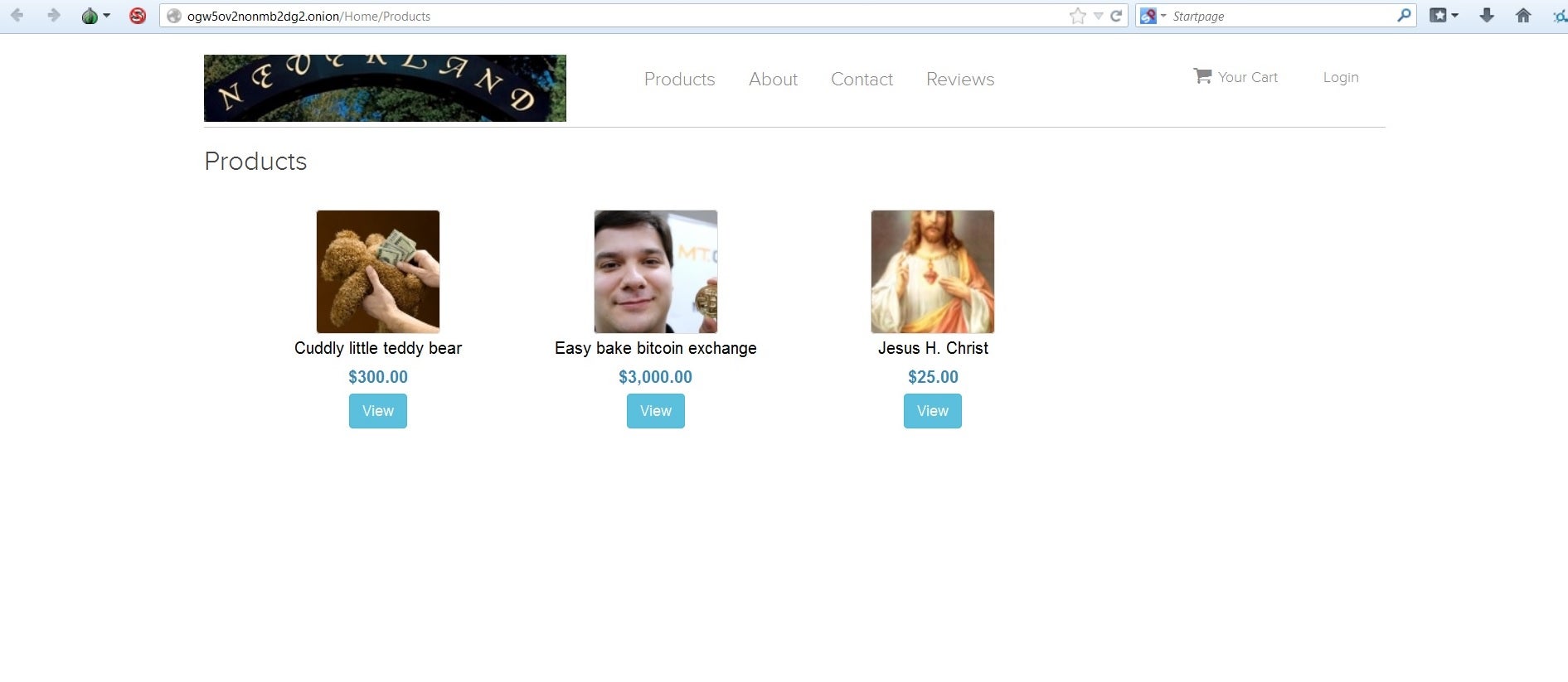 Easy. Now, except for the forums, I have the same basic setup that dozens of black markets have built in the past few years—with a few key exceptions.
Relying on a stranger's Deep Web hosting means relying on a stranger's security.
First of all, every single piece of sensitive data that passes through your site is passed through Deepify's hands. The Bitcoins makes a detour to Deepify's wallets. The customer's shipping address is copied to Deepify's database and then, according to Deepify, deleted once it's no longer needed.
For anonymous buyers and sellers who will be doing business for illegal goods like drugs or weapons, that's an incredible amount of trust that has to be invested into a totally unknown third party. In this kind of business, putting trust in the wrong place can mean prison.
Although the owners of Deepify claim to have "many, many years" experience in "the industry"—The drug industry? The Deep Web industry? The tech industry? They don't say—there are no real details available about their past. It's clear that the developers are tech savvy enough to develop and deploy a great looking Deep Web service but, beyond that, it's all guesses and gambles.
However, this is the Deep Web. Unknowns are par for the course. After all the millions of dollars' worth of scams, there are still thousands of people willing to invest Bitcoins into markets and products run by strangers. Deepify is built beautifully, so it would be a shock if no one ended up using it over the long run.
"We understand that trust is earned and that is why we are here," the developers wrote at they unveiled their product for the first time on Monday.
Official Tor developers have recently begun development of a point-and-click Deep Web publishing to make it easy for anyone to launch their own .onion website. Even that endeavor, led by competent, trusted, and known coders, brings up important questions: If it becomes so easy to launch a hidden service, will novice users really know how to protect the identity of their visitors or themselves?
But, as is the case with all of Tor, the official Tor point-click-publish program will be open source so that other experts can audit the entire thing. Deepify is closed off. No one can see what is happening under the hood. If the code behind Deepify is malicious or incompetent, users might not know until it's too late.
In addition to lacking operational details, Deepify lacks an escrow service as well. An escrow is a third party mediating transactions between buyers and sellers, typically a market owner. Without an escrow service, deals are made with no intermediary or possible rebuke if goods are not delivered. For the last three years, the most common scam on the Deep Web has been to make deals with no escrow and then never deliver a product.
An escrow is coming eventually, the developers say, but Deepify is not fit for the mass market until then—at the very least.
Deepify is a slick, promising service built by smart people but that's not enough in this kind of environment. There's a lot of work to do before even the most reckless Deep Web business person ought to seriously commit to the service.
However, if you still want to set up your own Deepify store today, the rules are simple: "No human rights violations, no scams, no fraud," the developers say. Other than that, everything is fair game.
Photo via Chris Isherwood/Flickr (CC BY-SA 2.0)