Selina Meyer—the one-time senator turned vice president, then the accidental president of the United States—is serving one more term before a final farewell to Veep.
The end of season 7 will be Meyer's last laugh in the hilarious world of D.C. politics. Last season, Meyer was adjusting to civilian life, raising money for her presidential library, and serving as a goodwill ambassador worldwide—all while trying to dip her toes back into the political life she left behind. And while it seemed America had its fill of Meyer for one lifetime, her popularity saw an uptick, which she hopes to capitalize in her third run for the U.S. presidency.
Will she finally win the coveted commander-in-chief gig she always dreamed of? Or will her bumbling staff paired with her own terrible decisions cost her the opportunity once again? The only certainty is this legendary political comedy will deliver once more on the outrage, the laughs, and occasionally, a little bit of heart.
Here's everything you need to know to watch Veep online for free.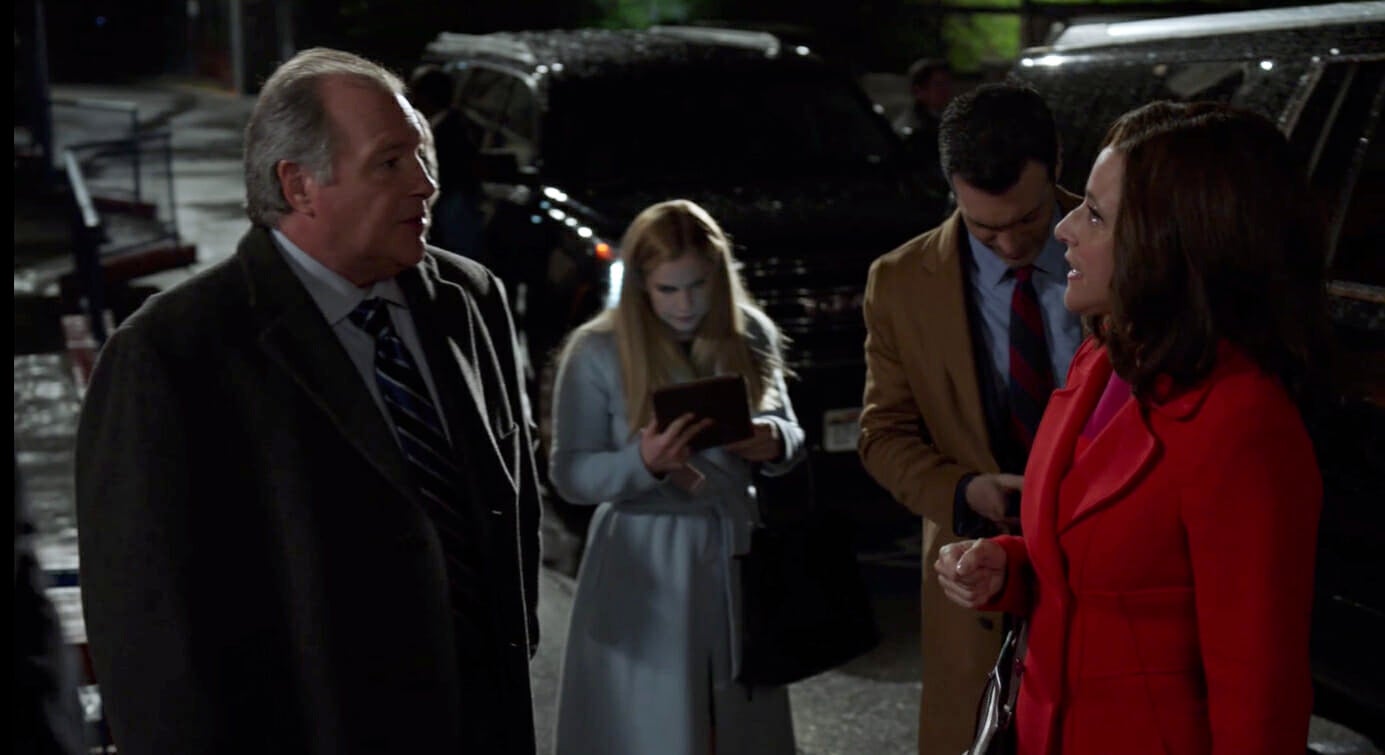 Veep cast
Julia Louis-Dreyfus as Selina Meyer
Anna Chlumsky as Amy Brookheimer
Tony Hale as Gary Walsh
Reid Scott as Dan Egan
Timothy Simons as Jonah Ryan
Matt Walsh as Mike McLintock
Sufe Bradshaw as Sue Wilson
Kevin Dunn as Ben Cafferty
Gary Cole as Kent Davison
Sam Richardson as Richard Splett
Was Veep canceled?
After a two-year hiatus, Veep returns for season 7, which will unfortunately be its final season. In an interview with the Hollywood Reporter, Julia Louis-Dreyfus, who also serves as an executive producer, said the showrunners feel good about the story's stopping point. "We don't want to repeat ourselves or wear out our welcome," she said. "The story has a finality to it that feels end-of-series."
What channel is Veep on?
Veep season 7 will be available exclusively on HBO.
When does Veep air?
The final season of Veep will premiere Sunday, March 31 at 7:30pm ET on HBO. Subsequent episodes will air at the same time on subsequent  Sundays.
---
How to watch Veep online for free
Veep is only be available on HBO. But there are plenty of options to access the premium cable channel for free… at least for a week, anyway.
Cost: $14.99 per month (after a 7-day free trial) for HBO | $119 per year for Prime
Devices:

Amazon Fire Stick, Fire TV, Fire tablets, and Fire phone; Roku, Google TV, TiVo, Nvidia Shield, PlayStation 3 and 4, Xbox One, Nintendo Wii
HBO is one of the best standalone channels available for purchase on Amazon Prime Video. If you're a Prime subscriber, it's a convenient way to stream HBO hits like Veep, True Detective, and Game of Thrones, and it costs the usual $14.99 a month.
---
Cost: $14.99 per month (after 7-day free trial)
Devices:

Amazon Fire TV, Fire TV Stick, and Fire TV Cube, Android TV, Apple TV, PlayStation 3 and PlayStation 4, Roku, Samsung Smart TV, Xbox One and Xbox 360.
If all you want is HBO, its proprietary on-demand service HBO Now will give you instant access to the channel's entire history of his shows, movies, and documentaries, along with the ability to live stream new shows and specials. You'll never run out of things to watch. 
READ MORE:
---
Cost: $7.99-$11.99 for Hulu or $40 per month (after a 7-day free trial) for Hulu with Live TV | $14.99 per month for HBO
Hulu devices: Roku, Apple TV, Google Chromecast, Amazon Fire Stick and Fire TV, Xbox One, Xbox 360, Nintendo Switch, and iOS and Android devices
Local channels: ABC, CBS, Fox, NBC, the CW (check your local availability here)
Adding HBO to your Hulu account is easy. If you're looking for an online cable package that comes with all that great Hulu on-demand content, Hulu with Live TV is a great offer at a great price. You'll have almost 60 channels to flip through, including HGTV, a full suite of ESPN channels, Cartoon Network, FX, and even deep cuts like Nat Geo Wild and Syfy. Whichever Hulu package you choose, adding HBO will cost $14.99 a month after your free trial expires. (Here's the complete list of Hulu Live TV channels.)
READ MORE:
---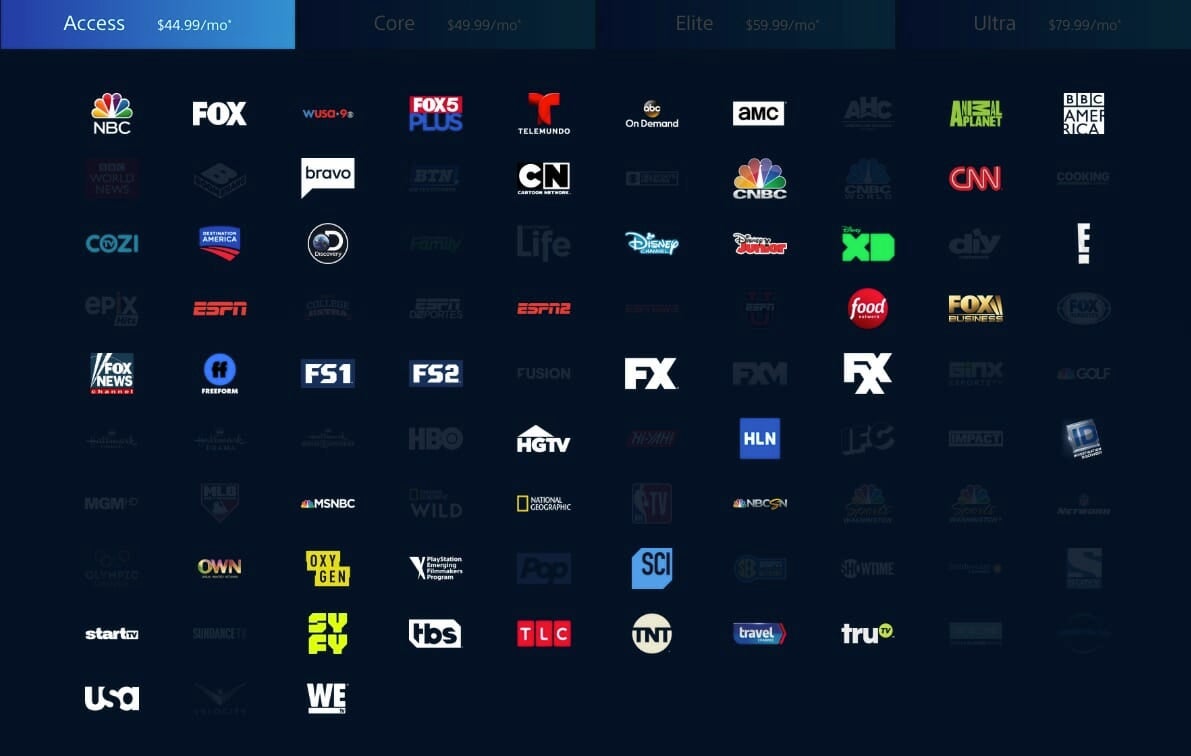 If you have a PS4 and want your gaming and streaming needs met in the same place, PlayStation Vue is for you. You don't need a PS4 to enjoy this service, though. You can also use a Roku, Amazon Fire devices, and Kodi. Plus, you'll get channels like AMC, BBC America, and Bravo in PlayStation Vue's entry-level package. One subscription works with up to five devices, all with unlimited cloud DVR storage making it one of the most binge-friendly solutions. (Here are all of PlayStation Vue channels.) HBO is one of several premium channels you can add to your subscription.
---
How to catch up on Veep episodes
Cost: Free-$1.99

/episode, Free-14.99/season

Devices: 

Amazon Fire Stick, Fire TV, Fire tablets, and Fire phone; Roku, Google TV, TiVo, Nvidia Shield, PlayStation 3 and 4, Xbox One, Nintendo Wii
Seasons 1-6 of Veep are available for purchase on Amazon Video starting at only $1.99 an episode or $14.99 a season. The first two seasons can be streamed for free if you have Prime Video. 
The Daily Dot may receive a payment in connection with purchases of products or services featured in this article. Click here to learn more.