Though the Pittsburgh Steelers and Kansas City Chiefs are perennial AFC powerhouses, both teams are surrounded by questions heading into the 2019-2020 season. Saturday's Steelers vs. Chiefs preseason matchup may provide answers to those questions. 
The Steelers lost offensive all-stars Le'Veon Bell and Antonio Brown in the off-season. This is in addition to the tragic end of defensive cornerstone Ryan Shazier's career back in December 2017, a loss from which the Steelers defense has never quite recovered.
Kansas City has been plagued by off-the-field issues surrounding their star players. The team dropped running back Kareem Hunt after a video of the player assaulting a woman surfaced last year. It looked like a similar situation would unfold with wide receiver Tyreek Hill, who was accused of assaulting his three-year-old son.
While Hunt received an eight-game suspension and is now a Cleveland Brown, Hill remains on the roster and is poised to play in the Chiefs' season opener. Hill was allowed to attend Chiefs training camp when it was revealed no charges would be brought against him for the time being.
Who will step up to fill the gaps on these teams remains to be seen. For the Chiefs, running backs Damien Williams and Darwin Thompson are expected to see action and rookie wide receiver Mecole Hardman should be making his debut.
As far as Pittsburgh is concerned, their first-round pick, linebacker Devin Bush, looks poised to live up to expectations as a Ryan Shazier-type field general replacement. While James Conner established himself as Bell's replacement at running back last year, wide receiver is still a question mark. Opposite speedster Juju Smith-Schuster, Donte Moncrief and James Washington are fighting for playing time. Washington dazzled with a 43-yard TD catch last week. Look for more from him as he chases more regular-season playing time.
Pittsburgh Steelers vs. Kansas City Chiefs
When: Saturday, Aug. 17 at 7:30pm ET
Where: Heinz Field in Pittsburgh, Pennsylvania
Streaming: NFL Network (free trials with various streaming services)
How to watch the Steelers vs. Chiefs online
The Steelers vs. Chiefs game continues the NFL Network's run of nationally televising the first week of the preseason, but even if you've cut the cable cord or you want to watch it on your mobile device, there are plenty of ways to accomplish that. But first, you'll need to get acquainted with NFL Network.
If you want to be immersed in pro football, NFL Network is the place to go. There's plenty to love about NFL Network, including the ability to watch exclusive shows like Good Morning Football, NFL Total Access, A Football Life, Inside the NFL, and most importantly, Sunday's NFL GameDay once the regular season begins. There's also daily programming devoted to power rankings and fantasy football that football lovers will geek out over. NFL Network shows most Thursday night games during the regular season, and it'll exclusively show some of the international games in 2019. Take note, though: NFL Network can no longer be seen via DirecTV Now.
The bottom line: If you want to get closer to the action and catch (almost) every Thursday Night Football game, you need NFL Network.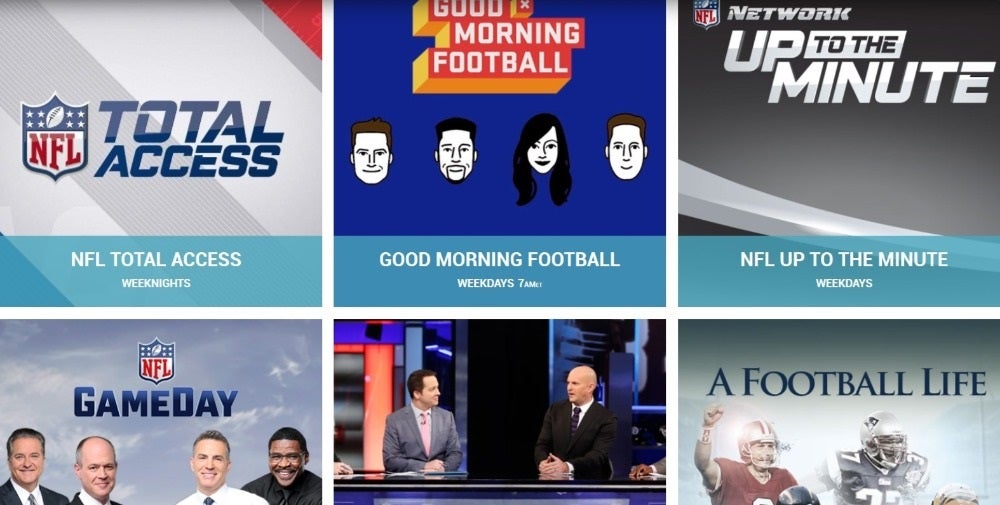 Steelers vs. Chiefs live stream: How to watch NFL Network

If you want to watch the Steelers vs. Chiefs online via Sling TV, you'll need to be subscribed to either Sling Blue ($25 per month) or Sling Orange + Blue ($40 per month). Both of those packages include NFL Network and a number of sports channels—like three ESPN channels, NBCSN, and FS1—and it's still a nice perk that Sling subscribers can order a la carte packages. Sling TV also offers a special Latino package for bilingual viewers. Sling TV is currently offering a deal where you can subscribe for 40% off the regular price for the first month of your subscription. That means Sling Blue would cost $15, and Sling Orange + Blue would cost $25. (Here's a complete guide to Sling TV channels and our Sling TV review.)
---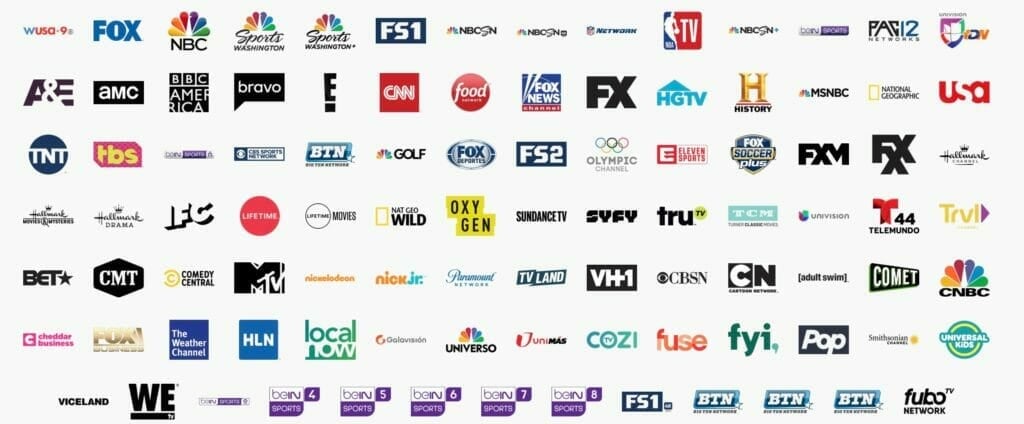 If you're a big-time sports fan, FuboTV is your best streaming service option. If you love international soccer and you're a Spanish speaker, FuboTV also offers various add-on packages, including Fubo Latino and Fubo Português. FuboTV's basic plan showcases nearly 100 channels and includes NFL Network. At $54.99 per month, you'll also get FS1, FS2, NBCSN, NBA TV, Big Ten Network, Pac 12 Network, BeIn Sports, and CBS Sports Network, along with premium channels like FX/FXX/FXM. The only notable omission for sports fans is ESPN. You can add Fubo's Sports Plus package for an additional $8.99 per month, which allows you to stream NFL RedZone, (Here's the complete FuboTV channels list.)
---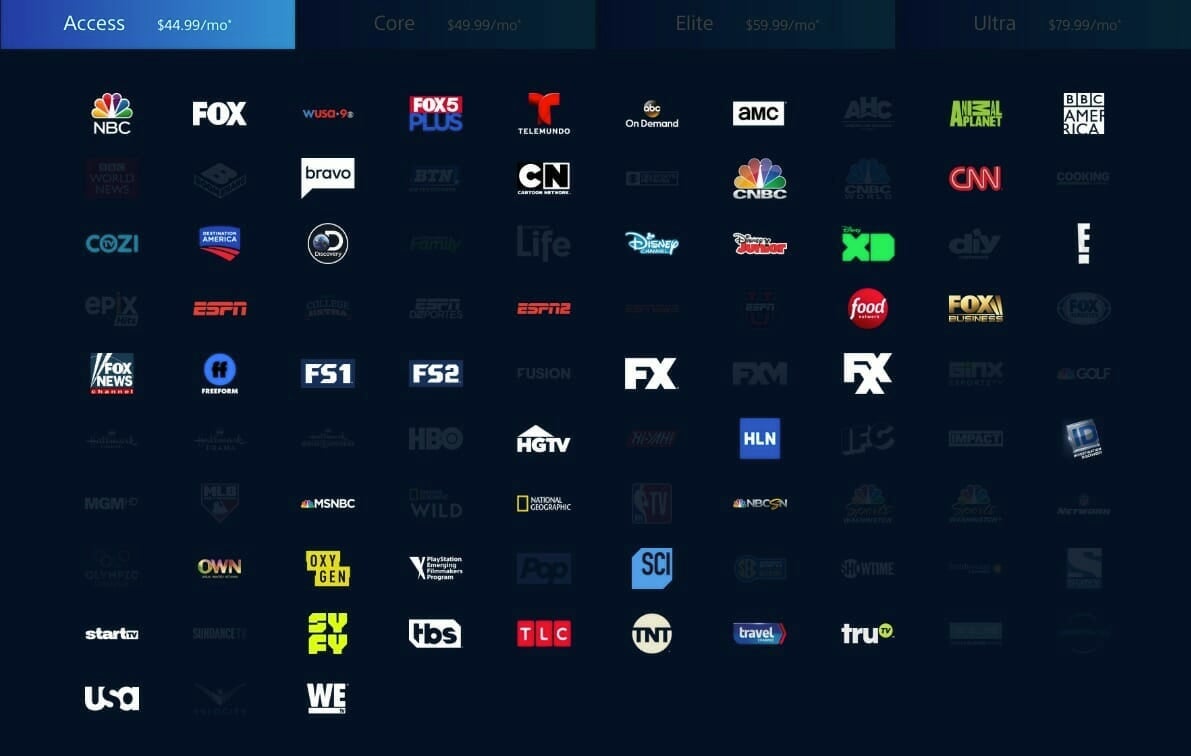 If you'd like to watch live NFL games directly from your PS4, PlayStation Vue is your best bet. PlayStation also works with streaming devices like Roku and Amazon Fire products, but what separates PlayStation from the rest of the streaming services is that it's also compatible with Kodi. No matter how you stream, you'll get to choose from four tiers of channels—all but the cheapest include NFL Network. From there, you can also add NFL RedZone as part of the $10-per-month Sports Pack, which also unlocks ESPN Bases Loaded, ESPN Classic, Longhorn Network, Outside TV, and NBCUniversal regional sports networks. You can see the full list of PlayStation Vue channels here. Two other great perks: You can stream on up to five devices at once, and there's also unlimited cloud DVR.
---
Other ways to watch NFL Network online
1) The NFL app
Cost: Depends on provider
Devices: Amazon Fire Stick, Apple TV, PS4, Roku, Android RV, iOS and Android devices
If you subscribe to NFL Network through a cable provider—or you know someone who does and they owe you a relatively large favor—you can also watch via the official NFL app. All you have to do is download it from your streaming device of choice—Amazon Fire Stick, Apple TV, PS4, Roku, or Android TV—and then enter in your cable credentials when prompted. You can also stream on any iOS or Android device, or on your desktop. Just visit nfl.com/watch.
The Steelers vs. Chiefs game continues the NFL Network's run of nationally televising the first week of the preseason, but even if you've cut the cable cord or you want to watch it on your mobile device, there are plenty of ways to accomplish that. But first, you'll need to get acquainted with NFL Network.
Steelers vs. Chiefs: Why it matters
Both of these teams are at a crossroads. The Patrick Mahomes-led Chiefs seemed destined for a Super Bowl berth on the back of his MVP-level performance last year, but they ultimately came up short. The Steelers seemed poised to add one more Lombardi to their sizable trophy case before Roethlisberger hangs up his cleats, but with the departure of some all-stars, they missed the playoffs entirely last year.
Kansas City Coach Andy Reid's job is likely safe for the foreseeable future, but his legacy is at stake. Last month, Steelers coach Mike Tomlin was given a measly one-year contract extension, a signal that his position may not be safe despite his winning record.
Though both of these teams are expected to land near the top of the AFC, the depth they find and develop this preseason will be crucial down the stretch. As these teams face the likes of a dominant New England Patriots, an upstart Cleveland Browns, and a frisky collection of teams in the AFC West, they'll need new weapons if they are going to make it deep into the post-season.
Yes, the NFL season is a long one, but it starts now. If Reid and Tomlin want to exceed expectations, they are going to have to find more than just their gunslinging quarterbacks to get them there. The personnel decisions they make now could very well come back to haunt them, or bring them to the promised land in January.
For a year-round sports fix, sign up here to receive our weekly boxing newsletter. You'll hear about all the biggest fights and best knockouts from the Daily Dot's streaming sports guru Josh Katzowitz.
The Daily Dot may receive a payment in connection with purchases of products or services featured in this article. Click here to learn more.