With all the '80s and '90s franchises being revived, it was only a matter of time before a new Carmen Sandiego series made its debut. What started as a series of edutainment games designed to teach American children about geography—a subject at which our culture has always failed—evolved into two gloriously campy, PBS-funded game shows and a Saturday morning cartoon in the '90s. With her improbable thefts, lack of morals, and distinctive costume, Carmen had a mystique that turned her into a millennial icon.
Carmen Sandiego
RELEASE DATE:
1/18/2019
CREATOR:
Duane Capizzi
STREAMING:
Netflix
Netflix's reimagined 'Carmen Sandiego' packs a punch, despite its halfhearted geography lessons and changes to the lore.
As someone who grew up with the franchise, it's impossible not to compare Netflix's new series to what I once knew. The original Carmen Sandiego stole global landmarks and treasures as a super thief and head of the criminal organization V.I.L.E. She took not to enrich herself, but just for the challenge; series lore indicates that she once was an agent of the benevolent group ACME, but left when she got bored. The new Carmen is a former V.I.L.E. thief gone rogue, who steals only to protect these treasures from people who would take them away from the world.
The changes are jarring. Rather than a mysterious figure meant to be pursued but never captured, Carmen becomes something of an everywoman designed to inspire and connect with an audience of preteen girls. The first two episodes, an hour-long origin story detailing how she was raised as an orphan around V.I.L.E.'s island headquarters, affirm that. Gina Rodriguez lends charm and approachability to the character, who struggles to reconcile her ethics with a past she just can't escape.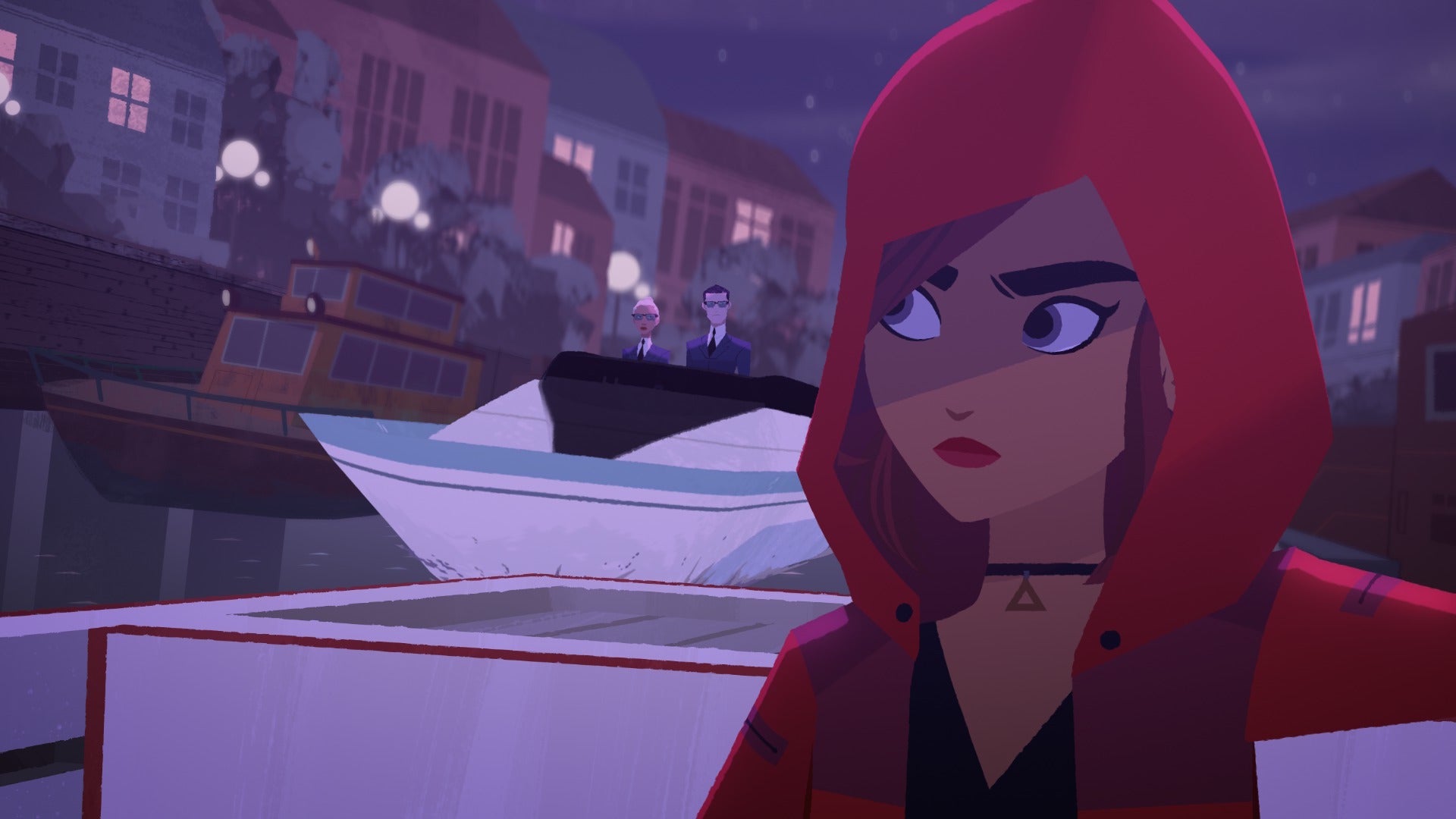 It's a slick-looking production, boasting lineless artwork that brings the exotic settings and science-fiction flair to life. Carmen explores the Australian Outback, Indonesia, San Francisco, and a variety of other places with Zack (Michael Hawley) and Ivy (Abby Trott), a bantering pair of Bostonian redheads, as a hacker who calls himself Player (Finn Wolfhard) provides intel and backup. The character design offers a lot of diversity both in ethnicity and body type; the androgynous mad scientist Sara Bellum is a personal favorite.
Carmen herself is sweet and resourceful, just the kind of character to appeal to teenage girls—a kind of Latina Robin Hood-cum-Kim Possible. Independent, intelligent, and ethical, she makes a decent role model. But she's not particularly interesting, and without the outrageously over-the-top thefts that gave the original games their charm (this Carmen probably won't be sticking all the goulash or the fish from half of Lake Titicaca in her pocket), she may have a hard time successfully competing for young attention spans. She lacks the transgressive mystique that ignited the popular imagination of '80s and '90s kids, a victim to a popular culture that wants to explain female wickedness à la Maleficent or Wicked.
This is a shame, because the writers clearly were more interested in fleshing Carmen out as a character than the goofy geography lessons. The "edu" part of "edutainment" in Carmen Sandiego is halfhearted at best: Characters spout off trivia that could easily have been found on Wikipedia, but the actual meat of the episodes is poorly researched. Rather than depicting Jakarta and its surrounding area as a fully modern metropolis, the designers inaccurately represent it as covered in jungle and rice paddies.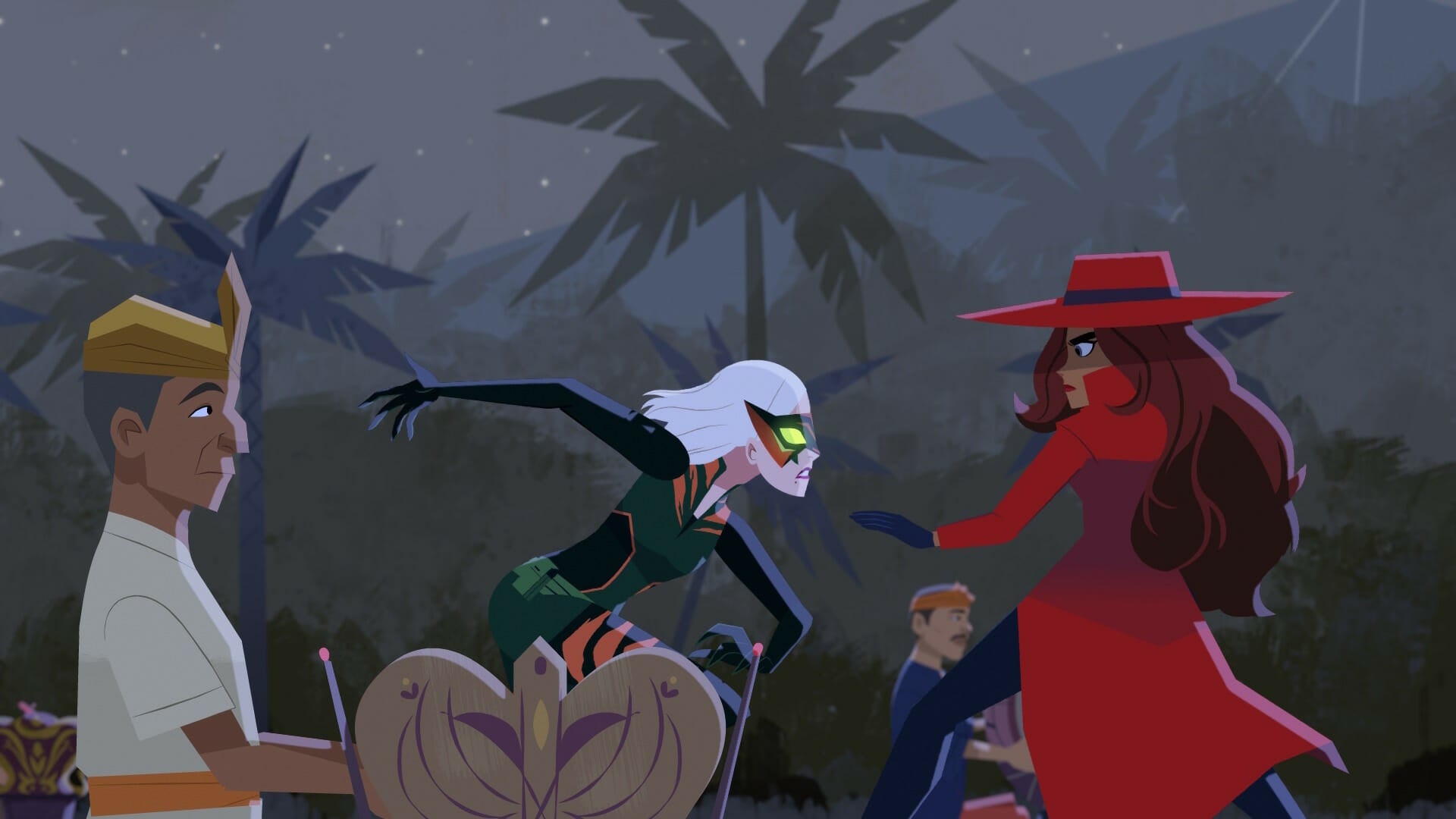 Not only does this perpetuate stereotypes about a country and culture that is poorly understood in the U.S., it shows a disregard for what the franchise is about. Where in the World is Carmen Sandiego?, while always fun and well-written no matter its incarnation, had a purpose: to teach American children about geography and other cultures, filling in the gaps left by the school system. Netflix's Carmen Sandiego is more interested in delivering action and high-tech fights in exotic locales than creating programming that's both educational and entertaining.
For me, the name "Carmen Sandiego" evokes images not only of a smirking woman with a wide-brimmed red hat obscuring her eyes, but also of Lynn Thigpen's unforgettable Chief and Rockapella closing out every episode. Others will remember gathering hints in point-and-click adventure games; others still will hear the voices of Rita Moreno, Jennifer Hale, and Tim Curry on Saturday mornings. Carmen has always been ever-shifting, a single image inviting numerous interpretations.
The new version of Carmen Sandiego may be off-putting to millennial parents seeking a nostalgia fix. What matters is whether or not she can reignite the imaginations of today's preteens and inspire them to explore and learn about the world—or, at the very least, get good numbers for Netflix.
Still not sure what to watch tonight? Here are our guides for the absolute best movies on Netflix, must-see Netflix original series, documentaries, docuseries, and movies.
Need more ideas? Here are our Netflix guides for the best war movies, documentaries, anime, indie flicks, true crime, food shows, gangster movies, Westerns, and movies based on true stories streaming right now. There are also sad movies guaranteed to make you cry, weird movies to melt your brain, and standup specials when you really need to laugh. Or check out Flixable, a search engine for Netflix.