Google's Chromecast is unlike any other streaming device on the market. Unlike Roku, Amazon Fire Stick, or other streaming solutions, Chromecast doesn't have apps. Rather than navigate through a series of menus on your device, you "cast" content from the Chromecast to your TV.
Still lost? Here's everything you need to know about watching Hulu with Chromecast.
How does Hulu with Chromecast work?
Google Chromecast is a tiny smart device that plugs into your TV via the HDMI port. By connecting to your home Wi-Fi, the Chromecast can network with any smartphone running its app. That includes Hulu (and Hulu with Live TV), among an ocean of other content providers. Because Chromecast doesn't store apps on the device itself, you'll need to keep your apps on your smart device to use them.
To watch Hulu, or any other app, on Chromecast first download the Google Home app. Make sure your Chromecast and smart device are connected to the same Wi-Fi source. Open the Google Home app and follow the in-app prompts to connect your device to the Chromecast.
Once your Chromecast is connected, you'll see a little Chromecast "casting" symbol within each supported in-app. In Hulu, the "cast" button looks like this.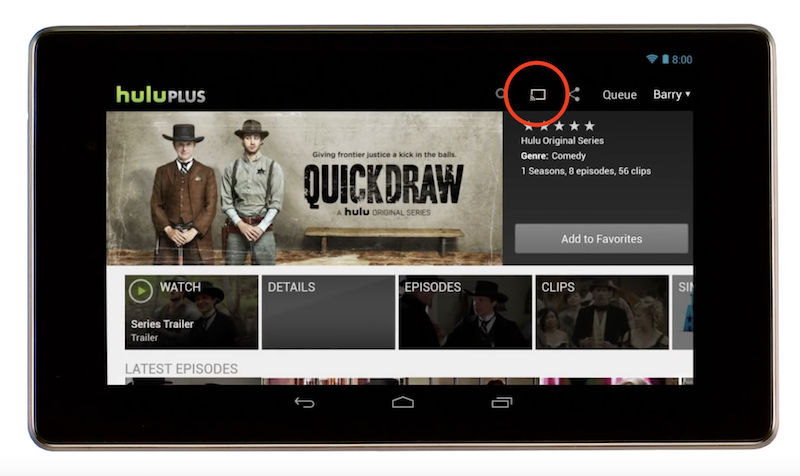 When you want to stream Hulu, press the Cast button to start playing your video through Chromecast and onto your TV. Chromecast supports browsing during streaming, so you can text or look online while watching a movie without interrupting the show.   
READ MORE:
What are the advantages of Hulu on Chromecast?
Hulu on Chromecast is smooth, just like it is on every other streaming device, so there aren't any specific advantages to using it with Chromecast. Still, the device has its selling points. Chromecast doesn't come with a remote, running entirely from your favorite smart device. This is a godsend to folks who can't stop losing their remote. One benefit of Chromecast is that you don't have to sign in again to all of your various apps the way you would if you were to buy a Roku. Chromecast uses your phone, which most likely already has your favorite apps on it.
Beyond Hulu, Chromecast is supported by a truly incredible number of apps. When you're bored with Hulu, you'll have thousands of other options. Installation is fast and easy, and the ability for Android users to mirror their screen to the TV set is handy. Chromecast also features remarkable voice controls, though I've found it's faster to just swipe to another app than speak its name.
READ MORE:
What are the disadvantages for watching Hulu on Chromecast?
If you live in a house with multiple roommates or children, Chromecast can be frustrating. Because the content you watch comes from your smart device's apps, when you leave the house, so does the service. Unless your roommates, or your kids, have your Hulu logins saved on their phone via the Hulu app, they won't be able to watch your account when you aren't home. Leaving the kids with a babysitter? Make sure there's a tablet with your apps logged in or they'll be out of luck come movie time.
Also, while we know some people don't need a remote, for others, it's essential. You shouldn't have to hand a 6-year-old your iPhone X to get an episode of Pokémon streaming on Hulu. For two-person households or singles. Chromecast is an odd but unobtrusive streaming solution. For everyone else, it's asking for a headache if anyone other than you want to watch your TV.
READ MORE:
The baseline Chromecast currently costs $25, down from $35 last year. This model supports HD video, games, and all of the standard Chromecast features. For $54, down from $69 last year, you can get the Chromecast Ultra. The Ultra offers 4K Ultra HD picture with HDR, putting the world's best picture on your TV. Sadly at the moment, Hulu has put its 4K content on hold. 
Should I watch Hulu on Chromecast?
If you got a Chromecast as a gift, there's no reason not to use it to watch Hulu. However, we recommend splurging a little and getting the Roku Express for $29.99 instead. Roku's device comes with a remote, and people can still watch Hulu when you're at work.
Chromecast is a fine device. There are just too many little things that keep it from being a great one.  
Still not sure what to watch on Hulu? Here are the best movies on Hulu, what's new, the best shows on Hulu, the sexiest movies you can stream on the service, Hulu documentaries, anime, and the must-see Hulu originals.
Here are the best thrillers and action movies to get your heart racing, classic movies when you want a blast from the past, sad movies when you need a good cry, and funny movies on Hulu when you need a good laugh.
Editor's note: This article is regularly updated for relevance.