You can watch more NFL games on your laptop than you probably realize.
As the league continues to look for ways to make money and expand its scope in the U.S. and internationally, it's made the full transition to live-streaming.
For the past several years, the NFL has live-streamed the Super Bowl so fans who don't have access to a TV can still watch the championship game. A year after the NFL made history by live streaming 10 of its Thursday night games on Twitter, there are even more options now for those who want watch on something other than a TV.
And remember that even though the NFL TV ratings decreased significantly in 2016, the live streaming numbers continued to rise impressively. Those trend lines likely will continue into 2017. As we continue to see, younger fans are still watching sporting events but are eschewing TV coverage more often in favor of their internet channels.
Here are your best options to watch the 2017 NFL season if you're not sitting in front of your TV.
How to stream NFL games online
DirecTV is the only cable or satellite service to offer the NFL Sunday Ticket package, which allows TV viewers to watch live any (or all) of the out-of-market Sunday afternoon games. Those who subscribe to the TV package can stream games on tablets, phones, and connected TV devices. But for those who can't get DirecTV, they can order NFLSundayTicket.TV for the streaming-only service. Packages start at $280 for the year (about $10 more than it cost in 2016). If you upgrade to NFL Sunday Ticket Max, it'll cost $380 for the games, the Red Zone Channel, and the Fantasy Zone Channel. Is it expensive? Yes. But obviously, people don't mind paying to stream NFL contests. Packages for college students, meanwhile, start at $24.99 per month for four months. This is only for fans who have the inability to get DirecTV satellite service.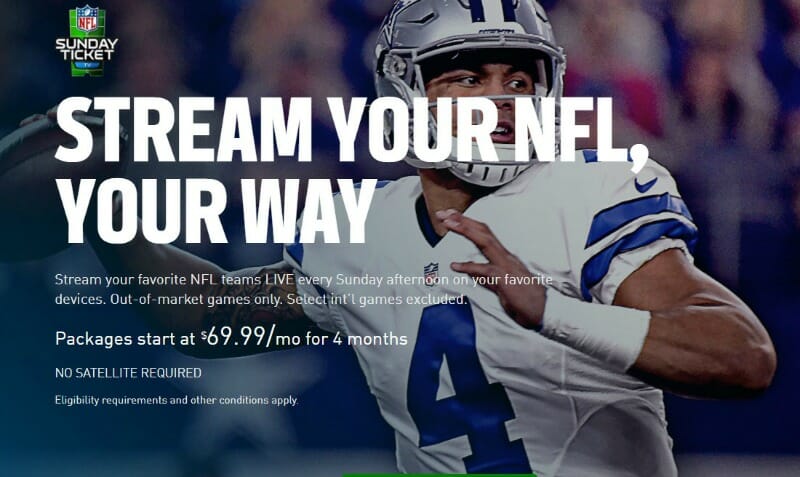 In 2016, the NFL streamed a number of games on Twitter, but in the offseason, Amazon outbid the social media outlet by reportedly paying $50 million to stream 11 Thursday Night games (last year, Twitter paid $10 million for 10 games). The games will be available on TV as they alternate between CBS, NBC, and the NFL Network. But if you want to stream it, beginning in Week 4 on Sept. 28, you'll have to be an Amazon Prime member and you'll have to download the Amazon Video app (it can be accessed on mobile devices, tablets, and connected TV devices). Here's the entire Amazon Prime schedule.

READ MORE:
You can download the streaming apps for all four networks that show the NFL and watch games on your phone, tablets, and connected TV devices. Unless you're watching CBS, you need to have a subscription to a cable provider. For CBS, you can download the All Access app for $5.99 per month ($9.99 without ads), and you can stream all of the network's Sunday games and the select Thursday night contests. For CBS, you don't need a cable subscription. For Fox, you can download the Fox Sports Go app and watch the local affiliated games for free. For NBC, download the NBC app, and for ESPN, you'll need the WatchESPN app.
This service isn't available for live streaming, but if you love to watch games after you already know what happened, whether to relive your team's great victory or because you want to break down the film like a coach would, the Game Pass allows fans to watch full replays of every NFL game. It includes all regular-season games, the playoffs, and the Super Bowl, and you can watch on computers, smartphones, tablets, and connected TV devices. If you don't have much time, the NFL also offers condensed game replays that allow you to watch a full-length contest in about 45 minutes. Viewers also can watch All-22 and/or end zone views like a coach would, and you can listen to the localized radio broadcast of each team. Like last year, after a seven-day free trial, it'll cost you $99.99 per year for access to the archives of all games from 2009 until the present. This service is only available in the U.S.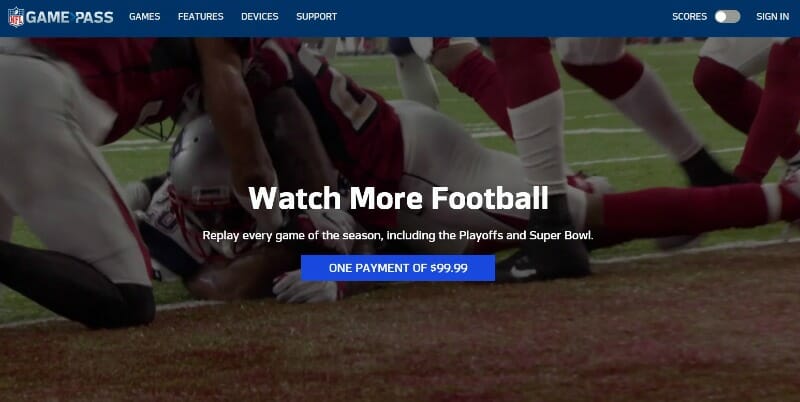 If you're a cord-cutter, Sling is a good option because it still allows you to watch football for a relatively cheap price on your TV, computer, or mobile device. The Sling Orange package ($20 per month) allows you to watch Monday Night Football on ESPN. But to watch the Sunday afternoon Fox games, the Sunday night game on NBC, and the NFL Network, you'd have to order the Sling Blue package ($25 per month)—which doesn't happen to include ESPN. To get all the aforementioned channels, you'd have to buy the Orange + Blue package for $40 per month. The NFL Redzone channel costs another $10 per month. CBS, though, isn't available on Sling, meaning you couldn't watch any of the games on that channel. Instead, you'd have to download the CBS All Access app for $5.99 per month ($9.99 without ads). Confused yet? Here's a more detailed breakdown on Sling packages and channels.
Another good one for cord-cutters, Playstation Vue offers games from NBC, CBS, Fox, and ESPN, though sometimes there are regional restrictions. Depending on where you live, it could cost as much as $45 a month for a package that will give you those games. The NFL Network and the NFL RedZone channels also are available, though adding RedZone costs $10 per month. By using PlayStation Vue, you can stream games on PS4, PS3, Amazon Fire, Apple TV, Chromecast, Roku devices, and iOS and Android phones and tablets.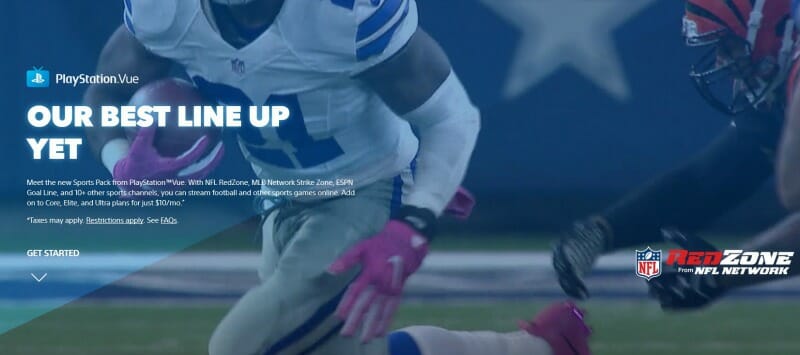 READ MORE:
7) Verizon Wireless
If you have a Verizon smartphone, you can stream in-market (ie. local) NFL games on any of its partner networks for free, and this year, it won't cost you any additional data to do so. Verizon also provides you with stats updates and breaking news, and if you want the NFL RedZone, it's only a $1.99 per month in-app upgrade. You can use either the NFL Mobile app or the Verizon go90 service on your smartphone.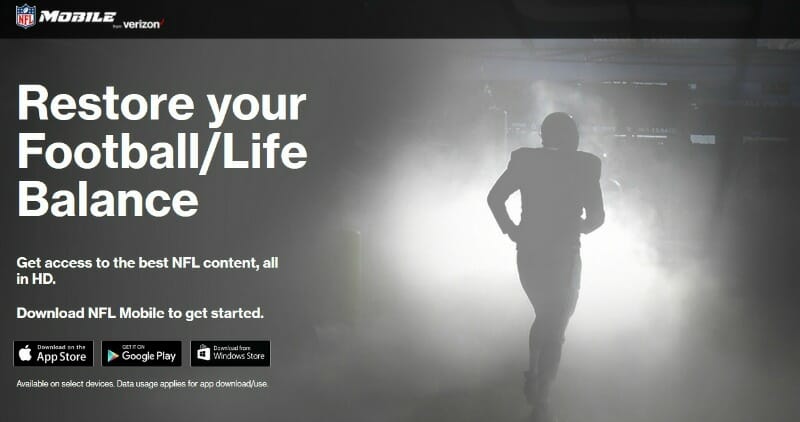 For $40 a month, you can watch Fox, CBS, NBC, and ESPN, meaning you can watch all of your local games along with the national Thursday, Sunday, and Monday night games. For now, the only devices you can use to watch live football are Android tablets (Android 5 or higher), Apple TV (4th generation), Amazon Fire TV and Fire TV stick, iPads (iOS 10 or higher), Xbox 360, Xbox One and One S, and Chromecast. Due to streaming rights, you can't watch games on smartphones until after they're complete.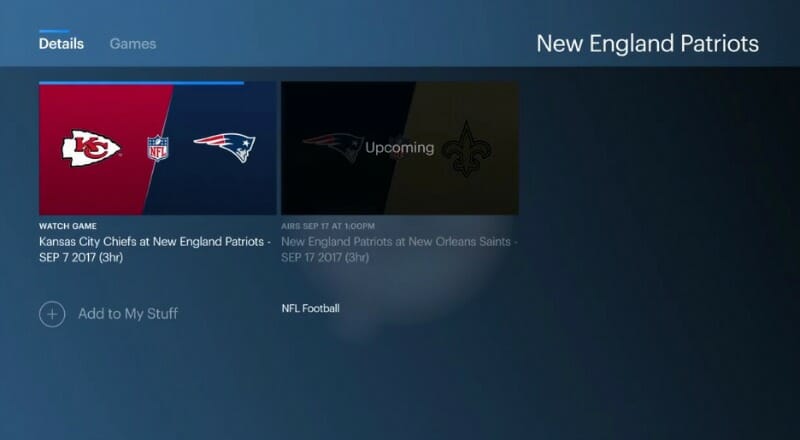 9) YouTube TV
This is the first season YouTube TV is available to stream NFL games, and for $35 a month, you can watch live action from CBS, Fox, NBC, and ESPN (though it does not include the NFL Network). But there are two major downsides. As of September 2017, YouTube TV is available in only 41 TV markets, and it only works on a few devices (Chromecast, Android TVs, and Apple TV's AirPlay).
A new player in the streaming game, fuboTV is focused on streaming sports, and it's backed by entities like 21st Century Fox, Sky, Univision, and former NBA commissioner David Stern. It streams 250 live sports events per week—though ESPN is not available—and after a free seven-day preview, it costs $20 for the first two months of service and $35 each month after that. For that, you'll get the CBS, Fox, and NBC games, along with the NFL Network (the RedZone Channel is a $9 per month add-on). You can watch on your computer, iPhones and iPads, Android phones and tablets, Chromecast, Roku, Apple TV, Android TV, and Amazon Fire TV.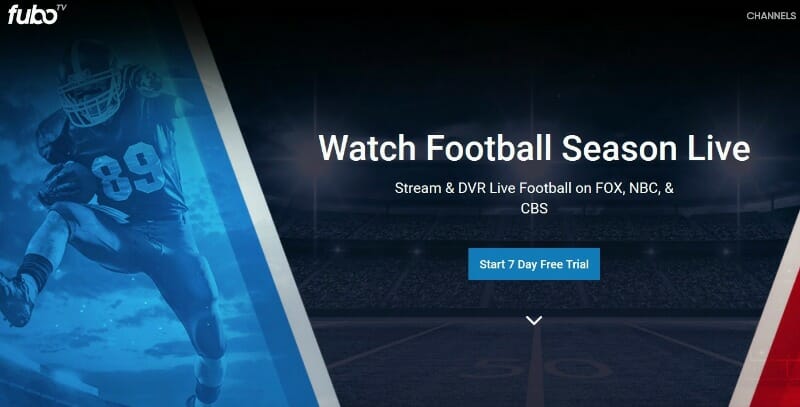 Editor's note: This article is regularly updated for relevance. The Daily Dot may receive a payment in connection with purchases of products or services featured in this article. Click here to learn more.
The Daily Dot may receive a payment in connection with purchases of products or services featured in this article. Click here to learn more.