For 24 miserable hours last Thursday it looked like the most anticipated MMA fight of the year was dead and buried. Just one week before he was scheduled to meet Jorge Masvidal at Madison Square Garden, UFC superstar Nate Diaz announced that he'd been flagged by the United States Anti-Doping Agency for showing elevated levels of a banned substance and then told (by whom, he didn't say) to hide the results until the fight was over. That is, after everyone had made their money on the fight you can stream on ESPN+.
But Nate Diaz, being Nate Diaz, didn't go along. Summoning every ounce of the anti-authoritarian spirit that has both held him back and made him a cult hero during his 12-year tenure in the UFC, he posted on Twitter that he wouldn't sacrifice his "dignity" or his "legacy" for the sake of money and that he wouldn't be fighting again until his name was cleared by the UFC and USADA. Not at Madison Square Garden, not anywhere.
Cancellation had been every MMA fan's greatest fear ever since the Diaz-Masvidal fight was announced three months earlier, so while the specifics of the USADA incident may have been surprising (hardly anyone would have ever predicted Diaz getting busted for a banned substance), the scenario was nothing new for MMA fans, whose curse is to be forever at risk of having their most longed-for fights canceled a week, a day, even an hour before they're scheduled to start. Injuries and failed drug tests and poorly managed weight cuts are always conspiring against us. We know nothing is guaranteed until the fighters walk into the cage. Before then, every fight is provisional and every heart can be broken.
But this time things were different. Within 24 hours of Diaz calling USADA's bluff, the agency and UFC released statements clearing the fighter of any wrongdoing, an unprecedented turnaround. Which only goes to show how powerful Diaz has become and how profitable his fight with Masvidal is going to be. The UFC has always operated under the principle that the promotion is what people are loyal to, and they treat their fighters accordingly—keeping their pay low, their employment status shaky, and their collective bargaining ability nonexistent. And while this incident probably won't result in the rebirth of Diaz as a labor leader, it does signify a shift in promotional power dynamics, an acknowledgment by the UFC that a star who both brings in lots of money and is willing to walk away on a moment's notice holds sway.
And how perfect that such a shift should happen in the lead-up to a fight Diaz himself made happen.
After defeating Anthony Pettis in August following three years of wealthy repose, Diaz said he only wanted to fight who he called the "baddest motherfuckers" in the sport—fighters who, like him, care little about their own safety and relish violence, who prefer fistfights to wrestling matches, who don't seek validation in rankings or title fights, and who try to limit the amount they're willing to be pushed around by the UFC.
He called out Masvidal, whose status as a bad motherfucker was unquestioned and who was coming off a name-making five-second knockout of Ben Askren a month earlier. Never missing a promotional trick, UFC jumped on the term and created a new belt, the BMF belt, and declared Diaz and Masvidal the first contenders for it. If we're going by Diaz standards (and we must), a BMF shouldn't follow rules or listen to authority, so by exalting Diaz's rebelliousness and inventing an entire "division" around him and his whims, the UFC created a beast they have no way of controlling. Hence last week's USADA scare. The promotion's biggest event of the year is now at the mercy of fighters they're selling as wild cards.
Which is just as it should be. Fight promotions like the UFC are institutions, and institutions traffic in rankings and analytics and numbers and efficiencies and every other kind of spirit-crushing nonsense. Diaz and Masvidal, meanwhile, live and fight entirely by their spirits, embodying the indifference to their health and deep-seated contempt for safety that creates undying loyalists out of fans. They're fighters in their souls and free men. A carefully strategized, efficiently executed, but risk-averse win would be meaningless, even offensive, to both.
Still, no matter how violent and beautiful Saturday night's fight turns out to be, don't expect it to actually determine who the baddest motherfucker in MMA is, because that question has already been answered. Masvidal could very well beat Diaz in the cage, but Diaz just took on a $4 billion corporation and an anti-doping agency whose authority is recognized by the U.S. Congress and slapped them both around just to let them know he could. What could be badder than that?
Here's everything you need to know to stream the Diaz vs. Masvidal fight.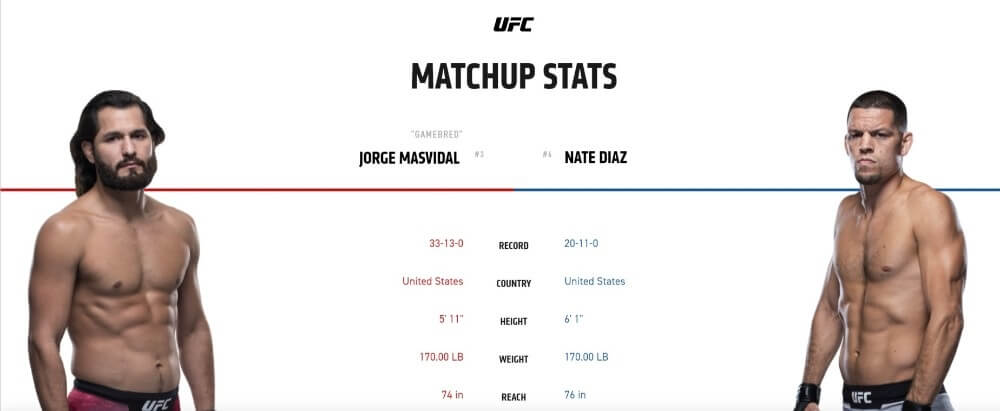 UFC 244: Nate Diaz vs. Jorge Masvidal
When: Saturday, Nov. 2, at 10pm ET
Where: Madison Square Garden in New York City
Streaming: ESPN+
UFC 244: How to watch Diaz vs. Masvidal
Thanks to an unprecedented seven-year deal, ESPN+ is now the only way to watch UFC 244 (and all subsequent UFC PPVs). Aside from ESPN+ becoming your one-stop shop for the MMA promotion, the OTT service also offers the UFC PPVs for $5 less than you used to pay. Here's how it breaks down:
UFC 244 cost:
In other words, you can buy UFC 244 for just $59.99, but if you spend $20 more, you'll also receive one year of ESPN+ for free. That's a $50 value, and if you're a big MMA fan, that's a good deal. Along with plenty of exclusive live events (see below), you can also watch 20 UFC Fight Night events every year with ESPN+.
If you don't currently subscribe to ESPN+, you can purchase UFC 244 from your desktop or smartphone here. If you already subscribe, you can easily buy the PPV from the ESPN app by simply clicking on the event in the ESPN+ tab.
One thing to remember: Only the UFC 244 main event card will be featured on ESPN+, and you will have to pay the $59.99 PPV fee (full schedule and watch guide below). Here's the main event card:
Nate Diaz vs. Jorge Masvidal
Kelvin Gastelum vs. Darren Till
Stephen Thompson vs. Vicente Luque
Derrick Lewis vs. Blagoy Ivanov
Kevin Lee vs. Gregor Gillespie
Devices: Chromecast, Amazon Fire Stick and Fire TV, Apple TV, Android TV, Roku players and TV, Oculus Go, Xbox One, PlayStation 4, Samsung smart TVs, and iOS and Android devices
ESPN+ is ESPN's OTT subscription service. It works as an extension of the ESPN app that you might already have on your mobile device. Have you ever noticed the live events, articles, or series tagged with a gold "E+" in the corner of the app? Those are the ones that are locked behind the ESPN+ paywall. It's literally thousands of events per year, including the aforementioned 20 UFC Fight Nights and a bunch of exclusive Top Rank boxing events. You'll also get all of the best 30 for 30 episodes, daily MLB action, every out-of-market MLS game, international soccer, and more college sports than you'll know what to do with.
Along with access to a number of original series, your ESPN+ subscription also gives you fewer ads across the ESPN network.
TL;DR: It's a pretty great deal and essential for just about every sports fan.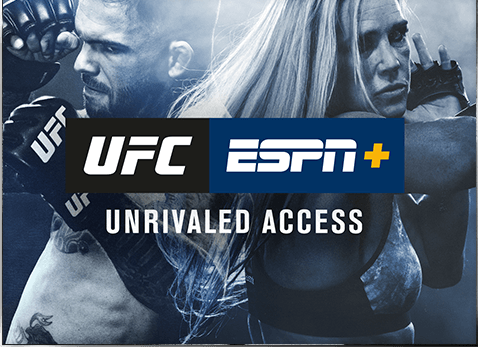 UFC 244 live stream: ESPN2 prelims
In case you need a reminder: Your ESPN+ subscription will not allow you to watch the ESPN prelims for free. You'll still need a cable or live TV subscription to watch it on the network beginning at 8pm ET. Here are the matches you'll be able to watch on ESPN2:
Corey Anderson vs. Johnny Walker
Andrei Arlovski vs. Jairzinho Rozenstruik
Shane Burgos vs. Makwan Amirkhani
Brad Tavares vs. Edmen Shahbazyan
If you don't already have a way to watch ESPN2 online, every major live TV streaming service carries the channel, and all of them offer at least a one-week free trial before you have to start paying. Once you download the ESPN app and punch in your credentials, you can watch the prelims and the main event from one convenient location. Here are a few options for you:
2) Sling TV
3) YouTube TV
Cost: $49.99 per month
Devices: Google Chromecast, Roku, Apple TV, Android TV, Xbox One, iOS and Android devices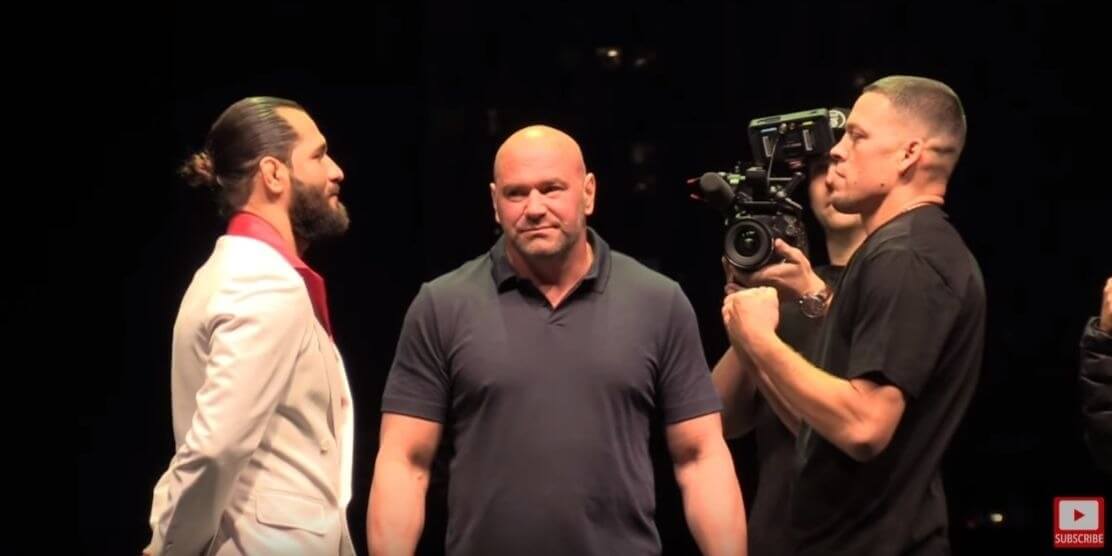 UFC 244 live stream: Fight Pass early prelims
For the die-hard fans out there, UFC's Fight Pass carries the early prelims, which start at 6:30pm ET. Here's the full Fight Pass lineup:
Katlyn Chookagian vs. Jennifer Maia
Lyman Good vs. Chance Rencountre
Julio Arce vs. Hakeem Dawodu
UFC Fight Pass launched in 2014. The service hosts the early undercard bouts of every UFC PPV, and it's also where you'll find the smaller, more local UFC events that aren't picked up by ESPN. The app is incredibly versatile. You can download it via Apple TV, Xbox One, Xbox 360, Amazon Fire TV, Chromecast, Roku, Samsung smart TVs, LG smart TVs, and iOS and Android devices.
Nate Diaz vs. Jorge Masvidal live stream schedule
All times in ET.
Main card | 10pm on ESPN+
Nate Diaz vs. Jorge Masvidal
Kelvin Gastelum vs. Darren Till
Stephen Thompson vs. Vicente Luque
Derrick Lewis vs. Blagoy Ivanov
Kevin Lee vs. Gregor Gillespie
Prelims | 8pm on ESPN2
Corey Anderson vs. Johnny Walker
Andrei Arlovski vs. Jairzinho Rozenstruik
Shane Burgos vs. Makwan Amirkhani
Brad Tavares vs. Edmen Shahbazyan
Early Prelims | 6:30pm on Fight Pass
Katlyn Chookagian vs. Jennifer Maia
Lyman Good vs. Chance Rencountre
Julio Arce vs. Hakeem Dawodu
For a year-round sports fix, sign up here and check the "sports" box to receive our weekly boxing newsletter. You'll hear about all the biggest fights and best knockouts from the Daily Dot's streaming sports guru Josh Katzowitz.
The Daily Dot may receive a payment in connection with purchases of products or services featured in this article. Click here to learn more.