Watch Masvidal vs Diaz at Madison Square Garden
For much of the 20th century, New York City was the undisputed fight capital of the world. It's where Rocky Marciano ended the long reign of Joe Louis, where "Sugar" Ray Robinson took on "Raging Bull" Jake LaMotta for the first time, where Joe Frazier and Muhammad Ali fought twice. But by the late 1960s, boxing had packed up much of its cargo and moved to Las Vegas, leaving fight fans in New York with little but their nostalgia (and the occasional big fight).
Madison Square Garden—which plays host to the Nate Diaz vs. Jorge Masvidal fight on Friday night in a UFC 244 main event that you can live stream on ESPN+—had lost much of its luster.
Nothing shows how low New York eventually sank quite like the fact that mixed martial arts—the fight game for the 21st century—was illegal in the state until 2016. New York—that fighting hub, suddenly provincial—was the last holdout from the culture wars of the late '90s that saw mixed martial arts banned by a majority of the country in a fit of moral panic and hand-wringing. It wasn't until November 2016, 23 years after the birth of UFC, that MMA finally arrived at Madison Square Garden.
But sometimes, things we love are sweeter after they've been denied to us. Even today, three years after the first UFC fight at MSG, every event in New York feels like a long rain after a parched season. This is particularly true for Nate Diaz vs. Jorge Masvidal, two fighters who embody everything MMA (and New York City) should be.
Despite being professionals for nearly 20 years, Diaz and Masvidal likely won't be winning any legitimate titles any time soon, but that hasn't stopped the UFC from selling their Nov. 2 fight as a battle for a belt, the so-called BMF belt, a tribute to Diaz's recently stated desire to forgo his quest for a championship and only fight the "baddest motherfuckers" in the game. And by "baddest motherfuckers," he means, naturally, guys like him: natural-born fighters with iron chins and deep rebellious streaks who would just as soon fight on the street instead of a cage and who hold in contempt any attempt to reduce their beloved fighting to a collection of decision victories and mind-numbing wrestling displays. The BMF belt, in its ridiculous way, pays tribute to a fighters' mindset that is on the wane in modern MMA, one that disdains safety and averages and analytics and anything else that tries to crush the spirit in the name of rankings or reputation.
Here's everything you need to know to watch Diaz vs. Masvidal.
UFC 244: Nate Diaz vs. Jorge Masvidal
When: Saturday, Nov. 2, at 10pm ET
Where: Madison Square Garden in New York City
Streaming: ESPN+
UFC 244 main event: Nate Diaz vs. Jorge Masvidal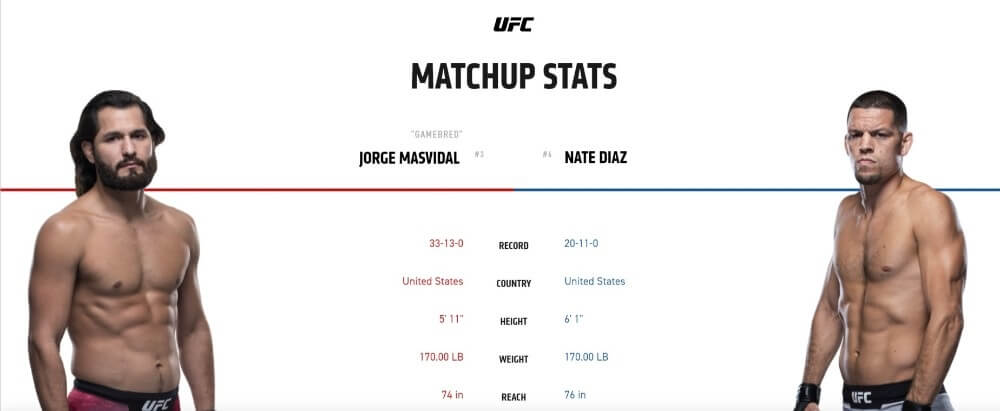 Every once in a while, a kind of perfect meaning appears in an otherwise chaotic universe. The stars align and the planets sync and the sun shines and you find out that Jorge Masvidal and Nate Diaz are going to fight each other at Madison Square Garden. In that moment, all is right with the world.
We can thank Diaz (20-11) and his surprise late-career rise for this beautiful occasion. After becoming a bonafide star and a rich man following his two fights with Conor McGregor, Diaz responded (in true Diaz fashion) by taking a long sabbatical, gleefully snubbing the promotion and the sport that had made him rich and famous, only to reappear three years later looking as sharp as ever and with even more fans. It proved the theory that absence makes the heart grow fonder and, in rare cases, the skills grow stronger. During Diaz's absence, meanwhile, Masvidal came alive as a fighter, as if the universe couldn't sustain two BMFs in ascendance at the same time.
After 15 years as a professional with lots of decisions on his record, Masvidal (34-13) at last found himself, first knocking out Jake Ellenberger and Donald Cerrone and then very nearly out-grappling Brazilian jiu-jitsu genius Demian Maia. After losing to striker Stephen Thompson, Masvidal completed his transformation from journeyman to superstar this year. First, he stunned the world by knocking out fast-rising prospect Darren Till and then he scrapped with fellow welterweight contender Leon Edwards backstage after his victory (introducing the world to the phrase "three piece and a soda" in the process). Then, in July he officially arrived when he knocked out Ben Askren with a ridiculous flying knee just five seconds into their fight, the fastest finish in UFC history. For nearly 20 years Masvidal had toiled in semi-obscurity. Now everyone was talking about him. One month after the Askren fight, Diaz was calling him out and the myth of the BMF title was born.
That title may be a pointless marketing gimmick. But in an age when rankings have been made meaningless and the top two fighters in the welterweight division have managed to embody everything that's maddening about modern MMA (smothering wrestling, awful trash-talk, point-amassing, Trump-addled race-baiting), there is a real thrill in knowing that two people who were born to fight, who would gladly fight for free (as Diaz has done) or in backyard bare-knuckle matches (as Masvidal has done), who trash-talk with the kind of poetry only gifted to the born fighter, will throw caution to the wind, ignore the analytics, and fight the way the good Lord intended us to.
Kelvin Gastelum vs. Darren Till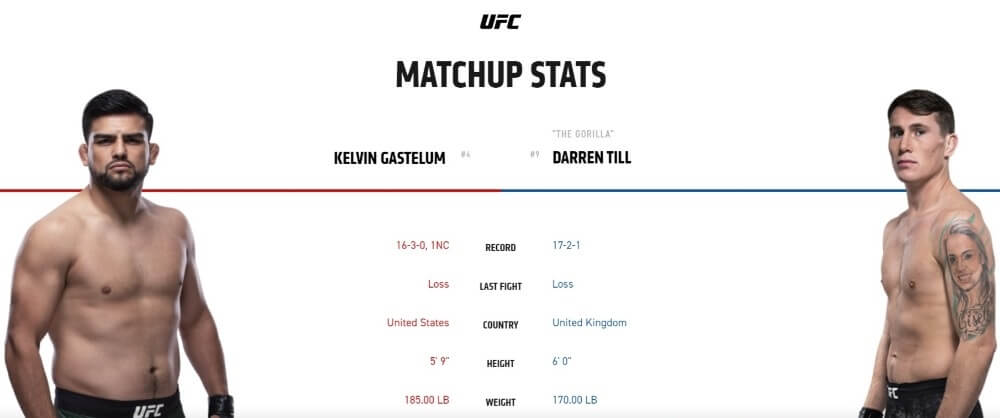 Ever since Kelvin Gastelum (15-4-1) entered the UFC at the tender age of 21, he's been underrated. Everyone said he was too small or too big, too out of shape, too unmotivated, too lacking in the skills necessary to make it as a UFC fighter. So, he was brought along slowly by UFC matchmakers, who made him fight 14 times before giving him a shot at a title.
Ever since Darren Till (17-2-1) entered the UFC at the tender age of 22, he's been overrated. A colorful Englishman with powerful striking, good looks, and a winning accent, he was pushed too far too fast by UFC matchmakers hungry for marketable British stars. Following a knockout win over an undersized Donald Cerrone in 2017 and a questionable decision victory over Stephen Thompson in 2018, Till was given an improbable welterweight title shot, just six fights into his UFC career. It resulted in a wakeup call at the hands of then-champion Tyron Woodley. After Till was knocked out cold by a much smaller Masvidal in his next fight, there were suddenly whispers around the MMA world that he may not be the fighter we were told he was—that maybe he was more hype than substance. Scrambling to save his reputation, Till made the decision to move up from the welterweight division to middleweight.
The gamble could work. Till has always been an enormous welterweight, and he wouldn't be the first fighter to revive his career by moving up a weight class. Of course, he wouldn't be the first fighter to ruin himself by moving up a weight class either. There are cautionary tales everywhere, but Till doesn't have to look any further than last week's brutal knockout of Chris Weidman by Dominick Reyes during the former middleweight champion's light-heavyweight debut to see that moving up in weight can be the most dangerous way to jumpstart a sagging career.
Corey Anderson vs. Johnny Walker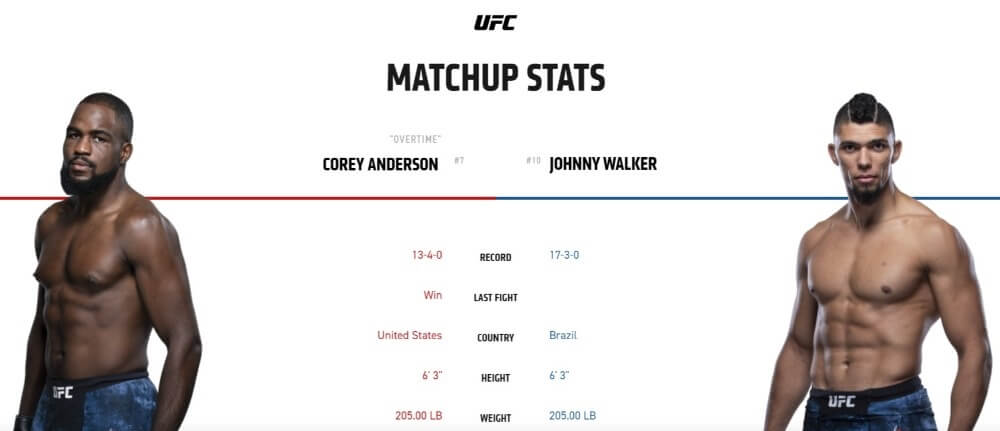 Corey Anderson (12-4) and Johnny Walker (17-3) embody the two fighting philosophies currently at war for the soul of MMA. Anderson is the wrestler who slowly and methodically wears his opponents down and breaks their spirits, while Walker is the dazzling improviser who knocks people out with leaping knees and spinning backfists. Anderson almost always wins his fights by decision. Walker has won all three of his UFC fights by knockout in a total of three minutes. Anderson is quiet and determined. Walker has stars in his eyes and a giant personality, and the UFC has hopes for him. After all, it isn't every day that a light heavyweight comes along who moves with the grace and abandon of a daring featherweight with a personality to match. But so far Walker hasn't had to even break a sweat in the Octagon, much less work his way through adversity, and the best way to see what a flamboyant fighter is really made of is to stick him in the cage with a guy like Anderson and see how he responds to the kind of incremental misery only a lifelong wrestler can impose.
Stephen Thompson vs. Vicente Luque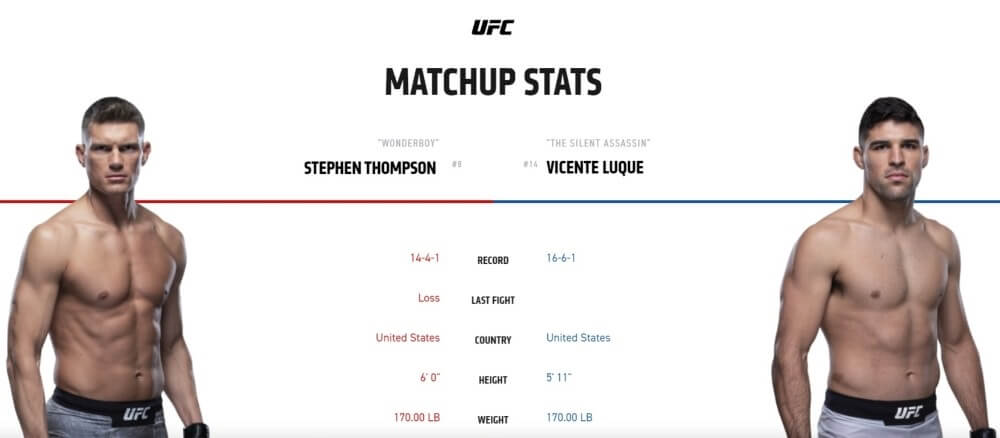 After 10 years as a professional, American-born Brazilian mixed martial artist Vicente Luque (17-6-1) has just recently made his name. His back-and-forth fight with Bryan Barberena in February was one of those brutal but thrilling brawls that take years off fighters' lives and make fans of MMA question the morality of their affection while at the same time falling in love with the sport all over again. His fight against Mike Perry just six months later was nearly as rough—so rough, in fact, that Luque may be known forever as the man who moved Perry's nose from the front of his face to the side.
But there's no arguing with results. Luque has worked his way onto the UFC middleweight rankings by taking part in punishing, career-shortening wars: That's where he's found his voice. So the problem facing him at UFC 244 is an existential one: How does one get Stephen "Wonderboy" Thompson (14-4-1) to brawl? The karate master is among the greatest fighters in MMA history at landing strikes without getting hit. He's a brilliant counter-striker and a master of distance and evasion, a true chess player. His long-bladed stance and crafty footwork make him nearly impossible to touch, while his disposition makes him loath to risk any unnecessary damage in the name of pride or masculinity. To get Thompson to brawl would be like forcing the sun to rise in the west. Vicente Luque may have to rely on magic or hypnosis to do it.
Derrick Lewis vs. Blagoy Ivanov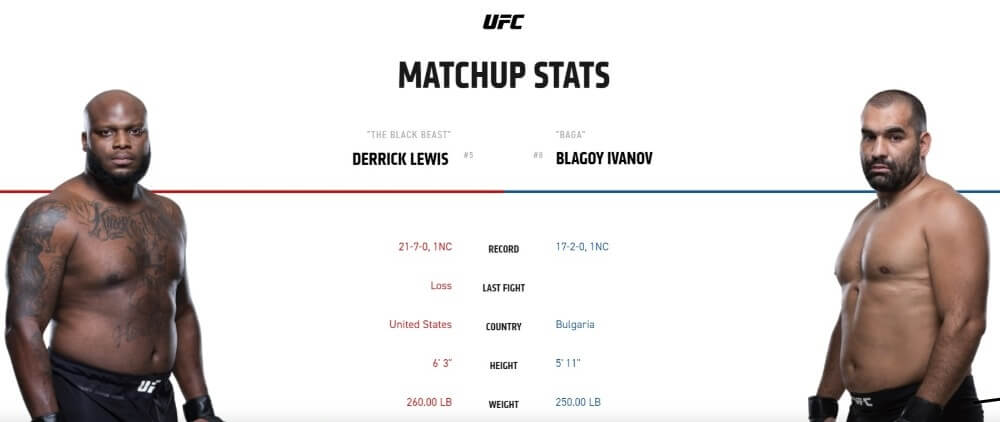 Derrick Lewis (21-7-1) will never be a great mixed martial artist. He's a decent boxer blessed with power, but at 34 years old, he seems indifferent to improving his grappling game or getting himself into good enough shape to actually compete against the best fighters in the world. But we don't watch "The Black Beast" to witness a display of martial art prowess or athletic majesty. We watch because he's the best post-fight interview in the game and because, more than anyone on the UFC roster, he seems the most like us: like a fan who realized he had some talent and daring and decided to make a go of things, health and safety be damned. As MMA evolves and fighters become true athletes, with talents and physical gifts far beyond those of normal people, Lewis is a throwback to a time when all you needed to fight in the UFC were a few skills, a lot of courage, and the simple madness to try. His opponent, Blagoy Ivanov (18-2) may have much more experience and training, but as many of Lewis' more skilled and trained opponents over the years have learned, all it takes is one enormous right hand and all that experience becomes meaningless. Even in 2019, the common man still has a chance.
UFC 244 poster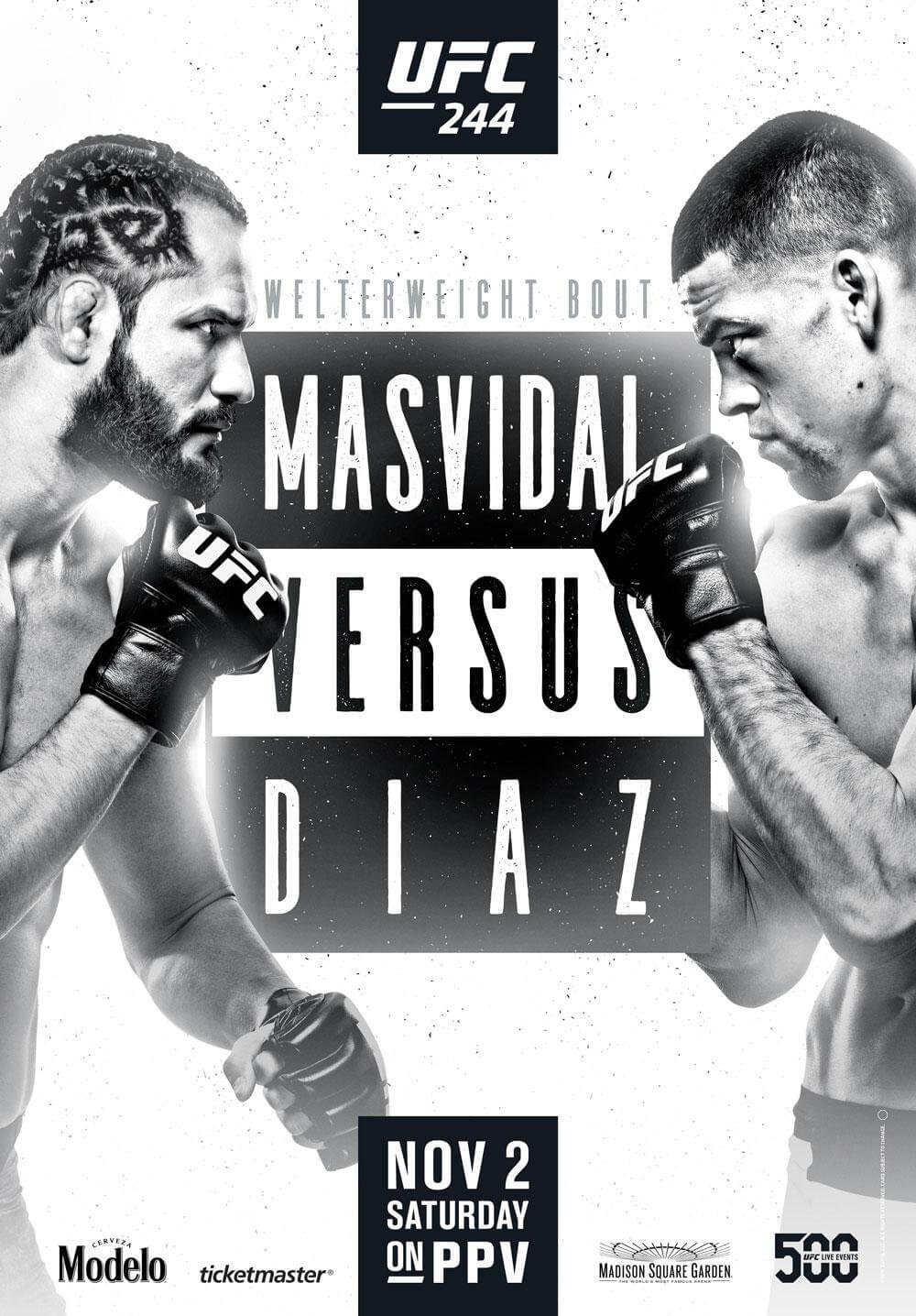 How to watch UFC 244 on ESPN+
Devices:

Chromecast,

Amazon Fire Stick

and

Fire TV

, Apple TV, Android TV, Roku players and TV, Oculus Go, Xbox One, PlayStation 4, Samsung smart TVs, and iOS and Android devices
There's only one way you can watch UFC 244: ESPN+. While the prelims will be split between ESPN2 and UFC Fight Pass, the main event will exclusively be broadcast on ESPN's subscription streaming service. The good news is that it's incredibly easy to use and works with pretty much every streaming device you might own.
There are two purchase options for UFC 244: You can pay $59.99 for that one PPV or you can get a full year of ESPN+ along with UFC 244 by paying $79.99. For UFC fans, you should really invest in the latter. ESPN+ now hosts 20 UFC Fight Nights per year, along with the exclusive series UFC Destined, Ariel Helwani's MMA Show, and Dana White's Contender Series.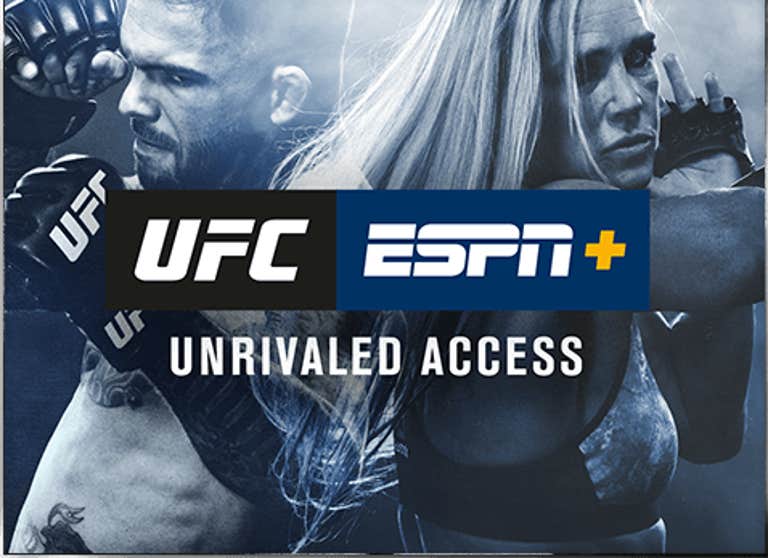 UFC 244 cost:
Need more convincing? ESPN+ also hosts Top Rank Boxing matches, daily MLB games, every out-0f-market MLS game, and loads of college football and basketball. You'll also be able to stream the complete 30 for 30 catalog on demand.
Nate Diaz vs. Jorge Masvidal live stream schedule
All times in ET.
Main card | 10pm on ESPN+
Nate Diaz vs. Jorge Masvidal
Kelvin Gastelum vs. Darren Till
Stephen Thompson vs. Vicente Luque
Derrick Lewis vs. Blagoy Ivanov
Kevin Lee vs. Gregor Gillespie
Prelims | 8pm on ESPN2
Corey Anderson vs. Johnny Walker
Andrei Arlovski vs. Jairzinho Rozenstruik
Shane Burgos vs. Makwan Amirkhani
Brad Tavares vs. Edmen Shahbazyan
Early Prelims | 6:30pm on Fight Pass
Katlyn Chookagian vs. Jennifer Maia
Lyman Good vs. Chance Rencountre
Julio Arce vs. Hakeem Dawodu
For a year-round sports fix, sign up here and check the "sports" box to receive our weekly boxing newsletter. You'll hear about all the biggest fights and best knockouts from the Daily Dot's streaming sports guru Josh Katzowitz.
The Daily Dot may receive a payment in connection with purchases of products or services featured in this article. Click here to learn more.