It's easy to get complacent with what you have. Services like Netflix and Hulu give us more entertainment options than we could ever hope to experience, but they don't always give us the things we want. What about the classics and new releases they don't have? That's where FandangoNow, offering digital movie rentals that are way more convenient than a trip to your neighborhood Redbox. Here's what you need to know about the service. 
What is FandangoNow?
Started in April 2016, FandangoNow is a spin-off of the movie ticket-selling site of the same name. Unlike other streaming services, FandangoNow is a subscription-free, digital pay-per-view service that puts a massive library of new releases, classics, and television shows at your fingertips. You just select the title you want to watch and pick rental or purchase. With over 50,000 movies and TV shows in its library, FandangoNow will always have something you've never seen.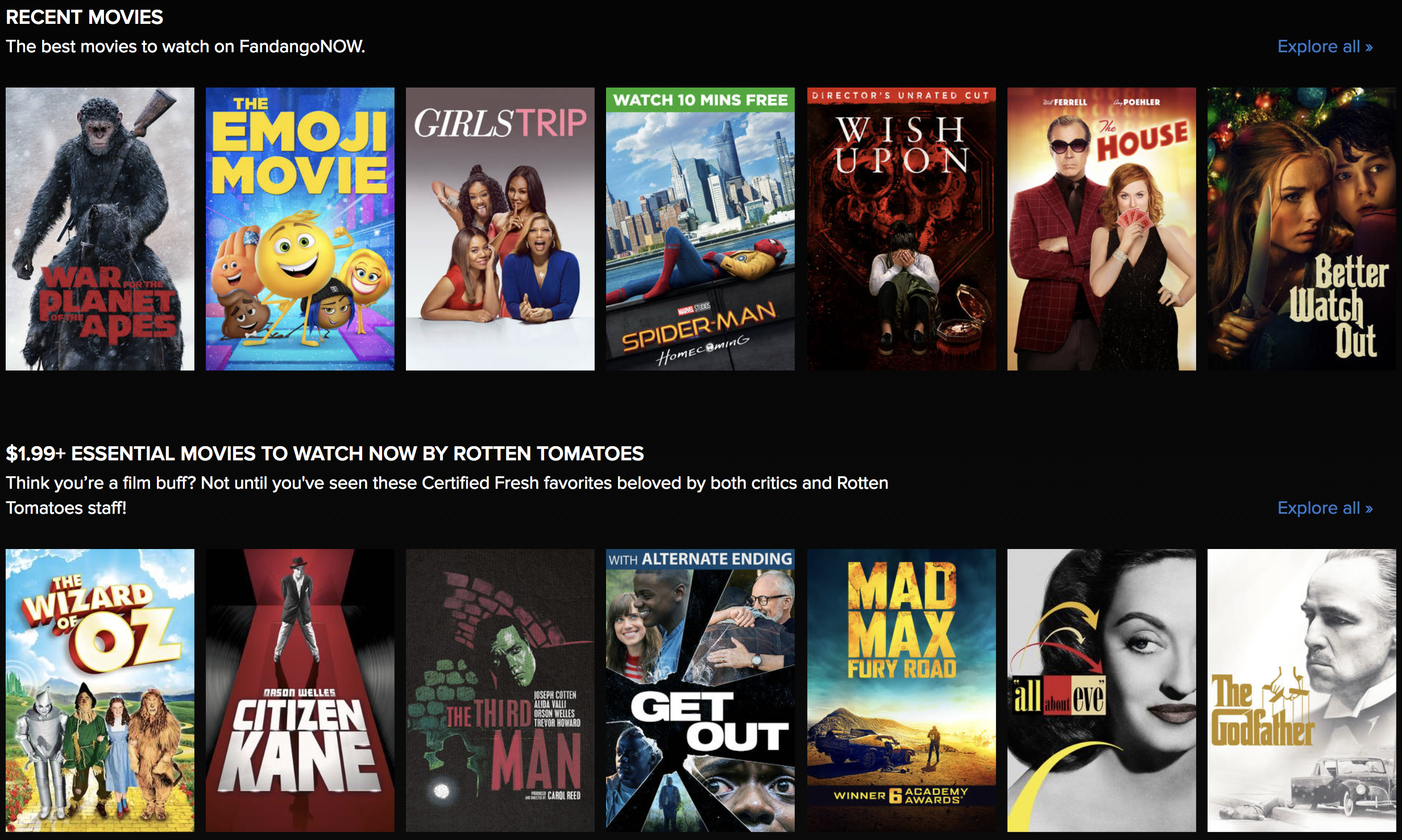 How much do FandangoNow movies cost?
FandangoNow's pricing structure depending on what you're looking for. Typical new releases go for $5.99 for HD and $4.99 for an SD stream. Rental movies that are still playing in the theater typically cost more, from $6.99 to $19.99. But you can still find deals. For example, Get Out was available when I looked in HD for only $2.99.
Every day, in fact, the service has new deals, offering $0.99 indie movies or a sale on teen comedies. It also features two extensive libraries of movies that are only $1.99 and $2.99 to rent in HD. Your rental will never cost as much as a single ticket to the theater, let alone cost as much as popcorn.
How much do FandangoNow TV shows cost?
When it comes to television, FandangoNow is a perfectly fine service, but the pricing doesn't always make sense. Take Starz's American Gods, for example. Buying the full season in HD costs $17.99, but if you buy each of its eight episodes separately, the season only costs $15.92 before tax. If you buy FX's The People vs. OJ Simpson individually, it will costs you $19.90 before tax, but only $14.99 for the season. While it's nice to sometimes find a deal like that, the lack of consistency can be frustrating.
Thankfully, FandangoNow's massive selection more than makes up for it, though with the advent of premium networks like HBO, Starz, and Showtime starting their own affordable TV streaming services, buying digital TV seasons makes less sense.
Why pay $24.99 for Big Little Lies when you can get HBO Now for $14.99? Why pay $33.99 for a season of House of Cards when that same digital download could pay for three months of Netflix? FandangoNow is useful for older sitcoms that might not have found a home on Hulu, but if you're already streaming, there's probably a cheaper way to catch up with your stories.
FandangoNow 4K movies for purchase
FandangoNow is incredible for HD and SD content, but for people excited to try out their new 4K TV sets, it can be a frustrating experience when it comes to movie purchases.  Let's return to Get Out. The title costs $14.99 to own, whether you want it in HD or SD. If you want to see the movie in 4K, however, the only option is purchasing it as $29.99 digital download. (It's not available to rent, either.) Spider-Man: Homecoming is more reasonably priced at $19.99, but neither title comes with any special features. Buying Get Out digitally in 4K costs $5 more than just buying the movie's 4K/Bluray combo pack, which comes with special features.
In the case of these particular releases, you're paying a premium for films that don't need to be converted or remastered for 4K. Some HD conversions are incredibly expensive, like the remastering of Star Trek: The Next Generation, which required going back to the original elements of 178 episodes and lovingly restoring each one. But modern new releases are already showing in Ultra HD in theaters, thanks to advances in digital projection. That makes price hike frustrating, especially when some movies, like Get Out, aren't available for renting in 4K Ultra HD.
FandangoNow 4K Ultra HD movie rentals
Vudu is often considered the king of 4K streaming because it makes it easy to find Ultra HD titles and often has them available to rent for a reasonable $9.99. But FandangoNow claims to have the largest selection of 4K movies on the market, and while rental prices often vary, they're typically the same price or significantly cheaper than Vudu. For example, both services currently offer Spider-Man: Into the Spider-Verse in 4K UHD for $7.99 and Aquaman for $5.99, but FandangoNow offers Fantastic Beasts: The Crimes of Grindelwald in 4K UHD for just $2.99 while it's only available from Vudu for $5.99 in HDX.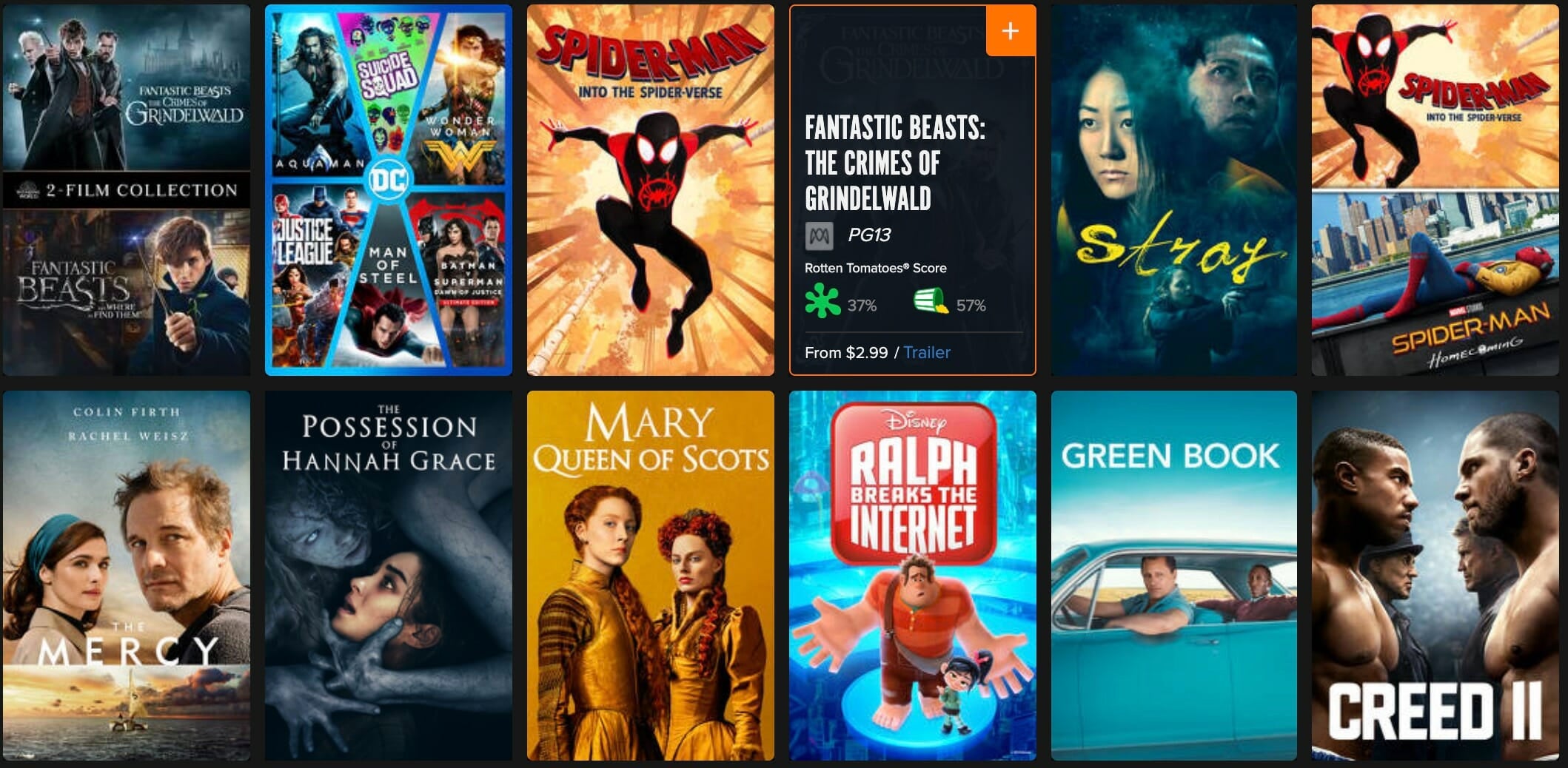 FandangoNow devices
FandangoNow supports a wide range of streaming devices, with a handful of odd exceptions. Samsung, LG, VIZIO, Roku smart TVs support the service, along with streaming devices Roku and Chromecast. You can also watch using your Xbox One and on both iOS and Android devices have apps for FandangoNow that allow you to download movies for offline viewing. Unfortunately, PlayStation, Apple TV, and Amazon Fire customers (including Fire Stick, TV, and Tablet) are out of luck.
FandangoNow Rewards
One area that FandangoNow scores points over the competition is with its rewards program. FandangoNow customers get points for each purchase, starting at 10 points for a single episode of a TV show to 100 points for buying a movie. The more you watch, the more you save. The rewards aren't particularly notable—600 points, what you'd get from buying six movies at full price, only nets you 20 percent off—but it's a nice incentive and more than the competition is doing.
FandangoNow review
FandangoNow's interface isn't the sort of thing people will write sonnets about, but it's a perfectly user-friendly experience. There are a few basic genres for both movies and TV, though it lacks any real sorting options if you're interested in looking for titles from a specific year or other details. However, features like Rotten Tomatoes 200 Essential Movies to Watch Now, each an affordable $1.99 for HD to rent, are a great way to catch up on titles you meant to see without spending a lot of money. And I've never experienced any trouble streaming content.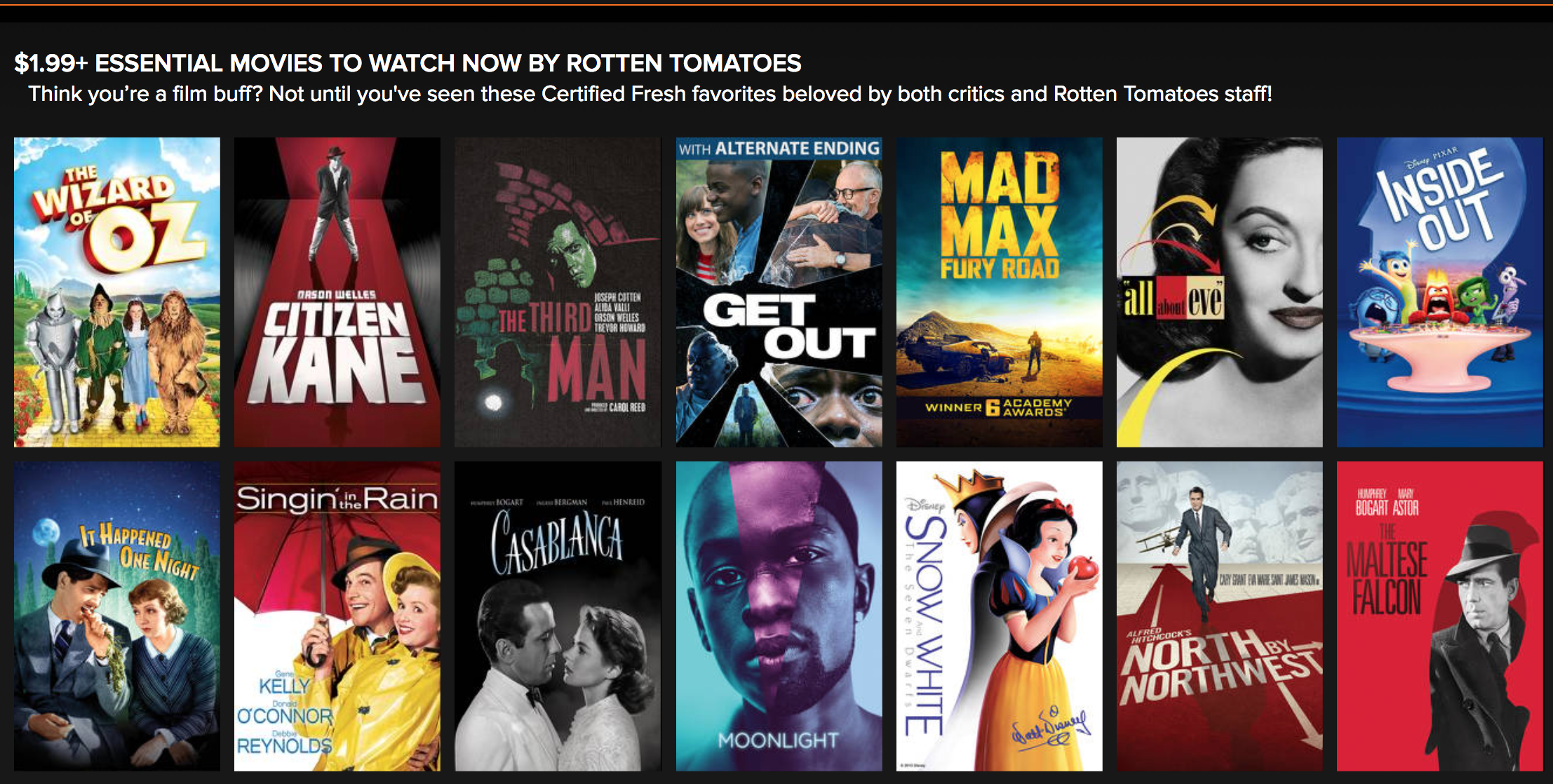 Is FandangoNow worth it? 
Every area of the streaming market is saturated right now. There are more subscription streaming services available than anyone could have time for, and the digital rental market is starting to look the same. For 4K movie renters, Vudu is still your best bet, but if you just like to watch movies in 1080p, it's worth stopping buy FandangoNow to check the price before you buy from another service. With its great selection, rewards program, and regular deals, FandangoNow is fighting for your digital rental dollars. We just hope someday the studios give 4K a fighting chance and drop the price to something more palatable.
Editor's note: This article is regularly updated for relevance.
The Daily Dot may receive a payment in connection with purchases of products or services featured in this article. Click here to learn more.