As a 35-year-old who adores weed while maintaining an adult life, it's easy for me to admit that cannabis culture can be embarrassing. An outsized emphasis is often placed on getting as high as possible, leaving little room for more nuanced enjoyment. This is particularly true for edibles, where stories of nuclear brownies and bad trips trump all. For adults looking for a more elevated take on pot consumables, Netflix's Cooked with Cannabis is as refreshing as your first hit after a tolerance break.
Cooked with Cannabis

RELEASE DATE:
4/20/20
CREATORS:
Kelis, Leather Storrs
STREAMING:
Netflix
A nuanced, entertaining look at gourmet weed cooking in a game show package
The setup will be familiar to anyone who has ever seen a reality cooking contest. Three chefs prepare an appetizer, entree, and dessert, based on a theme, within a time limit. Then their plates are judged by a panel of semi-celebrity judges. Each chef is given time to infuse their own ingredients using supplied flowers, along with THC and CBD extracts.
Shows like this have existed before, including Netflix's own Cooking on High and Vice's Bong Appetit. Where Cooked on Cannabis changes things up is by not trying to murder its judges with THC. Cooked on Cannabis puts the emphasis on the meal first. The judges aren't smoking joints between plates, and the chefs aren't visibly higher than you'd be tasting-infused food. Rather than pushing cannabis food culture to its limits, Cooked with Cannabis shows how wonderful it can be in moderation.
Each chef takes great care to build a balanced meal that is both intoxicating and healing. Equal amounts of effort go into including CBD instead of just focusing on the mainstream favorite THC. Ultimately this has both educational and entertainment benefits. Learning that the non-psychoactive CBD can help cool the burn of spicy food was a surprising lesson after years of cooking with pot. On the same token, not making everyone psychedelically high improves the judging and hosting.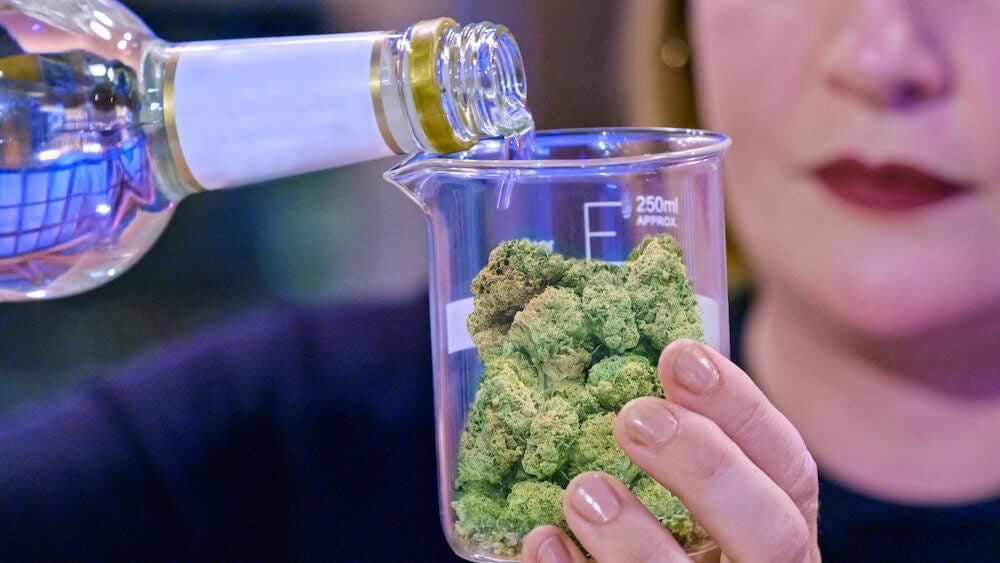 Each contest is lead by R&B singer/cannabis enthusiast Kelis and chef/cannabis expert, Leather Storrs. While many weed-based shows, cooking or otherwise, treat cannabis only as a way to get obliterated, Kelis and Storrs approach the plant from a place of respect. Chefs are given the opportunity to explain how they're using the plant to improve the potency and quality of each dish. Have you ever wanted to know about seasoning your food with herb? Rather than simply showing you other people getting high, Cooked with Cannabis teaches you the basic flavor nuances of weed.
Comic relief is provided by the guest judges, a who's who of current and up-and-coming talent. You'll see Michael Rapaport, Ricki Lake, Clayton English (Last Comic Standing), Megan Gailey (Lights Out with David Spade), and Amanda Seales (Insecure) among the guest judges. Different judges come with different levels of experience, from daily stoners to once-a-year tokers, each happily riffing while picking apart each dish's nuances. 
The theme of each episode focuses on various kinds of food and dining experiences. You'll see cannabis-infused takes on wedding meals, holiday dinners, comfort food, and BBQ, broad enough concepts to give the contestants incredible amounts of creative freedom with their dishes. Even without pot, these meals left me drooling. How about ribeye cooked with infused ghee topped with charred octopus? Maybe a homemade pasta with marijuana leaves embedded inside? Infused, grilled lamb chops? A deconstructed dessert biscuit? It's remarkable that this works as a pure cooking show, even if you're sober.
How much you'll learn about using cannabis in your own cooking will depend on how you learn from cooking shows. Viewers looking for an instructional experience are going to be let down. The educational component of the show largely breaks down to describing the different ways THC and CBD are metabolized by the body. Don't expect to learn how to infuse oil—but do bring an appetite.
Looking for something more specific? Here are our Netflix guides for thebest war movies,documentaries,anime,indie flicks,true crime,food shows,rom-coms, LGBT movies,alien movies, gangster movies,Westerns,film noir, andmovies based on true stories streaming right now. There are alsosad movies guaranteed to make you cry,weird movies to melt your brain,old movies when you need something classic, andstandup specials when you really need to laugh. Or check outFlixable, a search engine for Netflix.