There are truly an absurd number of celebrity talk shows. The Tonight Show Starring Jimmy Fallon, The Ellen DeGeneres Show, The Late Late Show With James Corden—the list goes on. However, one talk show currently stands head and shoulders above the rest: Hot Ones.
Online food culture mag First We Feast produces Hot Ones, a web talk show that features various celebrities ranging from musicians to actors. The stars work their way through 10 progressively hotter wings as they answer questions. This premise alone makes the show more engaging than its competition. Moreover, Hot Ones host Sean Evans, who's universally respected for his ability to handle spice, also stands out as an interviewer. He has a well-earned reputation of being a rare master interviewer because of his unique, personal questions that often impress his guests.
Now well into its 10th season, Hot Ones boasts iconic, hilarious episodes that have spawned countless memes, touched on huge pop culture moments, and humbled the hottest Hollywood heartthrobs. However, First We Feast's hundreds of videos can be overwhelming, so we've sifted through the channel and narrowed its selection down to the 10 most entertaining interviews.
Here is a ranked list of the best Hot Ones episodes you should watch.
Best Hot Ones episodes on YouTube
Welcome to the wild and wooly world of Hot Ones, "the show with hot questions and even hotter wings." Buckle up and get ready to enjoy watching even the most glamorous celebrity A-listers crumble beneath the power of hot sauce.
1) Key & Peele
Spicy guest quote: "Sean, go to hell."
Full episode: "Key & Peele Lose Their Minds Eating Spicy Wings"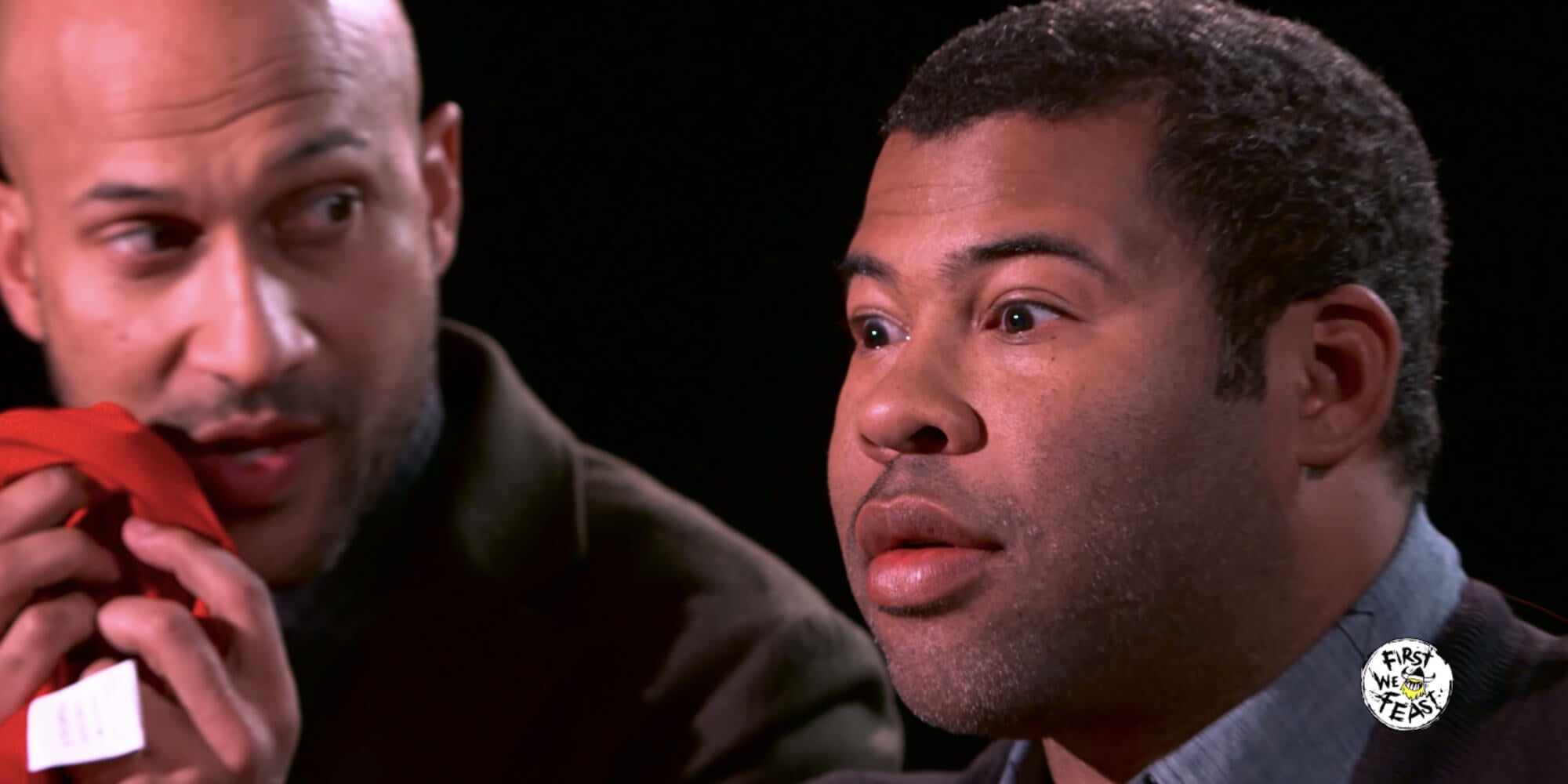 Keegan-Michael Key and Jordan Peele of Key & Peele are two of the most hysterical artists of our time. Luckily for us, their highly entertaining brand of absurdity only gets exacerbated by hot wings. In this Hot Ones episode, the comedy duo gets weirder and weirder as they chat about everything from Barack Obama to Chernobyl. Additionally, they even assume the roles of some of their most beloved Key & Peele characters—including Key's famed "Obama anger translator."
2) Eric Andre
Spicy guest quote: "Are you fuckin' out of your mind? This is a nightmare."
Full episode: "Eric Andre Turns Into Tay Zonday While Eating Spicy Wings"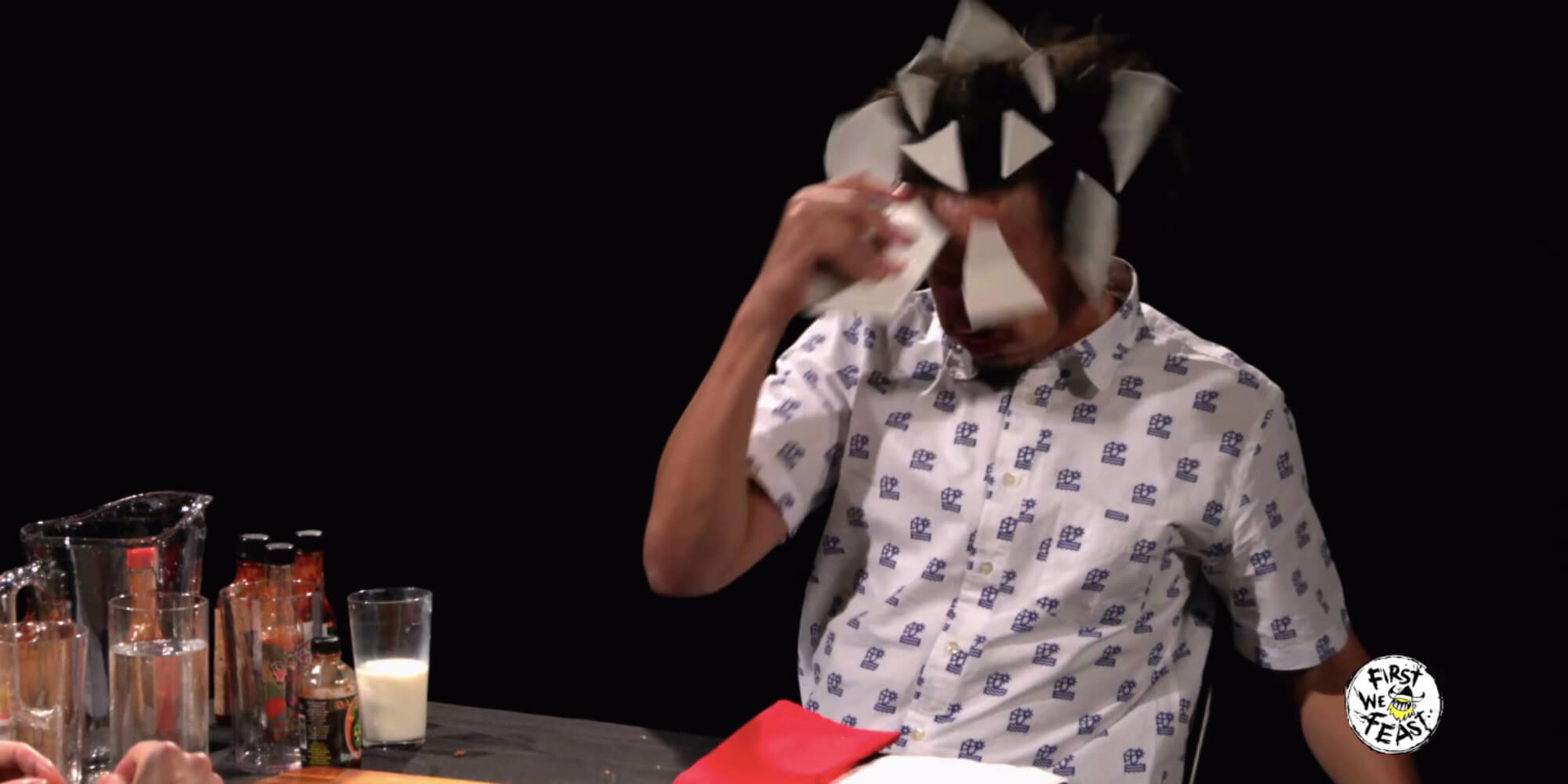 Key and Peele may be a wild pair, but Eric Andre takes the cake for being the most chaotic person to ever walk the Earth. He's known for The Eric Andre Show, his famously bizarre (and hilariously awkward) talk show that shamelessly pushes the boundaries of guests' comfort zones. Andre's presence on Hot Ones is no different. While he starts off atypically chill, he slowly morphs into his wild onscreen persona as he enters a state of hot sauce delirium—leading him to truly fly off the handle by the end of the interview.
3) Vince Staples
Spicy guest quote: "Ashy ass hot sauce… That shit tastes like poison."
Full episode: "Vince Staples Delivers Hot Takes While Eating Spicy Wings"
West Coast rapper Vince Staples is naturally hilarious. Every single thing that comes out of his mouth is organically funny, and he's constantly ready to deliver witty commentary on anything and everything. Moreover, Staples is a self-proclaimed wing "connoisseur," and he proves it on this Hot Ones episode, assessing each sauce with the flair of a master chef. This episode features an engaging chat about Snoop Dogg's youth football league, toxic gamers, and more.
4) Kristen Bell
Spicy guest quote: "That's my review… That's hot."
Full episode: "Kristen Bell Ponders Morality While Eating Spicy Wings"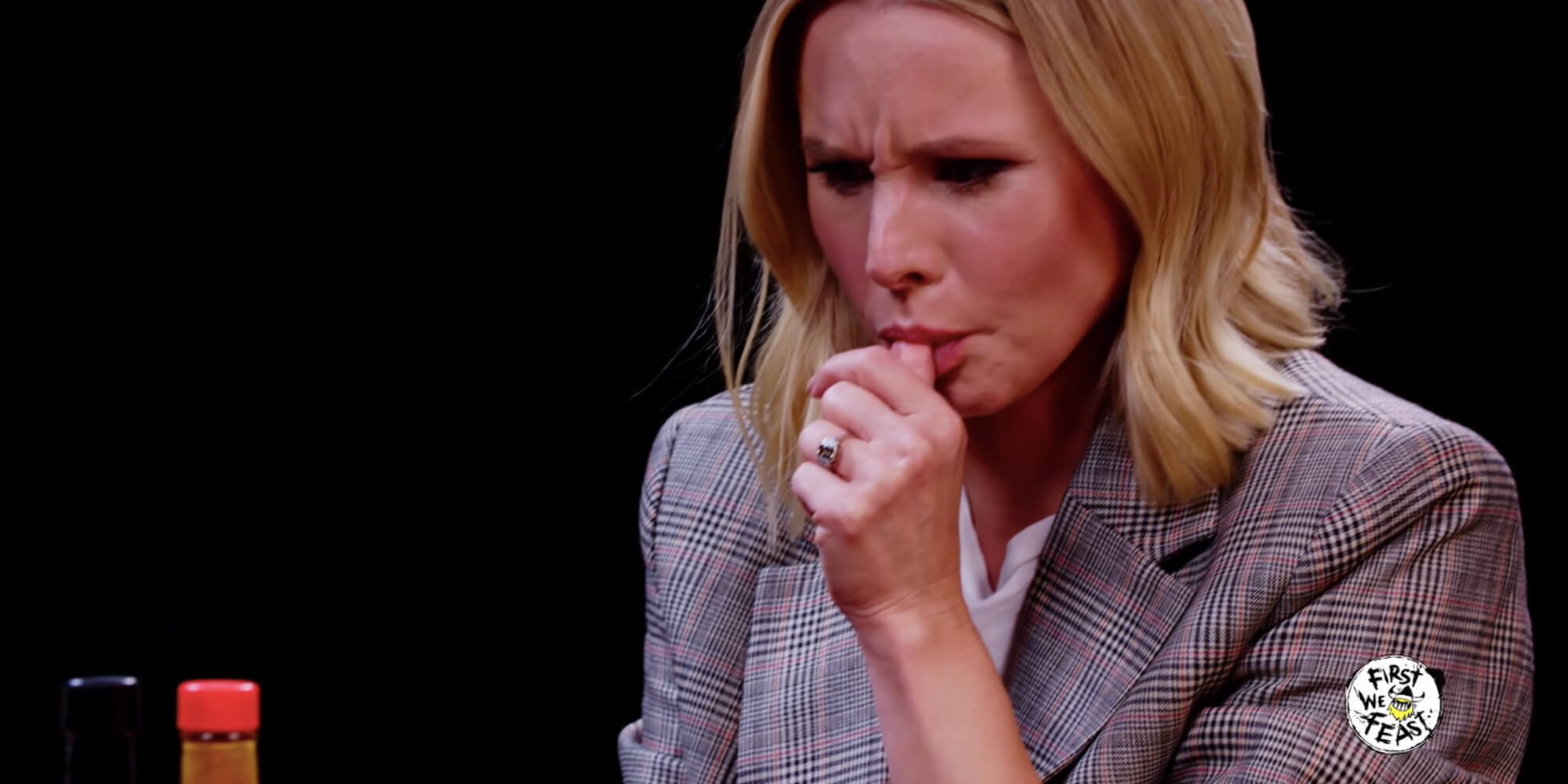 Following up an impressive Hot Ones run from her husband Dax Shepard (they're actually the first couple to be featured on the show), Kristen Bell is determined to beat her husband in terms of handling the spice. She remains unfazed by the flames as she discusses the power of fandom in television, schools of philosophy from The Good Place, and being embarrassed in front of Jay-Z. Bell is another bright personality who's delightful to watch in this one-of-a-kind talk show.
5) Gordon Ramsay
Spicy guest quote: "Shit. Fucking hell… Every hole in my body's fucking stinging right now."
Full episode: "Gordon Ramsay Savagely Critiques Spicy Wings"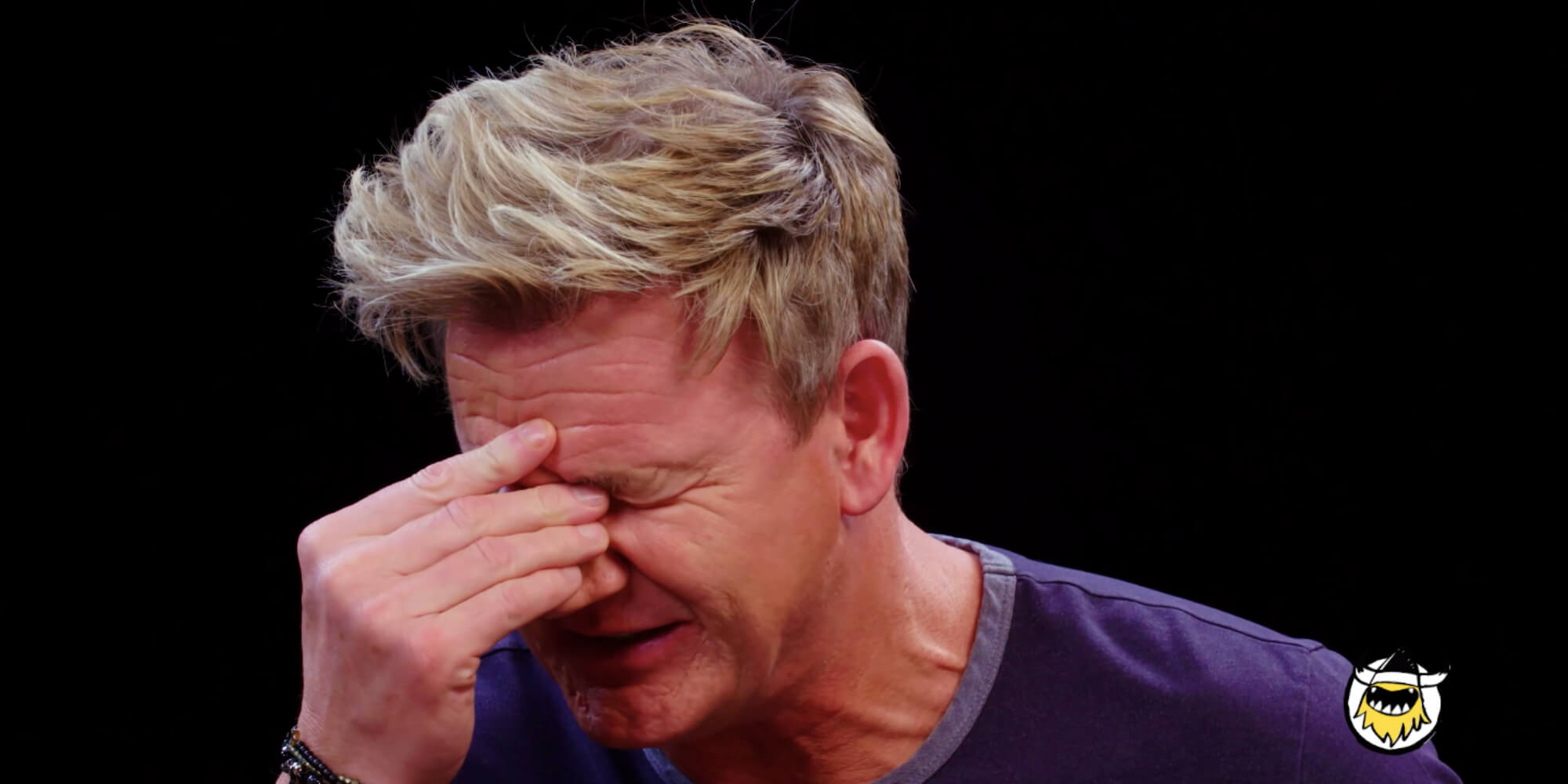 Gordon Ramsay, professional roaster of food, is an intimidating person to feed, and the master chef doesn't hold back throughout his interview. Critiquing and complementing each wing as he sees fit, Ramsay shares colorful stories of his illustrious life. However, not even illicit shark fin trading and lunch with Russian President Vladimir Putin hold a candle to the real entertainment in this episode. There really is nothing funnier than seeing a legend like Ramsay have one of the most dramatic spice-induced meltdowns of any Hot Ones guest.
6) Desus & Mero
Spicy guest quote: "There's something ironic about dying from eating chicken during Black History Month."
Full episode: "Desus and Mero Get Smacked By Spicy Wings"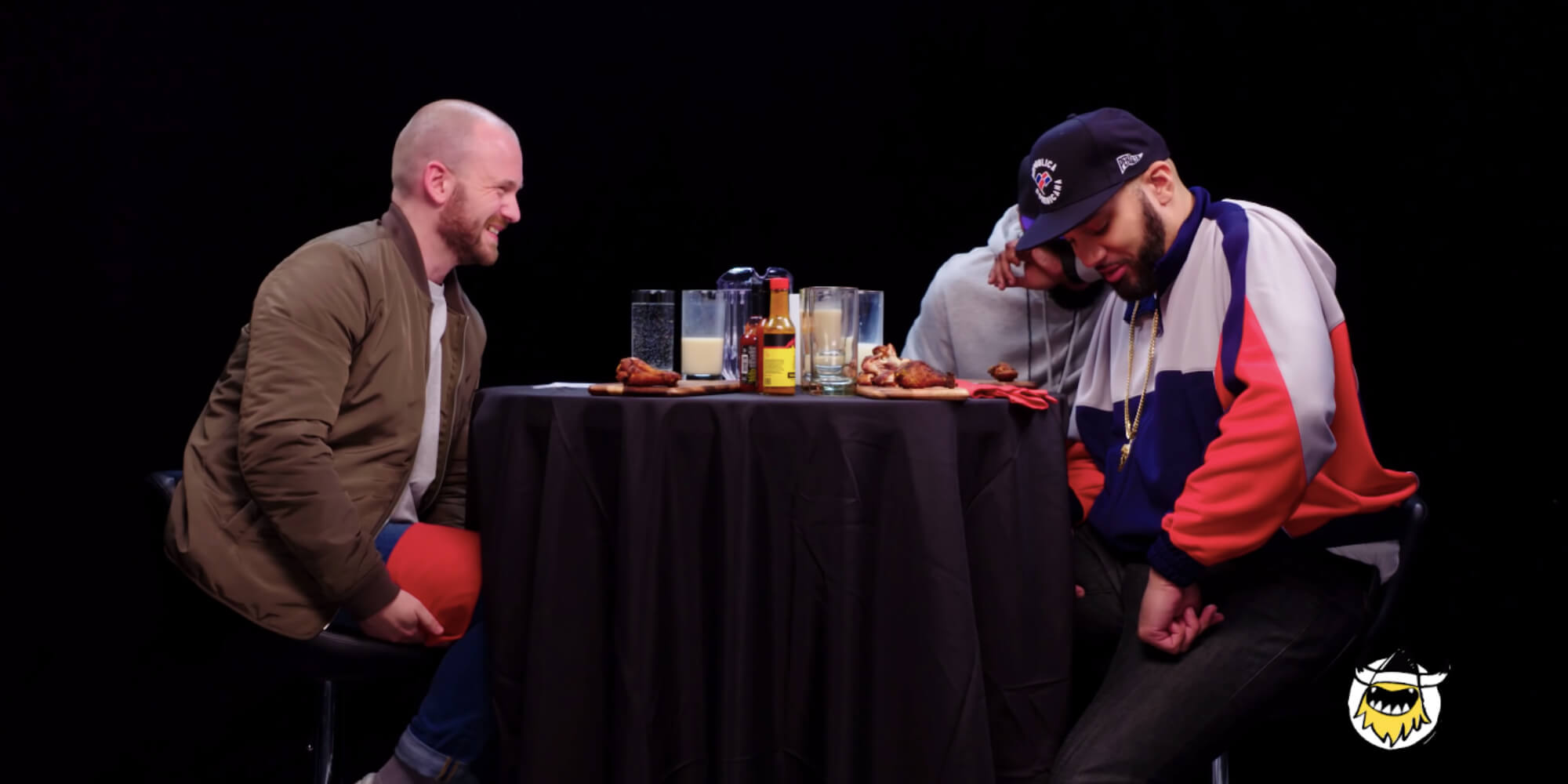 Like Key and Peele, Desus and Mero are a fun-loving duo with unbeatable chemistry—Sean Evans barely has to host in this episode. The rapid-fire jokes never cease as this infectiously joyful pair display the same energy they bring to their own show. This hilarity-packed episode touches on comedy in the age of "P.C. culture," Desus and Mero getting banned from the VMAs, and the infamous snitching of Tekashi 69.
7) Paul Rudd
Spicy guest quote: "It's like breathing in dry ice."
Full episode: "Paul Rudd Does a Historic Dab While Eating Spicy Wings"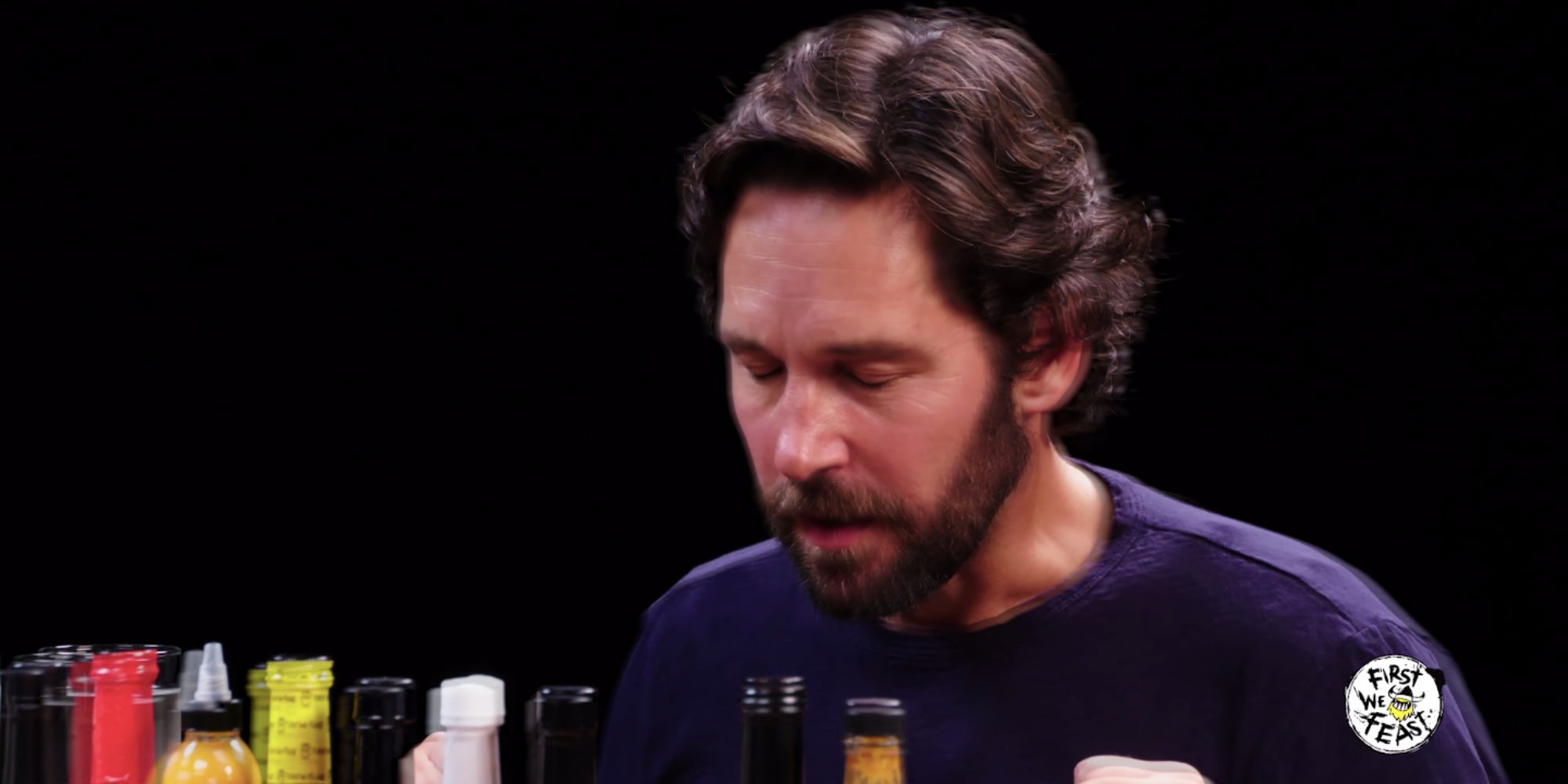 This Hot Ones episode is extra famous because of one much-memed snippet. However, the whole interview is enjoyable because of Paul Rudd's genuinely sweet, likable disposition. He interviews Sean Evans just as much as Evans questions him. They discuss everything from Ant-Man killing Thanos by crawling up his butt to working with Beyoncé. Also, Rudd charitably teaches us how to make any picture look like it features a bare human butt. Thank you, Paul Rudd.
8) Charlize Theron
Spicy guest quote: "I hate my tongue right now. If I could pull it out, I would."
Full episode: "Charlize Theron Takes a Rorschach Test While Eating Spicy Wings"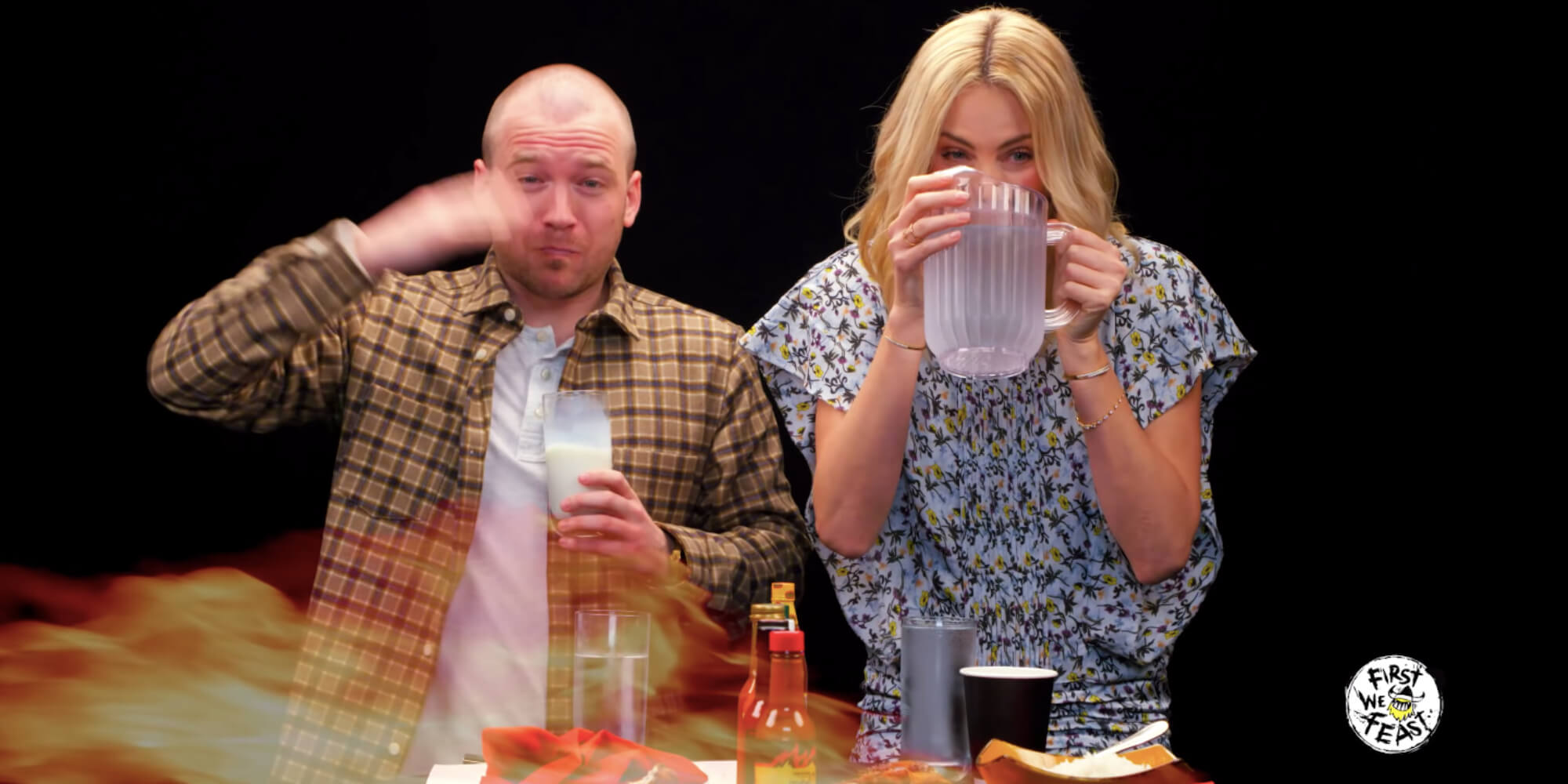 Few could ever hope to embody the effortless grace and glam of Charlize Theron, much less her eloquence, humility, and charisma. This Hot Ones episode dives into the actress's fascinating life as she teaches Sean Evans Afrikaans swear words and analyzes the shifting landscape of entertainment journalism and the film industry. Also, the title isn't clickbait—Theron does indeed take a Rorschach test at the end of the interview. It's great.
9) Guy Fieri
Spicy guest quote: "…Got a little eyeball sweat going."
Full episode: "Guy Fieri Becomes the Mayor of Spicy Wings"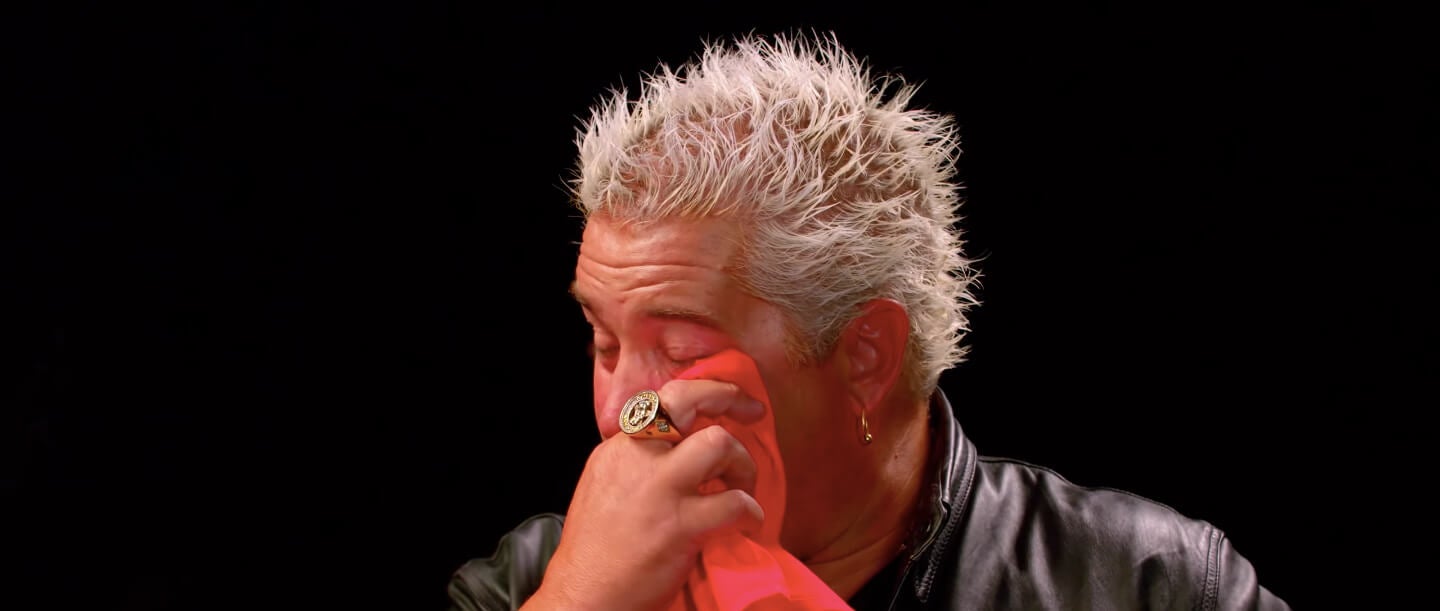 Check out this episode to meet the real Guy Fieri, the man behind the memes—and to realize you've probably been pronouncing his name wrong for years. Well aware of his iconic meme status, Fieri proves himself to be a grounded, cheery guy with goofy dad energy and a dry sense of humor to boot. Perhaps the least fazed by spice of any of Sean Evans' guests, Fieri gets through all 10 hot wings without taking a sip of milk or water—further cementing his status as the stuff of legend.
10) Billie Eilish
Spicy guest quote: "I'm sorry. I can't. I can't. I can't. I can! I can. I can't. I can! No, I can't. I really can't."
Full episode: "Billie Eilish Freaks Out While Eating Spicy Wings"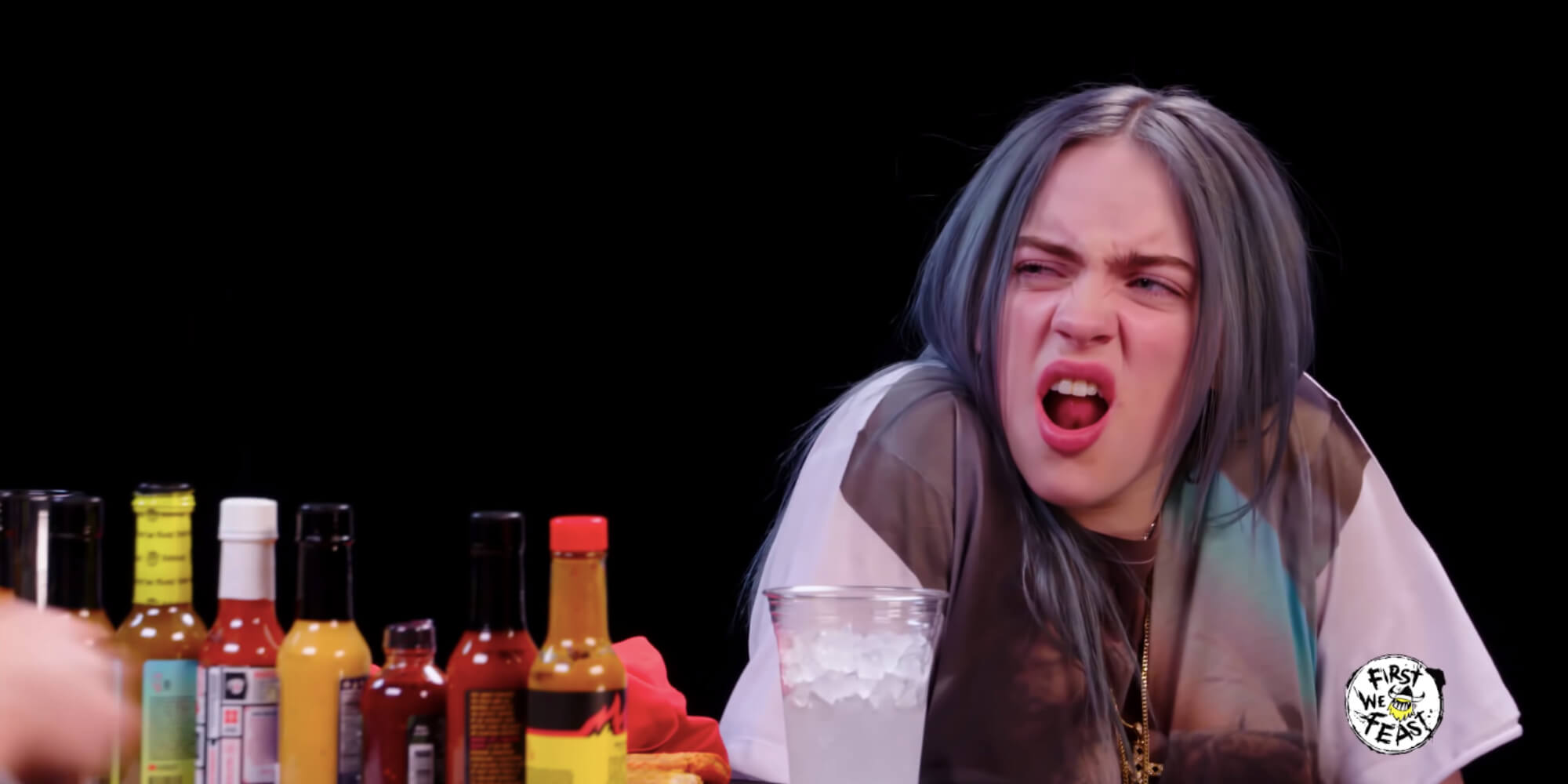 Billie Eilish is widely known and loved for her down-to-earth aura and generally relatable personality. The youngest Hot Ones guest at the time of her interview, Eilish enthusiastically talked with Sean Evans about awful high school talent shows, sibling squabbles, proper thrifting techniques, and more. Most amusingly, she has a truly spectacular reaction to not being able to handle the spice—one undoubtedly worthy of 2019's reigning queen of teens.
READ MORE: