The announcement of John Mulaney and Anna Marie Tendler's divorce sparked many questions Monday afternoon, but the most pressing of all to loyal fans was the age-old question: Who gets the dog?
During their six-year marriage, Mulaney and Tendler adopted a French Bulldog named Petunia. She featured in the opening of Mulaney's second Netflix special, The Comeback Kid, and more recently a Mother's Day Instagram post on Tendler's account.
Fans are speculating that this post, given its timing, indicates that Tendler has primary custody of Petunia.
"i've seen a lot of people making jokes about who gets petunia in the divorce but i'm pretty sure anna's recent ig post answers it," Twitter user @womenlovebot wrote.
Fans took the news pretty hard.
"saw a tweet about who's getting petunia now that john and anna are getting a divorce- yeah that's it I'm done," Twitter user @herwildestdreams said. "No more twitter for me today I can't do this"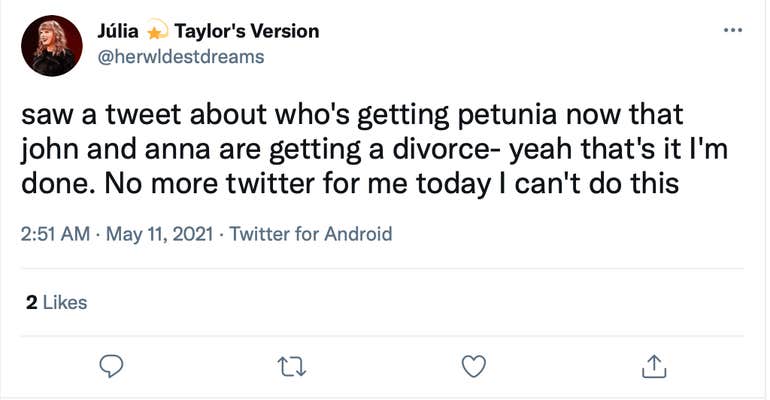 Mulaney and Tendler's relationship featured heavily in his comedy, and fans became attached.
"If John Mulaney and Anna can't make it, is there hope for anyone?" Twitter user @jessieheels wrote. "What will become of Petunia? My heart is aching for two people and a French bulldog I don't even know."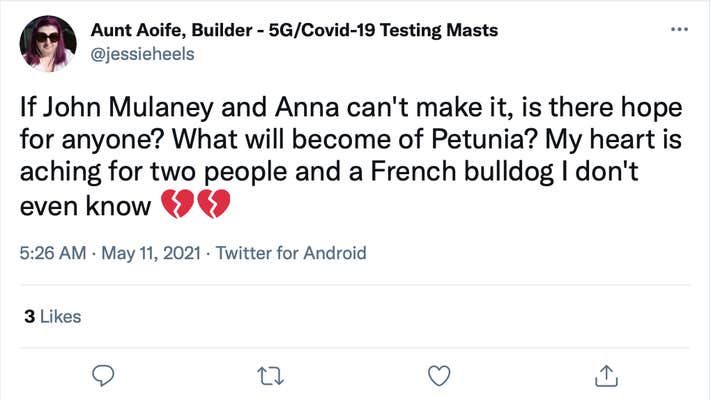 Tendler and Mulaney issued separate statements regarding their split. A representative of Mulaney confirmed the divorce to Page Six: "John will not have any further comment as he continues to focus on his recovery and getting back to work."
As for Tendler, her statement issued through a spokesperson speaks to a divorce she did not ask for.
"I am heartbroken that John has decided to end our marriage," Tendler's spokesperson told Page Six. "I wish him support and success as he continues his recovery."
In addition to being the first to announce news of the divorce, Page Six was first to the story of Mulaney checking himself into rehab back in December, citing a long history of drug and alcohol use.
We've reached out to representatives for Mulaney and Tendler to inquire about Petunia's future.
---
Today's top stories