Despite what Edna Mode, The Incredibles' superhero fashion designer extraordinaire, has to say about them, capes are where it's at.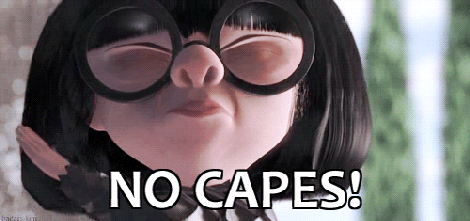 And a group of redditors knows that. There's a movement on the platform to make capes a modern, everyday fashion staple in 2020.
In the r/unpopularopinions subreddit, one redditor suggested capes "be THE fashion statement of 2020."
While capes are usually only seen on those of royal lineage or supernatural beings, they argued, they should be normalized and worn by the average person.
"Although capes are not A) readily accessible in a variety of styles and colors and B) Socially acceptable to wear any time other than Halloween, we should make them happen," they continued.
They made their case for capes by saying that capes not only make you feel like a badass, but they are also convenient for keeping warm in the wintertime. And not only can you wear capes in the wintertime.
"Capes can be considered casual OR formal. We can have sheer capes for summer and spring, wool and velvet for fall and winter," they wrote. "Capes can spread to each and every corner of the globe. I mean, you could have one for every outfit. Different patterns, colors, shapes, sizes etc."
Capes should be THE fashion statement of 2020; don't bother to change my mind. from unpopularopinion
It appears as if they successfully made their case for capes. Many quickly got on board with the idea, and several other subreddits were spawned in dedication to the cause.
People in 2020 be like from Capes2020
Users concocted plans to bring capes into the mainstream.
"If we can get Gucci and Versace and Balenciaga to start making capes, and selling them, we will be in buisness," one redditor prompted. "Influencers and famous people, such as Billie Eilish would totally wear a cape if it cost 2 Grand and had a fashion house name all over it."
We need fashion houses to back this up. from Capes2020
Another redditor, LemonLordLarry, came up with a social media campaign to "get the trend rolling."
I've come up with a plan to get the trend rolling. from Capes2020
Other users took the opportunity to showcase their own capes.
Viva la Revolution!!! from TheCapeRevolution
My cape I've had for well over a year! from TheCapeRevolution
I just bought a cape! Here's to starting 2020 off right. from TheCapeRevolution
Naturally, there was a bit dissent, with some users creating a splinter group of their own, CloaksOverCapes.
One redditor even offered to fight any "cape loving freak over it."
Thank fucking god this sub exists now. from CloaksOverCapes
As it turns out, the redditors who are part of the movement may be onto something. Some fashion houses are reportedly already planning to include capes in their upcoming lines. And Cosmopolitan recently published an article all about capes, claiming capes are a good alternative to bulky winter coats.
READ MORE: