Noah Cyrus came under fire Thursday for using racist language in an Instagram story intended to defend Harry Styles, presumably from Candace Owens.
The 20-year-old singer shared a photo of Styles wearing a dress from his recent Vogue cover shoot—the same shoot that conservative firebrand Candace Owens declared "an outright attack" on masculinity and connected to the rise of Marxism in the West. 
Cyrus appeared to take a swipe at Owens and anybody else who disapproved of Styles' dress, captioning her post, "He wears this dress better than any of u nappy ass heauxz."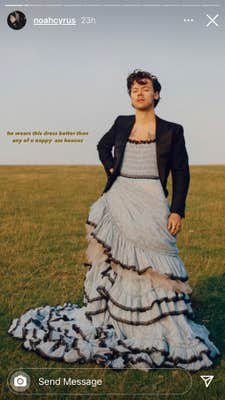 Twitter users widely condemned Cyrus' post and were quick to point out the racist connotations of the word "nappy." As NPR's Michael Paulino wrote last year, the term is presumed to have originated from the word nap, which describes the raised, fuzzy surface on different kinds of fabric. "There is a lot of speculation that nap was redefined as a disparaging phrase for the coils and kinks in the hair of the African enslaved, in connection with the fields of cotton that drove the Colonial economy," Paulino explained.
"Nothing to see here, just @noahcyrus 'defending' @Harry_Styles against criticism by @RealCandaceO – by calling Candace a 'nappy ass hoe,'" Turning Point USA contributor Rob Smith tweeted. "There truly is no racist like a White Liberal racist." 
Owens addressed Cyrus' post herself, tweeting, "Any one of woke liberals care to explain to me how @noahcyrus calling me a 'nappy ass hoe' is not racist? I'm all ears. You guys love cancel culture. @MileyCyrus come get your sister!"
Cyrus later scrapped the post and uploaded an apology in its place on her Instagram story. 
"I am mortified that I used a term without knowing the context and history, but I know now and I am horrified and truly sorry," she wrote. "I will never use it again. Thank you for educating me. I in no way meant to offend anyone. I am so so sorry."
Many Twitter users, however, questioned the sincerity of Cyrus' apology and argued that ignorance was not an excuse for racism.
"I find it hilarious that @noahcyrus said 'I didn't mean to offend anyone.' Bullshit," @maranda_shea tweeted. "She meant to offend at least one person. That's why she wielded her words like a fucking weapon and used specific ones that would upset @RealCandaceO Daily dose of lame ass excuses from celebs."
Others were surprised to find themselves defending Owens, who has made no shortage of controversial and regressive comments about Black people in the past. 
"#NoahCyrus got us nappy heaxus out here defending @RealCandaceO who probably calls us nappy heaxus too. Lol," @Wannabeok89 tweeted.
Styles does not seem to be hurting much from Owens' initial comments anyway. This week, the superstar shared a photo of himself wearing a ruffled, baby blue suit on Instagram and captioned it with Owens' own exhortation: "Bring back manly men."
---
Today's Top Stories