Candace Owens became a household name—or at least a Twitter Moment name—several weeks ago when Kanye West tweeted his admiration for her during a string of posts that seemingly aligned him with conservative ideology.
I love the way Candace Owens thinks

— ye (@kanyewest) April 21, 2018
Owens then took a meeting with West at his home in Calabasas and appeared alongside him during an interview with TMZ.
While Owens is well known among young, right-wing pundits, she wasn't very widely known outside these circles until she became a supporting player in the apparent "redpilling" of Kanye West.
Kanye has raised plenty of questions about his recent shift to a Breitbart-friendly social media presence. One of question many people are asking is:
Who is Candace Owens?
A good starting point for Candace Owens is looking at another Twitter shoutout she got from another famously egotistical personality, President Donald Trump.
https://twitter.com/realDonaldTrump/status/994182263960162304
Like West, President Trump praised Owens' thinking. He also applauded her work with Turning Point USA, the conservative student group headed by Charlie Kirk and perhaps best known for an ill-fated protest in which members wore diapers to protest safe spaces on campus.
Turning Point USA is not particularly remarkable as far as right wing organizations go. They focus on issues like "free speech," argue against diversity, and endorse right-wing ideas on college campuses. What makes them notable is that the organization is run by students and millennials and explicitly targeting college campuses. Owens is the communications director and is charge of "Urban Outreach" for TPUSA.
READ MORE:
Candace Owens' YouTube channel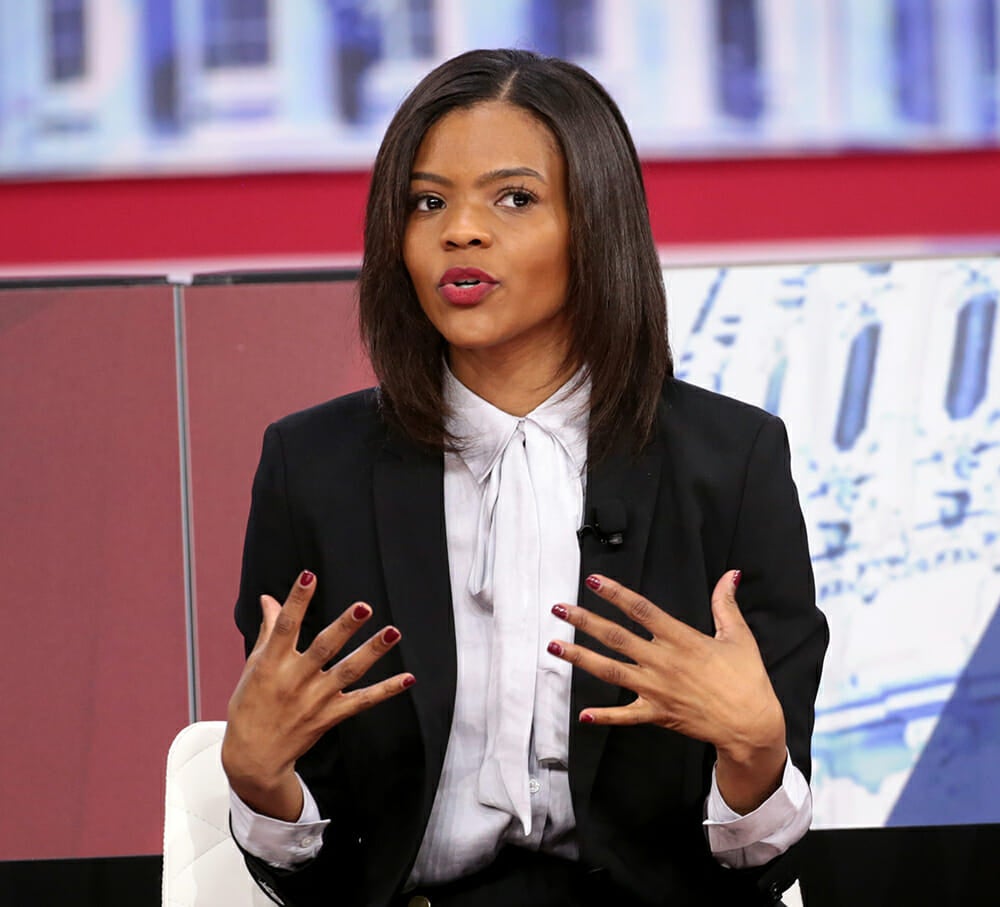 Owens, an African-American, focuses particularly on the issue of diversity. On her YouTube channel, Red Pill Black, she often criticizes black Americans for having a "victim mentality," and often refers to the Democratic Party as a "plantation."
Her videos run the gamut from the absurd to the offensive, including such titles as "Black Panther: A Pro-Trump Movie" and "I Don't Care About Charlottesville, the KKK, or White Supremacy."
As the Daily Beast reported, Owens is relatively new to the right-wing. Prior to 2015, she worked in finance. Owens identifies her come to Fox News moment as the demise of her "anti-bullying" group Social Autopsy. The stated mission of the group was to dox Twitter users to their employers, but the effort quickly failed after becoming associated with Gamergate.
Following the failure of Social Autopsy, Owens found herself embraced by the right. Once she was associated with right-wing ideology and tactics, Owens decided to commit herself fully to the cause. In her short time in the conservative blogosphere, the 28-year-old has checked most of the typical boxes of right-wing punditry and has become associated with many prominent conservative figures.
In 2016, she wrote an editorial in the Samford Advocate titled, "Black Men Getting Shot by Police Isn't About Racism." Last year, Owens authored a piece in The Federalist titled, "Angela Lansbury is Right: Women Need to Take Responsibility When They Contribute to Bad Sex Situations."
It wasn't until the summer of 2017 that she burst fully onto the conservative scene after publishing her first video on her YouTube channel in which she "comes out" to her parents as conservative.
When you hear Kanye and Trump praise Owens' "thinking," you probably assume that Owens is a figure like Jordan Peterson, the Canadian academic who has mixed psychology, Jungian myth analysis, and conservative ideology to build a pseudo-intellectual YouTube empire. A survey of Owens' work reveals her to be more like other conservative figures like Tomi Lahren or Ben Shapiro, who simply recycle white conservative Boomer talking points for a new generation.
If Owens is a free thinker or thought leader, then so are Jeff Sessions and Mitch McConnell. Cover her Twitter avatar, and it's not hard to imagine her tweets were written by a Trump-supporting Florida grandmother. As The Root's Michael Harriot succinctly put it, Owens is "firmly embedded in the ideology of respectability politics, conservatism, and self-hate."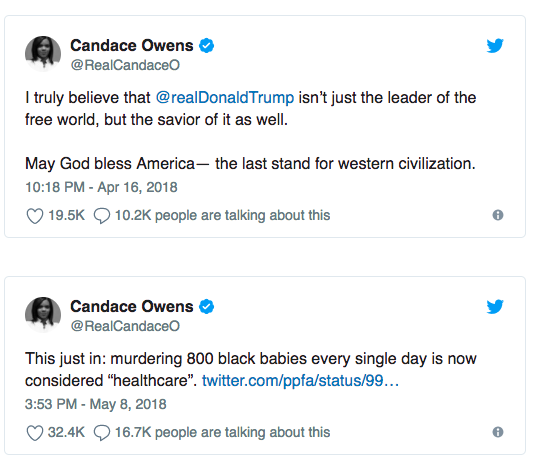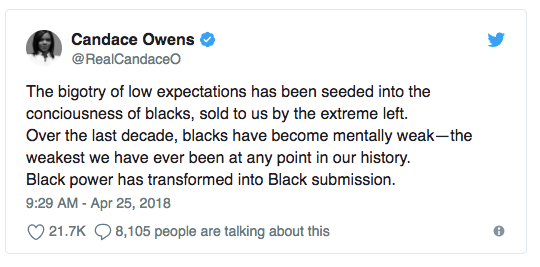 Candace Owens politics
Like Charlie Kirk and Tomi Lahren, Owens at once tries to downplay the difficulties of marginalized groups while playing the perceived grievances of conservatives who style themselves proponents of free speech and eschew "safe spaces." Videos like her "coming out" sketch show both sides of his equation. At once, she diminishes the LGBTQ experience while trying to establish conservatives as some persecuted minority.
While she doesn't offer very much that is new or interesting to the conversation, conservative blogs love to pick up Owens' quotes when issues important to black American are in the news. She is happy to oblige.
Owens is an adamant critic of the Black Lives Matter Movement. She has said, "I don't know why people like being oppressed, it's the weirdest thing I've ever heard. Black people that are focused on their past and shouting about slavery and black people that are focused on their futures."
READ MORE:
Candace Owens Fox News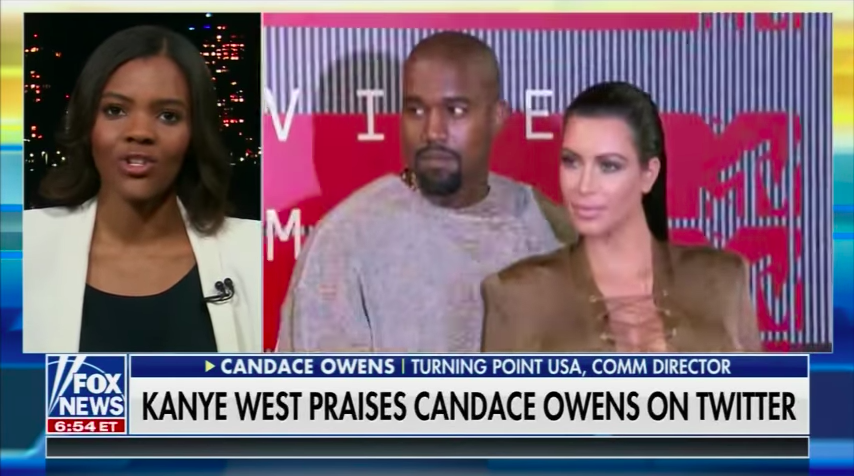 Takes like this have put her in regular rotation at Fox News and led to appearances on InfoWars. Owens is also becoming a regular on the conservative event circuit. She recently spoke on a panel at CPAC called, "An Affair to Remember: How the Far Left and the Mainstream Media Got in Bed Together." Well before her newfound notoriety, Breitbart treated her to a fawning profile.
Alongside Lahren and Kirk, Owens is one of the cadres of millennial conservatives given the spotlight in an attempt to prove that pro-police, pro-business, pro-bigotry ideology is popular among young people when all statistical evidence points to the contrary. Candace Owens' ideas are not new, and Owens does not present them in a particularly fresh or exciting way.
But she is part of a group of millennial conservatives arguing that various forms of inequality are no longer relevant in 2018. With videos like "Women are Marching Again in America? What a JOKE." and "How to Escape the Democrat Plantation (an easy guide)" she is contributing to the project of undoing our understanding of America's systems of oppression.
In an America marked by systemic racial, gender, and class inequality, this is a very dangerous idea indeed.