Lil Tay's brother is claiming her father has been abusing the 11-year-old influencer "her whole life," posting photos of the alleged abuse to her Instagram account, which has been dormant for years.
Breaking Lil Tay's Instagram hiatus of nearly two-and-a-half years, an eerie post on the influencer's Instagram Story left fans concerned after it revealed on April 21 that "bad news" regarding Lil Tay, real name Claire Eileen Qi Hope, was on the way. Several posts on the account popped up by Saturday morning, detailing the alleged abuse Lil Tay has been subjected to. The posts, believed to come from her brother Jason Tian, allege that Lil Tay's father, Christopher John Hope, and his wife, Hanee Hope, "physically and mentally abused" Lil Tay.
The Instagram account late Friday posted several photos featuring Lil Tay with red marks all over her back and on her face, near her eye. "This is what Hanee Hope and Chris Hope did to Tay, they beat her, forced her to watch horror movies, dragged and locked her in a dark closet," part of the photos' caption reads.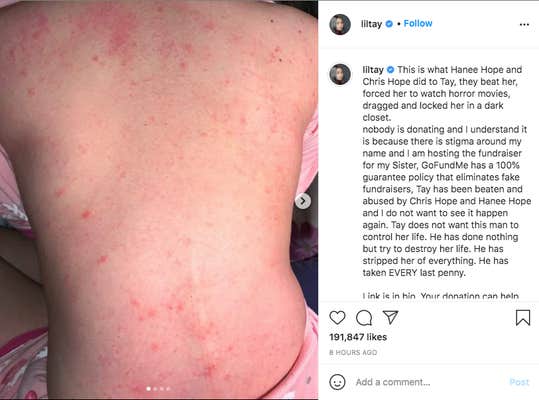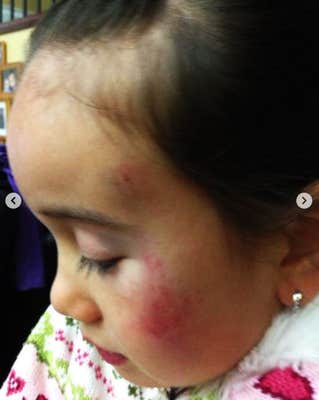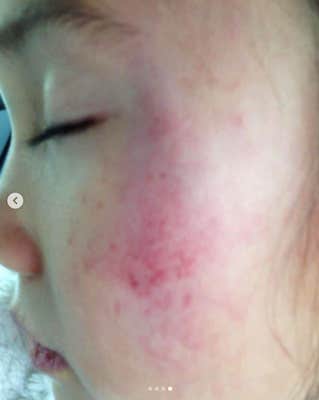 Another post detailed all of the "lavish vacations" allegedly expensed by Lil Tay that the couple has gone on without her.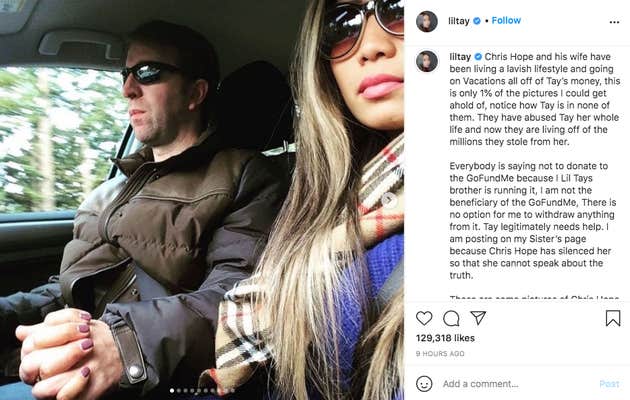 In two other videos posted on Friday, a person, believed to be Tian, confronts Christopher Hope, accusing him of owing "six figures in child support" and of "abusing (his) mom and sister." "You haven't been in her life for years, and now you show up, and now you want to use her career as blackmail to waive your child support expenses," Tian tells Hope in one clip, to which Hope says before walking away, "Have a good day."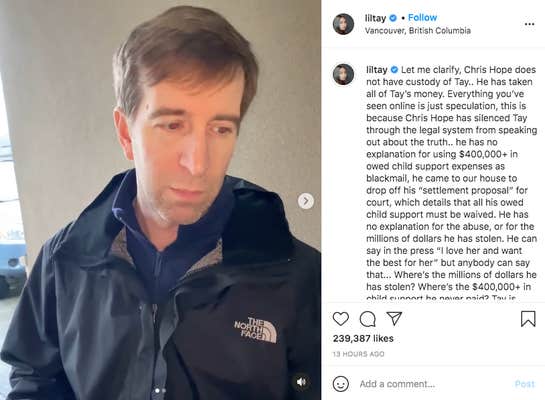 This is not the first time Hope has been accused of abusing his daughter. In October 2018, someone claiming to be an associate of Lil Tay shared a video of the young influencer with the allegations against Hope.
"This was Lil Tay the last time she was happy, 2 hours before Christopher John Hope, her abusive absentee father who hasn't been in her life for years, handed her a court order forcing her to go to his home in Canada in which she was constantly abused by Hope and his wife," the since-deleted post read.
Speaking with Hollywood Life, Hope opened up about the court order. "When my daughter's social media began to go viral this year, I disagreed with most of the social media activity. I took legal steps to stop things which I felt were dangerous to her physical and mental health and to her future," he said at the time.
A video of Lil Tay posted on Friday alleges to show "the moment in 2018 my mom showed Tay the court order from her abusive father demanding custody, money and control over her career." In the video, Lil Tay is looking down at her cellphone and crying.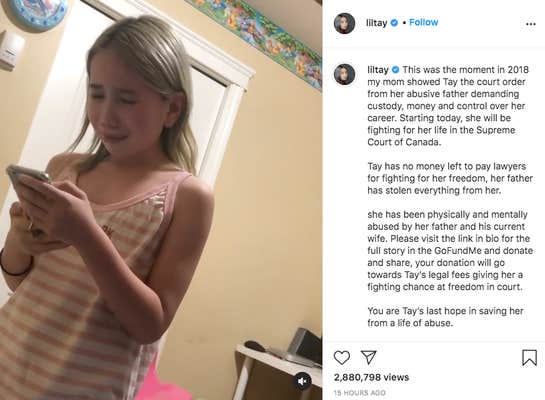 A GoFundMe was created by Tian to allegedly help fund Lil Tay's legal fees.
"Starting (April 23), she will be fighting for her life in the Supreme Court of Canada. Tay has no money left to pay lawyers for fighting for her freedom, her father has stolen everything from her. She has been physically and mentally abused by her father and his current wife," the post read before appealing to her fans. "You are Tay's last hope in saving her from a life of abuse."
The GoFundMe claimed that "Chris Hope is fighting to permanently gain control of her career as well as custody over" Lil Tay. It also claimed that the court order was the reason for Lil Tay's social media hiatus as well as the depression she is suffering from.
On the GoFundMe's description, Tian accused Hope of having sex with women while "in the same bed with Tay" and of feeding her unsanitary food, "like moldy bread, moldy chicken with little maggots and parasites coming out of it, one month old pizza, leftover soggy white bread with ketchup, cold burnt toast hard as a rock, and sometimes only crackers for lunch."
Tian included photos of some of the food items. He also included photos featuring the "broken and ripped shoes and socks" Hope allegedly forced Lil Tay to wear, which Tian said resulted in Lil Tay getting bullied at school.
"(Hope and his wife) also started to refer to Tay as a c*nk, b*tch and motherf*cker," Tian alleged. "They referred to my mom as "Chinese b*tch". Tay remembers them speaking and fantasizing about killing my mom and her and starting a new family."
He alleged the couple broke Lil Tay's toe when she was 5 by slamming a closet door on her foot.
Tian alleged Vancouver police investigated Hope and his wife after these incidents. The Daily Dot has reached out to the Vancouver Police Department.
He said that's when Hope became estranged from Tay up until she became famous in 2018.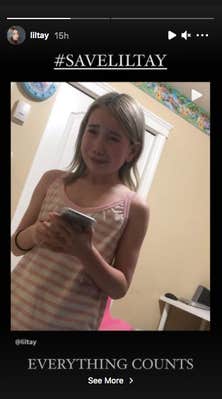 Fans remain skeptical, with one saying of the abuse allegations, "I need to hear this come out tays mouth…"
"Y'all scamming people again," another said.
Comments on some of the posts have been turned off.
Lil Tay gained notoriety in 2018 for her profanity-laced social media posts in which she would flex wads of cash and luxury cars. She was only 9 at the time, prompting her content to go viral. It was later discovered that a car seen in some of her videos belonged to her real-estate mother's boss. Her mother would also have Lil Tay use for-sale houses in some of the content. She reportedly resigned before getting fired from her job.
According to Yahoo News, the "Free Lil Tay" movement was spurred after footage of Tian directing the 9-year-old off-camera was leaked in May 2018. Tian has since addressed some of the skepticism, saying in one post, "This is not a marketing scheme, this is not a joke. If he gains custody of her again he will abuse her just like how the GoFundMe details it. He has taken ALL of her money. Tay truly needs your help."
"Everybody is saying not to donate to the GoFundMe because I Lil Tays brother is running it, I am not the beneficiary of the GoFundMe, There is no option for me to withdraw anything from it. Tay legitimately needs help. I am posting on my Sister's page because Chris Hope has silenced her so that she cannot speak about the truth," he wrote in another.
Tian revealed in the latest Instagram post that no one was donating to the GoFundMe.
"Nobody is donating and I understand it is because there is stigma around my name and I am hosting the fundraiser for my Sister, GoFundMe has a 100% guarantee policy that eliminates fake fundraisers, Tay has been beaten and abused by Chris Hope and Hanee Hope and I do not want to see it happen again," he wrote.
The GoFundMe has so far raised over $6,500 of its $150,000 goal.
The Daily Dot has reached out to person managing Lil Tay's Instagram account.
---
Today's top stories