YouTuber MacDoesIt had an inspired vlog idea this week: "Experiencing every tiktok community before it gets banned." Under the tweet came waves of subcultures that could be included: cottagecore TikTok, Hamilton TikTok, WitchTok, prison TikTok, ASMR receptionist TikTok.
In a follow-up tweet he listed even more, including Willy Wonka TikTok.
TikTok is often viewed as a generator of viral dances and challenges, but there are countless subcultures and niche aesthetics that populate it, with art specific to those communities. And some of it won't translate to other apps if Trump's order, signed on Thursday, essentially bans the use of TikTok in the U.S. The order takes effect in 45 days and prohibits any transactions between TikTok's Chinese-owned parent company, ByteDance, and Americans for national security reasons.
What will happen to micro-communities like Juul and Teletubby TikTok? Can Shrek TikTok find another audience? Creator Thaddeus Shafer recently illustrated this chaotic map of identities and descriptors, visiting Pool Cleaning TikTok and Youth Pastor TikTok.
TikTok and Microsoft have been given a month to reach a potential deal, but this government interference spooked some creators, who started asking fans to follow them on other platforms. Last week, 18-year-old TikTok star Josh Richards announced he's moving to Triller, another short-form video app, and bringing two other members of the popular Los Angeles collective Sway House with him. Members of Hype House, also Los Angeles-based, are already being siphoned off into a TV show. For some creators, moving entire fanbases isn't as easy, and TikTok provides a source of income.
Deeper within the app—under the many "houses" of TikTok—is a labyrinth of subcultures, contained more broadly under the dome of alt or elite TikTok. There are users who only want to scroll this "side" of TikTok, to avoid drifting over to the other option: straight TikTok, where the more mainstream dances and challenges happen. Last month, factions of alt TikTok allegedly moved over to Byte, another competitor, though reactions were mixed and it doesn't have the same editing tools as TikTok.
Creator Nanny Neck tells the Daily Dot that "at this moment in time, much of the content will not work on another platform unless it is similar to the working of TikTok."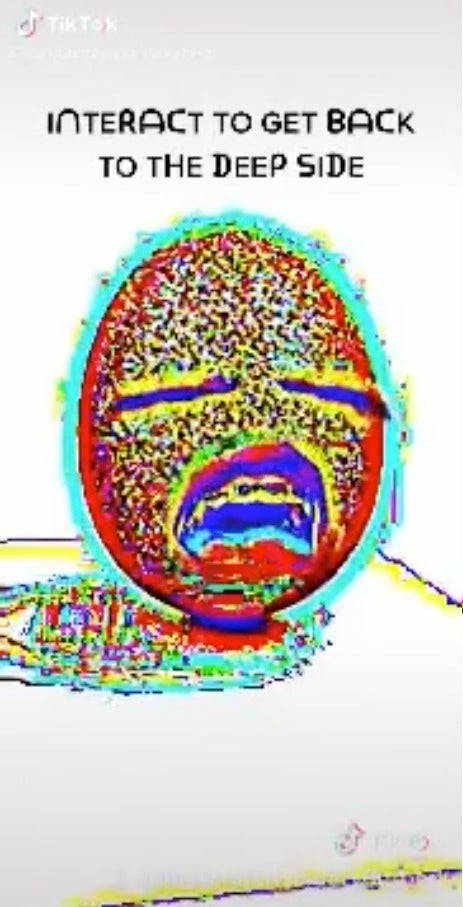 That feels true for a lot of art created in Deep TikTok, or DeepTok. It's often identified by the deep fried meme aesthetic, which predates TikTok but has been revitalized on the app. There's a focus on unsettling images, distorted audio, warped video art, and hybrid creatures like eggdogs. There are accounts devoted to animating the prescription drug Vyvanse, and the element Hydrogen.
Deep TikTok, like other TikTok subcultures, tries to quantify who's engaging on this side. That's tied more intrinsically to TikTok's ever-evolving recommendation engine and its For You page, which is specific to the app and shapes much of its content. In a recent piece about TikTok's U.S. success, Eugene Wei likens its algorithm to the Sorting Hat from Harry Potter novels: "Just as that magical hat sorts students at Hogwarts into the Gryffindor, Hufflepuff, Ravenclaw, and Slytherin houses, TikTok's algorithm sorts its users into dozens and dozens of subcultures." That's something bigger social platforms haven't been able to do, which means its algorithm is highly coveted.

It also allows TikTok to go extremely niche in its quest to serve you. That means you could end up in Macaroni Girl TikTok, a "safe space" where you'll be greeted by the surreal creation of whynotwerk (assisted by Snapchat's spaghetti filter). Or you might stumble into Synth Rat TikTok, which has emerged as its own microscene. Brought to life by Lil Young Old Man, the keytar-playing Synth Rat has its own theme song and has been memed; there are multiple videos of confused individuals wondering how they ended up in this place, or how to "escape" it.
Asked about Synth Rat's ascendance on the platform, and what might happen if TikTok is banned, Synth Rat told the Daily Dot via email: "SYNTH RAT IS NOT A SCENE. ALL SCENES ARE SYNTH RAT. BEHOLD THE TRUTH. THE CENTER IS HERE. ELIMINATION OF TIKTOK IN THE PHYSICAL PLANE WILL DO NOTHING TO STOP THE PERMEATION OF CHAOS. NO ESCAPE."
Synth Rat has a point: It won't stop chaos. While some creators don't seem worried about TikTok's future, Nanny Neck points out the bigger issue with a potential sale to a U.S. company: "The data will then essentially switch from one government to another as I am sure the U.S. will also have powers if need be to access user data in special circumstances." There's also a chance that "special circumstances" could lead to more nefarious measures.
TikTok's proliferation of subcultures and microgenres speaks to how close it has come to essentially being a streaming platform. There's content for any whim or mood you have (or might have, or have had). Did I know I wanted to see insurance TikTok? No, but TikTok did.
READ MORE: