Despite the fact that apps like Shazaam exist and there are whole websites dedicated to answering music questions, people still ask in the online comments of trailers, mashups, and mixtapes, "What's the name of the song?" The people who always respond first may know the correct answer, but that's not what you'll see. The answer is always the same: "It's 'Sandstorm' by Darude."
Because "Sandstorm" is awesome. Sandstorm is everywhere. And not only will you know it when you hear it, you won' be able to get it out of your head all day. 
Here are 13 intriguing facts about Darude and "Sandstorm"
1) Darude got His DJ name after a not-so-great night of DJing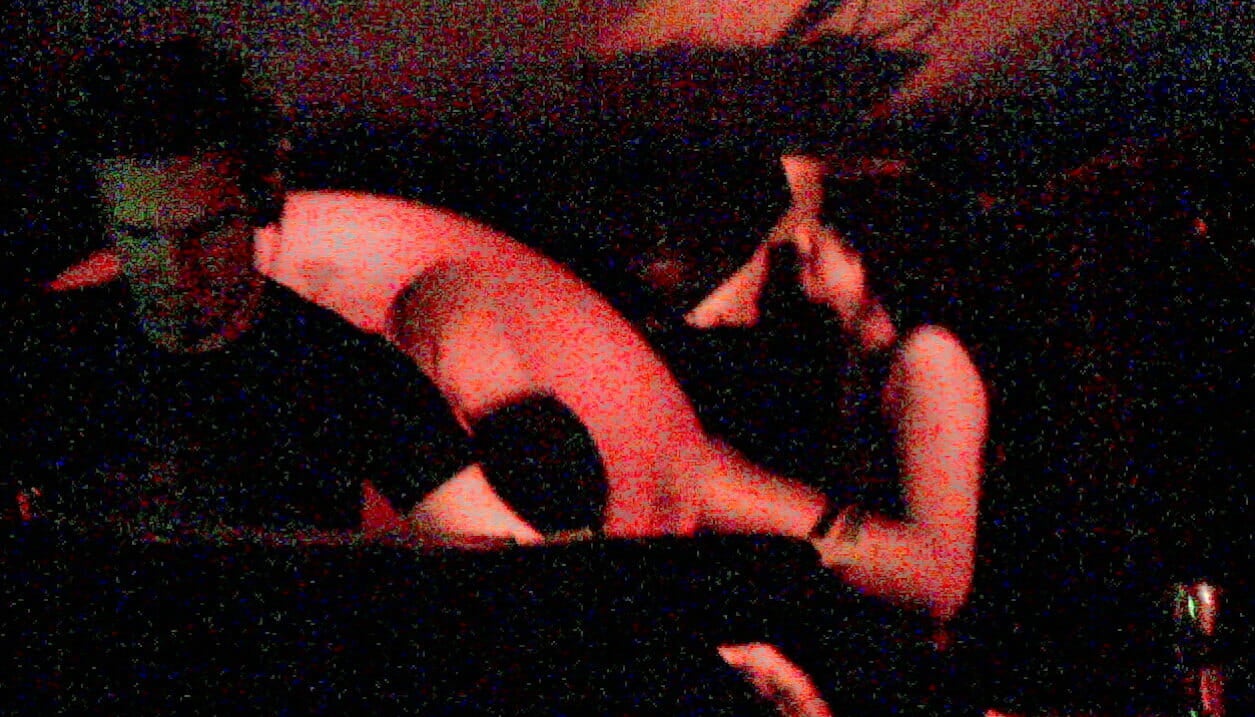 His dedication to the track earned him the nickname Rude Boy among friends. The name gradually morphed into "Da Rude" until finally settling on "Darude." Virtanen took the name as his DJ moniker.
2) The song is older than people realize
Darude broke into the music business in the late 1990s, after being discovered by Finnish record producer JS16. The techno-trance single was released in 1999 and catapulted his debut studio album, Before the Storm, to the top of the charts. The album earned Darude three Finnish Grammy Awards, a No. 1 song in Finland, and the No. 6 song on the Billboard Dance/Electronic chart in the U.S.
3) "Sandstorm" owes its viral fame to GameStream
The song was a hit, sure, but it wouldn't become a permanent internet fixture until 2007. "Sandstorm" became a go-to anthem thanks to the YouTube channel GameStream. In June 2007, GameStream uploaded a video featuring Call of Duty 4: Modern Warfare gameplay footage with "Sandstorm" blaring in the background.
Now 10 years after its creation, the video has over 4.1 million views, and the song has become a rallying cry in the internet world. Whenever someone asks what a song is, the answer is "Sandstorm." 
4) Darude's "Sandstorm" actually does have lyrics
In 2013, a redditor with the screen name amnbassist submitted a screenshot of a "Sandstorm" from the Pandora music app making a joke about the song's lyrics.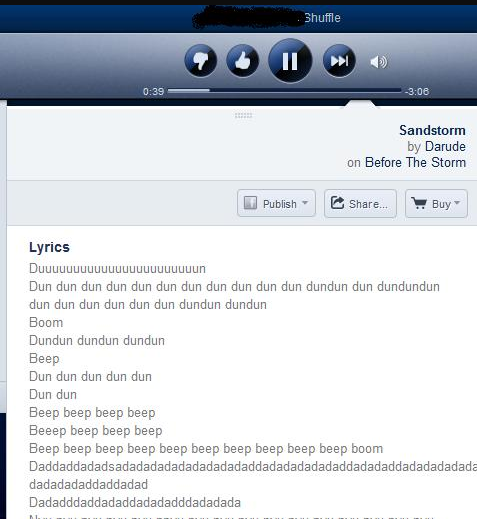 Every day and every night,
     I always dream that
     You are by my side.
     Oh, baby, every day and every night,
     Well, I said everything's
     Gonna be alright.
     And I'll fly with you,
     I'll fly with you!!!!"
That's deep.
5) The video was a first for MTV
The official video for "Sandstorm" was shot in various places around Helsinki, Finland, including the Helsinki Cathedral and the Senate Square. After reaching the top of the Finnish charts, the song and video made its way over to MTV. It became the first Finnish music video shown on MTV in the U.S. By that point, the music network was almost 20 years old and had somehow missed every single other Finnish artist ever.
READ MORE:
The official music video was uploaded to YouTube in 2006 and has been viewed over 73 million times. We'll assume at least 20 million of those views were probably confused people typing it in after being told "Sandstorm" and thinking "this isn't the damn song I was looking for! What gives?!?"
6) It's America's greatest pump-up song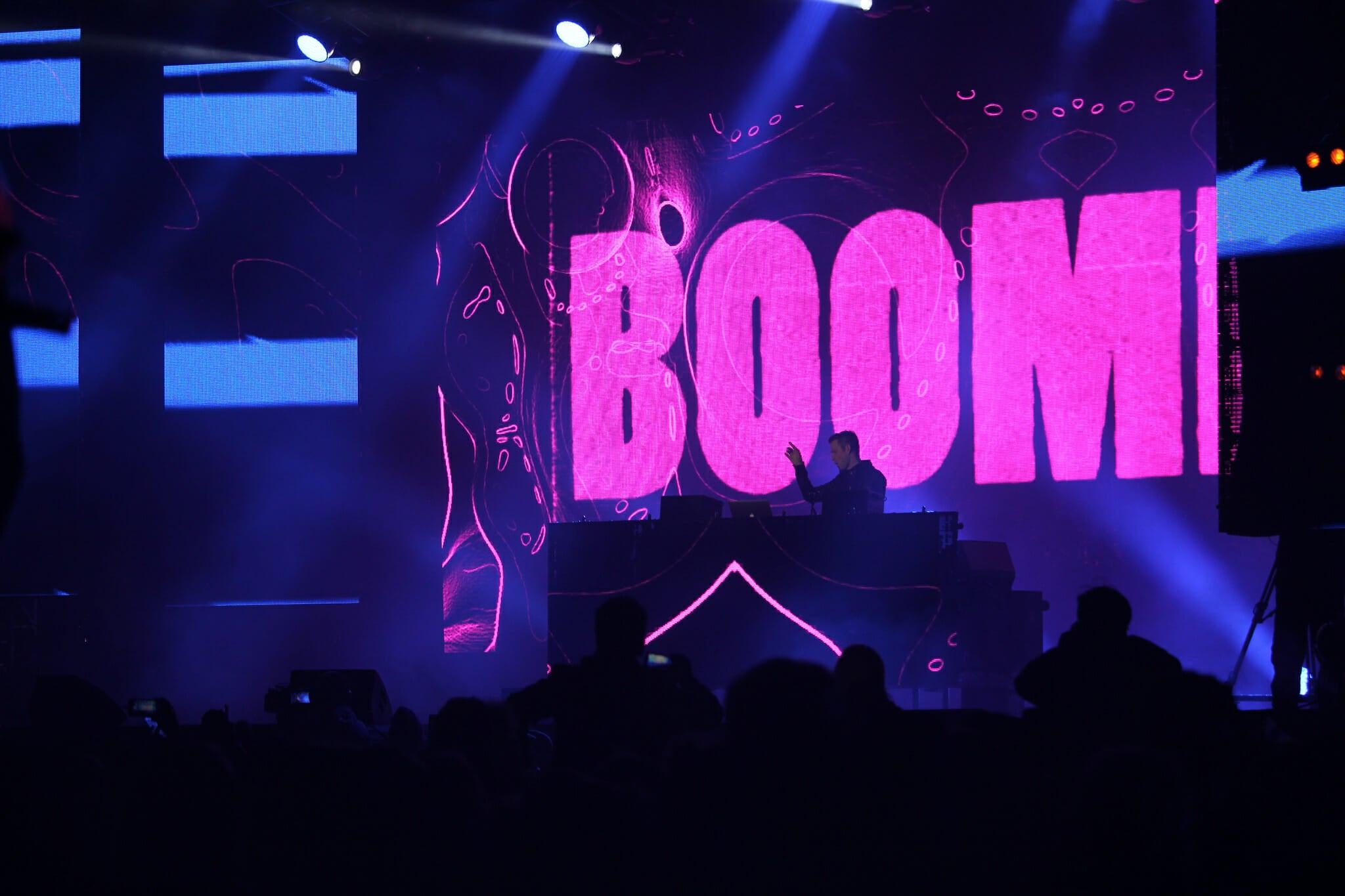 In the closing minutes of a game against No. 4 ranked Ole Miss, "Sandstorm" exploded from the speakers at Williams-Brice Stadium, home of the South Carolina Gamecocks.
The underdog Gamecocks went on to beat Ole Miss, 16-10, and the team has been playing the song ever since. Former University of South Carolina student body president Ebbie Yazdani recalled the moment it first played. "I remember the Ole Miss game last year, right at the turning point of the game, Sandstorm starts playing. Everybody was just so energized and it was really contagious. Gradually the momentum just swung our way and we just started playing better and better."
In fact, the very next plays after it came on were a sack, a penalty, and a turnover on downs.
7) Now, South Carolina alumni are Darude's biggest fans.
The song has also converted more than a few South Carolina alumni and residents into Finnish techno fans. Darude shared a personal story in a 2016 Reddit AMA when asked if he ever gets recognized in public.
I was at an airport in the U.S. once, waiting for my food at a restaurant/bar and overheard two gentlemen talking football and actually watching the game on screens. There was no sound from that channel but when the other team's (Gamecocks) fans stood up and waved/spun their white towels and t-shirts, the other older gentleman said, 'oh yeah, now they're playing that techno track again,' and the younger one said 'yeah, it's Sandstorm, I kinda like it!' 

 

That was a moment when I really needed to do something, but I didn't want to sound cheesy or weird or cocky, so I dug out two business cards and when I got my to-go burger, I walked by the gents, handed them the cards and said "Thanks!" They were a bit dumbfounded, didn't say anything, but then half an hour later when I boarded my flight, the younger guy boarded the same flight and shook my hand, nodded, and went to his seat a couple of rows behind me.
8) YouTube used it to prank people
Every major website joins in the pranking fun on April Fool's Day. In 2015, YouTube pulled a subtle but clever prank. On that April 1, if any user searched a video involving music, the question "Did you mean 'Sandstorm' by Darude?" would pop up.
YouTube went one step further by offering users the option of adding the song to any video. Click an "Add music" button on the bottom bar, and Sandstorm would play over the audio of the video. 
9) Darude still makes money off "Sandstorm," but not as much as he should
In the aforementioned AMA, Darude was asked: "Do you receive any compensation/royalty for the grossly huge amount of times Sandstorm is played?" His answer was a major bummer.
"Sometimes, often not, due to ridiculous 'blanket licenses' like at stadiums and other sports arenas. Oh well. Radio, Spotify, some other streaming services, yes, partially. There are so many unauthorized uploads etc that if I got $ for those, I wouldn't have to worry a thing for my grandgrandgrand kids…"
A blanket license is often used in situations where issuing individual music licenses for each piece of music used would be cumbersome. Places like sports arenas pay one flat fee to play the song as many times as they'd like.

READ MORE:

10) Darude never thought the song would be so popular
Once again going back to the Reddit AMA, Darude was asked about the song's longevity and if he believed it would become a worldwide hit.
"No, I wasn't a DJ then, only a noisemaker and my biggest dream was to get my local DJ to play my burned CD and I'd get to watch the crowd react to my music. It was indeed mind-blowing. In like 3 months after JS16 aka Jaakko Salovaara 'found' me, signed me, produced the final version of Sandstorm with me, I became a touring artist, which was something that I didn't even know I could ever do."
11) There's a 10-hour version (for some reason)
Everything exists on the internet. If you can dream it up, it's probably already available. If, for some ungodly reason, you needed a 10-hour video of "Sandstorm" playing on repeat, it exists. That part isn't surprising. The shocking fact is that it's been viewed OVER 5 MILLION TIMES!
12) Darude has never been in an actual sandstorm
Darude admitted that he has never experienced an actual sandstorm, but had experienced a dust devil. We'll save you the Google search. A dust devil is "a small whirlwind or air vortex over land, visible as a column of dust and debris." We'll save you one more time on searching. Yes, there is a song called "Dust Devil," but it's far from Finnish techno.
13) The internet loves covers of it
Somehow, every time anyone does a cover of "Sandstorm," it racks up a million views.
Here's a toy trumpet version:
And an acoustic guitar cover:
How about a version on floppy drives?
So if you ever wanna go viral, give "Sandstorm" a try.