We crawl the web so you don't have to.
Sign up for the Daily Dot newsletter to get the best and worst of the internet in your inbox every day.
Hello fellow citizens of the internet! Kira here. Welcome to today's edition of web_crawlr.

Our top stories today are about: a creepy landlord who kept entering his tenant's apartment, all of the best Texas Roadhouse hacks, the Ahsoka cameo that revived the de-aging controversy, and Vivek Ramaswamy's ironic mishap on the campaign trail.
After that, check out Mikael's advice about safely surfing the web in his "Your Password Sucks" column.
Until next time,
— K.D.
---
⚡ Today's top stories
A woman has accused her landlord of repeatedly entering her apartment and pretending to fix things, always in her bedroom and bathroom.
Check out these menu hacks that will get you special dishes and help make Texas Roadhouse more affordable.
Hayden Christensen reprised his role as Anakin Skywalker, but de-aging continues to be controversial.
---
We crawl the web so you don't have to. Sign up to receive web_crawlr, a daily newsletter from the Daily Dot, in your inbox each day.
---
🔒 Your Password Sucks
By Mikael Thalen
Staff Reporter

Welcome to Your Password Sucks, the web_crawlr column that answers all your internet security related questions.
Today, web_crawlr reader Cat R. asks: "Do browsers like DuckDuckGo really keep my online browsing and surfing safer?"
Do you have an internet security question you want answered? Let Mikael know! His "Your Password Sucks" column runs bi-weekly in the web_crawlr newsletter.
If your question gets picked to be answered in a future column, you'll get a pretty sweet "Your Password Sucks" shirt!
Got a question you want answered? Sign up for web_crawlr here so you can learn how to surf the 'net safely.
---
🕸️ Crawling the web
Here is what else is happening across the 'net.
🌯 This Chipotle customer is going viral for sharing how she got 4 free sides with a burrito bowl, calling it a "hack." However, viewers think she just got lucky.
📦 While Amazon has drawn criticism for its labor conditions, some users have recently gone viral and sparked discussion after praising Amazon Flex.
☎️ If you've ever had a phone call with a customer service representative mysteriously "cut out," it could be that they've found a way to end the conversation without getting in trouble.
💼 A remote worker is going viral for sharing how to trick recruiters who ask for references.
🛒 A Walmart customer says she bought her son a hoverboard at the store—and then is claiming that a worker at that store "stole" the hoverboard.
💳 This former restaurateur says restaurants should be careful with prepaid gift cards, and warns that some restaurants may still be vulnerable to a scam servers in the 2000s used to get extra money at the expense of the restaurant.
🍗 In a viral video, a Western Oregon University athlete showed his college's offensive line taking the bottomless boneless wings challenge at Applebee's. Apparently more than 300 wings were "devoured."
🔪 These are the best slasher movies streaming now, so you can watch stab-happy lunatics terrorize teens from the comfort of your couch.*
📺 From the Daily Dot archive: Here's why you can't take a screenshot of a TV show or movie on your computer.
*The Daily Dot may receive a commission in connection with purchases of products or services featured here.
---
👋 Before you go
TikToker @wetthehell shared with her viewers how she planned on ending her relationship with her employer: by quitting in the middle of her break.
She documented her decision to do so in real-time, uploading footage of her mid-break walkout in a video that has gone viral, sitting at 1.3 million views.
Despite the bio of her TikTok page, which reads, "It's rlly hard to be my mutual cus I post a lot of meaningless stuff," she appears to have touched on a meaningful topic for her and several other TikTok users when she dropped her job without giving her supervisor a word, notice, or a reason.
In the 10-second long video, she addresses the camera and says, "My manager thinks I just clocked out for my break but little does she know I'm never coming back–ever. I'm going the f*ck home and I'm not coming back."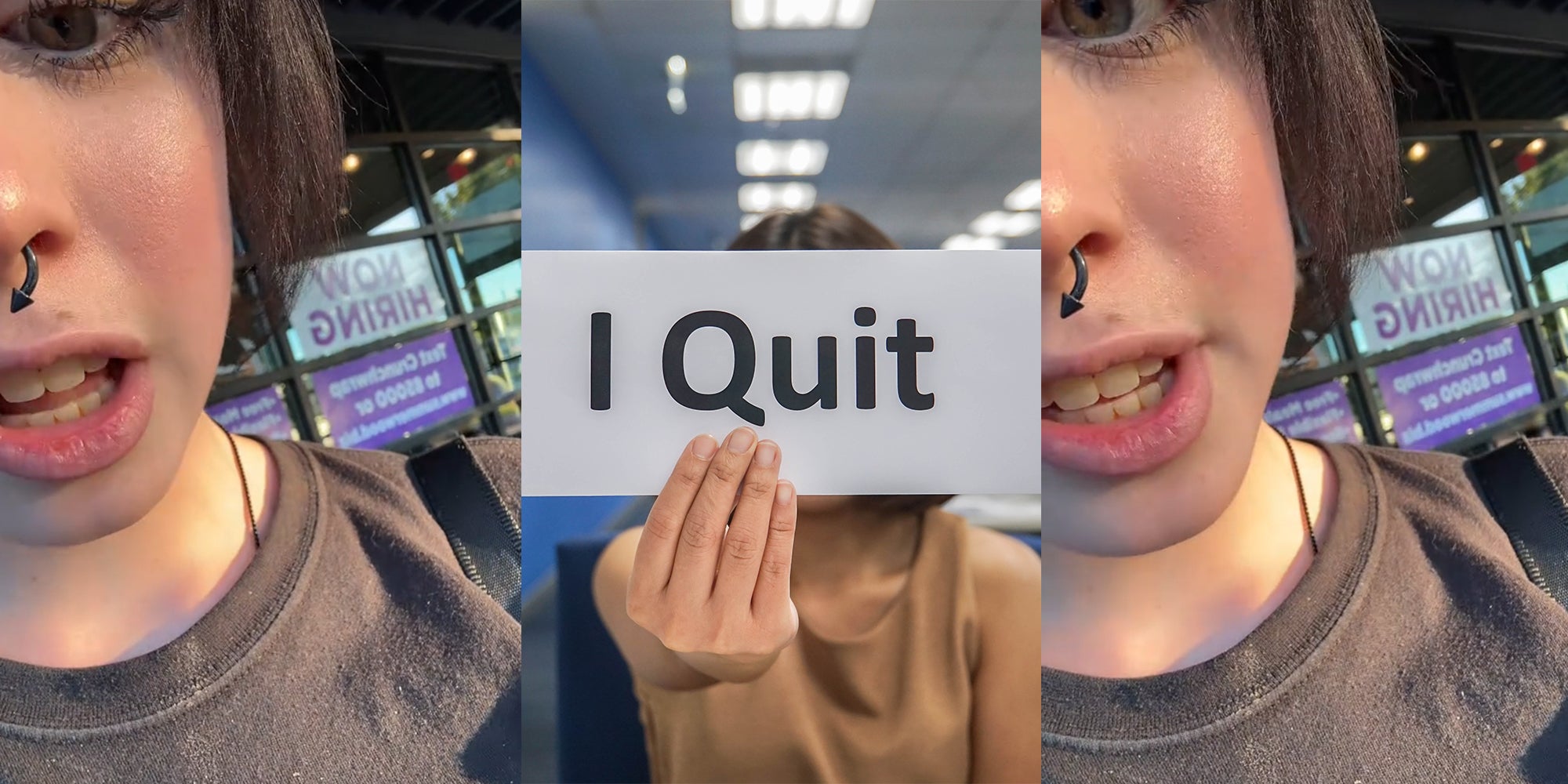 ---
🎶 Now Playing: "Southside" by Scarface 🎶