Jackie Delgado is Latina and a cosplayer. But as she strolls into Otakon, a recent fan convention in Baltimore, Md.,  wearing white platform heels and heavy makeup, only one of those identities is apparent.
The aspiring video game art designer arrives for our interview dressed as Rouge the Bat, a Sonic: The Hedgehog character with white, knee-high boots and a pink, heart-shaped top. In the time it takes her to walk 10 feet over to where I'm sitting, she is stopped for photos several times.
"Can I have a photo, Rouge?" asks a heavyset man with a long ponytail and an enormous camera. On cue, she unfurls her homemade bat wings and pops into a pose. With her silver wig and sapphire blue contacts, Delgado doesn't seem fazed by being called the name of the character she's representing. After all, the photographer doesn't see a Latina—just Rouge.
Whereas black cosplayers—individuals who portray characters for fun—battle stereotypes and claims of "inaccuracy," the 19-year-old Puerto Rican's ethnicity does not make her stand out. To Delgado, that's exactly the problem.
"Because we blend in so well, we get overlooked," Delgado tells the Daily Dot. "When you see a black cosplayer doing a good job, you say, 'Wow, that's awesome that person is cosplaying no matter what their race.' When I get mistaken for white or Asian, other Latinos interested in cosplaying might assume there aren't any other Latino cosplayers."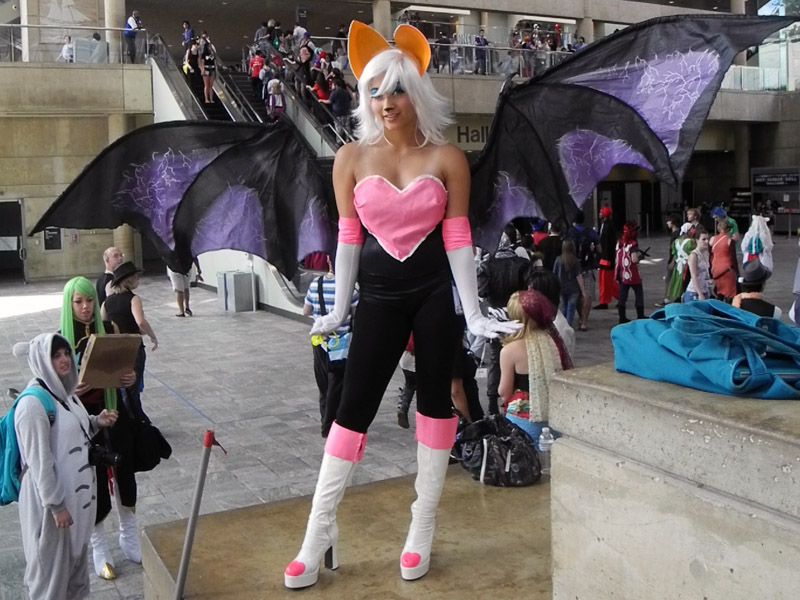 Delgado knows better than anyone that isn't the case. In order to showcase the talent and variety of Latino cosplayers around the world, the Bushkill, Pa. student started the Tumblr photo blog Cosplaying While Latino.
"I saw Cosplaying While Black and blogs for white cosplayers, but there was nobody saying, 'Yeah, Latinos!'" she says.
"I was upset I didn't have any people of my own race to look up to."
When she began the blog two weeks ago, Delgado originally titled it Cosplaying While Hispanic. She changed it last week after concerns that "Hispanic," meaning people of Spanish descent, was too exclusive. The name change hasn't hurt readership, which is already in the triple digits.
Delgado has been cosplaying since age 14, when her cousin Vicki helped her create a costume based on Tifa Lockhart from the computer-animated science fantasy film, Final Fantasy VII: Advent Children.
Despite her enthusiasm for cosplaying, she's never portrayed a Latino character. They're simply too few and far between in the video games, anime, comic books that inspire most cosplay.
Likewise, Delgado finds most of her cosplay role models outside of the U.S.
"The costumes at Puerto Rican Comic Con are some of the most intricate in the world," relates Delgado, who's fluent in Spanish, "but here I think they're overshadowed by the black and white racism debate in cosplay."
It's not easy for Delgado to identify Latina cosplayers, either. She relies on submissions and self-identification in order to add photos to her blog's posting queue.
"Typically on a good day I put 30 to 40 pictures in the queue," she says. "If the photo is not linked, I have to go on a manhunt for the credits. It can be hard to find these cosplayers—it doesn't count if I can't find out if the person in the photo is really Hispanic."
Thanks to her insistence on this point, Cosplaying While Latino is not just an inspiration blog; it's the community's most thorough network of Latino cosplayers. Every photo links back to the cosplayer's digital realm, so anyone who wants to can get in touch.
"The feedback has been very positive," she says. "But it's most surprising how much the blog is also inspiring me. I keep saying, 'Wow, I had no idea there were this many Latino cosplayers!'"
Shortly thereafter, a young Asian girl interrupts the interview to ask for a photo. Delgado readily complies and wraps her arm around the child.
Today, she's acting as a role model for aspiring cosplayers—the way she never felt she had herself.
Photo by Lauren Orsini