Star Trek: Discovery moved closer to the original series in season 2, reintroducing classic characters like Spock and Captain Pike. This hint of 1960s nostalgia arrived with revamped versions of the vintage Starfleet uniform—just one of many cool costume details this season.
Last year, we spoke to costume designer Gersha Phillips about developing Discovery's new uniforms, working on the ambitious Klingon redesign, and creating Michelle Yeoh's glamorous capes for the Mirror Universe. With season 2 drawing to a close, we got back in touch to discuss recent episodes—and which cast member wound up wearing Yeezys on-screen. Along with young Spock's edgy fashion sense (leather pants!) and the retro 1960s uniforms, we've now seen Saru's Kelpien style, and what Phillips describes as Georgiou's "dominatrix" look. We're also excited to reveal that Discovery will soon revisit a cult favorite from Star Trek's costume archive: the unisex Starfleet minidress.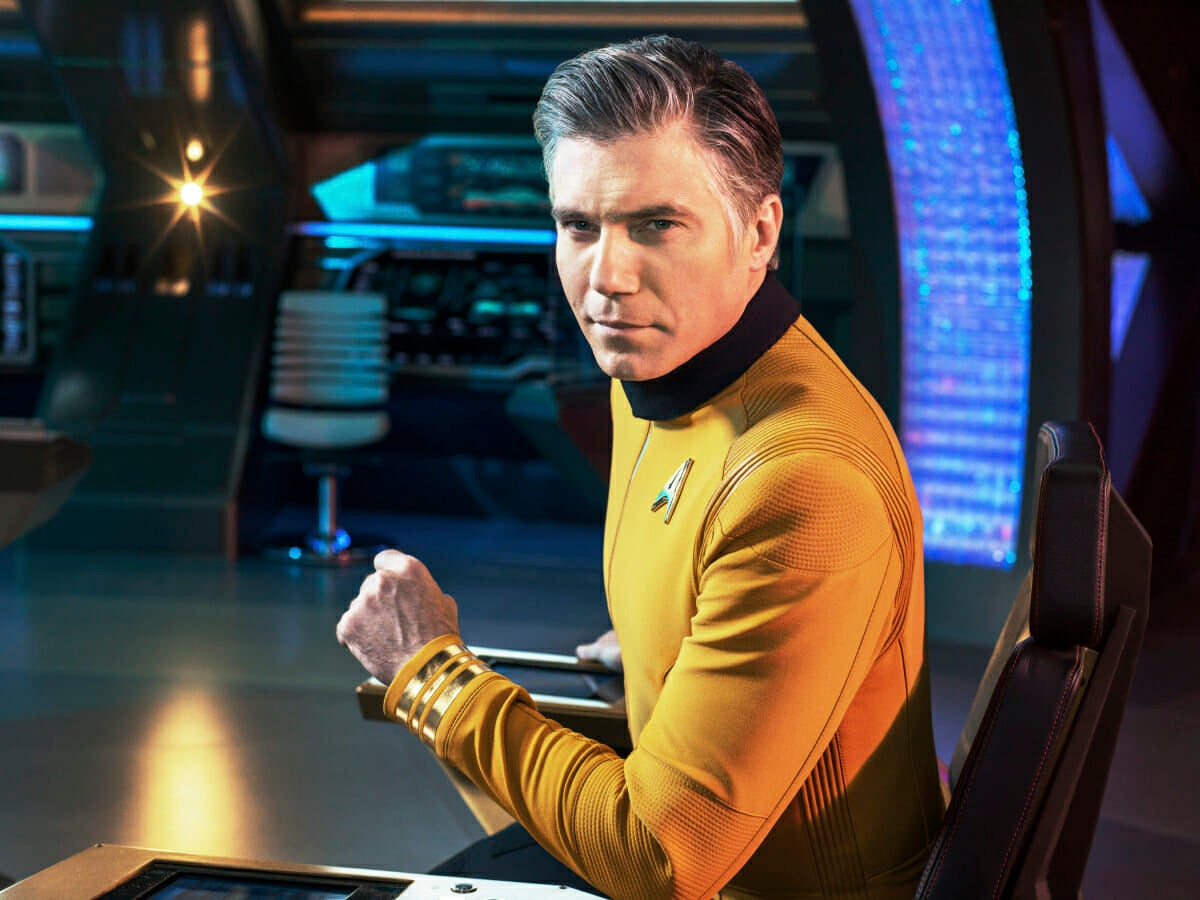 Daily Dot: I thought we could start with the original series uniforms, which are worn by Pike's crew on the Enterprise. They're an iconic design but you obviously have to make some updates for a modern show—what was it like to work on those?
Gersha Phillips: When we did the original Discovery uniforms, we did already play with the three-color idea. My idea was to take the Discovery uniform—which we consider to be the Starfleet uniform – and incorporate that shape and design and add colors to it. Making the collar black was a nice callback to the original, creating a vee that's similar to the mock-neck shirt they used to wear.
This season, because it ties in more to the original series, I've noticed some more 1960s callbacks, like Vina's minidress and makeup in the latest episode. Could you tell me about that retro look?
It was an interesting journey, coming up with what Vina should wear. The dress is Iris van Herpen, who designs all those really cool [3D] printed items. We didn't want it to be too futuristic, it's a cool embossed leather and it has these pearl beads in it. I was looking for something that did echo the original, so I guess that's what you're seeing, but to me, it doesn't feel as retro as it looks. People were also talking about the silhouette of Burnham's jacket, which they were calling a minidress but is actually a jacket with leather pants. But it wasn't intentional, a happy accident I'd call it.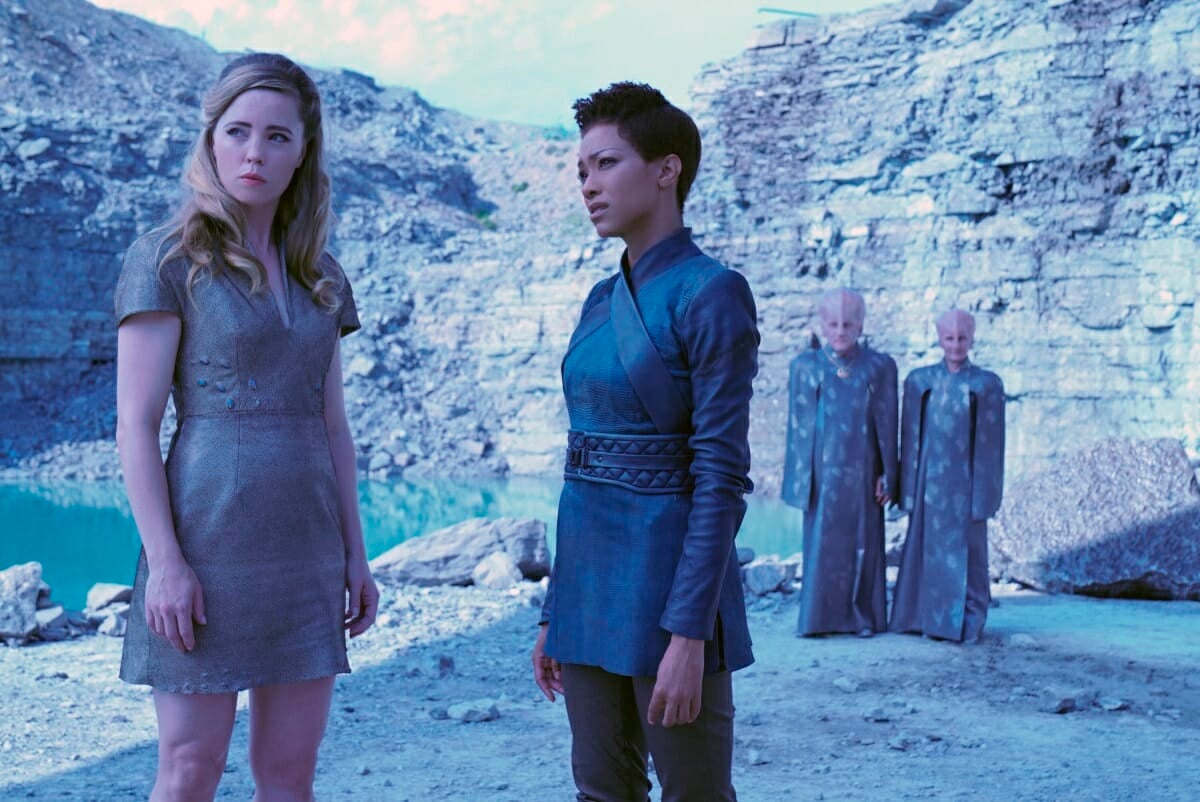 [Vina's] shoes are actually Kanye West's brand, they're by Yeezy. They're like a stiletto pump, so the toe is clear and the heel is clear, they're made out of vinyl. It is a very sexy shoe. When we put her in it we didn't realize the terrain that she'd be walking in. 
Speaking of Michael Burnham, she spent most of last season in uniform so this is the first time we've seen her own wardrobe. How would you describe her fashion sense, and does she have Vulcan influences?
Yeah, this is definitely Vulcan. It echoes what we've been doing with Sarek, and a little bit with Spock. It's interesting because it's another of those happy accidents … When I picked the colors for everybody, there is a tie-in between Amanda, Burnham, and Spock, where they're all wearing these blue teals. When we see them in the red cave in [episode 6], it was a nice complement.
I guess it's a combination of the two—there's a tiny bit of Starfleet in it, with the boots and the pants. And also knowing that she had to do a lot of movement, she was going on a mission to find Spock, she didn't know exactly what she was going into. We've done that sort of quilted belt on Sarek before, so we made a slightly different version using a Starfleet buckle for her. The idea is that she'd just put that into the computer and print it. So yeah, the influences are definitely Vulcan. It has a little bit of a shoulder, I call it my Alexander McQueen shoulder. They sort of all tie into similar silhouettes. And then we bought leather pants… the silhouette does give you that throwback to the '60s, a nice combination of the two eras that make it feel like Star Trek of the past and Star Trek of today.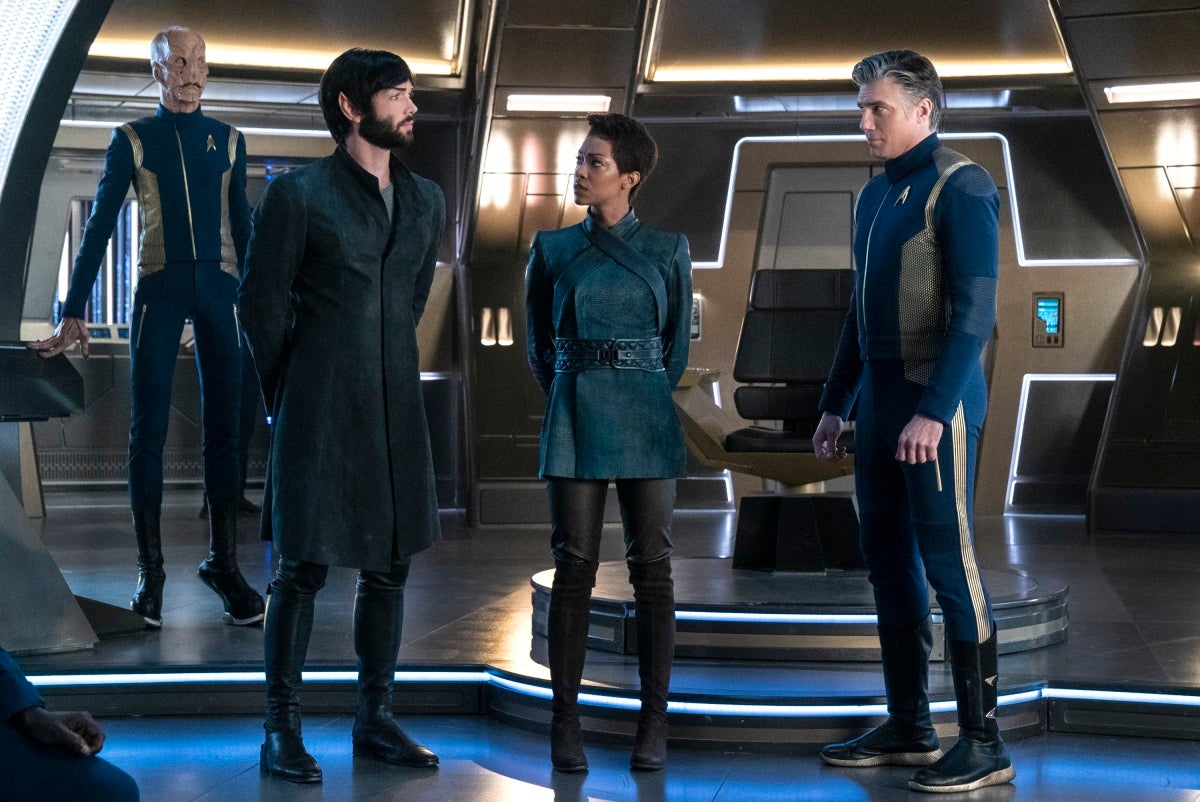 When Spock showed up in leather pants, at first I was like "wow, that's really racy," and then I remembered in the older movies he often had ambitious dress sense. So it felt like it fit.
Yeah, it did. Spock was an interesting one to do because of the idea that he's disheveled and suffering. We still wanted him to have something strong because you're establishing a character and he spends two episodes in this costume. We used these neat magnetic strips so [his tunic] closes in a cool way, he can wear it open or closed. It was funny, that was another thing too—how long to make his tunic, because his under-tunic is long so it looks like a little minidress over his leather pants.
This season we got to visit Saru's planet and learn more about Kelpien culture, including the costumes and architecture. What was your inspiration when designing those Kelpien robes?
For the Kelpiens I was looking for something that was organic and from the planet. The idea was that they made all their clothes, and they were these very quiet and docile people so everything came from where they were. They were weaving their own fabrics and maybe there was an element of kelp and grass. Everything was very natural, we used raw silk that we hand-printed with a gradient, and it was all done in these different shades of blues and greens and teals to mimic the seaweed colors. The over-stitching was done by hand so you could see the stitching on top.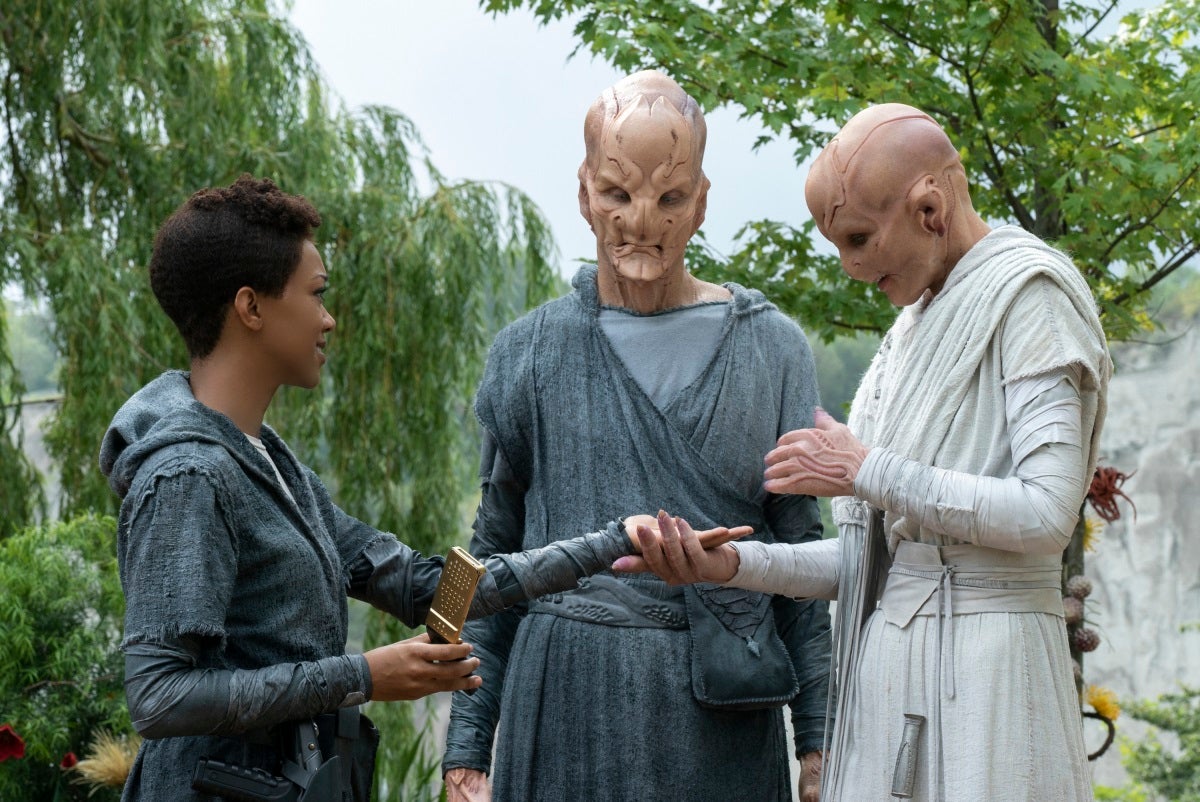 When I did the original sketches the director really liked the elongated arms, that's one of the great things about Doug [Jones] and his body, the way he carries himself with his arms always floating behind his back. That's why I ended up wrapping the arms and legs like that.
We even made all the beads on the costumes, we sculpted them and they were hand-sewn onto the garments. It ended up being a huge ordeal. The wrapping was the worst because they had to put prosthetic hands on. The ADs were not happy with me by the end of the day because it was hot, and the poor actors…  It did look really great but it was an arduous task to get everyone ready. Every inch of their bodies are covered, there's nothing breathing, and we were shooting outside in the summer.
At the other end of the fashion scale this season we have Section 31, which has this glamorous goth look. Is that an official uniform or did Georgiou pick out her own black leather corsets and capes?
For Georgiou, the idea is that she and Leland don't really wear a uniform per se… the uniform is that it's black. That's from my producers, they said they want Section 31 to be black and we don't want it to have a uniform. It did cause a bit of stress because it meant that everybody was individually dressed.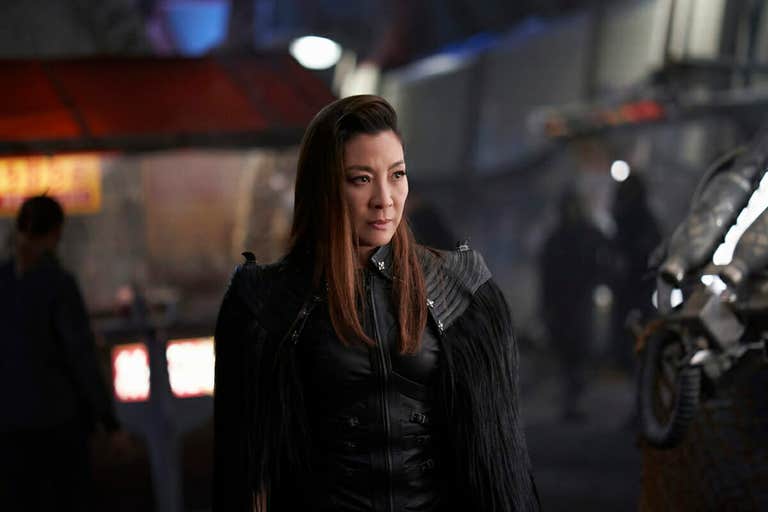 Some of the guards we put in uniform and some of the medical people as well, to help alleviate having to create individual outfits for everybody. But Georgiou's, we do a bit of a play on the Terran [Empire]… there's a little titillation, there's a little dominatrix in there with her. Keeping her powerful and strong is always at the back of my thoughts. Michelle [Yeoh] just carries it really well. We use quite a bit of leather with those guys, it's so dark in there the leather gives the camera something to grab onto.
I have one last question about the Starfleet uniforms, which is that during the Next Generation period, the Starfleet minidresses were unisex, and I was wondering if you'd considered bringing that back.
We have! They haven't come out yet, they'll be later in the season. I was looking for a particular character to do it on, and we didn't have anybody specific. It'll come up closer to the end, but we did do it and we will try to do it going forward.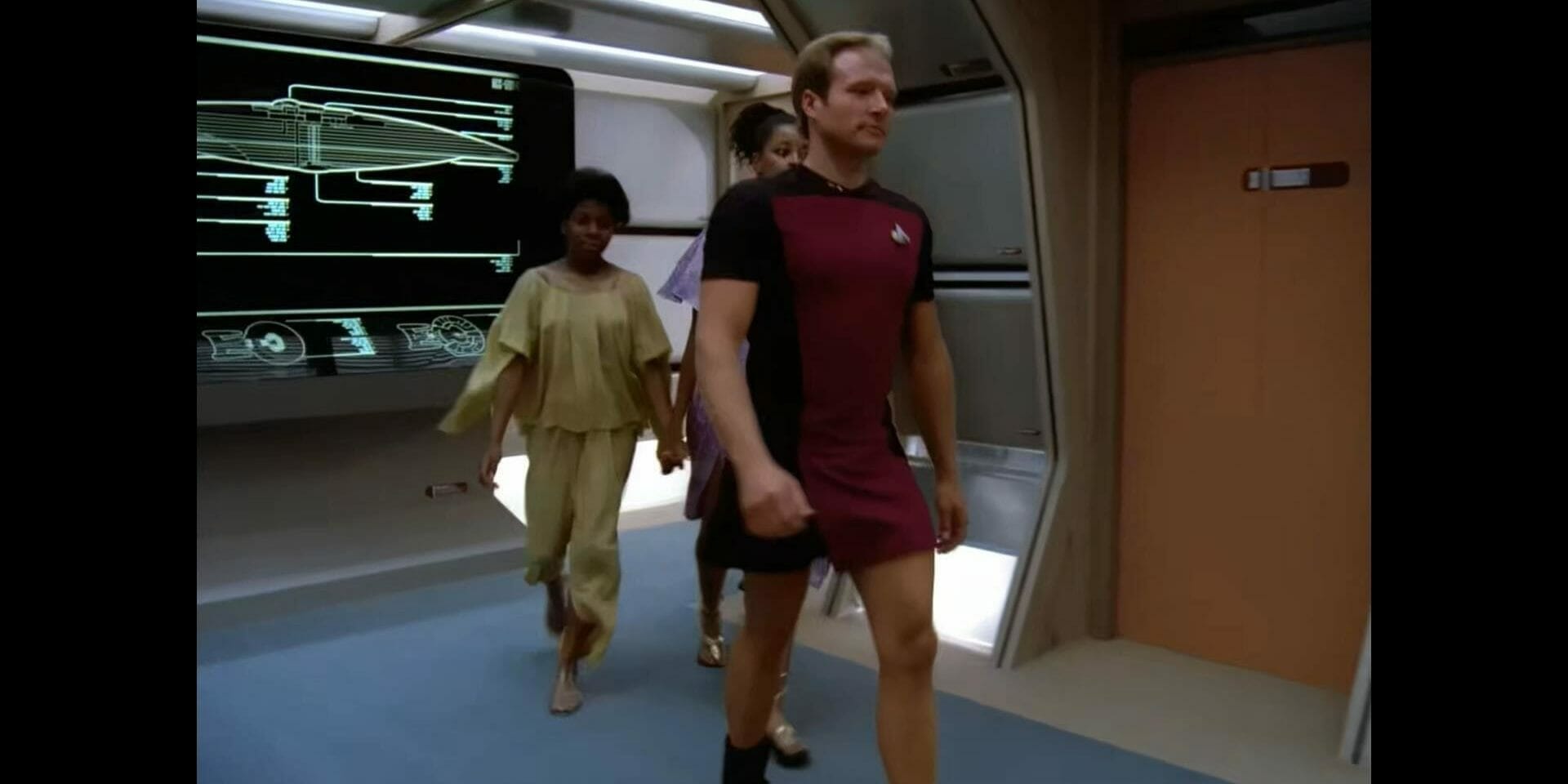 It's true that it's always been there for Star Trek – you know, apart from the original series and the J.J. [Abrams] remake, they have maintained a really cool non-binary look throughout. So I think that for us going forward, it was really important to do that as well. The tunic will come back because so far Nhan's the only one that's worn them on our ship. She wore the blue Disco one, which turned out really cool. But yeah, our intention is definitely to do them for both men and women.