Star Trek: Discovery will feature a new version of the Original Series uniform in season 2, and here's the deal: Those classic Starfleet minidresses may be iconic, but in 2019, they should definitely be unisex.
In the Original Series, the minidress is Uhura's signature look. While modern audiences generally view it as a sexist relic, miniskirts had slightly different connotations in the 1960s. As well as being sexy, they were seen as futuristic and freeing compared to the more conservative styles you'll know from Mad Men.
Actress Grace Lee Whitney (Janice Rand) is often credited with requesting a Starfleet minidress, replacing the pantsuits from the pilot episode. She wanted to look trendy. So while the show's male creators obviously liked to include some eye-candy, minidresses also had a more feminist image in the '60s. In her autobiography Beyond Uhura, Nichelle Nichols objected to later criticisms that the skirts were "demeaning."
"The show was created in the age of the miniskirt, and the crew women's uniforms were very comfortable. Contrary to what many may think today, no one really saw it as demeaning back then. In fact, the miniskirt was a symbol of sexual liberation. More to the point, though, in the twenty-third century, you are respected for your abilities regardless of what you do or do not wear."
That being said, times have changed since 1966. In Star Trek: Discovery, people of all genders should wear those minidress uniforms.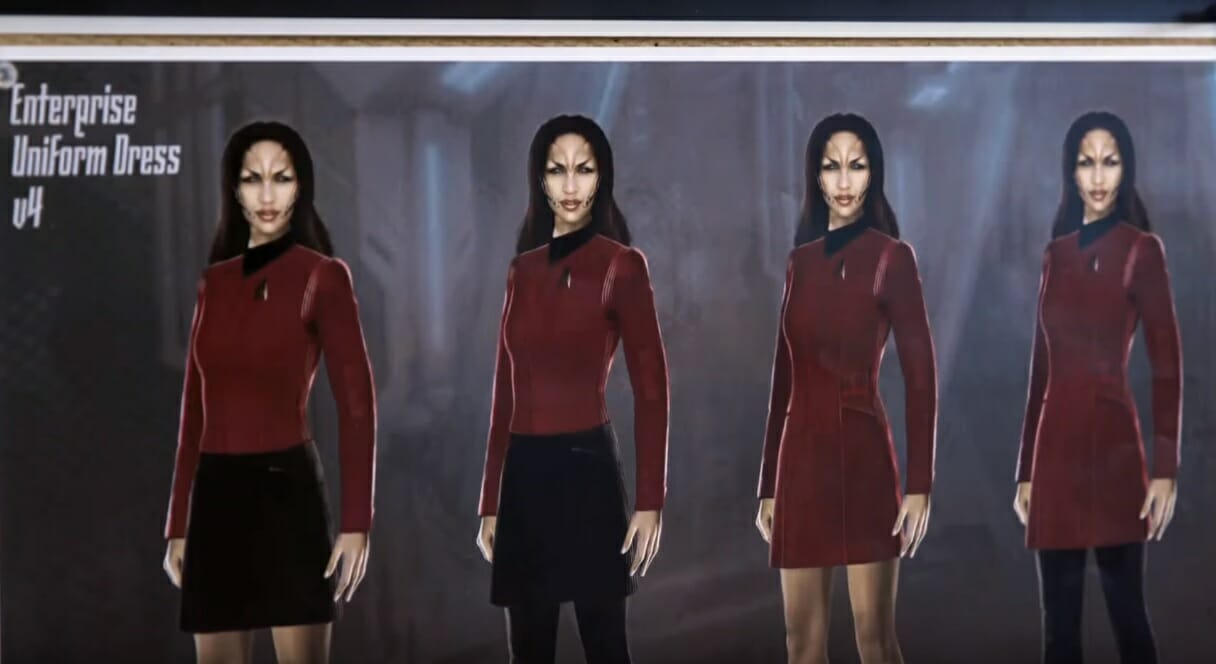 In the first teaser for season 2, we catch a glimpse of some new designs. Rather than replacing the Discovery's navy blue uniforms, we'll probably see them on another crew: the Enterprise. Season 1 ends with a meeting between the two ships, with Anson Mount (Marvel's Inhumans) due to play Captain Pike. He was the captain in the original 1960s pilot, so he'll probably wear a gold shirt like Captain Kirk. Or perhaps a gold minidress?
When men wore miniskirts on Star Trek
When The Next Generation began in 1987, the creators seemingly struggled between two conflicting desires. They wanted to be forward-thinking, but they also wanted to put characters like Deanna Troi in sexy, figure-hugging outfits. This already says a lot about Star Trek's messy politics, because while the show is famously progressive, there was plenty of sexual harassment behind the scenes.
Anyway, TNG's solution was to make the minidress—now known as a "skant"—into a unisex item.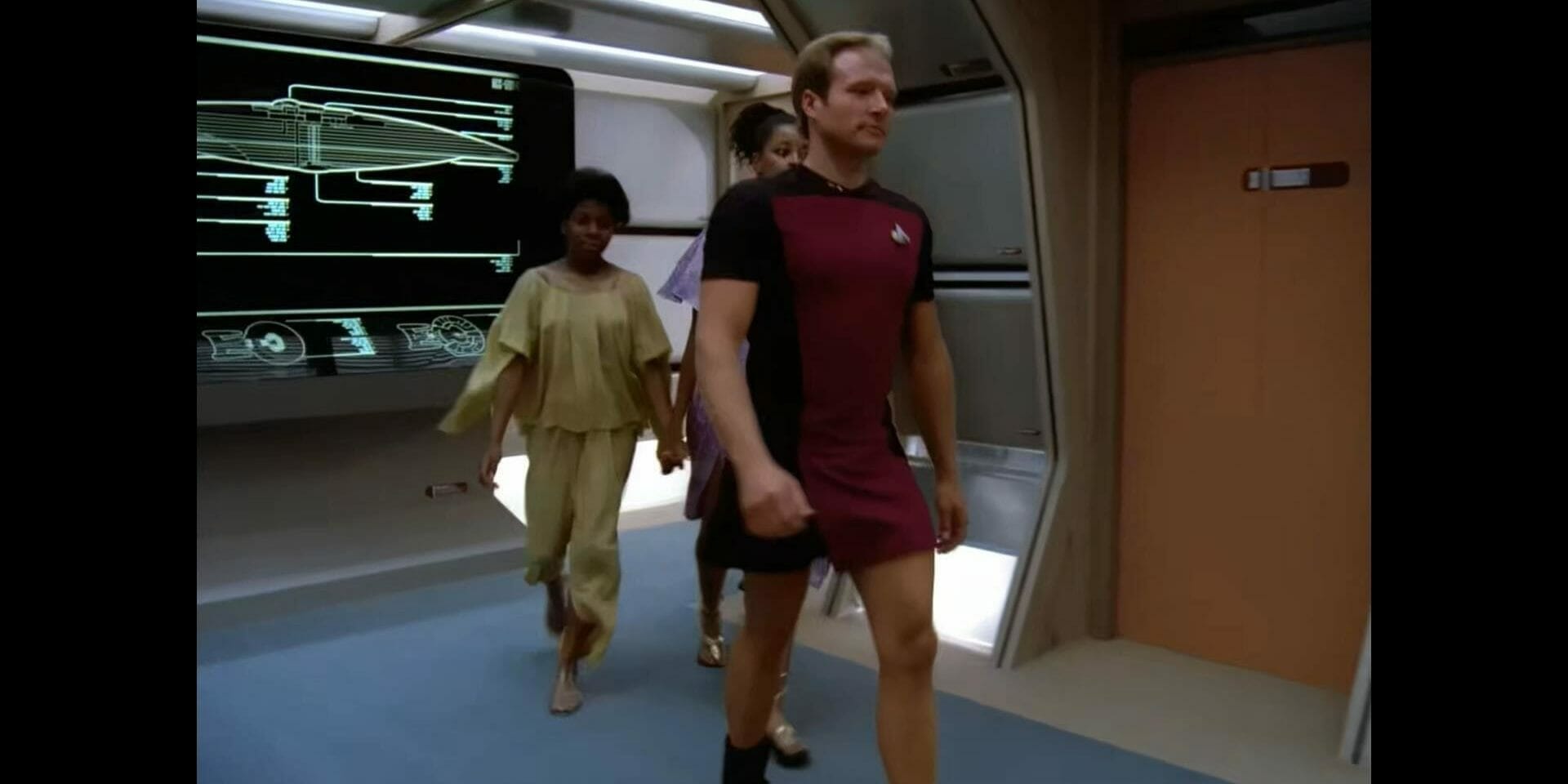 In early TNG episodes, you'll see a few male extras wearing skants in the background. However, this never spread to the main cast. Men kept the boxy pantsuit uniform, while Troi wore a series of low-cut catsuits. The closest we got was the officers' formal dress uniform, which saw Captain Picard wear a kind of long jacket/trouser combo.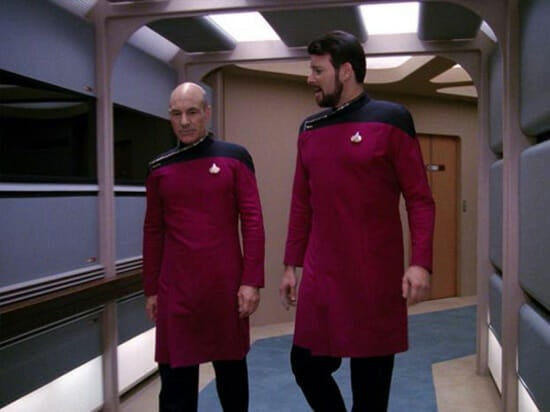 Unisex miniskirts should be a no-brainer for Star Trek: Discovery. They'd reflect the show's progressive ethos, and they'd encourage people to consider what "unisex" actually means.
In Discovery, the uniforms are already unisex. Everyone wears the same design of pantsuit, 3D printed to fit each character's body. It's no different from putting everyone in the same kind of dress, except, you know… it's definitely different. Although women's fashion rapidly absorbed traditionally "masculine" clothes, it's still transgressive for men (or people who are perceived as men) to wear dresses or heels. That's why you can go to the Gap and buy a pair of "boyfriend jeans" for women, but there's no such thing as a girlfriend jean for men. Long after pants became a mainstream unisex item, men's fashion is still painfully restricted by a fear of perceived emasculation.
Unisex skants were a step too far for Star Trek in the 1980s, but they shouldn't be a stretch for 2019. Skirts and utilikilts have been a staple of menswear fashion shows for years, and in a broader sense, people are more aware of androgynous gender presentation. By putting people of any gender in those new minidresses, Discovery would give Uhura's classic look a truly meaningful update.