Twitter tested some changes Tuesday that may have temporarily knocked out your favorite Twitter app. And once those changes become permanent, some apps could be dropped from the Twitter ecosystem altogether.
As Twitter finalizes the move to its new API (the method through which developers hook into Twitter data), apps that don't comply with new requirements introduced in August 2012 will be unplugged from Twitter entirely.
Twitter started testing blackouts of the old API at 9am PT, providing updates through @TwitterAPI along the way. This blackout affected programs that use "unauthenticated traffic, legacy widgets," and Web feed formats RSS & Atom.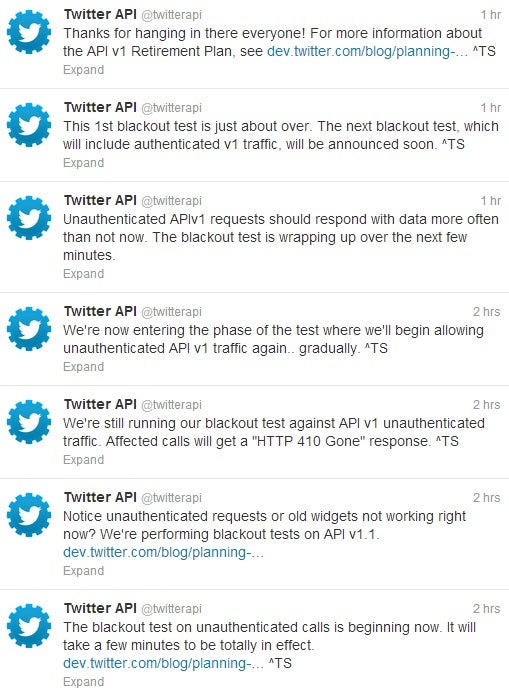 Among them was the old Adobe AIR-based version of TweetDeck, a popular Twitter-owned client (i.e. an app that replicates the main functions of Twitter, like reading your timeline and tweeting).
While the timeline still updated for me, viewing profiles and tweeting was a no-go, though those features are working again at the time of writing. The desktop version of Echofon was also apparently down (its developers are not updating it anymore, instead focusing on mobile apps), as were other apps which haven't updated to the latest version of the API.
Twitter announced Monday that it was retiring the previous desktop version of TweetDeck, along with the iPhone and Android apps. It's also removing Facebook integration from the current Web and desktop versions of the client—presumably to keep TweetDeck in line with its own API rules.
Old TweetDeck, as it's affectionately known, carried a few features the modern, rebuilt version does not. For instance, being able to view an Instagram without having to go to your Web browser, seeing exactly when an account was created, and viewing updates from Facebook and LinkedIn.
That said, it hasn't been updated in many months, and is somewhat out of step with how Twitter now displays content, with rich media showing up in expanded tweets meaning tweets can be much more than plain text and links.
The current version has more detailed search options, scheduling tweets, and profiles that are consistent with how they appear on the site. In a blog post last month, the TweetDeck team noted that there are "ongoing efforts to bring the features and capabilities of our AIR app to TweetDeck web." Scheduling tweets, for instance, is a former function of the older app.
Following Twitter's announcement, many users tweeted their dismay and preference of Old TweetDeck over the new. Some are campaigning to keep Old TweetDeck alive with hashtags like #SaveTweetdeck and planned petitions.
Such efforts may fall on deaf ears. After all, it's Twitter's world. We just live in it.
Photo by markhillary/Flickr