After I hadn't heard from my partner for three days—despite living only two miles from each other—I knew something was wrong. It was definitely more serious than spending some time apart after fighting about where to eat for dinner. Then it happened. I got home from a long day and heard my phone vibrate on the kitchen counter. I inhaled sharply as I rushed over to see who texted me. It was a single, concise text: "I think we need to talk."
Unfortunately, there's not an instruction manual for what to do post-breakup. Do you cry? Do you act as if the relationship never happened? Should you immediately re-download Bumble? If you're struggling to get over someone, take comfort in the fact that you aren't alone. You might (and most likely will) come out of the situation feeling better than you were before—it's just going to take some time. Heartbreak is tough, but we've gathered a handful of tips about how to say goodbye to an ex like an adult and never look back.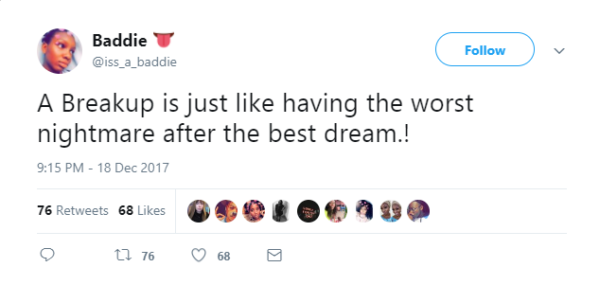 How to get over a breakup
1) Cry it out
First of all, throw away the damaging stigmas that crying is for the weak, or that it makes you "soft." A 2014 study published in Frontiers in Psychology found that crying is a self-soothing behavior that can boost your mood and make you feel a sense of relief afterward.
Crying will help release any pent-up anxiety and stress you most likely accumulated from a breakup, and it can also express those lingering feelings that just can't be put into words. Not to mention that after a big cry, you'll probably sleep like a baby.
2) Reflect on the relationship for what it really was
Hear me out: a breakup probably happened for the right reason. Make a pros and cons list. List the good parts but also include all of the bad and mediocre. Writing it down on paper could help you recognize unhealthy patterns, that you settled with your partners' inconsistencies too often, or that you really didn't have much in common except infatuation. It can be a gut punch, but coming to terms with the reason why the relationship ended could give you solace.
Every relationship begins and ends with you—it's the base on which we build genuine relationships with others. Think about the highs and lows in your relationship. If you focus on the minutia of how things unfolded, it's even more difficult to see the relationship from a distance and learn from it. Only you can control what you do, so work on creating the best version of yourself for your own benefit. It's the best payback out there.
3) Lean on your support group
Your friends and family know you best, and they're always there for you when you need them most. Set up a night to hang out and spend time with those who will give you a break from heartbreak.
If you want to take it to the next level, recruit your friends for a night out. Just be aware of what you want out of the night, and make sure your friends can hold you accountable. Binge-drinking or having a one-night stand might work for curing the post-breakup blues for some people, but it can make others feel worse. Focus on friendships and the support systems you always have in your life, with or without a significant other.
4) Take your time
How long does it take to get over a breakup? That's entirely up to you. It would be so nice if there were a set time frame during which you were allowed to wallow in post-breakup grief—but there isn't. What's most important is that you accept the time that you need.
Maybe your partner cheated on you and anger bolsters your ability to move on or a relationship ended for ambiguous reasons and you're left wondering when you'll get over it. No matter what, relationships leave a lasting impact. It's normal to feel like you're totally over it within a week but start to feel down several months into newly single life. Assess your time, accept it, and set goals for yourself, without beating yourself up for not moving on fast enough.
5) Get out of the house
You've heard this one before, but if you're reading this from bed, listen up. Being alone is great for a while, especially when you're too upset to talk about it, but getting out of your house can turn your day around instantly. If depression is a concern, going for a run, walking your dog, or laying in a park to soak up some vitamin D are great ways to get fresh air and boost your mood.
6) Set your boundaries on social media
It's easy to pull up an old flame's Facebook page or obsessively stalk their Instagram, desperate to see what they're up to. But as you probably (definitely) know deep down, this is an unhealthy pattern. Keep a distance and focus on yourself. If you need to, unfollow them so creeping isn't even an option.
You know what you can handle, and if seeing their updated Instagram story or name in your contacts list gives you a sick feeling in your stomach, say goodbye to their socials for good. If your ex won't stop messaging you, block them. It's that simple. Find a partner to hold you accountable (read: pry your phone from your hands and hit the unfollow button for you, if necessary).
7) Focus on self-care
Self-care is more than just saying "treat yourself." It's a way of living that encourages you to listen and focus on your needs to improve your overall well-being.
That being said, it's perfectly OK to buy yourself a treat or take yourself out to see the newest movie at a trendy theater. Self-care is an important factor in your happiness. So if you've been eyeing a pair of new shoes that you're convinced will make you happier, go for it.
There are many ways to take care of yourself without having to feel like you need to break the bank. This could be something as simple as switching up your hair or adding a little more cream and sugar in your morning coffee. And there's a reason therapeutic activities like yoga, meditating, or taking a bubble bath are the old self-care standard—they help you spend time outside of your own head.
8) Start a new routine
Whether it's a new workout, taking a different path to work, or finding a new hobby, switching up your daily routine will give you a new and refreshing sense of normalcy. Replace any old notions of "our thing" with the new thing started. Recognize that this can just as easily become your thing that nobody can take away from you.
9) Do not text them. Just don't do it.
Now that you've done all you can to distract yourself, the memories and thoughts of your ex begin to creep back into your memory. Snatch those thoughts before they can take root. Unless you both have a cordial, mutual understanding that you can be friends (won't work), do not text them to meet up for coffee or to come over.
10) Recognize your worth
Don't let the breakup make you think anything less of yourself. Get up, channel the energy and take advantage of your situation. The breakup may be a closed door that ends up opening another.
Editor's note: This article is regularly updated for relevance.