There's only one thing to do while you nurse your Turkey Day hangover and try to get that pesky tryptophan out of your system: shop. Luckily, the day after Thanksgiving is also one of the best shopping holidays of the year. This Black Friday is as big as ever.
Whether you're out to score a deal on a must-have gadget or simply getting your holiday shopping done early, you're in luck. We've compiled the best Black Friday 2020 deals and put them all in one convenient place.
Here are the Best Black Friday Deals available this year.
Best Black Friday deals of 2020
Best Black Friday streaming deals
Get access to Hulu with ads for only $1.99 per month
(on sale for $1.99 per month, regularly $5.99 per month)
---
Save 23% on the Roku Streambar 4K/HD/HDR Streaming Player and Premium Audio
(on sale for $99.99, regularly $129.99)
---
Save $20 on Roku Streaming Stick+
(on sale for $29, regularly $49.99)
---
Save 40% on the Fire TV Stick 4K
(on sale for $29.99, regularly $49.99)
---
Save 33% on an Insignia 43-inch 4K smart TV with Fire TV built-in
(on sale for $199.99, regularly $299.99)
---
Select anime titles are up to 55% off
Prices vary
---
Best Black Friday electronics deals
Grab a new Apple Macbook Pro while its nearly $250 off
(on sale for $1,769, regularly $1,999)
---
Select Sony mirrorless cameras are up to $900 off
Prices vary
---
Save $180 on Vizio 70″ Class 4K UHD LED Smart TV HDR V-Series V705x-H1
(on sale for $478, regularly $658)
---
Take 30% off select Kodak instant cameras and portable printers
(on sale for $69.99-$104.99, regularly $99.99-$149.99)
---
Select Mpow and Seneo wireless charging stations are up to 30% off
Prices vary
---
Take up to 65% off select Netgear, TP-Link, ASUS, and Belkin products
Prices vary
---
Save up to 50% on select LG, Lenovo, Acer, Dell, and Alienware desktops, monitors, and other electronic accessories
Prices vary
---
Select Beats headphones are to $80 off
(on sale for $119.95-$174.95, regularly $199.95-$249.99)
---
The JBL Boombox is on sale for over $100 off
(on sale. for$279.95, regularly $399.95)
---
Save big on SanDisk SD cards
Prices vary
---
Score these Sony wireless headphones while they're $72 off
(on sale for $278, regularly $349.99)
---
Get $50 off Acer Nitro 5 Gaming Laptop
(on sale for $999.99, regularly $1049.99)
---
Save up to 30% on Samsung Gaming Monitors
(prices vary)
---
Snag Resident Evil 2 for the PS4 while it's 75% off
(on sale for $14.99, regularly $59.99)
---
Save 25% on Super Mario Odyssey
(on sale for $44.99, regularly $59.99)
---
Get $30 off Sega Genesis Mini
(on sale for $49.97, regularly $79.99)
---
Get $100 off on Bose QuietComfort 35 II Wireless Bluetooth headphones
(on sale for $199.99, regularly $299.99)
---
Grab Star Wars: Squadrons for the PS4 while it's over half off
(on sale for $16.99, regularly $39.99)
---
Save $10 on Hyrule Warriors: Age of Calamity
(on sale for $$49.94, regularly $59.99)
---
BioShock: The Collection is $30 off today
(on sale for $19.99, regularly $49.99)
---
Save 50% on Borderlands Legendary Collection
(on sale for $24.99, regularly $49.99)
---
Marvel's Avengers for PS4 is $35 off
(on sale for $24.99, regularly $59.99)
---
Marvel's Spider-Man Game of the Year Edition for PS4 is half off
(on sale for $19.99, regularly $39.99)
---
Take $10 off Cyberpunk 2077 for PS4
(on sale for $49.94, regularly $59.99)
---
Need for Speed: Hot Pursuit Remastered for the PS4 is nearly 40% off
(on sale for $24.99, regularly $39.99)
---
Select Playstation 5 titles are on sale
Prices vary
---
Uncharted is half off while supplies last
(on sale for $9.99, regularly $19.99)
---
God of War is down to $10
(on sale for $9.99, regularly $19.99)
---
Horizon Zero Dawn Complete Edition is also only $10 today
(on sale for $9.99, regularly $19.99)
---
The Last of Us Remastered Hits for PS4 is 50% off
(on sale for $9.99, regularly $19.99)
---
The Last of Us II is half off for PS4
(on sale for $$29.99, regularly $59.99)
---
Grab a Titanfall 2 digital download for 70% off
(on sale for $5.99, regularly $19.99)
---
SimCity Complete Edition is on sale for as cheap as it gets
(on sale for $7.50, regularly $29.99)
---
Save $10 on Minecraft Dungeons Hero Edition
(on sale for $19.99, regularly $29.99)
---
Select Acer, Cyberpower, Dell, and Alienware PC gaming laptops, desktops, monitors, and accessories are up to 20% off
Prices vary
---
Select Razr PC gaming accessories are up to 50% off
Prices vary
---
Prices for PopSockets and related phone case accessories have been slashed
Prices vary
---
Turtle Beach Recon 70 gaming headset is 40% off
(on sale for $22.95, regularly $39.95)
---
Best Black Friday deals on toys and games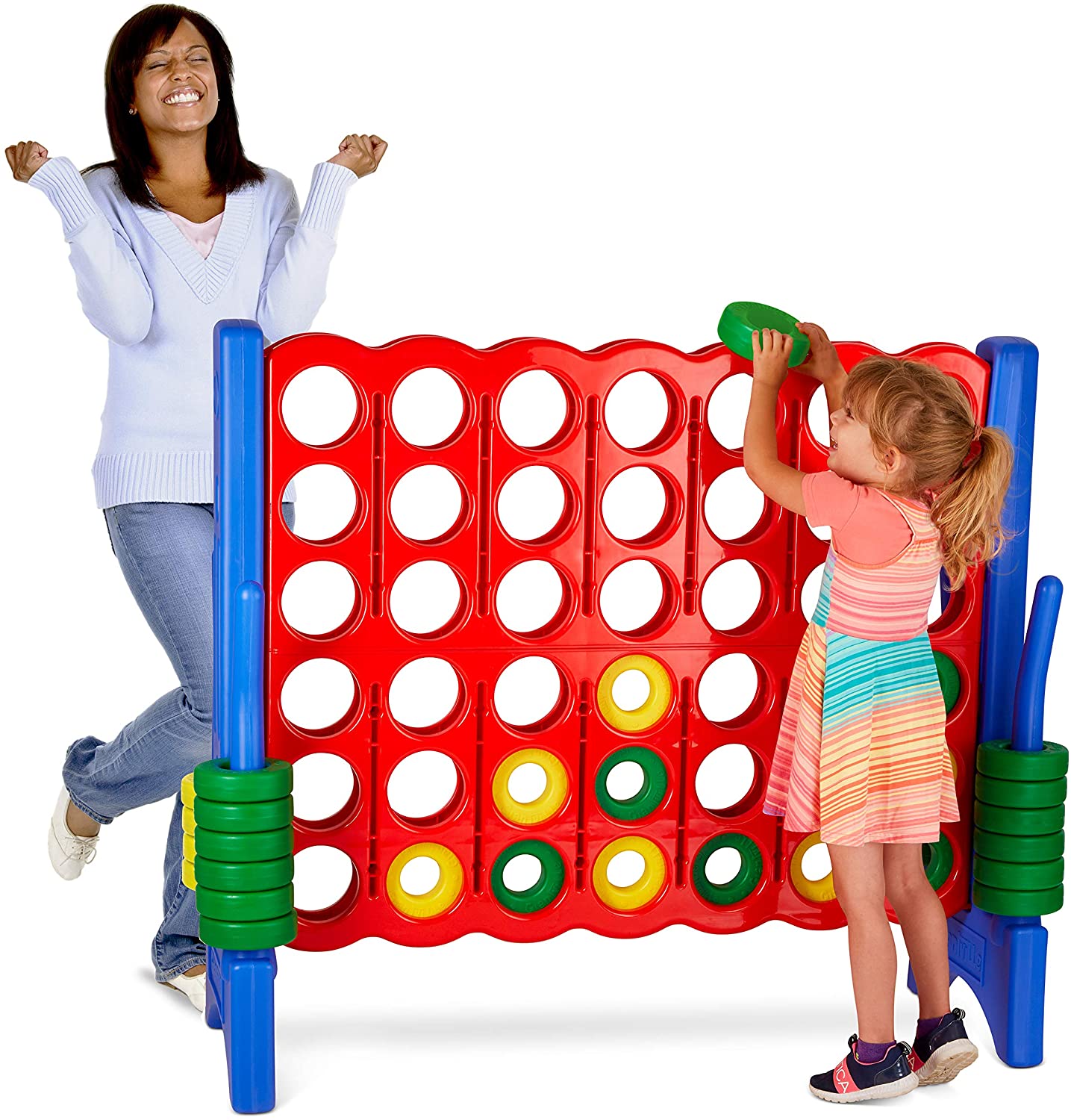 Save up to $100 on select Giantville jumbo yard games
(on sale for $34.00-$99.99, regularly $59.99-$199.95)
---
Select games from the makers of What Do You Meme? are up to 50% off
Prices vary
---
Celestron telescopes and binoculars are up to $235 off
Prices vary
---
LEGO, K'NEX, Wonder Workshop, 4M, Tegu, Kano and other STEM toys are up to 80% off
Prices vary
---
Save 25% on Cards Against Humanity: Family Edition
(on sale for $18.75, regularly $25)
---
Take $5 off the Cards Against Humanity Absurd Box expansion pack
(on sale for $15, regularly $20)
---
STEM games from Learning Resources are up to 50% off
Prices vary
---
Preschool toys from Melissa & Doug, PAW Patrol, Peppa Pig, Little Tikes, and more are up to half off
Prices vary
---
Select adult card and party games are half off
Prices vary
---
Take up to $200 off select Segway scooters, Schwinn bikes, and accessories
Prices vary
---
Take 35% off the LifeStraw
(on sale for $12.97, regularly $19.95)
---
Save big on select Mongoose products
Prices vary
---
This jumbo DIY slime kit is 40% off
(on sale for $23.95, regularly $39.95)
---
The LOL Surprise O.M.G Remix doll is 17% off
(on sale for $28.99, regularly $34.99)
---
Select Bell bike helmets and accessories are up to 25% off
Prices vary
---
Best Black Friday deals for home and garden
Save up to $50 on select Eureka upright vacuums
(on sale for $48.99-$99.99, regularly $69.99-$149.99)
---
Take up to $99 off select Snow Joe snow blowers, brooms, and shovels
(on sale for $16.85-$230.30, regularly $29.99-$329)
---
Save 20% on the Shark VACMOP Pro
(on sale for $79.99, regularly $99.99)
---
Score a Nespresso Vertuo Coffee and Espresso machine for 50% off
Prices vary
---
Select AeroGarden hydroponic gardens are up to $200 off
(on sale for $159.95-$199.95, regularly $299.95-$399.95)
---
Save over 50% on select living room and dining room furniture from various brands
Prices vary
---
Grab the 2020 Ring Doorbell while its 30% off
(on sale for $69.99-$99.98, regularly $99.99-$119.99)
---
Save up to $280 on select Shark vacuums
Prices vary
---
Take over $200 off select Vitamix blenders and accessories
Prices vary
---
Save up to $130 on select Ninja kitchen appliances
Prices vary
---
Take 66% off select Samsonite and American Tourister luggage
Prices vary
---
Score an Instant Pot Ultra while they're up to $70 off
(on sale for $99.99-$109.99, regularly $149.95-$179.95)
---
DeWalt tools are up to 40% off
Prices vary
---
Save up to $75 on select Graco car seats and strollers
Prices vary
---
The Cuisinart Perfectemp coffee maker is over $100 off
(on sale for $69.99, regularly $185)
---
Take about 25% off the Masterbuilt Digital Smoker
(on sale for $152, regularly $199)
---
Sweet! The Cuisinart Double Belgian Waffle Maker is over $100 off
(on sale for $69.99, regularly $185)
---
Save $30 on the Keurig K-cafe Special Edition Single Serve Cappuccino and Coffee maker
(on sale for $189.99, regularly $219.99)
---
Select iRobot Roombas are $200 off
Prices vary
---
Save $80 on select Le Creuset cast iron, stoneware, and tea kettles
Prices vary
---
Rocketbook Smart Reusable notebooks are $14 off
(on sale for $20, regularly $34)
---
Take 15% off the 59S UV-sanitizing wand
(on sale for $101.99, regularly $119.99)
---
Save $80 on the Panasonic Home Chef 4-in-1 Microwave Oven
(on sale for $399.95, regularly $479.95)
---
Best Black Friday deals on pet products
Take over $100 off the Furbo Treat Tossing Dog Camera with two-way audio
(on sale for $133.99, regularly $249)
---
PetSafe automatic litter boxes are half off
(on sale for $79.95-$99.95, regularly $159.99-$189.99)
---
Select varieties of Greenies, Dentastix, and Sheba treats are up to 40% off
Prices vary
---
Best Black Friday deals on health, skincare, and beauty products
Save up to 60% on select HAUS LABORATORIES beauty products by Lady Gaga
Prices vary
---
Save big on select Enfamil products
Prices vary
---
Olaplex No.4 Shampoo is 15% off
(on sale for $23, regularly $28)
---
Select Native body wash and natural deodorant products are up to 30% off
Prices vary
---
Take 30% off Goli Nutrition Apple Cider Vinegar gummies
(on sale for $13.30, regularly $19)
---
Select Gillette and Venus shaving accessories are up to half off
Prices vary
---
Grab a Phillips Sonicare Toothbrush while they're half off
Prices vary
---
Select teeth whitening kits are half off
Prices vary
---
Save $52 on AncestryDNA genetic at-home test kits
(on sale for $47, regularly $99)
---
Popular haircare, skincare, and cult-favorite beauty products are up to 50% off
Prices vary
---
Select Proactive products are 35% off
Prices vary
---
Select Cetaphil products are up to 40% off
Prices vary
---
Take 40% off select Wahl products
Prices vary
---
Best Black Friday deals on apparel and accessories
Save up to 50% on select Lands End products
Prices vary
---
Select C9 workout wear by Champion is up to 40% off
Prices vary
---
Columbia winter gear is up to 50% off
Prices vary
---
Apparel from Bass & Co., IZOD, Van Heusen, Calvin Klein, and Kenneth Cole is up to 50% off
Prices vary
---
Calvin Klein underwear is 50% off
Prices vary
---
Select Adidas apparel and shoes are over half off
Prices vary
---
Levis apparel is up to 60% off
Prices vary
---
Save big on select Under Armour products
Prices vary
---
Take $70 off select Ray-Ban sunglasses
Prices vary
---
Snag 30% off the entire Foria Wellness site (including the brand's best-selling CBD lube!)
Prices vary
---
Score 15% off Blazy Susan pink rolling papers, pink cones, and other smoking accessories with code FIRST15
Prices vary
---
All Medterra CBD products are BOGO free
Prices vary
---
JustCBD is offering 25% to 35% off your entire purchase when you spend $50
Prices vary
---
Select Dame vibrators are up to 20% off, bundle and save up to 35% on sets
Prices vary
---
GoLove water-based CBD lube is 30% off with code BF30
Prices vary
---
Score 33% off Hello Cake lube and cleaning wipes plus free shipping with the code BLACKFRIDAY33
Prices vary
---
The entire Lora Dicarlo site is up to 20% off and ships for free
Prices vary
---
Score a free gift, free shipping, and 15% off all Zumio clit vibrators
Prices vary
---
Score the Satisfyer 3-piece Anal Beads Set while it's over half off
(on sale for $14.99, regularly $37.99)
---
6-packs of TENGA Easy Beat Egg Masturbators are also on sale while supplies last
(on sale for $32, regularly $40)
---
Score the Ohnut set of four wearable Intimate Bumpers are over $50 off with code BLACK
(on sale for $93, regularly $144)
---
Select Sportsheets strap-on harnesses, restraints, spreader bars, and BDSM accessories are up to 70% off with the code BLACK
Prices vary
---
Best-selling Elvie Kegel Trainer is over $90 off with code BLACK
(on sale for $187, regularly $288)
---
Select condoms are up to 70% off with code BLACK
Prices vary
---
Good Clean Love Toy Cleansing Wipes and Lube are up to 70% off with the code BLACK
Prices vary
---
The We-Vibe BLOOM Vibrating Kegel Balls set is over $50 off with code BLACK
(on sale for $106, regularly $164)
---
Select lubes are up to 70% off with code BLACK
Prices vary
---
Score 25% off all Lorals latex panties and free shipping in the U.S. with the code BLACK FRIDAY
(sold in packs of four for $18.75, regularly $25)
---
MORE BLACK FRIDAY DEALS: