If you own more than one smartphone, each with its own phone number, then you should definitely consider Google Voice. This voice over IP (VoIP) service makes it easy to send and receive messages and calls from multiple devices, as it lets you use a single phone number for all of them. With Google Voice, you can stop juggling your work, home, and cellphone number and replace them with a new, free number. You can even choose which devices ring when you get an incoming call.
That only scrapes the surface of what the service offers. With cheap international call rates, free group texting, voicemail transcription, Hangouts integration, and a bevy of other convenient features, it's easy to see why the app has stuck around longer than anyone expected. Google Voice has been around for almost a decade now, and while some of its features have lost their relevance over the years, there are still plenty of reasons to sign up.
Here is everything you need to know about Google Voice.
What is Google Voice?
Google Voice is a free service for phone calls, texts, and call forwarding. When it first launched in 2009, Google Voice was a must-have service—an easy way to abandon your landline and consolidate multiple phones onto one number. But as smartphones grew into essential companions, modern apps evolved, and Google Voice quickly fell behind. The tool remained stagnant for years until Google gave it a long-awaited overhaul in 2017.
How does Google Voice work?
Available only in the U.S., Google Voice uses VoIP, which lets you make voice calls over a standard broadband internet connection. Small businesses use it to keep costs down, but it's also convenient for everyday users. All you need is a good internet connection and microphone.
Is it free?
The app itself is free, along with most of its features. There are a few instances where you'll need to add credit to your account. For example, if you want to make international calls.
Some of the free Google Voice features include unlimited calls up to three hours in U.S. and Canada, as well as free SMS. It can also allow you to block numbers, extremely necessary in the age of spam.
Google Voice rates
Is there are paid version of Google Voice? Not really.
While you'll save a ton of money avoiding the egregious rates quoted by mobile carriers, out-of-country chats still cost a small amount. You can use this website to figure out the rate for making calls to different countries. Here's an example of Google Voice rates for calling Germany from the U.S. The paide Google voice rates can be as low as a penny a minute.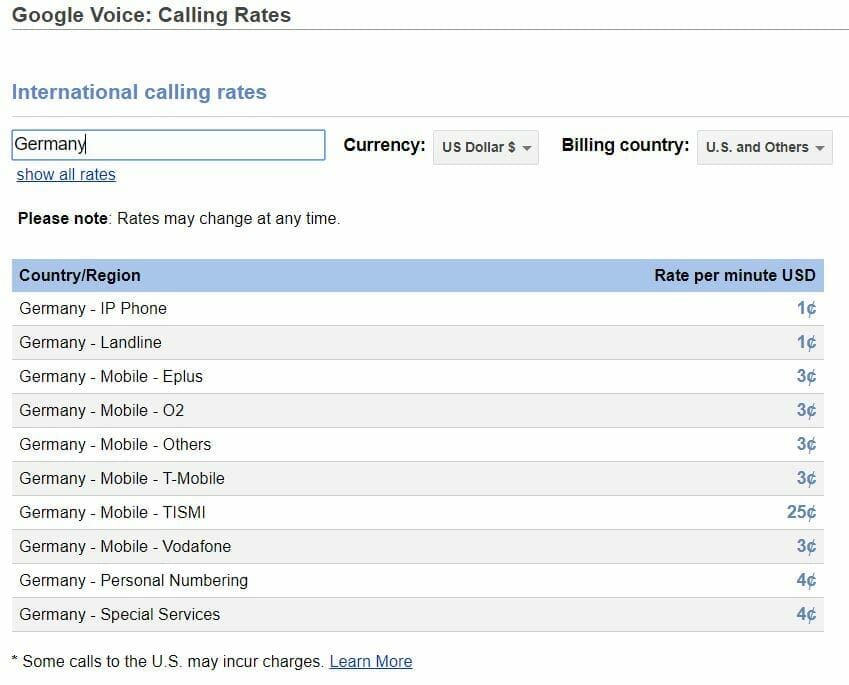 Calls to a few select U.S. and Canada destinations cost 1 cent per minute. Otherwise, they are free of charge.
The best Google Voice features
Google's expanded the feature set of Voice over the years to compete with modern apps. Here are some of the Google Voice features that are still relevant today.
Free domestic (U.S., Canada) calls: You can call or text anyone in the U.S. and Canada free of charge. While still useful for avoiding carrier fees, this feature is not exclusive as several newer social apps now offer free VoIP calls, including Facebook and Skype.
Group messaging: Voice offers free SMS messaging, and Google added support for group and photo MMS messaging as part of the 2017 redesign.
Cheap international calls: You can use Google Voice for international voice and video calls just like Microsoft-owned Skype. You'll just need to add credit to your account to pay for the small international fee. They typically run between one and five cents per minute, depending on the country you're trying to reach. That's a lot cheaper than what mobile carriers will bill you.
Voicemail transcriptions: Google Voice offers traditional voicemail for free, but the app's standout feature is voicemail transcription. Using complex algorithms, voicemail transcription turns your voicemails into text and sends them to your inbox or email.
Personalized Greetings: This feature lets you set different voicemail greetings for specific individuals or groups. It's especially useful for small businesses.
Call forwarding: Voice gives you a free phone number to use for multiple devices. This way, you can stop having to remember your cell, landline, and work number. Set up call forwarding and calls made to any of your numbers will be rerouted to your Google Voice number. You can link up to six numbers. You also have the option to change where you get calls. For example, you might dedicate one or two devices to ring for work calls and keep another phone for personal calls only.
Record calls – A godsend for journalists, users can record a call by simply pressing the number four on the dial pad. Other apps can help you record calls, but they're not as well integrated.
READ MORE:
How to set it up
You'll need to download the Google Voice app from the Google Play Store or Apple App Store. Yes, Voice is available on iPhones, not just Android devices. The first thing you'll need to do after opening the app is link it to your Google account. This means you need a Gmail email address to sign in and use Voice. Google won't ask for any more personal information once you've logged in.
One of the first things you'll need to decide before ever reaching the app's home page is if you want a new phone number or to keep your current one. If you choose to set up a new number, press "Search" when asked.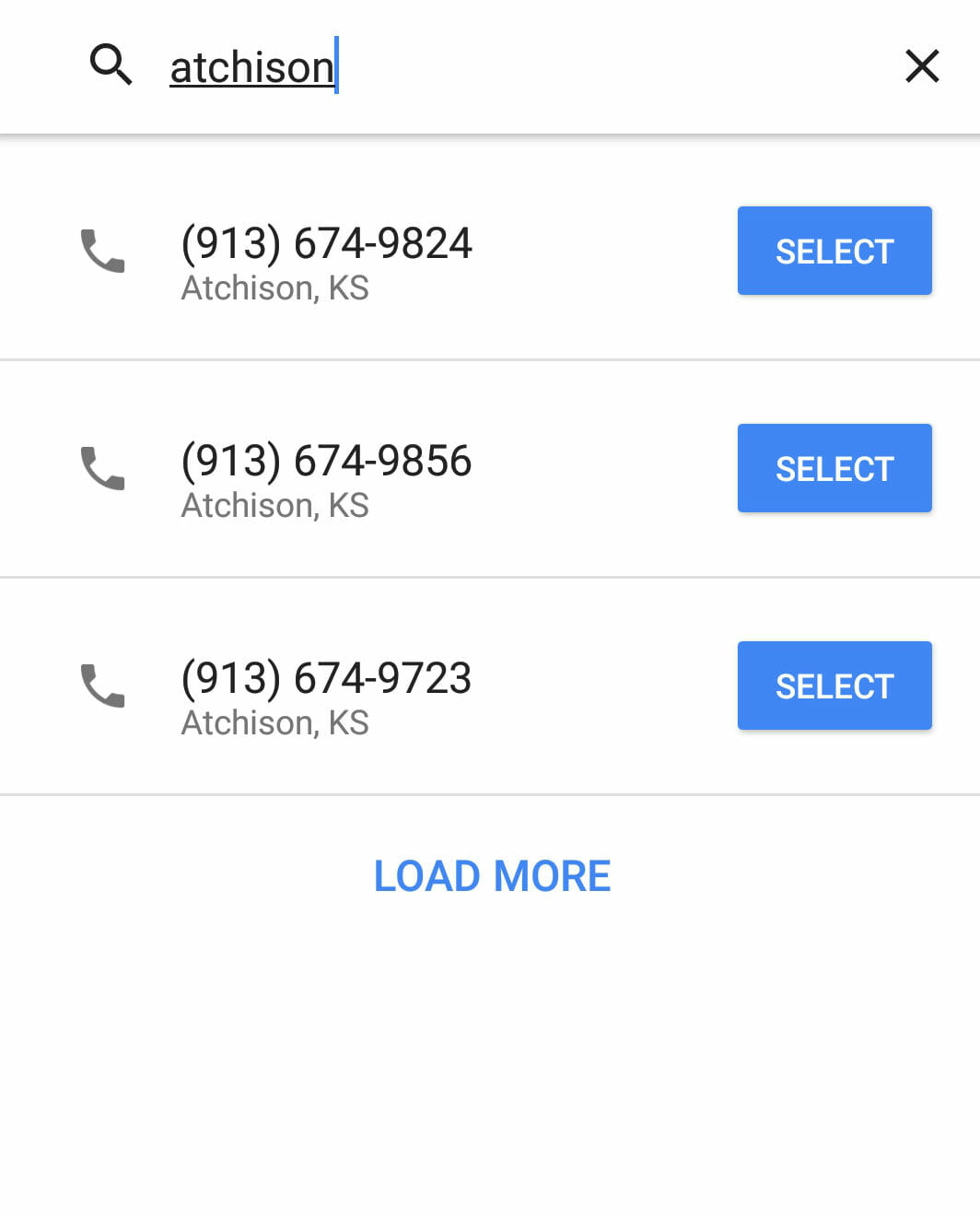 You can decide the area code for your new number by inputting the name of a city. For example, if I want a (512) number, I would look up Austin, Texas. Sadly, there were very few numbers available to choose from on the app. If you want more flexibility in selecting your phone number, we suggest setting it up from the desktop site. Once you've chosen a number, you'll need to link it to your smartphone or tablet to start making and receiving Google Voice calls.
READ MORE:
This requires you to input your mobile carrier number so you can use call forwarding, a feature that passes a call from one number to another. Once that's setup, if someone called your new Google Voice number, then the device with your existing mobile SIM will ring.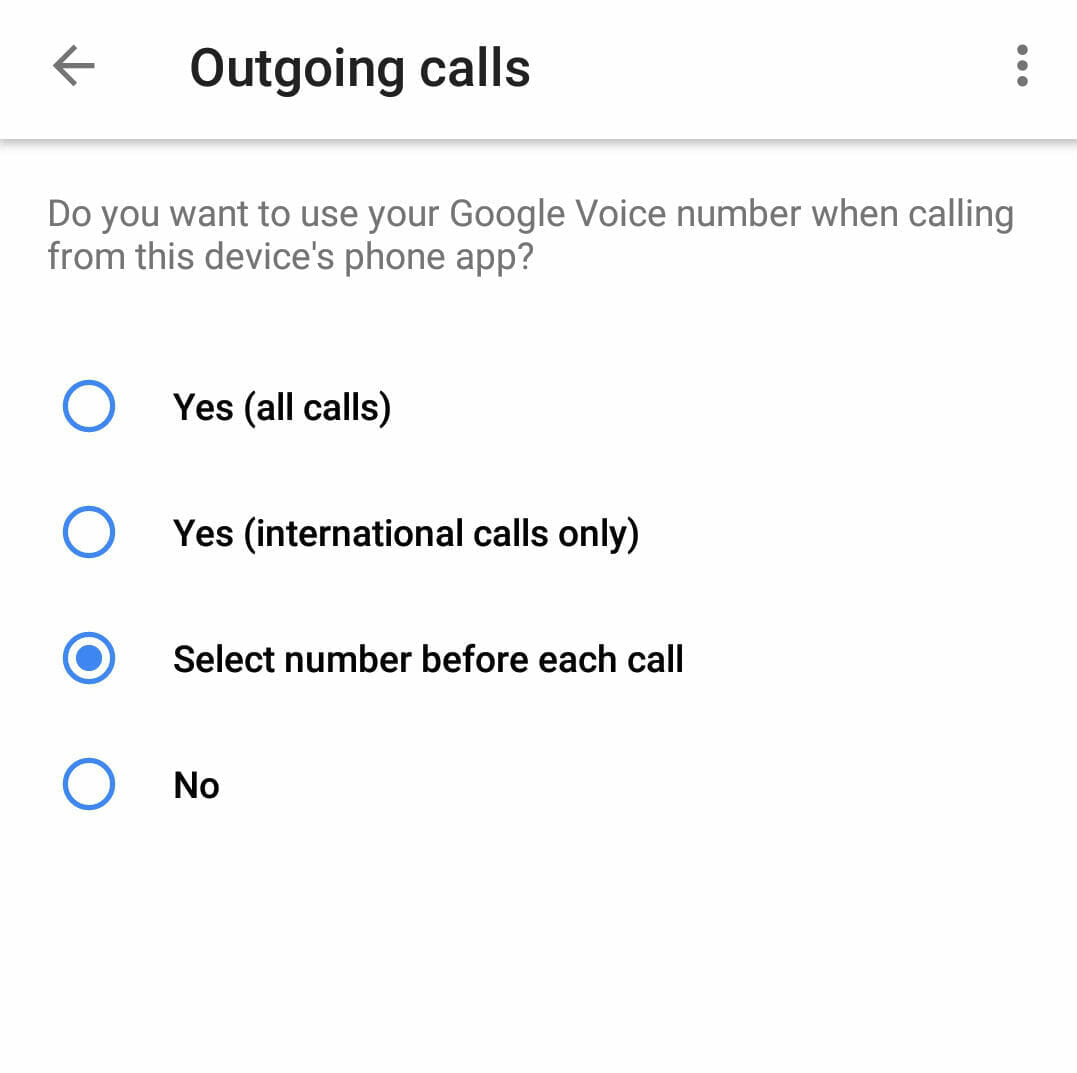 The next thing to decide is whether you want to use your new Google Voice number or carrier number when making calls from the device you've set it up on. You have four options:
Yes (all calls) – Every call you make from your device will use the Google Voice number.
Yes (international calls only) – Your Google Voice number will only be used for international calls. Domestic calls will use your carrier number.
Select number before each call – You'll receive a prompt before each outgoing call asking if you want to use your carrier or Google Voice number.
No – You will continue to use your existing carrier number.
READ MORE:
Don't worry too much about making the right choice out of the gate, you can change your selection from the settings whenever you want. Once you've set up your number, go to the main page to make calls, send texts, listen to your voicemail, and see your call history.
If you already set up a phone number from the Google Voice mobile app, then you only need to login to your Google account to use it on a desktop. If you prefer to set up on a desktop, visit the Google Voice website, go into settings, and select "Linked numbers." This time, instead of inputting a location or area code, type the number you wish to use.
Is Google Voice worth it in 2021?
Given that it's still free, there's not a strong reason you should ditch it if you are already using Google Voice and like it.
However, a lot of the features that made it attractive when it first launched have been surpassed. Cheap international calls through WiFi, group messaging, and voicemail transcription are now baseline features all users expect from every service. But if you would still like an anonymous number to keep separate from your real number, Google Voice is the way to go.
---
Read more of the Daily Dot's tech and politics coverage