Well, mystery solved: The "Dumb Starbucks" coffee shop that attracted ludicrously long lines over the weekend is the work of Nathan Fielder, the star of Comedy Central's Nathan for You.
Dumb Starbucks popped up and started drawing a crowd late last week, with people willing to wait over an hour for the pleasure of entering a coffee shop that looked an awful lot like the thousands upon thousands of Starbucks locations around the world, except everything had the word "Dumb" in front of it. The coffee was free, and apparently terrible-tasting. Thanks to the surprisingly large amount of people willing to wait hours for a mediocre cup of coffee, and the fact that it had a novel name and they could Instagram the shit out of it, Dumb Starbucks became the subject of speculation on social media. 
The FAQ taped to the store's door fueled interest, as the mysterious owner (Fielder) admitted to using the Starbucks name for marketing purposes: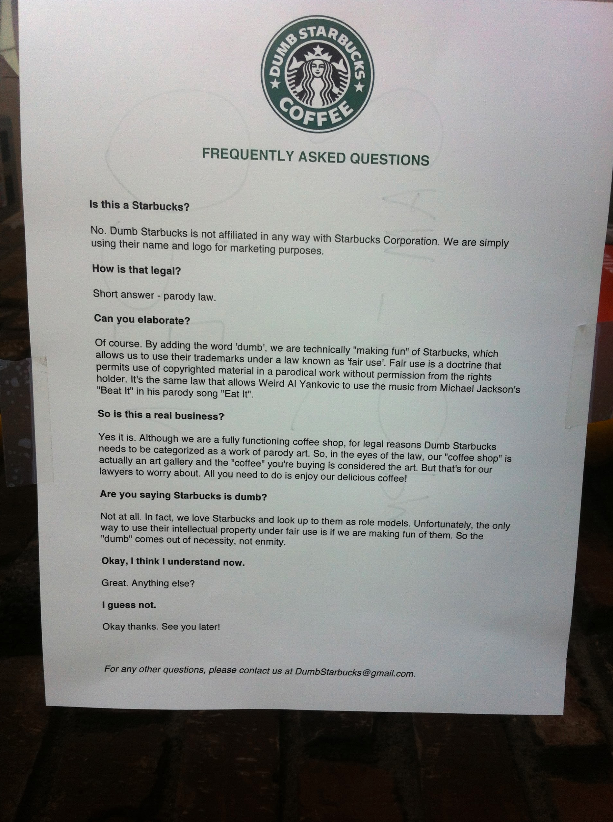 Photo via Kate Knibbs 
L.A. was obsessed with the mystery of Dumb Starbucks. So when the weird ass coffee shop's Twitter account tweeted that the shop owner would make an announcement in front of the shop at 4pm yesterday, a mess of bystanders and reporters showed up, plus a group of somewhat antagonist environmental activists against single-use cups. The strip mall parking lot on Hillhurst Ave. spilled over with curious onlookers and harried people with microphones. Smartphones were held high when Fielder revealed himself in his Dumb Starbucks apron and started taking questions from the crowd. Some people didn't know who Fielder was, and asked what channel his TV show was on.  One man asked if Fielder would "play" with Ray Romano, which was very confusing for everyone. 
Fielder said he plans to open a second location in Brooklyn, and reiterated some of the points made in the FAQ. He kept a straight face the whole time. A lady in the crowd kept yelling "There's nothing dumb about this!" and looking around for approval. 
Fielder didn't appear too concerned about facing legal problems from Starbucks. "As far as I'm concerned about it, we're legally covered," he said. He noted that, since Dumb Starbucks was technically an art project, he didn't have a health license.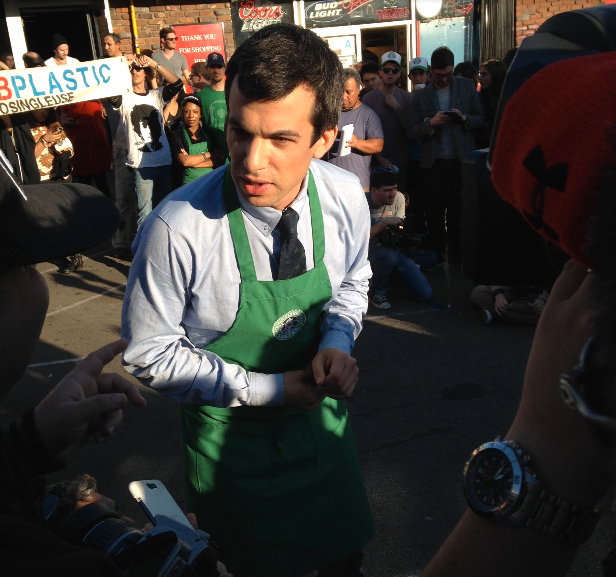 Photo via Leo Margul
Fielder moved the Q&A session inside Dumb Starbucks, where he told the crowd that Comedy Central was unaware of this project (which seems highly unlikely, since there were production assistants all over the place and people saw filming happening last week).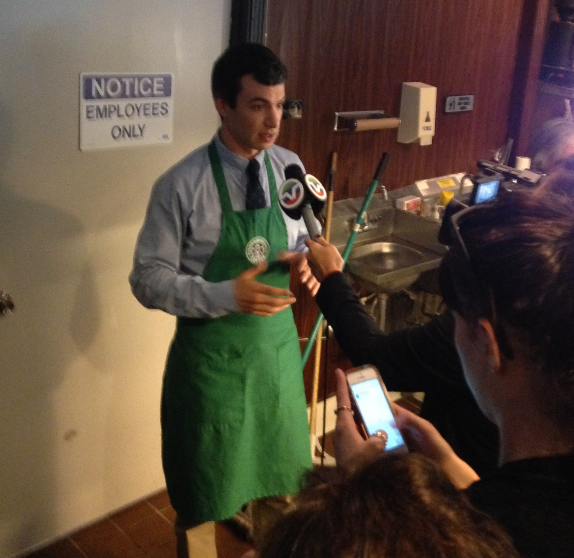 Photo via Leo Margul
A reporter from Bloomberg earnestly asked Fielder questions, and a woman asked to use the bathroom (Fielder let her go in the back, and when he opened the door, you could see more production assistants.) Eventually Fielder excused himself to go to the bathroom, and the crowd dispersed. 
Fielder put up a video explaining the whole enterprise:
It's not clear whether he'll actually open a second location in Brooklyn, or whether this will be an episode of Nathan for You or if it's just a publicity stunt (judging by all the PAs, it's going to be an episode).
The only mystery remaining is why exactly so many people felt compelled to wait in line so long for a shitty-tasting novelty coffee in the first place. 
Photo via Kate Knibbs