There's a big difference between scanning an article or Facebook and reading a real book, but Audible can help you close that gap. The Amazon subscription service has built a dedicated following on the strength of its massive collection of audiobooks and original podcasts. If you're thinking about giving it a try, here's everything you need to know about Audible before getting started. 
What is Audible?
Audible is the world's largest source for audiobooks and narrative audio content. From its massive library of titles spanning every genre of literature to audio recordings of today's news and original podcasts, Audible has something for every listener. 
The history of Audible dates back to January 1995, when the company introduced a digital audio player, which is notable at least in that it debuted several years ahead of Apple's iPod. In 2008, not long after the company started investing in exclusive science-fiction and fantasy audiobooks, Audible was acquired by Amazon for $300 million—and the service has steadily built out its offerings, features, and compatible devices ever since (more on that later).
Audible's content is divided up into three main categories: books, podcasts, and magazines/newspapers.
READ MORE:
Audible books
If your memories of audiobooks are strictly from books on tape or CDs as a kid, you're in for a treat. The audiobook industry has improved dramatically in the last decade, often using A-list actors as narrators and utilizing modern technology to enhance the experience. Audible books sync across devices, so whether you're listening on your mobile device, computer, or tablet, you can pick up right where you left off. For subscribers who buy Amazon's Whispersynct Kindle titles, you can switch back and forth between reading on a Kindle and listening to the audiobook version of a title, albeit for a small upcharge.
Audible Channels unlocks even more content, including Amazon-produced podcasts and free full-length audiobooks. This is also where Audible keeps audio versions of the biggest news stories of the day from the New York Times, the Washington Post, and the Wall Street Journal. (If you're an Amazon Prime member, you can also listen to Audible Channels without actually subscribing to Audible.) 
Audible features podcasts you won't find anywhere else, focusing on humor, storytelling, science, and current events. What Were You Thinking? is a science-based exploration of the teenage mind by NPR reporter Dina Temple-Raston. Unheard is a fictional investigative podcast into the disappearance of a young girl lead by a fellow student. Damned Spot will appeal to true-crime fans; each episode explores how a different place where a notorious crime occurred recovered after the police tape was taken away. The shows aren't all heavy, however. There's plenty of comedy to be found on Punchlines, Lewis Black's The Rant is Due, and the incredible Nick Offerman's Bedtime Stories for Cynics.
Audible magazines and newspapers
Every Audible membership comes with a complimentary audio subscription to either The New York Times or Wall Street Journal, delivered Monday through Friday to your Audible app. 
There are other publications that you can subscribe to.
For example, if you'd like to subscribe to the New Yorker, you can pay one credit or $9.06 per month, or buy a subscription for $48.96 a year. That's a great deal, but it's also a nightmare to find it from Audible. We had to Google search "New Yorker + Audible subscription" to find that information. For some reason, neither Audible's app nor website makes it easy to sort magazine and newspapers by type of subscription, or even just easily separate individual stories you can download from whole issues. It's frankly a mess, and the only truly bad part of the Audible experience.
How much is Audible?
Your first month of Audible is free, complete with a credit for one free book. After the first 30 days, Audible's standard Gold membership will cost you $14.95 per month, for which you'll get credit for one audiobook each month, along with 30 percent off other audiobooks and programs purchased.
Audible's Gold Annual membership is slightly cheaper on a monthly basis, but you'll pay for it all up front: $149.50 per year, which amounts to $12.46 per credit. The benefit is that you'll get access to all your credits at once.
Audible's Platinum membership costs $22.95 a month, and it bumps you up to two credits per month, which breaks down to $11.48 per credit.
Audible's Platinum Annual membership costs $229.50 upfront for 24 credits delivered all at once. It's the best deal overall, amounting to only $9.56 per credit, but that's a lot to swallow at one time.
While books are often discounted by Amazon, full price for an audiobook some titles run upwards of $30 at times, choose how you use your credits wisely. You'd hate to spend it on a $10 book and then want to buy one that costs $30. (The average cost of a title is around $17.99.) 
Do you find most of your listening takes place in the romance genre?  The Audible Romance Package is $6.95 per month for standard Audible members and $14.95 per month as a standalone service. Subscribers can check out up to 10 romance books at a time from their library of thousands of romance titles.
You may be thinking, that sounds great and all, but what if I just want the juicy stuff? What if I don't want to listen to 10 whole romance audiobooks each month? Here's where the program is genius. The Romance Package comes with special features designed to take you to the content you want. Its "Take Me to the Good Parts of This Book" feature lets you skip between five sections of a book quickly. Each section is marked based on the rising action of the story, from kissing to flirty banter to sexual tension to sex, allowing you to quickly find exactly what you're looking for.
Its other killer feature is the "Steaminess Score," a ranking that scores books as "sweet," "simmering," "sizzling," "hot damn," or "o-o-omg." Not everyone reads romance novels for the same reasons, but no matter your desires,  Audible will help you find them. You can even sort books based on themes like character types and romance categories. The Romance Package may be a niché experiment, but its one that shows Audible is paying attention to the habits of its listeners when trying new ideas.
Audible devices
Audible has apps for iOS, Android, Windows, and of course, Amazon mobile devices. You need to use the app to stream content from Audible channels, and from there you can easily play it through your Amazon Echo. However, once you download a book you've purchased with your subscription, you can listen to it later on any mp3 player, but it'll likely be easier just to stick to the app.
READ MORE:
Audible features
Share Audible books
Your subscription allows you to share titles you've purchased—with some restrictions. Anyone who has a profile on your account's Family Library Sharing can listen to your audiobook collection, with the exception of child profiles. And every Audible member can share one free book from their library with a friend without that friend giving a credit card or signing up, provided that friend is not already an Audible subscriber.
Return Audible books you're not enjoying
There is no set number on the limits placed on exchanges. Audible determines the number of books you can exchange based on several factors, including how often you return things and how long you had the book before returning it. Refunds are handled based on payment, so if you used credits, you'd get the credits back, and if you paid cash, they'd refund your card.
Car mode
This is a relatively new feature for Audible. You could always connect via Bluetooth to your car from Audible, but this format makes it a lot easier to navigate, with bigger buttons to help you make changes quickly while you're driving.
Set a sleep timer
Worried you might fall asleep and lose your place? You can easily set a sleep timer to have the Audible app stop playing at a certain time (up to an hour) or at the end of a chapter.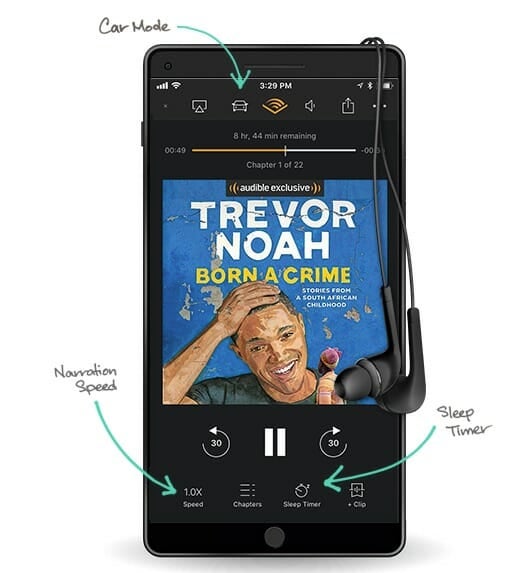 Customize the narration speed
Want to get through that Malcolm Gladwell book a little faster? You can make the reading pace up to three times for faster (or twice as slow, if you really want to savor the details). It's a standard feature with audiobooks these days, but it's easy to use with Audible.
Whispersync discounts for books you already own
If you're already a Kindle reader who is interested in revisiting titles you've already read or who just likes reading and listening, Amazon's matchmaker program is a blessing. By visiting this link, Amazon will scan the Kindle books on your account and show you which ones are available for purchase as an audiobook at a deep discount. As you can see from this screenshot, these titles can still cost money, but paying $12.99 for a $28.34 audiobook is still a great deal. Plus owning both the Kindle and Audible version of a title lets you jump back and forth between formats, with the title keeping track of what page you left off on when you start on a new device.
Does Audible work with Kindle Unlimited?
It would be crazy for Amazon to offer every Audible book with Kindle Unlimited, but the service does offer up a surprising number of audiobooks subscribers can stream. There are over 2,000 free Audible titles included with Kindle Unlimited. Don't go in expecting today's best sellers and you'll be surprised by the wide range and quality of what's offered. Classics like 1984 live alongside modern surprises like the World War II masterpiece Beneath a Scarlet Sky, though the vast majority of what's offered is smaller pulp titles. If romance novels and cheesy sci-fi are your bag, the Kindle Unlimited Audible section is going to make you very happy.
Disclosure: The author of this piece has worked with Audible in the past, writing a script for an upcoming Audible podcast that will be released in 2018. He is not currently working with the company.
Looking for more help? Here's what you need to know about Amazon Alexa and how to use Amazon Alexa as an intercom system, Amazon Prime Pantry, how to sell on Amazon, Amazon Prime membership and if it's really worth it.