So it's come to this? You've asked yourself "is Audible worth it," and the answer is a resounding no. That's OK. It's not for everyone. And thankfully, whether you've been a member for one week or years, the books you get through Audible credits and purchases are yours forever. Even the free one you get for signing up. You can still find these titles in the Audible app under your library or on your desktop by visiting your browser library.
Before you cut the cord, though, there are a few things you need to know about canceling your Audible subscription.
How to cancel Audible: 4 things to know
1. Audible may be cheaper than you realize
If you read our first Audible explainer, you already know the different tiers Audible offers for subscriptions. But a few new options are unlocked when you go to cancel. In addition to pausing your subscription, Audible's "keep listening for less" allows you get billed $14.98 bimonthly, as opposed to monthly.  You'll receive one credit each time you're billed, and you still get discounts on book purchases and unlimited access to Audible's streaming channels. Audible offers one final option that lets you keep your credits and access to discounts for just $9.95 per year. 
You can't download free books on Audible, but you can stream titles like What If? Serious Scientific Answers to Absurd Hypothetical Questions by Randall Munroe, Bloodchild and Other Stories by Octavia E. Butler, and The Coroner's Lunch by Colin Cotterill. Here are our picks for the best free Audible books for you to check out.
3. You should use your credits before you cancel
You lose your credits with Audible if you cancel your membership, so use them before you hit cancel. This may sound like a no-brainer, but it's better to be safe than sorry. Don't miss out on an extra book. 
4. Cancel before the end of the month
This should go without saying, but if you don't cancel your subscription by the end of your first 30 days or your next billing cycle, you're going to be charged for an additional month. 
READ MORE: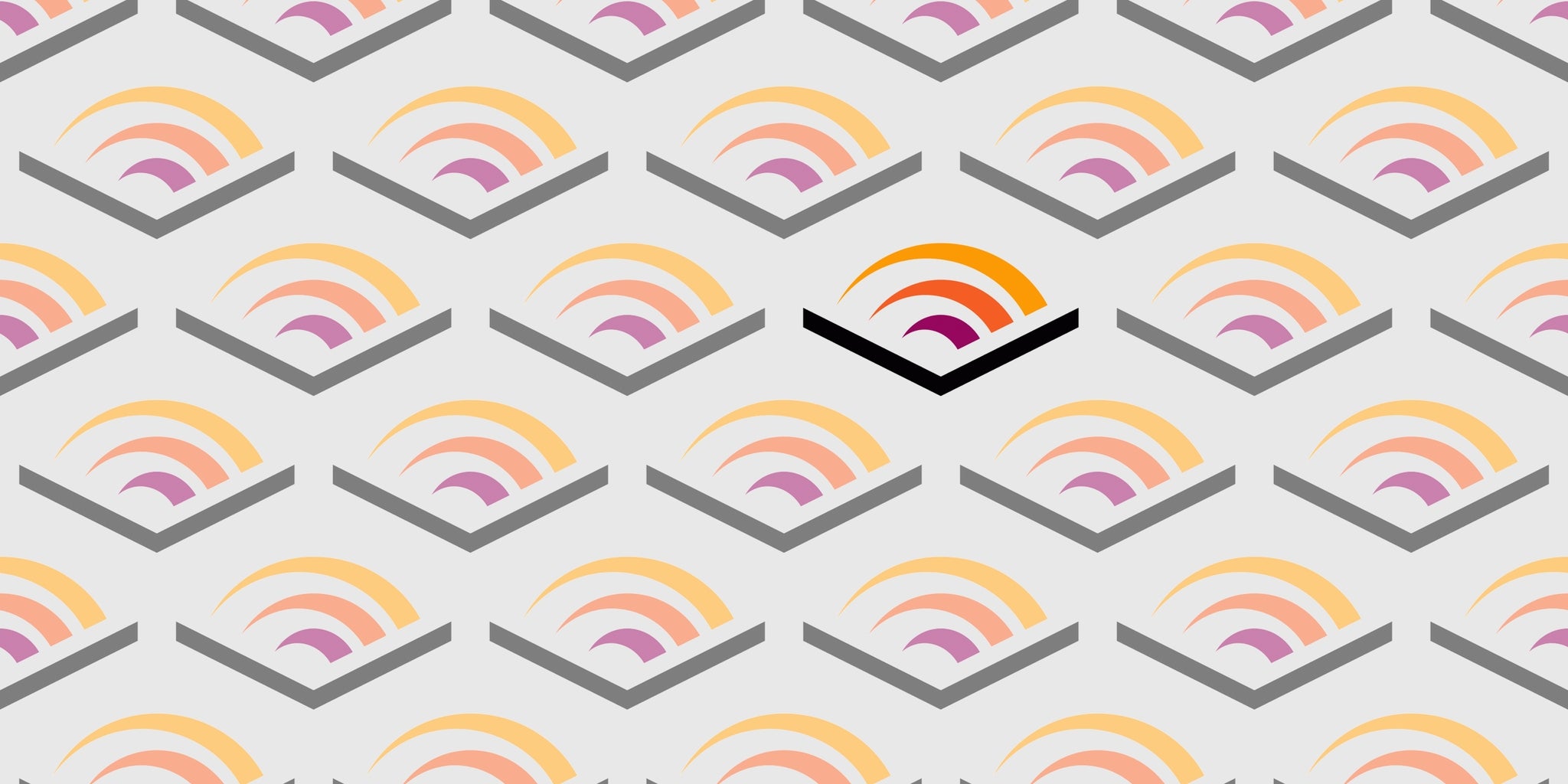 How to cancel Audible: 4 easy steps
Step 1: Click your name and select "Account Details."
Step 2: Select "Cancel Membership."

Step 3: Explain to Audible why you're canceling and press "Continue Canceling."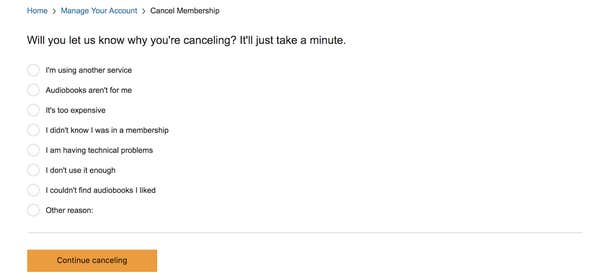 Step 4: Decide if you're willing to accept Audible's hard sell of three months at 30 percent off. If not click "Cancel Membership" one last time and you're done.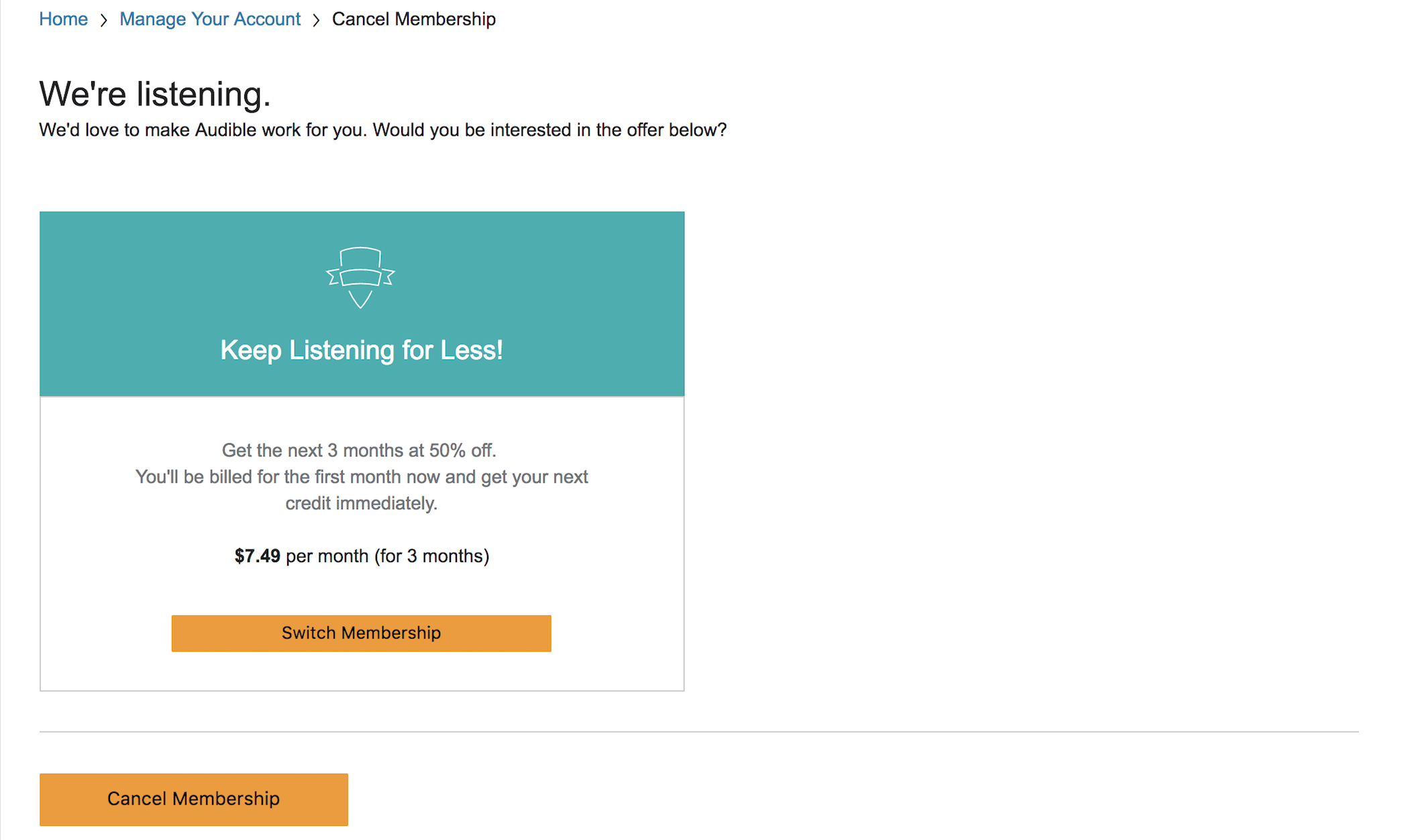 Congratulations! You're unsubscribed from Audible. Go listen to your old books and think about what you've done.
Disclosure: The author of this piece has worked with Audible in the past, writing a script for an upcoming Audible podcast that will be released in 2018. He is not currently working with the company.