President Donald Trump asked why the Justice Department was not investigating the Democratic National Committee (DNC) server on Thursday morning, riling up some of his supporters but also drawing an immense amount of jokes for his poor grammar.
"When and where will all of the many conflicts of interest be listed by the 13 Angry Democrats (plus) working on the Witch Hunt Hoax. There has never been a group of people on a case so biased or conflicted. It is all a Democrat Excuse for LOSING the Election. Where is the server?" Trump wrote on Thursday. "Our Justice Department must not let Awan & Debbie Wasserman Schultz off the hook. The Democrat I.T. scandal is a key to much of the corruption we see today. They want to make a 'plea deal' to hide what is on their Server. Where is Server? Really bad!"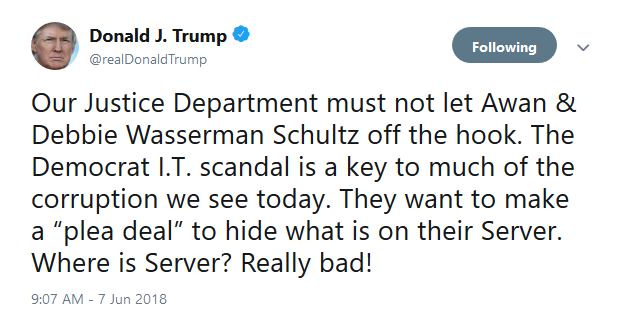 The president seems to be referring to a number of conservative complaints about the DNC server. The Daily Caller, a hyper-conservative website, has reported about it in recent months, recently saying former DNC head Debbie Wasserman Schultz became "frantic" when the House Office of Inspector General found that an IT-aide Imran Awan made "unauthorized access" to servers before the election.
On Wednesday, Fox News published an opinion piece that said the "scandal" was "set to explode." However, as the Washington Post points out, the issue surrounding the server has lit up right-leaning corners of the internet, and there isn't "any evidence" that it is linked to the hack of the DNC server by Russia during the 2016 election.
Awan is facing bank fraud charges, false statements on a loan or credit application, and unlawful monetary transactions, among other charges, according to Politico. He is pursuing a plea deal (which Trump referred to).
Trump's concern over the server led to him asking "where is server?" a clear grammatical error that led to Twitter pouncing on jokes.
June 7, 2018
https://twitter.com/mezdispenser/status/1004728506872459264
Where is Server? is a good name for my next open source project. https://t.co/nWAqahf0a2

— Andrew Nacin (@nacin) June 7, 2018
"Where is server?" How about, "where is editor?" https://t.co/8sRnB0Pjdq

— Afrea Kingmen / podpisano a Ziomek (@TEZNYC) June 7, 2018
https://twitter.com/cdubb502/status/1004729281799446528
Where is the server? pic.twitter.com/Kg4dLI2FIJ

— Steve Mullis (@stevemullis) June 7, 2018
'Where is Server? Really bad!' This is what it's like when you let Dr Seuss run your social media… #uspol https://t.co/Qi8hNNL5qW

— Michael Nelson (@FnordNelson) June 7, 2018
https://twitter.com/mazzie/status/1004734762966241282
Where is grammar check?
READ MORE: