Slick Willie just got a new nickname.
During a taping of The Colbert Report, Stephen Colbert took the liberty of setting up former president Bill Clinton's Twitter account and sending his first tweet.
Colbert selected an appropriately stately handle for the former president of the U.S.—@PrezBillyJeff—since @BillClinton was already taken. He sent Clinton's first tweet for him, making sure to ask if he could include an exclamation point after "[Colbert] is cool!" 
That first tweet was sent Sunday. The episode was recorded at the annual Clinton Global Initiative University meeting over the weekend, rather than earlier the same day of airing as is typical for The Colbert Report.
Several other tweets were posted on the account Monday evening, though had disappeared by Tuesday morning. Luckily, a cached version of Clinton's new account shows those tweets.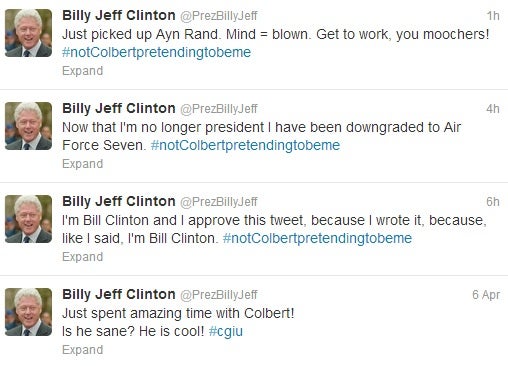 New York's Daily Intelligencer has a clip of Clinton dictating his first tweet. Check it out. Factcheck it. It's immortalized online. Welcome to the future indeed, Mr. President.
H/T Daily Intelligencer | Photo via The Colbert Report