Ronald McDonald is hanging up his clown costume in favor of cargo pants, a rugby shirt, and a sleeveless vest.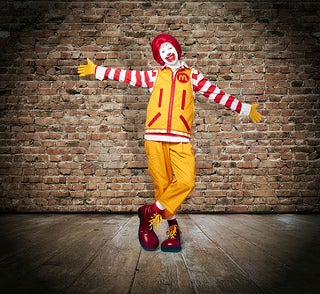 McDonald's announced on Wednesday that its long-running mascot will now have an active social media presence on Twitter, as well as a revamped look that's basically what some marketer from Oakbrook, Ill., conjured from scouring Google Image results for the word "hipster" for a few hours. While he will retain his signature oversized red shoes (which look like Converse anyways), the new Ronald will appear in ads next year in his cargo pants get-up.
McDonald's has released photos of the clown in his new "special occasion" outfit of rolled-up pants, a blazer, and a bowtie, looking like some aging divorced fiddle player who saw Rushmore one too many times and still works as a bike messenger even though he has an engineering degree. Of course he's standing in front of an exposed brick wall.
Ronald won't get his own social media account, but McDonald's will use the hashtag #ronaldmcdonald to share images of the mascot.
"Selfies… here I come!" McDonald's quotes the clown as saying. Yes, even fictional corporate shills are obsessed with selfies now, apparently.
Maybe McDonald's saw this scene from Girls and became preoccupied with cornering the underemployed philosophy major market: 
This is far from the first time a company has rebranded a mascot to look "hipper." In a 2013 Honey Nut Cheerios commercial, the company enlisted rapper Nelly to give their mascot, Buzz, a "swag" makeover. The cringe factor was high:
The plan to use Ronald McDonald as a social media gimmick isn't necessarily bad, but trying to brand him as hip comes off as desperate (not to mention delusional—a 51-year-old clown will never be cool).
H/T Dallas News | Photo via McDonalds