Proud political dirty trickster Roger Stone has either snuck back onto Twitter or someone is doing an incredible job impersonating him.
Stone was permanently banned by the platform in 2017 following an expletive-filled rant about a slew of CNN personalities.
Since then, the man who loves Richard Nixon has bided his time by getting convicted of felonies, helping Islamophobic conspiracy theorist Laura Loomer lose a congressional election, having his prison sentence commuted by his newest presidential bae, and muttering the occasional racial slur.
As the nation grapples with a historic and as-yet-undecided presidential election, people have wondered what Stone's been up to.
Stone has periodically been spotted in the wild, cavorting with Proud Boys or doing a merry dance with Loomer on a boat in South Florida. On Election Day, New York Magazine took some major heat for inviting him to an email address harvesting initiative disguised as a Zoom party.
While he mostly flew under the official radar, Stone seems to have quietly crept back onto Twitter.
A locked Twitter account with the handle @RealRogerStone1 bears all the hallmarks of the man who would've been chilling in a cell these many months but for President Donald Trump.
Twitter didn't immediately respond to a question about whether the account violates its rules. Even if it isn't Stone, it could break the rule against impersonation.
The account also did not respond to the Daily Dot's questions sent via direct message about whether it is the real Roger Stone. Stone did however respond with a text denying it was him, and claiming that anyone who uses his name on social media is deplatformed, which is not true.
"That is most definitely not my account," he said to the Daily Dot. "I have no Twitter account. I am very very surprised that Twitter has not banned that account. Both Twitter and Facebook use an algorithm so that any person who is on either platform who posts something with my name the first time they get shadowbanned , the second time they get deplatformed."
"Welcome to Nazi Germany," he said.
But if it's not him, it's a remarkably spot-on impression of his orneriness, inability to take a joke, and need to respond to every slight.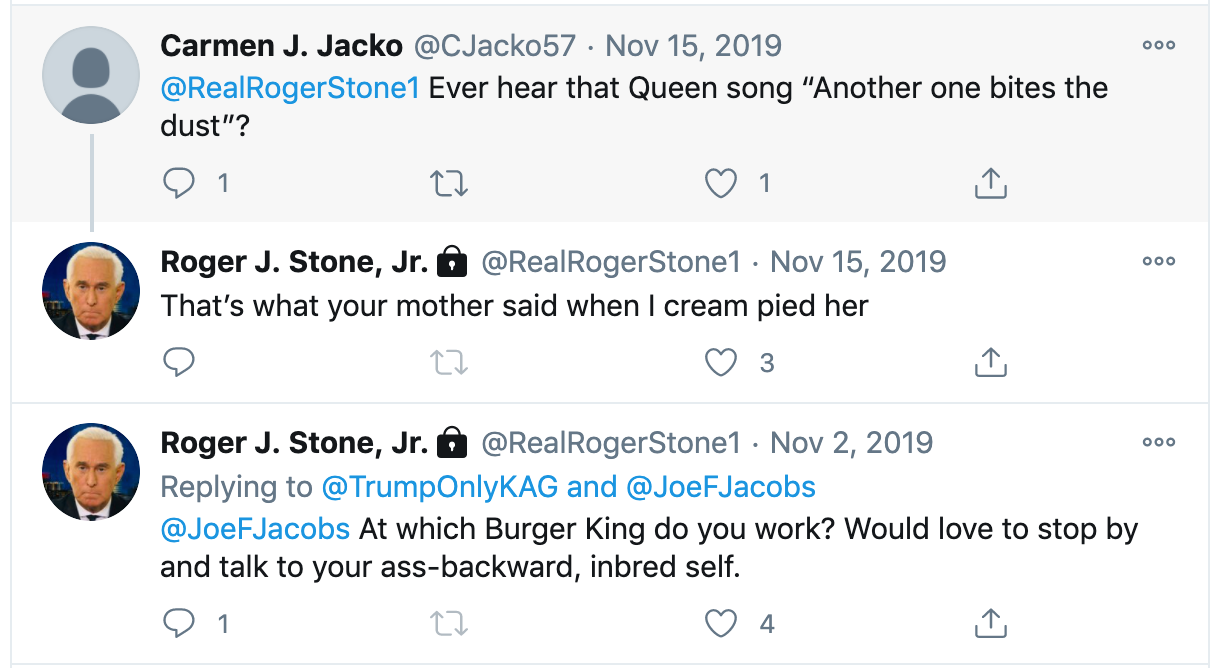 The account follows 51 others, including four Trumps (Donald, Melania, Ivanka and Donald Jr.), the Trump Organization, two of Trump's campaign accounts, Brad Parscale, current and former Fox personalities, conservative media outlets, Dan Bongino, and a random assortment of accounts based in Virginia. Several of the account's 87 tweets and retweets (not included deletions, of course) are about Virginia's Governor Ralph Northam and his Blackface scandal.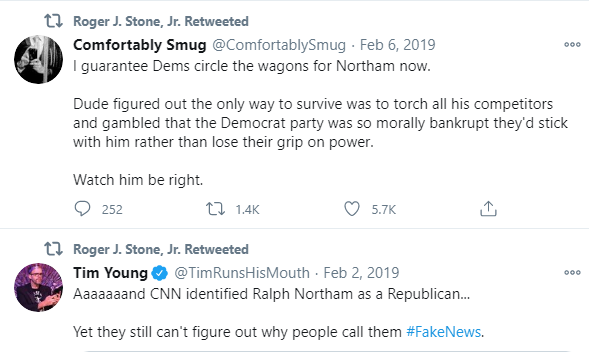 Its Twitter history includes unwavering praise for Trump and derision for Trump's real and perceived enemies. On Election Day, it tweeted, "Vote TRUMP!"
On July 10, the day that Trump commuted Stone's sentence, the account tweeted, "Justice served! Sayonara, Prison!"

It also urged people to buy Stone's 2019 book two weeks after its publication, offered political strategizing advice, poked fun at Shepard Smith a day after the announcement that he was leaving Fox News, and retweeted numerous people claiming that Stone was innocent of the charges against him.
In tweets about Stone, the account speaks in the first person, i.e. "my new book," "my rules," etc. It also repeats some of his classic lines, such as "hate is a stronger motivator than love," one of Stone's famed adages.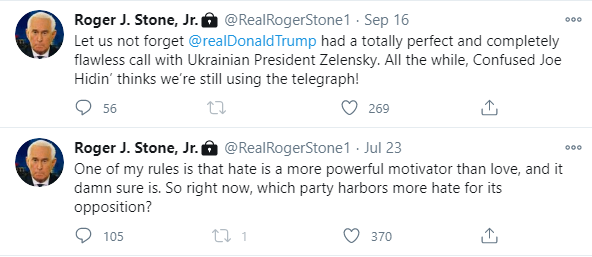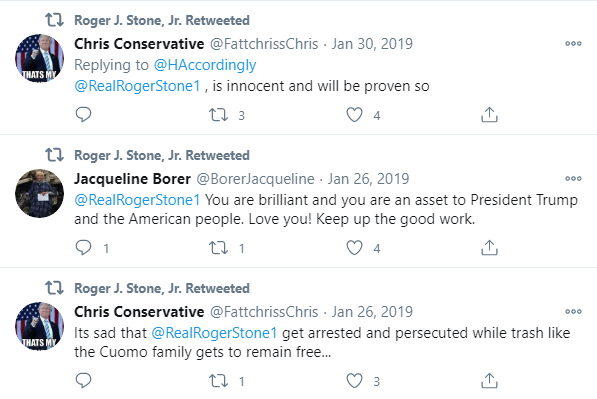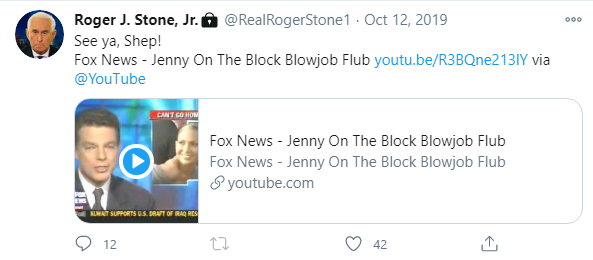 The 8,000 who follow the account naturally are Trump supporters, with some hate follows, members of the media, and random accounts sprinkled in. The account history includes 900 likes, a great many of them of Trump's tweets.
Its profile pic appears to be a screenshot of Stone's July 2018 appearance on CNN during which he claimed to be exonerated by then-Special Counsel Robert Mueller indicting 12 Russians for interfering in the 2016 election.
Stone himself was later indicted, and ultimately convicted, for lying to investigators in the same probe.
The account's oldest tweet, a retweet of Scott Pressler professing unwavering support for Trump, is from Jan. 2019. Stone was permanently suspended from Twitter in October 2017.
During the 2016 election, Stone communicated with Julian Assange, WikiLeaks' founder, via Twitter messages. Stone also used the platform to hint about the hacked Democratic National Committee emails that WikiLeaks released during that election.
Stone has a long and storied history of political dirty tricks. In 2008, he told Jeffrey Toobin—yes, that Jeffrey Toobin—who was then with the New Yorker all about how he helped incite the "Brooks Brothers Riot" that halted the recount in Florida in the 2000 presidential election.
At a time when Trump supporters are staging similar riots during an undecided election, being back on Twitter would be a useful way to communicate with a slew of surrogates.
Whether it's him, the account's followers are convinced that the account belongs to the real Roger Stone.
Some might find it interesting that, if the account does belong to Roger Stone, then all the tweets from July 14 to his Nov. 15, 2019 conviction in the case stemming from the Mueller investigation would've been in violation of the gag order barring him from posting on all social media platforms.
During that time, the account tweeted and retweeted dozens of times.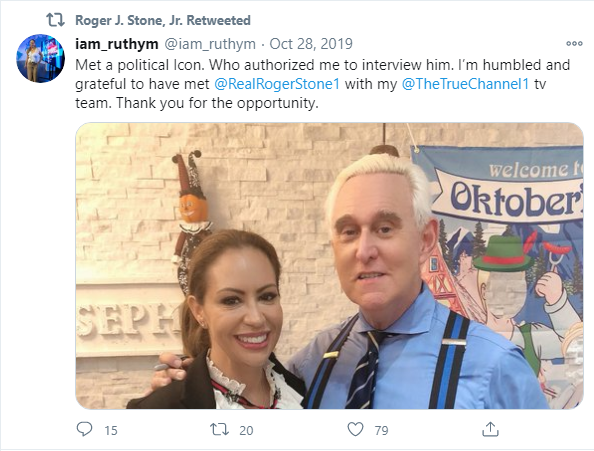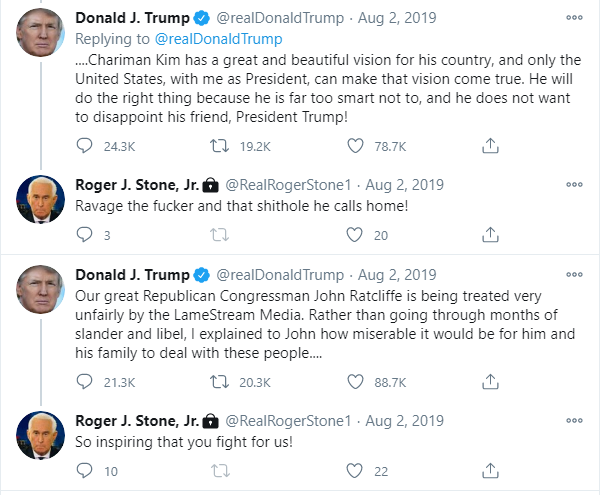 At this point, any violations of the gag order might be moot, as the case has concluded.
If it is him, Stone may already have a contingency plan in the event that this account is suspended: a second backup account. For, as the man himself might say, "It's rare that I'm accused of something I'm not guilty of."
---
Read more of the Daily Dot's tech and politics coverage