The rollout of iOS 8 brought with it a wave of third-party keyboard developers who have been patiently waiting for Apple to allow their wares on the App Store, but two of them are special. These two are like no other keyboards you've ever seen. There are no letters, no numbers—just pictures. Yes, the Riffsy GIF Keyboard and PopKey Keyboard push you to communicate using the Internet's favorite language: animated GIFs.
Both keyboards are free to download, both are brand new to iOS, and both currently have App Store review scores of 3.5 out of 5, so why not just flip a coin and pick one, right? Not quite. While they may both advertise the same functionality, there are some key differences between these two apps that you'll definitely want to know before downloading them, so let's dive in.

Riffsy
 
Installation
Installing Riffsy's keyboard is as easy as downloading it and activating it in the iOS 8 keyboard settings. That's it, it's done.
PopKey is a bit different. You'll still need to activate the keyboard in the iOS 8 settings, but you also need to open the companion app and create a PopKey account before using the keyboard. After that, the app will ask for your phone number to "verify you're a human," though this step can thankfully be skipped via a barely visible "Skip" button in the upper right hand corner. These are annoying extra steps that have no obvious benefit for the user, and certainly shouldn't be mandatory.
Organization
Riffsy is a bit rough around the edges in terms of fit and finish. GIFs are organized in categories based on emotions, which works well for conversational purporses. However, many of the preview images are stretched and distorted, making the whole thing feel a little bit half-baked. Everything works as intended, it's just not super gorgeous.
PopKey, on the other hand, looks a good deal more professional, with clean lines and GIF preview icons that aren't stretched out and weird. It also has a very modern look that fits well with iOS 8, making it the prettier of the two.
Functionality
Both keyboards have the same shortcomings thanks to Apple's keyboard API—namely, the inability to directly insert GIFs into your messages with just a tap. Instead, you'll have to tap the GIF you want on the keyboard, and then paste it into the input box and hit enter. It's clunky, and pushes the definition of a "keyboard" a bit, but that's just the way it is at the moment.
Once sent, the GIFs animate for you and your recipient, and LOLs will be had by all. This part works the same on both PopKey and Riffsy, but you should keep in mind that PopKey has seen fit to watermark all the GIFs you send with their website address. It's not super distracting, but the fact that Riffsy allows you to send clean GIFs with nothing attached is obviously a more appealing option.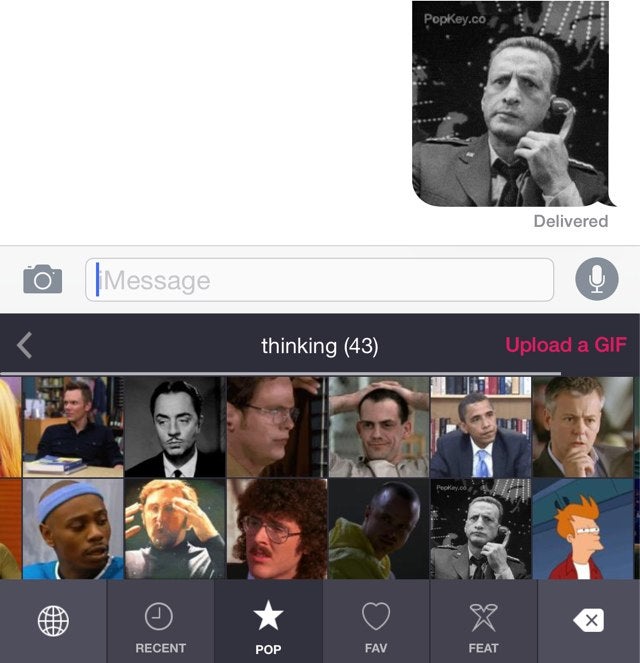 PopKey

Additionally, neither keyboard is very useful for apps like Twitter, Facebook Messenger, or most other chat apps as almost all of them lack inline GIF playback support. You can choose to paste a link to the GIF instead of the GIF itself, but that kind of lacks the punch (and point) of using a GIF keyboard in the first place. Thankfully, iMessage, SMS, and a select few chat clients like WhatsApp support inline GIFs, which is where you'll find these keyboards the most useful.
Customization
Both apps offer the ability to upload your own GIFs and store them in the keyboard along with the hundreds already on file, but there's a catch: PopKey doesn't have this feature unlocked right away. Instead, you have to share a message about PopKey on a social network in order to unlock it. In short, the feature is being held hostage and is only released once you do a little bit of free advertising for PopKey. Not cool.
Riffsy has the feature unlocked by default and even allows you to download GIFs straight to the keyboard from your mobile Web browser, rather than requiring you to first save them in your Camera Roll. It's simpler, faster, and you don't have to do any work to be able to use the feature. In short, it's better.
Verdict
If you want to send animated GIFs to your friends, both Riffsy and PopKey will let you do it. But if you want a streamlined experience with no account creation, mindless mandatory advertising, and watermarks, Riffsy offers the superior experience with fewer strings attached. 
Photo via Riffsy.com | Remix by Jason Reed