On Twitter, everyone has something to sell, and the retweet is the only currency that matters. The fav is worthless; it's a simple acknowledgment—but a retweet blasts your name and voice out to thousands of people. The retweet is a powerful tool—a "tiny printing press," as Margarita Noriega calls it.
Brands care a lot, then, about how many people RT their tweets. If only there were a tool that could predict—or prescribe—a way to tweet that would reach more people. Actually, there is! A team at Cornell developed an algorithm that can, somewhat accurately, choose between two tweets and predict which will get the most action. It is accurate about 67 percent of the time. (Read more about its process here.)
The New York Times developed a quiz to see if its readers could beat the machine and guess better. Predictably, the quiz is popular with social media editors, whose job it is to write tweets that get retweeted a lot. As it turns out, it's difficult to predict which micro-content more humans will react to. An infinite number of subtle triggers could compel a reader to share. Which triggers work the best? Let's see if we can find out.
The quiz features tweets from everyone from the Denver Nuggets to Ryan Seacrest. After a few rounds, you'll start to see patterns emerge, and it'll become clearer why some tweets do better than others. I'll try to break them down.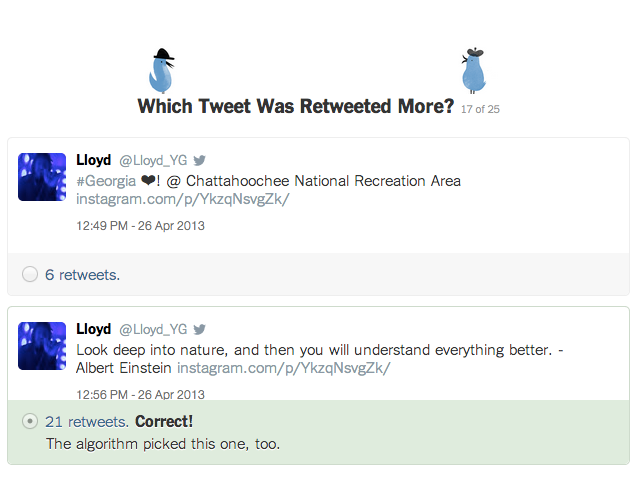 This one is easy. Everyone hates tweeted Instagram photos. You have to click to view them, which is annoying. One of these tweets is a state and a location check-in, which no one cares about. The other is an inspirational quote from one of the smartest people who ever lived.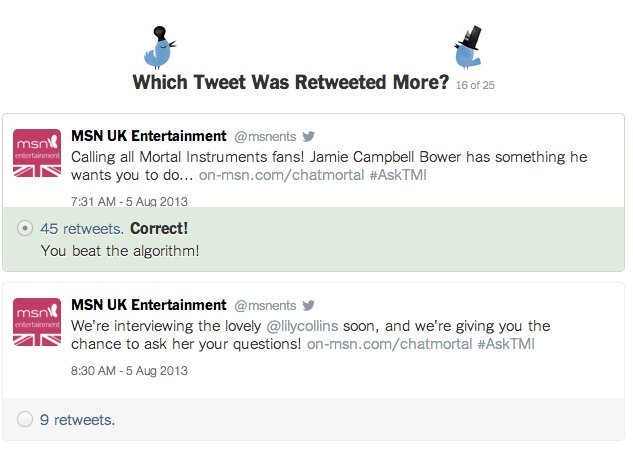 The winner above is a direct call to action, with a cute little tease at the end. What does Jamie Campbell Bower want me to do? Click to find out!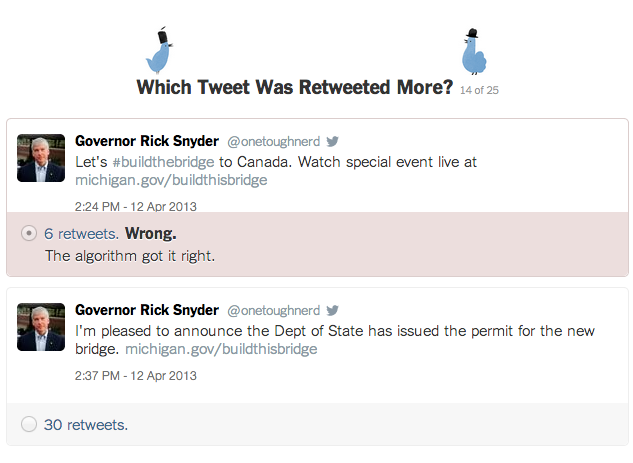 Sometimes calls to action don't work quite as well, though. Here's an incontrovertible truth: Twitter likes facts, and Twitter is lazy. That special event may be intriguing to some, but most of us just want to know that the bridge is gonna happen.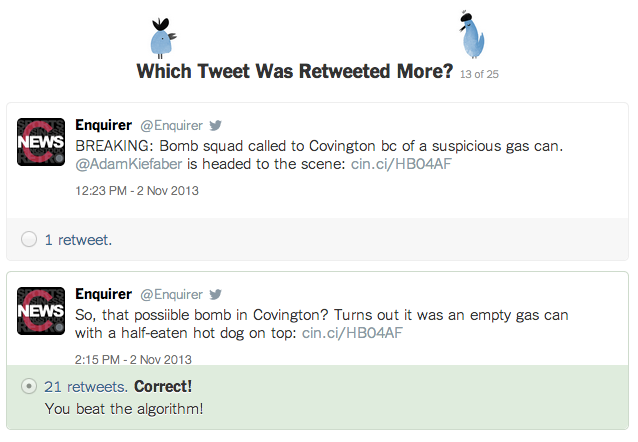 The algorithm likely thinks breaking news garners retweets. It does! But debunkers of breaking news are way more fun. Remember, we're all humans, and we like to tell people they're wrong. Also, who leaves a hot dog there? This one's just so funny you can't help but share it.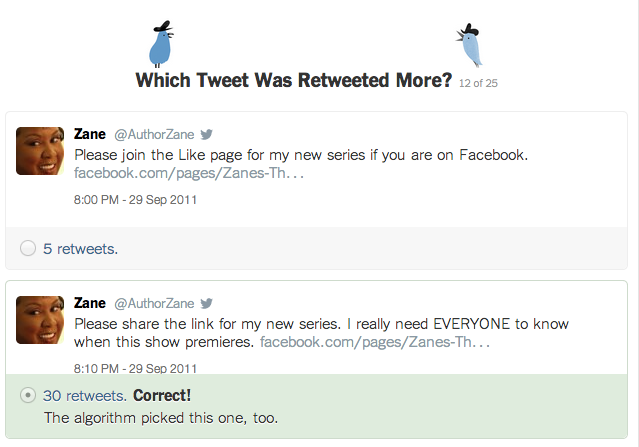 This one is fun. Zane's first, robotic-sounding plea fell flat, so her second request was more needy and desperate, and thus more human. It worked.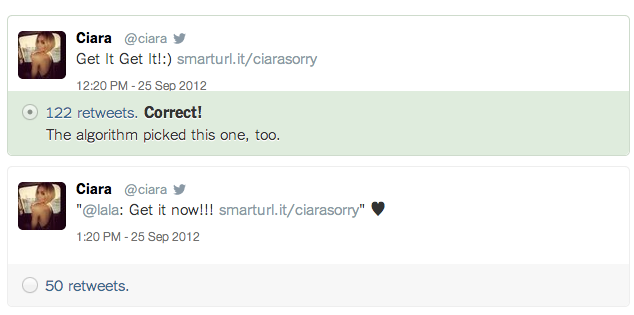 No one likes manual retweets.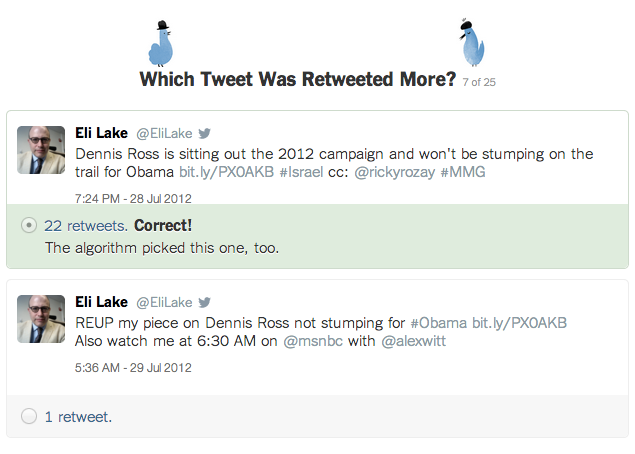 The winner is another easy fact to share. The second one tries to cram too much into 140 characters.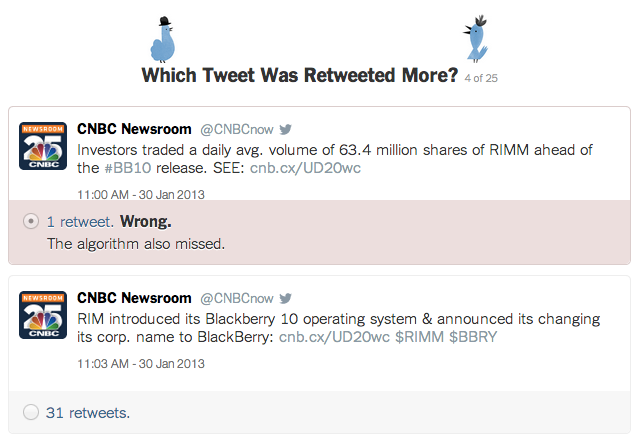 I thought the details would be more sharable than the blanket news, but nope.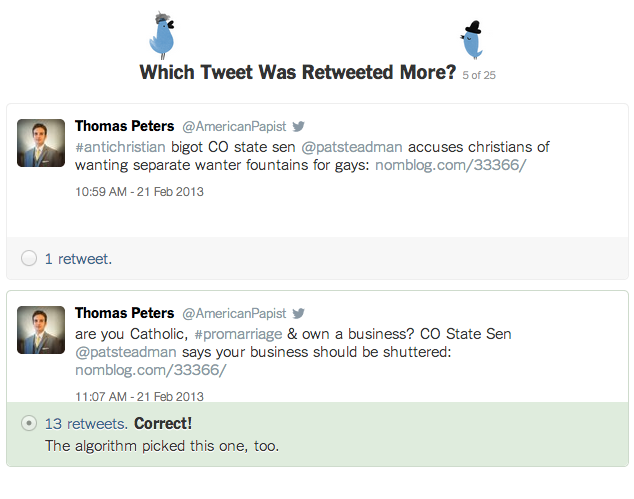 This winning tweet is beautiful, even orchestral. Thomas Peters describes you and what you're all about, and then tells you someone in politics is trying to shut down your business, your livelihood. Feel the anger flare up in your chest. Gather it up in a little ball of fire, balance it on your index finger, and hit retweet as hard as you can. Retweet so hard a liberal's dreadlock falls off. Satisfying, isn't it?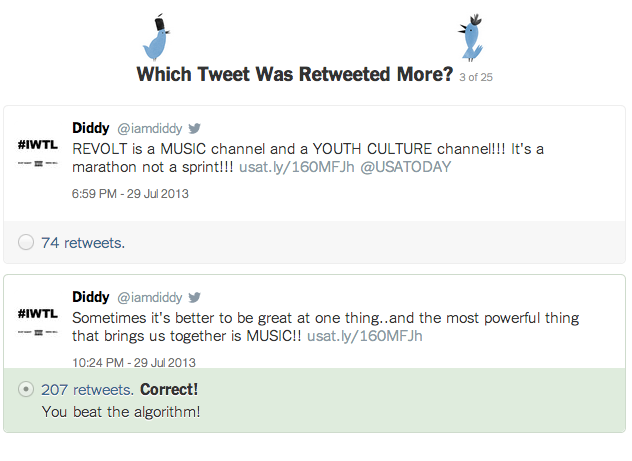 Diddy, no one cares about REVOLT. I've never heard of that. I have heard of MUSIC, though. Diddy and I both like music! Insta-retweet.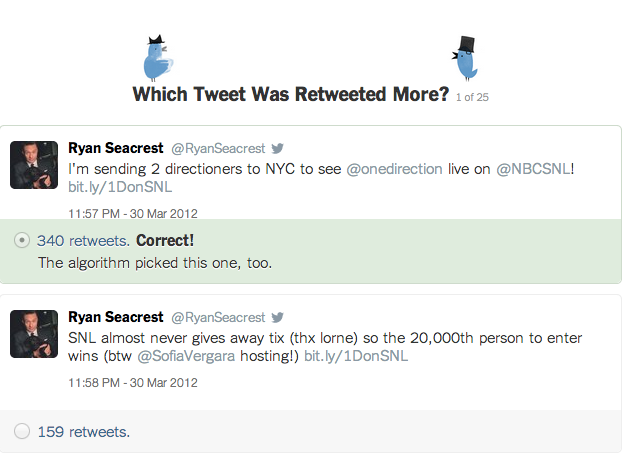 Ryan Seacrest is trying to do a kind thing here and send One Direction fans to NYC to see their heroes. Unfortunately, the second tweet makes no sense. Kids don't know who Lorne Michaels is. Cut the details and just give us the concise news.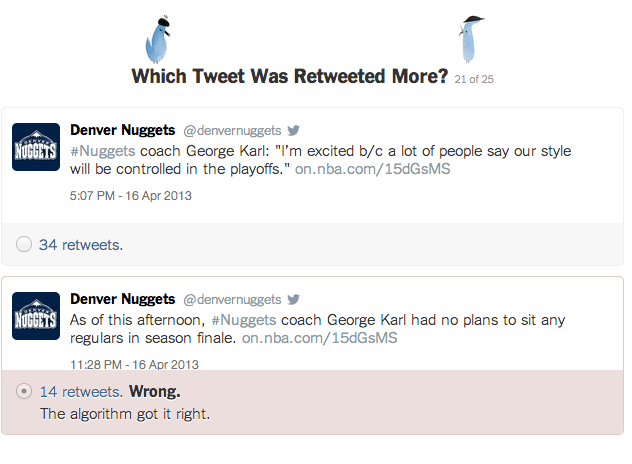 The second tweet seemed like more sharable news—a simple but boring bit of Karl's strategy. Maybe the first tweet won because readers scoffed at the idea of the Nuggets playing a controlled game. Maybe just because it's a quote. People like sharing quotes.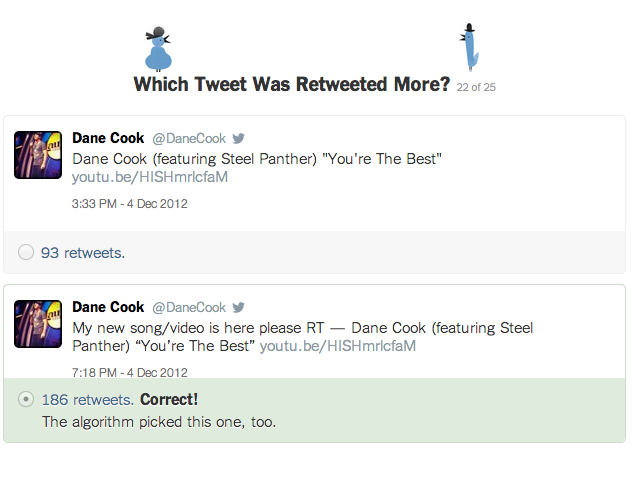 Don't sound like a robot. And don't be Dane Cook.
Keys didn't finish her sentence in No. 1, which lost her about 500 retweets. No. 2 sounds genuinely enthusiastic, though.
What's the big takeaway? It's what we've always known: There's no exact science to trolling for retweets, but try to have a distinct voice and sound like yourself. And include facts. Twitter likes good, simple facts. Photo tweets, too. Take that to the bank, social media editors.
Am I good at Twitter? (And for that matter, is being an expert in sharable content the same at having an engaging—or simply not obnoxious—presence online?) I guess, but I'm no Katie Notopoulos.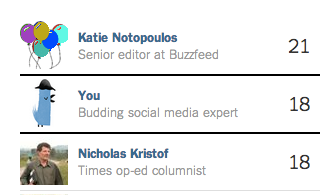 Illustration by Jason Reed