Is your Netflix original movie struggling to load? Is that standup special on Netflix you've been dying stuck buffering? You might want to check your Wi-Fi connection. Or you can run a Netflix speed test.
What is the Netflix speed test?
Given the diverse audience that uses Netflix and their different levels of technological aptitude, Netflix made its own internet speed test called Fast.com.
Rather than test your download and upload speed like standard speed tests, the Netflix speed test just checks your download speed. After all, when you're streaming a sad movie on Netflix, it doesn't matter what you're uploading; it only matters what you're bringing in.
The Fast.com speed test works as a tracker of your mobile or Wi-Fi speed, depending on which version of Netflix you're using. This comes in handy when you want to watch a movie on the go or see if you have enough signal to stream an album off Spotify.
READ MORE:
How does the Netflix speed test work?
Normal speed tests sites often require you to pick a local server to check your speed against and then press a button. The Netflix speed test requires even less effort.
There are two ways to check your speed with Fast.com: a browser or mobile app. Browser users only need to visit www.fast.com. Once the site loads, the test will immediately start on its own. After 30 to 60 seconds, your results will be waiting for you. It doesn't matter if you're on a smartphone, laptop, or desktop; Fast.com works the same either way.
Mobile users can also download the Fast Speed Test app from the iOS or Android stores. This app functions exactly like the browser version. The only difference is you fire up an app instead of your browser.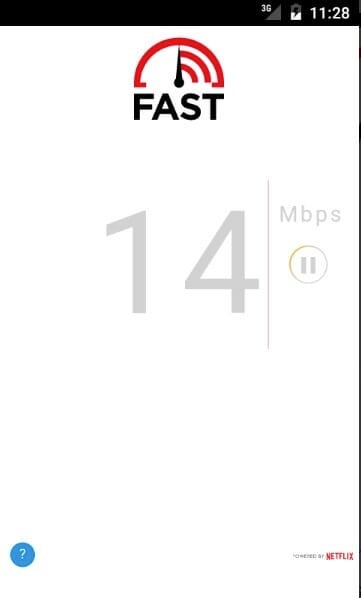 Both the browser and the apps offer the ability to share the results of your test on social media. This feature might seem silly, but if you're arguing with Comcast on Twitter about why they're only giving you a fraction of what you're paying for, it might come in handy.
READ MORE:
Netflix speed test alternatives
There's no shortage of Netflix speed test alternatives out there. (You can see all of our favorite internet speed test sites here.) But TL;DR: If Fast.com isn't meeting your needs, your next best bet is SpeedTest.net. SpeedTest.net is the industry standard for individuals troubleshooting their internet speed. It provides you with a report that tells you exactly how much data you're able to download and upload. Your upload speed can dramatically impact how your online gaming sessions go, so if you're wondering why Fortnite is glitchy, give SpeedTest.net a try.
For everyone else keep Fast.com in your bookmarks or favorite apps. When the time comes to troubleshoot your oddly slow internet speed, nobody does it faster or easier than Netflix.
Still not sure what to watch tonight? Here are our Netflix guides for the best war movies, documentaries, anime, indie flicks, true crime, food shows, Westerns, and movies based on true stories streaming right now. There are also sad movies guaranteed to make you cry, weird movies to melt your brain, and standup specials when you really need to laugh.