Conspiracy theorists have begun spreading claims about Naya Rivera after the celebrity was declared missing in California.
Rivera, best know for her role in Glee, became the subject of a police investigation after her 4-year-old son was found alone Wednesday in a boat on Lake Piru.
While police say there is no evidence indicating foul play and that the situation "may well be a case of drowning," many online have argued that Rivera's disappearance is suspicious.
Naya Rivera conspiracy theories
"Something about this Naya Rivera situation isn't sitting right with me. She left her purse & belongings in the car and the baby was found safe & asleep in the boat?" Twitter user @andimcam said. "But she presumably drowned?? How did she get in the water if the boat & baby are fine?"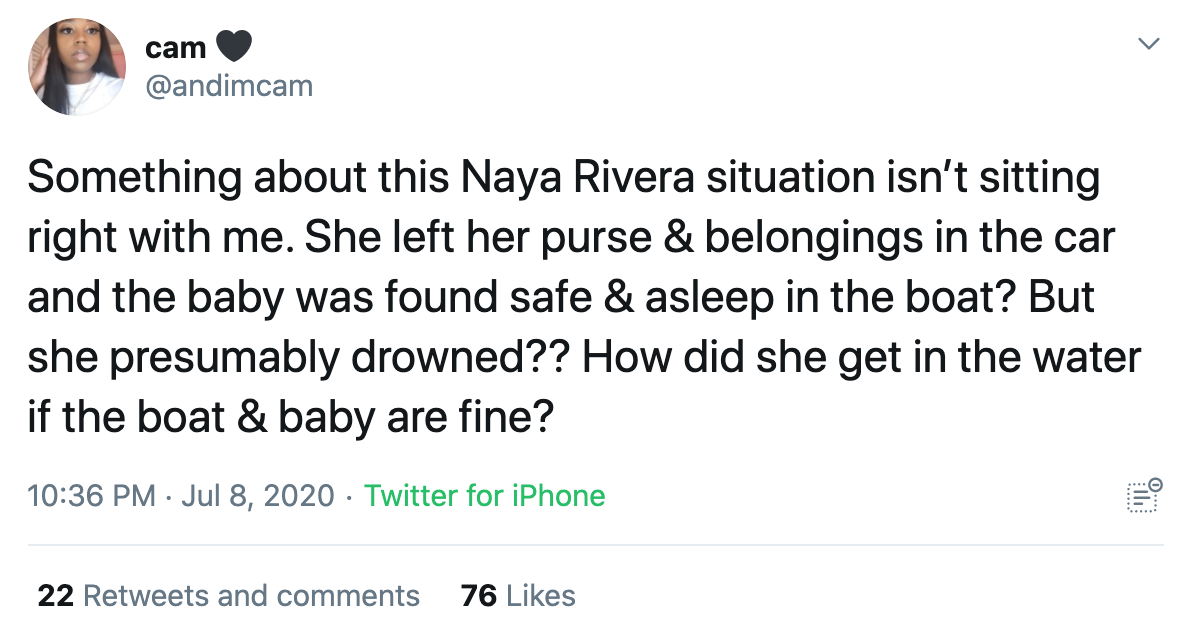 Rivera's son reportedly told officers that both had been swimming in the lake but that his mother did not get back in the boat. An adult-sized life vest was also found on board.
The explanation has not stopped others from suggesting that Rivera may have been kidnapped or worse.
"What if @NayaRivera got kidnapped? She parked her car like she was in a rush," @sidraAhg said. "Maybe someone was following her so she rented a boat to escape but the person followed her there too."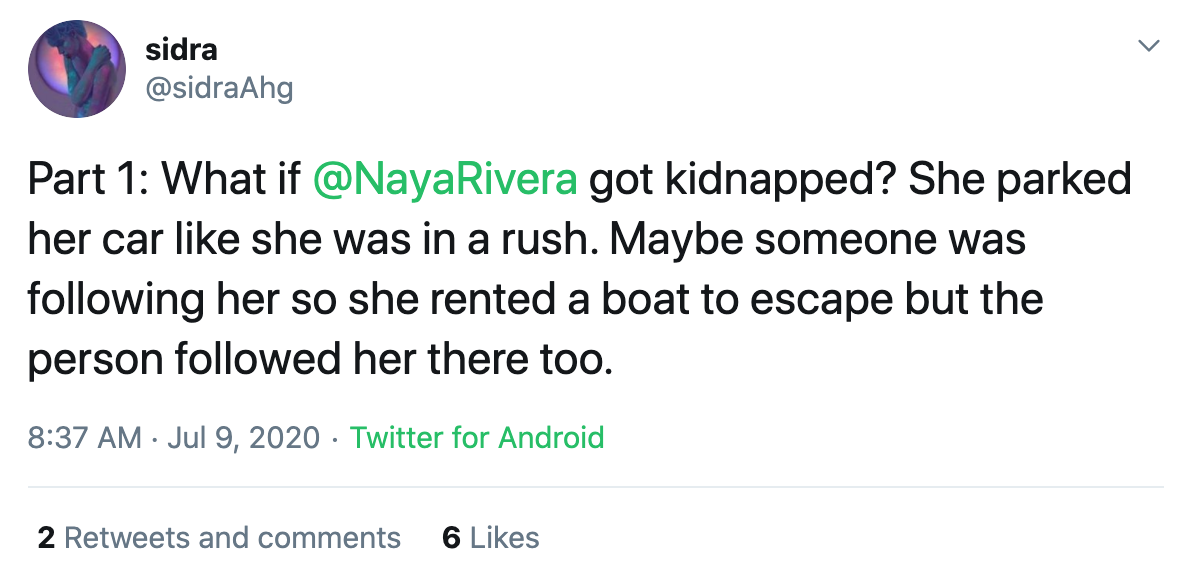 The disappearance was also picked up by followers of the QAnon conspiracy, who pointed to the deaths of other Glee stars as evidence of foul play. (Q believers think government insiders and President Donald Trump are working to bring down an alleged Democrat-run pedophilia ring.)
Actor Mark Salling died by suicide in 2018 after being charged with possession of child pornography. Fellow actor Cory Monteith passed away in 2012 due to "mixed drug toxicity, involving heroin and alcohol."
Rivera had briefly dated Salling, leading QAnon followers to suggest Rivera may have been killed for "knowing too much."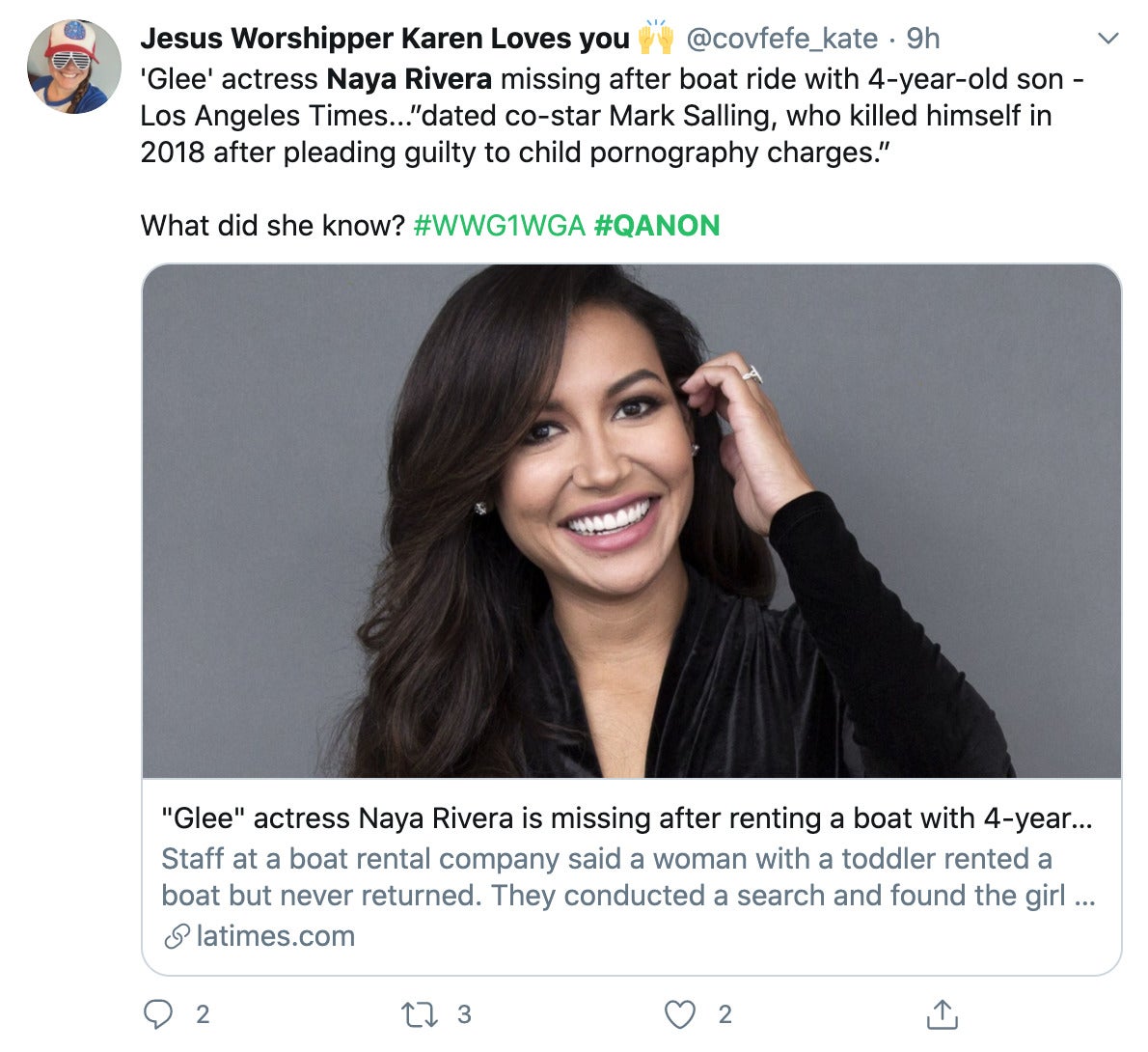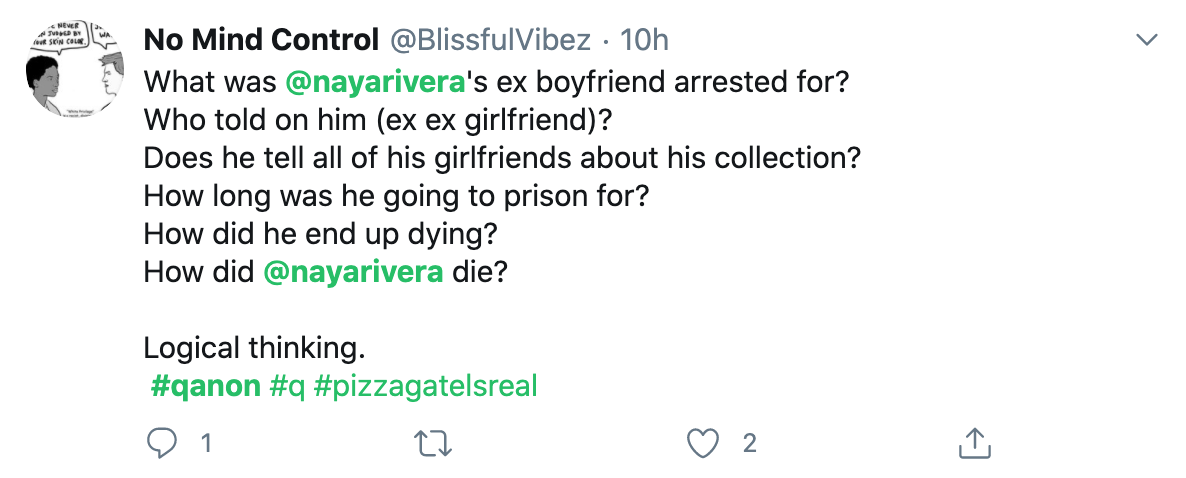 Rivera's last post on Twitter came just one day before she was declared missing and featured a photograph of her and her son.
Police say they have switched from a search-and-rescue to a recovery operation.
Update 1:09pm CT, Aug. 13: Rivera's death was ruled an accidental drowning, according to Ventura County officials. Currents may have played a role: She reportedly pushed her son back into the boat, which was un-anchored, but was unable to herself get back aboard.
READ MORE:
---
Today's top stories